Welcome to Crutchfield Canada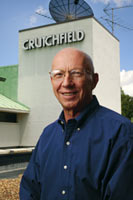 Thank you for visiting our Canadian website. We hope Crutchfield will become as familiar and trusted in Canada as it has been for years in the U.S. I'd like to take a moment to tell you about us and to brief you on our plan to expand our offerings in Canada.
I founded Crutchfield in 1974 in my mother's basement with only $1,000 in savings. Since then it has grown into one of the largest and most respected consumer electronics retailers in the United States. Here are a few highlights:
Our U. S. website receives over 100,000 visitors a day.
We have over 560 employees.
For the thirteenth year in a row, our U.S. site received BizRate's Circle of Excellence Award.
Industry honors and kudos in the media are gratifying, but we are more even more pleased with the feedback we receive from our customers. Their suggestions helped us improve our services and to become so well respected in the United States. Here are a few of the services you will enjoy:
Well-trained Advisors, each of whom has received a minimum of three months of training before taking unsupervised calls.
Comprehensive technical support, provided by our own tech support advisors, who are true experts on the products that we sell.
30-day return privilege on everything that you buy.
Free return shipping on defective or damaged items.
Our plans to expand our offerings in Canada
Our goal is to provide Canadians with the same outstanding level of service and information that our American customers have enjoyed since 1974. It is impossible to quickly replicate a business in Canada that has taken us 37 years to build in the U.S. If we tried to do too much too soon, our service quality could be compromised. Therefore, for your benefit, we are expanding very carefully.
The Crutchfield Canada website debuted in November 2006 with a limited selection of TVs, home audio/video products, and accessories. In June 2007, we expanded our offering to over 1,000 items, including car audio/video gear, our original specialty. Since then, our selection has grown to more than 2,500 items.
These products are shipped from a warehouse in Mississauga, in metropolitan Toronto. Each is purchased from the manufacturer with the stipulation that they will be sold only in Canada. That means that all Canadian duties have been paid and Canadian buyers are protected by full manufacturers' warranties. All prices are in Canadian dollars.
If you have any suggestions about how Crutchfield Canada can better serve you, please email me at bill.listens@crutchfield.com.
* For J.D. Power and Associates Certified Call Centre ProgramSM information, visit jdpower.com.