"I really feel like I'm part of the family because of the way I've been treated."
—Jonathan
Marketing Specialist
Houston, Texas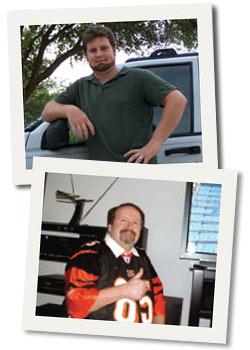 "I've been doing business with Crutchfield since back when Bill Crutchfield answered the phone. I love the catalogues, and now the online info is the greatest."
— Robert
Goshen, Ohio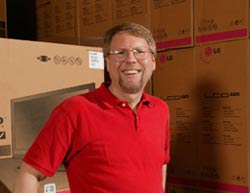 "I've been writing about audio/video gear for Crutchfield since 1985, and our goal has always been to provide you with accurate up-to-date information to help you make the right choice."
—Steve
Crutchfield Senior Home A/V Editor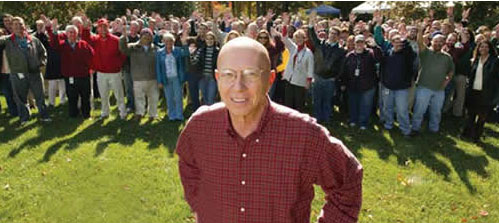 When he founded his company in 1974, Bill Crutchfield had no reason to imagine that he would one day join Thomas Edison in the Consumer Electronics Hall of Fame. Bankers and suppliers laughed when he told them he wanted to open a mail order business selling car stereos to do-it-yourselfers. But Bill had something going for him that they couldn't see - a strong instinct to connect with his customers and use their feedback as his compass.
How Bill learned to listen to you
Sales our first year were terrible, and Bill didn't know exactly what the problem was. So he mailed a questionnaire to several hundred customers, asking what was wrong with the catalogue and the business. They replied that they didn't know much about car stereos and were intimidated by the thought of installing one.
Bill decided to fill the Crutchfield catalogue with information, so readers would be comfortable with car stereo. Emphasizing complete information and exceptional customer service were what it took to get this company off and running, and these values continue to define our company culture today.
Much has changed in the electronics industry since 1974, including the innovations that earned Bill a spot in the Hall of Fame. A lot of other retailers have come and gone. But Bill's still here, along with 500 employees who share his passion for engaging with customers.
Award-winning customer support
Bill's Hall of Fame selection is one of many honors and awards we have received over the years. What do we do to earn them?
"We give our people the tools and encouragement they need to custom-tailor solutions for their customers," said Chris Lilley, Senior Director, Customer Care, "and that applies just as much after the sale as it does beforehand. Helping people install and operate their gear is as important as helping them choose it. Service isn't seen as 'overhead' here, it's all part of the fun we have helping people."
Where we are
Corporate headquarters are in scenic and historic Charlottesville, Virginia.
1 Crutchfield Park
Charlottesville, VA 22911
434.817.1000