3 great reasons to shop for car A/V with Crutchfield
1. We know our stuff
In 1974, Bill Crutchfield, our founder, couldn't find a source for the stereo gear he needed when restoring an old Porsche — so he decided to become that source for other Do-It-Yourselfers. Since then, we've become the place to shop for car A/V by providing our customers in-depth product knowledge and installation guidance.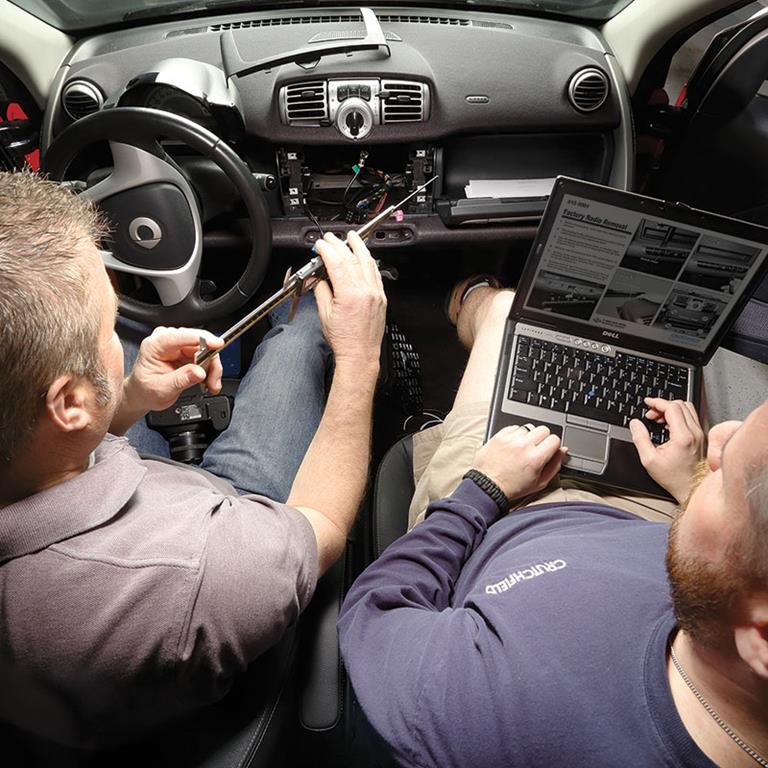 Hands-on product and vehicle research
By getting hands-on with the products we carry and thousands of vehicles, we can provide the info you need to make good shopping decisions, and verify fit information for your car.
Product research: We unbox almost every product we carry, then examine it closely, take measurements, check specs, and much more. We share the details with you on the web, and even post each product's owner's manual.
Vehicle research: Our research team has meticulously documented the process of replacing stereos and speakers by taking apart and reassembling thousands of vehicles. We use the data they gather and the photos they take to build the industry's largest product fit database, and to create our exclusive, step-by-step installation instructions. You can tap into our fit database of over 25,000 vehicles when you use our Outfit My Carsm tool to find the gear that works with your vehicle.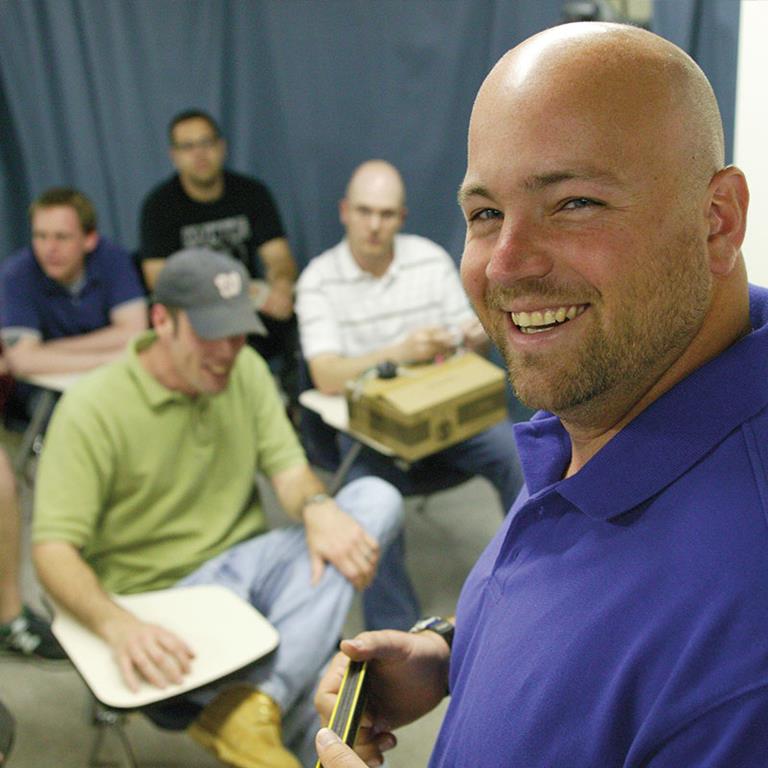 In-depth training for our advisors
In addition to being car A/V enthusiasts, our advisors receive lots of training to ensure that they understand the technology inside and out, and are up to date on the hottest trends in the industry, all so that they can give you the best advice possible.
Each advisor receives 13 weeks of initial training, including hands-on installation experience, before taking calls from customers.
Advisors also receive ongoing product and technology training.
In the Crutchfield Labs, all of our employees can get hands-on with the products we carry.
2. Save money and get professional results — we'll help you install your gear yourself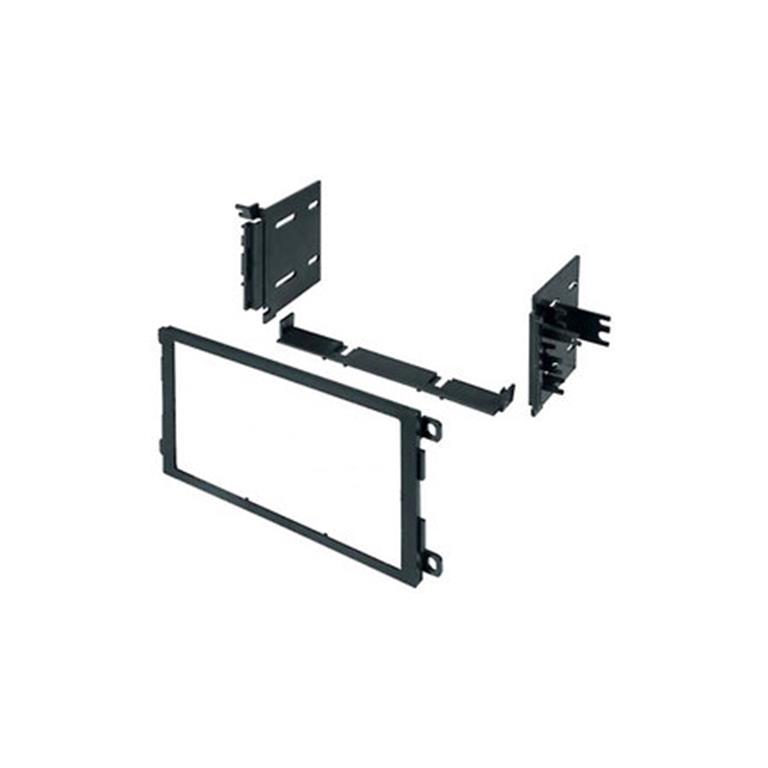 Free stereo installation gear worth up to C$50
When you buy a car stereo from us, we'll make sure you get the right package of installation gear required to install it, and save you some money in the process. If you're buying a stereo priced $80 or more, you'll get up to $50 off the installation package you need. With stereos priced between $50 and $79.99, you'll get up to $40 off your installation package. And with stereos priced $49.99 and below, you'll get up to $20 off your installation package. In many cases, this means you'll get your installation gear for free.
To see the installation packages that work with your vehicle, identify it with our Outfit My Carsm tool, and add the stereo you're interested in to your shopping cart. You'll then be able to choose the package that works best for you from the options we present. We carry installation gear for most vehicles.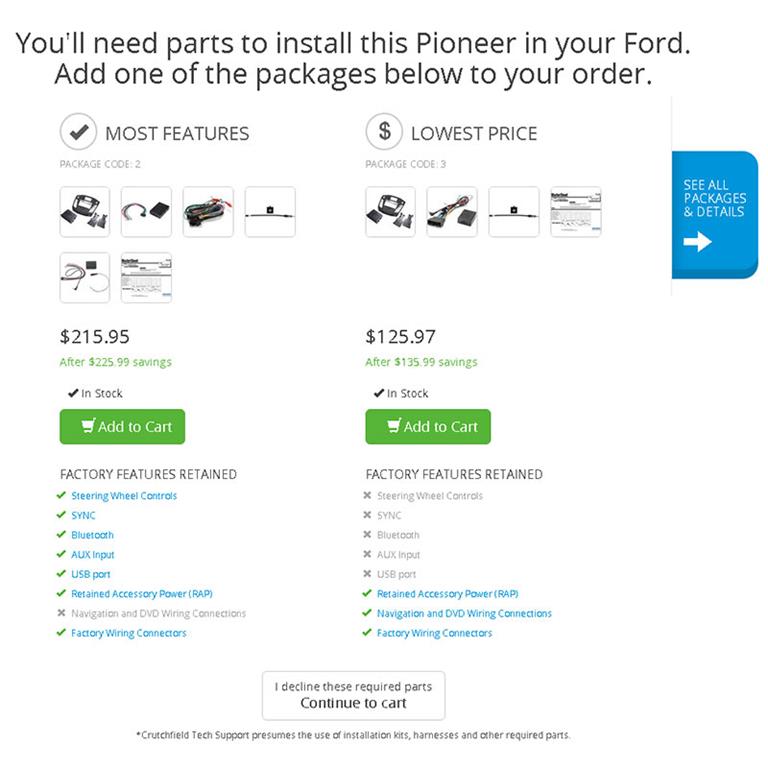 Get all the gear you'll need with our installation packages
Start by telling us what you drive. When you select a stereo, you'll be able to choose the package of accessories that best suits your needs. We'll make sure you get all the stuff you need, and you'll also see how much you'll save, plus learn some basic information about your installation.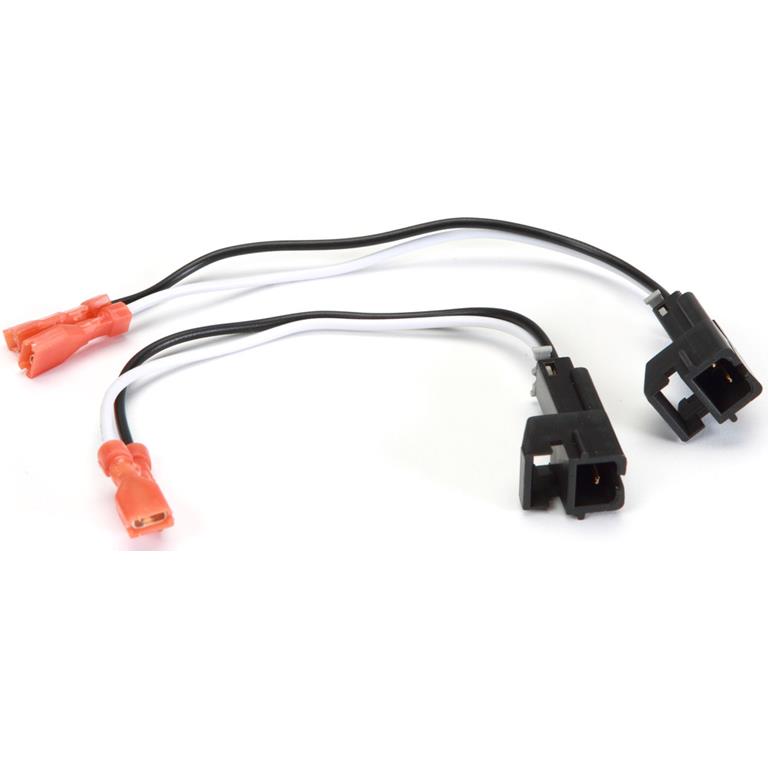 Free speaker installation gear
Buy car speakers from us, and we'll send you free wiring harnesses and mounting brackets made specifically for your vehicle. Speaker gear is available for most vehicles; some vehicles don't require brackets or harnesses.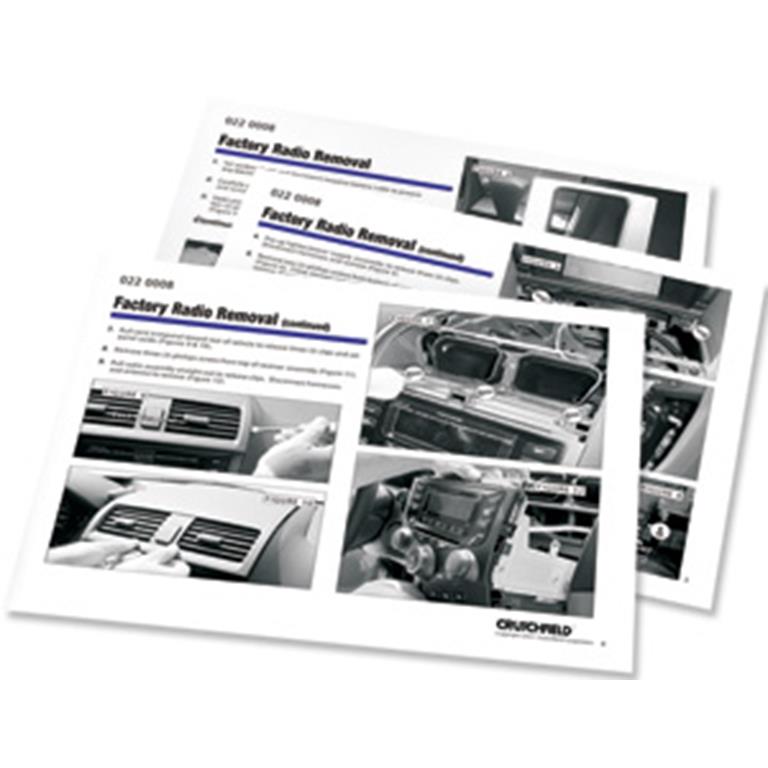 Free vehicle-specific installation instructions
For most of the vehicles on the road today, we offer one of three kinds of installation instructions:
Crutchfield MasterSheets™: detailed, illustrated instructions created for specific vehicles by our research team.
Crutchfield ResearchNotes™: disassembly notes and photos taken by our research team.
Scosche guides: basic, vehicle-specific installation instructions created by one of the industry's top manufacturers of installation accessories.
Not sure if you're ready for DIY? Try out our installation instructions for just $10. If you buy a new stereo or speakers from us within 60 days, we'll apply the ten bucks to your order.
3. Free lifetime tech support with every purchase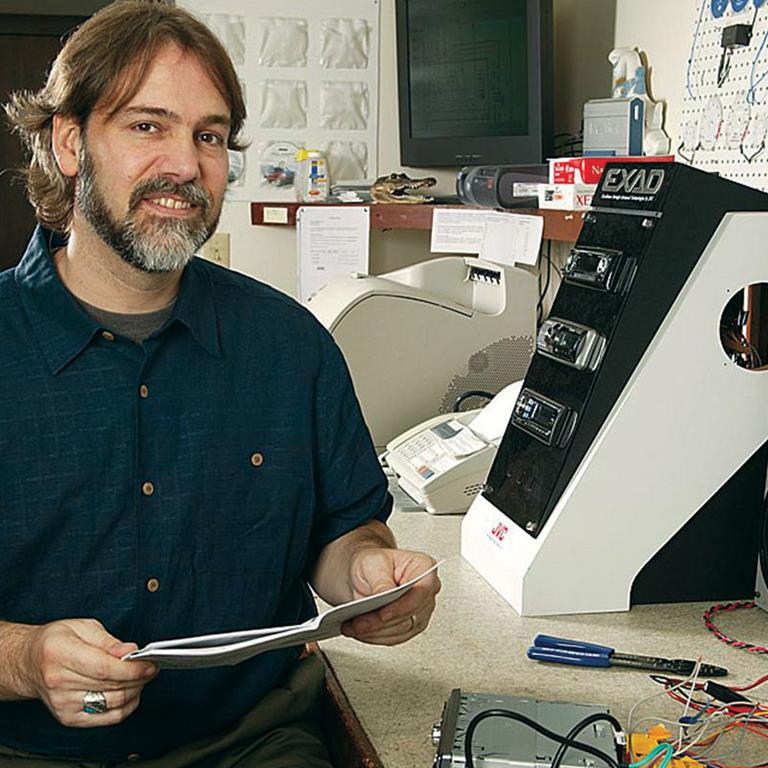 Need a hand with your car audio installation? Our Virginia-based support specialists will take the time to talk to you about anything from setting the clock on your new stereo to installing a mobile video system. And you can call us toll-free 7 days a week.