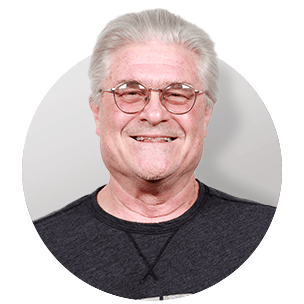 Charlie Pastorfield
I played rock'n'roll professionally from the 1970s up to 1995, and had a great career travelling up and down the East Coast playing clubs and opening shows for bands like The Kinks, The Beach Boys, James Brown, George Thorogood, Little Feat, Bob Weir, and lots of others. The time came for me to get off the road in 1995, and I'd heard that Crutchfield loved to hire musicians. I came straight here to apply for my very first job at the age of 44, and I've been happy working here ever since.
I first worked as an Advisor here at Crutchfield. Spending time on the phones, I soon learned that our customers trust us to give them accurate info and to recommend the right products. My experiences assembling PA systems for my bands put me in good stead when it came to helping people put together systems for their cars.
After a couple of years, I started writing for the Crutchfield catalog, where I learned the value of getting to the point quickly. Our web site really started taking off, and I was offered the job of writing about our products online.
I still play music frequently so I get to hear the latest pro audio gear on a regular basis, including a lot of the products we sell. I haven't been able to live with the stock sound system in any of my vehicles since I started at Crutchfield, and I've learned a lot by putting new systems in all my cars. And I have also put together a really nice home audio setup that has rekindled my love affair with records.
My life has always been about music, and Crutchfield allows me to continue that passion. We literally think, talk, and write about audio and video products all day long — and that's a good thing!
More about Charlie
Started at Crutchfield in 1995
Completed our thorough in-house Advisor training, and continued learning about the ins and outs of our various products
Writer and editor for Crutchfield.com since 2000. Currently editor for our presentations of car audio and pro audio gear
Attends dozens of vendor training events each year
Working musician with extensive experience in recording studios
Owner of a great car audio system, a really nice PA system, and a killer home audio setup