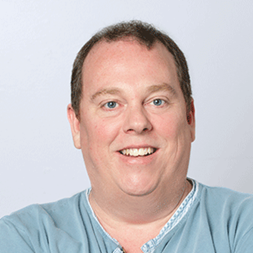 Andy
Advisor since 1997
Located in Charlottesville, VA
Andy
My hobbies are sports, movies, and music. Also spending time with my German Shepherd outdoors.
Tech I'm excited about:
Home Theater & Car Audio/Video
Favorite streaming service:
I use and enjoy Beats on both my Android phone and at home through my Apple TVs
Favorite getaway spot:
Love going to the Outer Banks in North Carolina and been going there for years. Already have my next trip planned this September.
Best thing about working at Crutchfield:
Getting to see and play with all the new toys when they first come out.
Share how Andy helped you:
What customers say about Andy
Andy was a great help, he's a professional.... keep up with the great job Andy!

Mario, October 31
Andy has helped me twice in one week! The first time was getting me to another advisor I got disconnected from (excellent customer service) and the 2nd time was for a kit for an old Crutchfield purchase. He was very helpful and very prompt. Thank you!

Katie Goldsmith, August 28
Andy's so cool. I haven't installed a radio in 10 years and I honestly wasn't sure where to begin. I basically told him exactly what I was looking for and he wrapped up everything I needed in a cart. Plus he was able to answer the specific questions I had about the process. This is why Crutchfield is the best.

Josh, May 14
What a great guy. Had to add more with all the great comments already said. Its the people that work there that makes the company what it is today. GREAT!!

Frank, April 6
Today Andy was superb with helping me out and answered all of my questions with great detail and professionalism. I am excited to shop at Crutchfield for all of my future purchases!

Jacob, February 1
Andy did a great job of helping me to narrow down my choices to meet my needs. There are so many great choices for equipment, so it is a challenges knowing where to start.

Sean, January 21
Andy was very professional and straight forward when answering my question. it was nice to have someone explain something to me without trying to up-sell at the same time. he knew my budget and gave me choices that were right in line to what I wanted. A pleasure to talk to. A+

Dave, January 21
Great customer service and help me pick out the right speakers for my Honda Odyssey! Thanks Andy!

Aaron, January 14
Andy was very knowledgeable and after a series of questions helped me make an educated decision. This is the third time I have used Crutchfield and their customer service is a reason why I came back. Andy's patience and dedication are rare in the electronics industry in my opinion, his consultant approach is a breath of fresh air.

Brandon, December 29
Andy took me through the entire process of getting a deck into my '07 Jeep Liberty. He made sure he found a radio that fit my requirements well. Even crazier was that I had been in the market and seriously looking for the last week and a half and he exceeded my expectations in what he found. After that I brought up several "what if" questions like "What if I want to add new speakers or woofers or XM radio" etc. He knew his stuff and he was on his game and he is the reason I bought a new deck. Thank you Andy! Thank you Crutchfield! P.S. Get the man a raise, he's too helpful.

Adam , October 22
Andy took the time to talk to me about differences between powered soundbars and subwoofers and a complete system. He answered all questions I had concerning different products and felt like I had the right information to make an educated purchase. I won't hesitate to call on him in the future.

Jamie, October 4
Andy pointed me to the exact process. The confusion is out of my mind after having a chat with Andy. Keep doing the good work Andy.

Naveen, September 13
Was great in helping me outfit my cars sound system!

Fred, August 13
Andy was very helpful in my search for a turntable. He was able to send links to our chat conversation of recommended products. I made my purchase that day in less than an hour. Thank-you so much!

Colette, July 24
Very friendly! Even suggested the best products for my needs. Professional and great! Thanks!

Ricardo, June 30
Very friendly! Even suggested the best products for my needs. Professional and great! Thanks!

Ricardo, June 30
Andy was knowledgeable, and answered all of my questions. He even lead me to some products that would make my install much easier. Thanks Andy!

Preston, June 18
Excellent, friendly, and professional service. I am very pleased with Andy and the rest of the Crutchfield crew.

JAMES IRWIN, June 17
Andy was a really big help to me and Id like to thank him for everything he did!

Gus , June 7
Andy was very knowledgeable on the products sold on the website.

Viral, June 2
Andy was very knowledgeable. He was able to quickly answer my questions and help me make an informed decision.

Anjanee, June 1
Andy was a great help! He answered my questions completely and quickly! Thank you, Andy!

Lynda, April 24
I had a good idea of what I wanted and I knew my budget limit. Andy was able to suggest the best car audio setup for my money. He knows what he's talking about.

Mitchell, April 19
He gave great customer service and gave me the info I needed.

Tim, April 7
Andy was a great help in finding the speakers that would suit my needs best. He was extremely helpful! Another reason why I always come back to Crutchfield.

Darrin, March 24
Andy was a HUGE help figuring out how to transition from working in car audio to working in home audio!

Thomas, February 26
I am writing in order to let Crutchfield know that Andy provided outstanding customer service on my behalf today. He explained each of my questions, first teaching me that 4K has two formats and correcting my misunderstanding because I was only aware of one format. He then provided a very thorough response to my request to review receiver models that facilitate both formats and was upfront about the fact that Yamaha does not yet support THX. He went above and beyond by providing me with two product links and the direct phone number to Yamaha to inquire about upcoming product releases that will include Yamaha receiver certification for THX. Crutchfield is fortunate to benefit from Andy's representation of your company with a truly extraordinary degree of competence, his thorough communication to customers regarding their questions, and his exercise of very high professional standards when it came to assisting me and advising me regarding my questions. Please know that I have been, and will remain, a loyal Crutchfield customer for years to come. In closing, I request that you contact me via the email address that I have provided in order to confirm that you have shared this report with Andy, his immediate supervisor(s),and the assigned chain of supervisors to whom he reports. I kindly ask you to do in fairness to Andy's excellent representation of Crutchfield.

Scott, February 17
Thanks to Andy you have one vary happy customer. He helped me pick out a powered subwoofer and I just received it hooked it up and I'm blown away by the performance of the infinity PS312. I cant thank Andy enough for his expertise and knowledge. Thanks a thousand times Andy.

Jared Truesdell, January 26
Andy helped me choose a stereo receiver. He was very responsive to my needs and recommended a product which I had not at first considered. I look forward to trying out the item when it arrives. Thanks, Andy.

Rob, January 11
I had the pleasure of speaking with Andy through the chat feature on Crutchfield's website. I was in the market for some speakers for my son's Chevrolet Blazer and Andy was very helpful in not only making sure that I chose the correct speakers that would fit the factory locations in my son's Blazer's factory locations but more so, He assisted me in choosing the ones that would also sound the beat as well! Andy also made sure that I knew how the system worked for repeat purchases which provides added value for doing business with Crutchfield! I found Andy very professional and a pleasure work with, but also very informative on your products! I will DEFINITELY purchase from your site again and hope that Andy will be the representative to assist my family and I with our audio and visual needs!

William Little, December 20
Andy, really was a lot of help, would recommend him to my friends.

JOy, December 15
Andy is very knowledge about the products. He really helped me through the product selection process and went above and beyond. Thanks Andy.

Nick Choi, December 11
Andy helped me with some questions that I had about the UE Boom 2. Andy also did me a solid on the price. Because of his expertise and politeness I will definitely be a Crutchfield return customer!! Thanks again Andy!!

Glen T, December 5
Andy provided great customer service. He was Responsive, helpful, and timely during our chat session. I would certainly seek purchasing guidance and advice from Andy in the future when purchasing from Crutchfield.

David, November 23
Andy was prompt in replying to my questions about Home Theater (connections/ projector). He responded in the most accurate and reliable way to my inquiry!!

Nate, November 6
Andy was awesome and helped me with the questions I had regarding the bass packages. Thanks Andy!

Aaron, October 22
Andy was excellent in helping me put together a package for my truck

Rich Kachmarsky, September 18
Andy helped me make a last minute switch to a newer model that I saw just after my order. He made it happen quickly and painlessly. Top-notch customer service!

Alan Martin, September 3
Very good! I've never ask questions before I've done my own research so by the time that I chat to someone I'm just not certain of some aspects. Most online people on the "chat" line don't read what you said and then start asking questions that you mentioned in the first place. Andy was short and sweet with his answers and it was quite nice experience. Thanks

Luna, August 19
Andy nailed it for me. Told him what I was looking for as an old guy who isn't in to all the latest tech. He understood me instantly it seems, and since we had the same tastes for music, he gave me 2 solid options. I intended to be around $100 for a deck, but I ended up going with one that was about $20 more and could not be more confident in that decision- it was a perfect fit! I'm solid with home audio, and would opt for analog over digital sound every single time- Andy took that into consideration and drove me to the deck I knew I had to have. Many thanks my man. This is what brings me to Crutch every single time- outfitted 3 vehicles, working on a 4th now.

Tom S, August 8
Andy was great to work with. Answered my questions and got me to a great price point to seal the deal. can't wait to get my order. Ordered years ago from Crutchfield and was very pleased and feel this round will be the same. Great Staff and Great Company!

kurt, May 11
Quick, friendly, and knowledgeable

Jason, April 30
Andy did an outstanding job on helping with the products that are best for my needs, I am definitely recommending him to my friends. He's amazing in helping with any questions.

Louis Garcia , April 3
GREAT HELP!

bobby, March 14
Excellent Customer Service!

Herb C., December 31
He provided outstanding service, answered my questions Keep up the good work Andy and thank you for helping me with my order

hector, December 3
Andy has answered my questions where I was able to understand. He helped me make a great decision with cost being an important part of my buying plan. Andy assisted me to the end of my check out. I will absolutely request him on all of my Crutchfield purchases.

Rob, March 6
Andy made my purchase a no brainer. He was very helpful and polite and I will definitely be recommending him to all my friends.

Darius, February 4
I had a question about whether the Sanus TV stand would be delivered to my door, since I live upstairs. Andy verified that it would. I placed the order and he was correct. The stand looks great! Excellent customer service skills! This is why I keep coming back to Crutchfield. Thanks!

Karla, December 8
Andy was a great help when I had questions about powered subwoofers and installation. Thank you Andy. Keep up the great work!

Faheem (Vancouver, Canada), November 6
I had a question regarding a subwoofer enclosure. Andy was more than helpful with the information. I chose an enclosure based on his recommendations and I don't think the subwoofer could sound better. Thanks, Andy!

Walter Victor, October 20
I had a question in regards to whether the dash kit for my 2001 Ford Crown Vic would just snap in or not, Andy sent me the link to view the product and assured me that it would work, he was correct and I immediately placed my order after our chat session. Great customer service, the best on the internet. Thanks

Niles Minnoe, August 28
I had good service dealing with Andy. Keep up the good work Andy and thank you for helping me with my order

Romancia Rogers, February 26
Andy is one knowledgeable guy! He helped me get the type of speakers I wanted and I got to say it sounds great in my car.

Tim W, June 26
He provided outstanding service, answered my questions, and even recommended what else would suit my needs for car audio better. I had an excellent experience with him. Thanks!

Reed, March 29
After a few email exchanges with Andy utilizing their extensive Crutchfield selection, I was up and running with a rocking system for my 2001 Jeep Cherokee. The install instructions were clear and concise. Now I can blast the motivational tunes while driving to my favorite snowboarding spots!

Sty Psaras, March 28