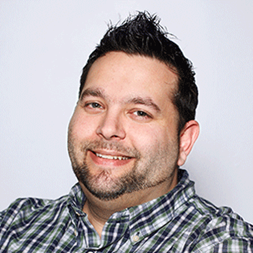 Buddy
Advisor since 2011
Located in Charlottesville, VA
Buddy
I love electronics! Working at Crutchfield is like being at the toy store all day.
Tech I'm excited about:
Anything and everything Home and Car Audio/Video.
Favorite music:
You name it, I can rock out to it!
Favorite getaway spot:
Anywhere with a fishing pole in my hand.
Favorite teams:
HAIL to the Redskins! Hail Victory!
Share how Buddy helped you:
What customers say about Buddy
He is awesome and has great advice .a true professional.

Chris, March 16
Really enjoyed working with Buddy. I had a very specific problem I needed to solve with my home theater installation. Bottom Line: The problem others had been working on for weeks - Buddy solved in a single chat session. He even stayed after hours to help me wrap things up. Well done sir!

Michael, March 12
Buddy gave me fast, efficient and knowledgeable service. Good experience!

Ken M, October 17
Buddy was awesome to work with. He helped me build a great system. Buddy explained everything so I understood everything we talked about. When I purchase home entertainment equipment, I will work with Buddy. Buddy ROCKS !!!!!!!!!!!

Brian Hansen, May 20
This is my first time working with Buddy, and he was awesome! I've done business with Crutchfield for several years, and they are always great to work with. In fact, Crutchfield has the absolute best customer service of any company that I have ever dealt with, bar none!!

Scott, May 15
I am not overly familiar with speakers, but needed to price some for a customer. Buddy was very helpful and recommended some great products that will fit our customer's needs at an excellent price point.

Scott Ackman, May 15
Buddy was a true professional. took his time answering all my questions and looking into things that I asked him. I rate him very excellent.

Ronald, March 3
Buddy.......... took the time to help..... while explaining the best quality for the best price. I have shopped with him two times now and he has always exceeded my expectations.....thank you Buddy.....

Alan , February 6
I've done a lot of research on TV antennas, but I needed some help making my final decision. Buddy was very informative, very upbeat and helped me resolve my questions and get me to an economical solution. Thanks so much, Buddy for your help. Much appreciated.

Anne, February 5
I was probably one of those annoying customers asking a bunch a silly details about the systems but he was awesome in helping me. When he didn't have the answer he made the effort to see if he could find it for me! Very friendly and a mutual jeep owner which is awesome! "Jeep wave" to you, thanks a bunch!!

Darcy, February 3
Buddy is the man, saved me big money and helped me figure out my two rooms!

Kevin , January 30
Buddy was awesome! He was so helpful and actually steered me away from spending more money than I needed to. Crutchfield better hold on to him. I am sure all of the customers that talk to him are extremely happy with his advice.

Michael, January 4
I could not believe how fast and proficient Buddy was in finding exactly what I was looking for! Outstanding!

Tony, January 3
It's always to speak with someone who's truly in an expert in their field. Buddy assessed my situation, determined my issues and proposed the best solution for needs and budget. What more do you want? He was very patient and he's extremely knowledgeable. I'm a Crutchfield customer for life and my interaction with Buddy just reinforced my decision!

Frank, December 26
Buddy's CSR skills are first rate. I wish a number of my vendors had folks like him. Very quick and efficient with his answers and service. I will be ordering from Buddy and Crutchfield again.

Mike , December 9
Excellent service, asked the right questions and was very prompt. He is also a Redskins fan. HTTR. Virginian living in Texas. lol

Sherman, November 29
In today's age it's very difficult to find excellent customer service, sadly. On the other hand, whenever I deal with Crutchfield, I not only get extraordinary customer service, but also the best information. I get information that helps me feel confident in what I'm buying, comfortable with why I'm buying it, and gives me different options to choose from. Buddy gets 10 stars from me because he exhibits every necessary quality that a representative of a business needs. He is friendly, genuinely interested in helping you, he loves what he does therefore passion allows creativity to become a great asset, he listens to what my particular needs are, thinks like a consumer because he himself is one, gives reliable information, and is happy. You can hear the smile on his face as he helps you. My day got exponentially better as a result of our conversation! I recommend Buddy's assistance to anyone, because he knows what he's talking about. He makes talking about potential purchases fun, because we all know that sometimes big purchases can be overwhelming and un-fun. But I know that Buddy and Crutchfield are reliable and that spending any money on their site guarantees my satisfaction. They have the perfect site too! where else can you go and not get frustrated looking for what you need. The interface is easy to navigate and understand, you can chat with them, their prices are the lowest (I've checked) and you don't have to wait on hold forever. The list goes on, they're great!

Carson Bell, November 29
Buddy walked me through the process of purchasing a complete home theater system including the TV. His willingness to educate me and compare products was exceptional. I seldom write reviews, but his customer service was so excellent I felt compelled. If only all technical support people could have his expertise and demeanor. Strong work!

Joel , November 23
If every businesses customer service representative was as personable, knowledgeable, quick witted, and all-around SWEET as Buddy, then they would all be crushing it! This guy spent over an hour on the phone with me. He walked me through all my naiveness regarding the current options about home audio. After our conversation I didn't feel talked down to or like I was "sold" anything. I felt like I just learned a ton about a subject that had left me once my bright yellow Sony sportsman tape player became obsolete. In the future, if Crutchfield sells the type of product I'm looking for, I will most definitely refer to and purchase from them.

Layne, November 16
Buddy just made my day. I was looking for a specific car speaker for a 2004 Avalon and was getting frustrated until I picked up the phone and was connected with Buddy. Professional, very knowledgeable, friendly, informative, and easy going. He set me up with what I needed in a pleasant manner and answered all my questions. You can tell he loves what his job. Thanks Buddy! Cool that you have a dog in the office too!

Mike Janosik, November 13
Buddy was extremely helpful helping me get the right product for my truck. And I am so looking to receiving it and installing it. I will update this later once I have installed it Thanks Buddy!

Anthony , November 4
Such a cool guy and helped me choose the right component rack for my system. Love it!!!

Saeed , October 18
After searching for a day online for a part I wanted for my factory radio, and a couple of failed trips to Best Buy and Radio Shack, Buddy found what I needed within 5 mins of our conversation and was extremely helpful and friendly! Thanks for having a passion in your job, it truly shows in your customer service!

Kayce, September 23
On Labor Day, Buddy replied to my email within an hour of me sending it and hooked me up with exactly what I was looking for! Buddy just sold me on Crutchfield without him even promoting the company. Will be doing my shopping here a lot more!

Thomas, September 5
Buddy was great. I needed 3 tv's and needed them now and he went through all the options and his recommendations very clearly and I ordered it all within minutes. He is A Redskins fan and I am an Eagles fan but I won't hold it against him.

Ted Petitt, August 24
After calling into Crutchfield's business I was connected with Buddy. I was building a radio/entertainment package for my UTV with satellite capabilities. He was more than helpful with getting me the right equipment to get the task finished. I was surprised when I was not going to be spending more than I initially thought I was. He was more than helpful and his patience was greatly appreciated with all of my questions. They've got a customer for life now.

Ryan, August 15
Fellow jeep owner that personally could relate to my wants and needs with my own jeep setup. Super helpful.

tyler, August 8
Buddy is the best customer advisor I have come across period! He is super knowledgeable. He patiently,clearly and concisely explained to me proper amp choice for my boat and different options. Ultimately I made my purchase feeling confident I made the right choice. Thanks Buddy!

Marc , August 5
Buddy is a great guy. Very knowledgeable, very helpful and an all around nice guy. Would love to have a guy like him work for me.

Lloyd, August 3
First I'd like to say how fast and efficient the service was. Buddy was extremely knowledgeable and friendly. I told him what I was looking for and had it ordered within 5 minutes. He also helped me figure out a solution to an additional stereo problem that I was having trouble with. Thank you!

Randy, July 25
I was looking for to fit a very specific application, a home theater receiver with specifications like the Denon x2200, but thin enough to fit on a "tall shelf". Buddy tracked down a Marantz receiver in less than 5 minutes that is a perfect match to my needs. Thanks for the super speedy assistance, Buddy! A+

John, July 10
After discussing what my needs were, Buddy was very helpful. The money I would have spent on the Nav stuff for me was a waste. Android Auto was the biggest seller for me and kept the cost down.

William, July 5
What a great guy Buddy is, very helpful and extremely knowledgeable & friendly. It makes me feel very comfortable dealing with people that know what they are selling this is why I purchase from Crutchfield. Will always come back for future purchases. Thanks Buddy for all your help!

Loren , July 5
I have been buying from Crutchfield for a long time. Will never switch just a great company, Buddy the employee at Crutchfield super nice guy and a ton of information he gave me.In this day and age hard to find support like that. Triple A rating for Crutchfield and Buddy. By the way pretty cool that you have a dog hanging out in the office.

BOB , July 1
Very knowledgeable in the area of Sonos speakers........looking forward to working with him with future audio needs!

Scott, June 21
Buddy and I go way back... back to the days before I knew anything about car stereos. It feels just like yesterday that I asked, "Hey Buddy, what's a jiggawatt?" Oh, wait, it was yesterday... I called Crutchfield to suck out all the information I could before heading to Amazon and buying all the components from there. But Buddy is the kind of person who makes you feel like rewarding the organization he works for by having been represented by him, even if the products are more expensive (which in my case was not the case). You get so much value from the information he provides and the manner in which he provides it. As a result, you'll have the feeling that the mysterious veil of marketing abstraction has been lifted, leaving you with the ability and insight to choose exactly what you need, and perhaps as important, what you don't need. Anyhow... I'm not sure if I am writing this so that his management can put an extra gold star next to his name, or if I'm trying to convince a would-be customer to reach out to him with questions rather than some other advisor. On second thought, it's the former. I guess I wouldn't really care to have more customers taking up his time, as I imagine I will be calling upon him for more insight until my appetite for automotive audio advice has been satisfied. Good luck with your electronics purchasing experience... or you can just call Buddy.

Arek, June 8
Having been a sales manager for many years and a marketing trainer (including phone skills) I was extremely impressed with Buddy and his professionalism and product knowledge. He was a pleasure to deal with. He had a positive easy-going way about him that made it very easy. If your other Crutchfield employees/ Associates are as informative and professional you really have something special. Now in all honesty it was a humbling experience because after interfacing with your sales associate ... I believe I can do a better job training (phone skills) after my interaction today with Buddy. Thank you very much for your outstanding service and thank you for my new stereo...

Matthew, May 27
Was right in the middle of ordering a low-stock item and wanted to make sure they were still in-stock before laying down the cash and Buddy verified 2 were in-stock and immediately eased my anxiety about experiencing the dreaded "BACKORDER HOLD". Quick, friendly and effective. It's why I always use Crutchfield! Thanks Buddy!

Max, May 6
Definitely knows his stuff! I bombarded him with questions regarding nearly everything about car audio and he answered them all very quickly and accurately. Somebody give this guy a raise!

Tad, April 25
Extremely knowledgeable!!! Buddy answered all my questions to the tee and after reviewing it personally on line, he was dead on with all the specs.. He went beyond the level of satisfaction in fact, he sold me a receiver that was less expensive but had more features and benefits than a receiver I bought from Best Buy. He's the man!!!

Fidel Ozuna, March 3
Buddy was the best advisor. He helped me out selecting my subwoofer and amplifier for my 2005 Lexus ES330 he was very honest with his opinion regarding my selection. Thanks Buddy!

ralph, February 21
Great experience dealing with Buddy. He spent 45 minutes answering questions about receivers and speakers. We were comparing 3 receivers and he recommended a couple others that were less expensive than the ones we were considering - we ultimately purchased one of the less expensive ones. I can even deal with the fact that he is a Redskins fan since it doesn't appear they will be a threat to the Patriots any time soon (or a lot of other teams for that matter).

Sam, February 7
Made this old man's job a lot easier. Friendly and very helpful...AA+++ all the way. just bought 4 new speakers for my 2001 Chevy Z71. Thanks so much for the help.

Coy, February 5
Fantastic. Very knowledgeable and friendly. Helped me with selecting a great subwoofer to pair with the PSB imagine mini bookshelf speakers.

Robin T, January 10
Buddy is excellent, sharp, efficient. Thank you Buddy!

Johnny, December 26
What a great person you have working for you. He was very patient and knowledgeable. I will be talking to him again as I plan to order two car speakers after the first of the year. Thank you for being such a great company.

Pastor Fred Cowardin, December 18
Buddy was quick, and great. Excellent info and knowledgable. Great experience! Even though he is a Redskins fan! Go Giants!

Darryl, December 15
I just Wanted to say that I was AMAZED AND SHOCKED BY Buddy on his knowledge with car audio I mean he gets deep into it. its been a while since I've dealt with someone that can actually can converse with me about music the way he did. He is definitely an asset to any establishment with knowledge like that I know for a fact he's not reading from customers reviews like other sites........ thanks for the help Buddy..... only down fall is HE IS A REDSKINS FAN LOL........ PATS BABY....

DjRobWreck, December 10
Buddy was very pleasant, efficient, knew the products extremely well. The shopping and purchase was informative, easy, and quick.

Ann, December 9
Buddy was a tremendous help in my selection of product and took to time to make sure I had everything I needed. One of the best customer service representatives from any company that I have ever spoken with.

Randy, December 9
Omg. Buddy is amazing. he knew what to look for on my vehicle in order for the product i was searching for to fit. He is the man! the only one I would trust, hes truly awesome. He made my day so much better by knowing his stuff. I get a lot of people who don't know anything about car stereos or about replacement parts for them that will fit your vehicle, but buddy here helped me a lot and it makes my day that much better, just knowing i got the best product for my vehicle with someone who knows their stuff. thank you buddy YOU DA MAN!

Kenna, December 8
Buddy was very helpful and knowledgeable! Can't wait to call him to let him know how I like my new camera!

Jean , December 8
Buddy provided excellent customer service and went the extra mile for maximum savings!! Kudos to Crutchfield for winning professionals such as Buddy. I will return and wish all the best of happy holidays.

Hasnain, December 2
Buddy was incredibly helpful. He gave me the essential information I needed to make my purchase and expressed his own preferences for certain equipment and brands. This was a big help in narrowing down exactly what I needed.

Ben, November 29
Buddy was very courteous and patient with me answering all of my many questions. Knowledgable with the products and great suggestions for my application. Definitely an asset to any employer lucky to have him.

Bob , November 24
Finally an expert who can talk pro audio and know what to recommend. Forget those guys in the box stores, they don't really have a clue. I provided Buddy a photo and dimensions of the home theater room so he could understand the necessary power and speaker arrangements. Then we built a system together with a budget in mind. On several occasions he steered me away from unnecessary speakers and cost so that the ideal system for what I had in mind could be assembled. Buddy never rushed me and we spent over an hour on the phone assembling the system. We also used the link system to build the shopping cart so all I have to do now is complete the order. With two day shipment to Ohio I should have this equipment by this weekend to allow me to put it together. Thanks so much Buddy! You da man!

Fred, November 11
I appreciated Buddy's professionalism and how quickly he was able to answer my questions. Also, having him pre-populate the checkout page was super helpful!

Scott, October 24
Unbelievable knowledge and interest in seeing that the customer is provided the best service! Please thank him for me and make sure his personnel file reflects his great service. - as well as his compensation.

Martin, October 23
I just want to say Buddy was awesome great guy to talk to and made some suggestions that are really going to help me with my purchase.

charles, October 20
Buddy was extremely polite and knowledgeable, set up my order for me directly on my screen!!! Thanks so much!!!

Ryan, August 5
Buddy was extremely helpful with my order and pointed things out I had not thought of. Very pleasant and knowledgeable.

Steve , May 20
Buddy is extremely knowledgeable and was able to help me find what I needed within my budget. He is able to communicate technical details to me, a non-tech guy. Buddy also was able to save me a few bucks so thanks Buddy!

David, April 17
Talked to Buddy. I was planning on spending $$$$ on a stereo upgrade for my MINI Cooper. As I am so into home audio I was so confused on what to get and my system was getting very expensive. After talking to Buddy he was able to come up with a system that fit my needs and way under my estimated cost. I am getting ready to place my order now. Thanks Buddy!!! (My New Buddy)

Spaeker Dave, February 28
Buddy not only helped me with the issues I was having, but also helped me with every question I had to ask! Although being located on the American side of things, Buddy was able to assist me on the Canadian side exceptionally well. Customer service could learn a thing or two from Buddy! Thanks again!

Taylor, February 23
Buddy was fantastic with spending time with me. I had questions about the current home theater set-up. He spent an hour chatting with me giving me information I needed to make the right choice. He went over several options and informing me of the new technology out there. He spent the time giving me pros and cons as with my options I was originally looking for. Support like this should be rewarded!

Joe D, February 20
I just finished my order with Buddy and it was a great experience. I wish that I had used Crutchfield on my sons car! Buddy was very helpful and pleasant. I wish that every buying experience was this easy and satisfying. Thanks!

DeWitt, January 16
Great help! Thanks for your time and patience.

Peter, January 5
Buddy is an awesome resource for a car audio buyer. For example, he was able to answer all of my questions, some of which were amateur because I am no car audio expert. Buddy even went of of his way to bring up an issue with 6x9 speakers not fitting properly on the the rear deck of my car, and recommended a bracket solution for me to discuss with a local dealer. Not only did Buddy answer my questions in a friendly manner, he also recommended several products that were in line with my budget and tailored for the specific system I was looking to install in my car. Buddy was an absolute pleasure to chat with on Crutchfield Support and I feel lucky that he was the one to answer my chat request. I believe Buddy deserves some type of recognition for his excellent service because I am leaving our conversation feeling more knowledgeable and better equipped to make an informed purchase. Thank you again for all your help Buddy and Happy New Year!

Jason Brown, December 30
Buddy is one heck of a buddy to have in your corner when looking for car audio parts!!! When I called Crutchfield today to find an antenna cable adapter for my wife's car, I was lucky enough to speak to Buddy. It took him 30 seconds MAX to find the part I needed! Just when I thought this was impressive, I told him about another project I as working on -- adding a subwoofer to a 98 Corvette and still keeping the factory radio and look to the car. Mind you, I was previously given a quote of $800 to accomplish this. Buddy really took the time to listen to my concerns, answer my questions, give me a quick education (car audio makes about as much sense to me as statistics), and understand what I was aiming for. He then immediately began researching products right there on the phone. In the end, he hooked me up with a Polk Audio sub and a 350W Sound Ordnance amp... that even included the wiring kit as a promo offer.... for $200 -- INCLUDING the $7.00 adapter I originally called about!!!!!! Now, like others, I have long been under the impression that Crutchfield, while offering pretty nice merchandise and rumored good customer service, was way over priced.... I stand corrected! It's unfortunate, but companies with this kind of service and knowledgeable, caring employees like Buddy, are becoming harder and harder to find. I will be talking about this experience for a week at least..... and probably more after I get all this installed and running! More importantly, I will most definitely be coming back to Crutchfield again thanks to Buddy!!!

Chris G, September 30
What a great experience! Buddy helped me return an item that didn't fit my needs and find a replacement item. He did this in a helpful, friendly, professional manner - I'll definitely shop with Crutchfield again because of his outstanding customer service!

Jan, September 25
I had a wonderful experience dealing with Buddy and other customer service people during my purchasing and installation of my car stereo. At times, it got pretty difficult to do the installation and Buddy and others were excellent with help. I never had to wait more than a minute to speak to someone when I called during the installation.

todd, September 21
This guy is the Dude of Electronics.

Stan, August 24
I was having a difficult time finding a good fit for my vehicle, I went to multiple stores with no support. I contacted support and I was lucky enough to get paired with Buddy, who was very helpful in making me understand just what I needed to get for my vehicle. I really appreciate all the help and support he provided me and due to his help I will purchase from Crutchfield and continue to bring my business here. Thank you again Buddy, you were a great help.

Tim Gilmore, August 19
Great customer service, caring attitude, extremely knowledgeable and helpful. I will definitely buy from Crutchfield again because of the service he provided. Thanks Buddy.

Ron, August 9
My brother recommended Crutchfield and I told him no they are too expensive. I buy everything from Amazon. I looked on Amazon and there were alot of options just like Crutchfield but I really did not know what I should get so I called Crutchfield fully expecting to ask them what I should get and then buy it on Amazon. First I wanted a double-din touch screen and I thought it would fit my car but after talking to Buddy I realized it would not. This is something I could not have found out on Amazon. Secondly I was able to tell Buddy everything I wanted and everything I could do without. I explained that I wanted great sound but did not want to install an amp in my truck so he found me a reciever with high output and a set of speaker to compliment my reciever. I would not have bought speakers on Amazon because I would not have had anybody help me know which ones to get. Thirdly as he was adding all these items together I was pleased to not only see that everything I wanted was in the basket instead of somebody just giving me item numbers he was able and happy to put all them together for me so all I had to do was pay out.I mentioned I had just spent 249 for a pair of marine Polk Audio speakers for my boat and he showed me a set for $99 that were just as nice. In the end I was shocked and pleased to see my total order ready to install was $256 dollars. I was going to pay that for a reciever alone on Amazon. It was an outstanding experenice and I will come here first next time!!!! Great job Buddy on your level of knowledge and customer service..

Chris Stanford, August 7
That's why I love shopping at Crutchfield because fantastic support team but he was great. He answered all my questions in a timely manner. Every company should have a Buddy!

nelson morales, July 20
Made my purchase smooth and swift. Gave me multiple options and personal preference which really made choosing my speakers a breeze. Also gave me the tools necessary to install the speakers.

Dan, June 5
Every company should have a Buddy!

Cliff, May 11
Buddy is a great sales advisor! It is always a pleasure and fun to speak with him. Buddy is very knowledgeable, providing great and unbiased professional guidance. Buddy will steer you down the right path, getting you setup with exactly the gear you're looking for! Buddy is 5-Star!!! ***** advisor and valuable asset to the already excellent Crutchfield Team. In my opinion, no other Audio/Video retailer even comes close to the excellence of Crutchfield! Great Company! Thanks Buddy!

Chris B. , May 10
I am clueless about car stereos. Only ever had stock radios. Buddy walked me through the process, found exact models that would fit into my car, and found models that had every single requirement I wanted on it. Thank you so much for your help, I really do appreciate it.

Robin Z, May 8
Buddy is great! He is very knowledgable and quickly answered all of my questions. I felt like I was talking to a friend I had known for years. Thank you!

Andrew, May 1
Buddy listened to my problem, broke it down to me and in minutes had me looking at a couple real nice options for exactly the stereo I needed. I always loved Crutchfield's Customer service and always will with guys like Buddy.

Umair, April 5
Thanks for the help, Buddy. You really know your stuff!

Dave, March 29
Buddy Rocks!

Anna Sid, March 7
Buddy was great helping me navigate different soundbars and was very knowledgeable, am looking to make a purchase today with his help

Sean, February 28
Buddy hooked up a great deal in no time, flat. I'm super impressed with the service and happy with the transaction. He was knowledgeable and friendly. Great stuff.

Randall, February 28
Buddy was extremely helpful; he gave me different options, explained each one's advantages-differences in sound quality, brand history, etc. I am completely inept when it comes to technology, and he was very patient and informative. He went beyond all expectations. so I am definitely buying my SONOS sound & entertainment system through him! Thanks Buddy!

kate, February 28
Super excited about audio products. Seems like he really likes what he is doing.

Scott , February 15
Buddy was very helpful, patient and understanding. He went out of his way to see what I got what I wanted. Thank you Buddy.

Anthony Brocato, February 14
Buddy is a genuine representative who has earned my business.

Nathan, January 28
Buddy was an absolute pleasure to talk to. He is knowledgeable, helpful, and has amazing customer service skills. I will contact him directly with all of my future A/V needs.

Mike Greenly, January 22
Buddy went above and beyond his job description 5 star employee I work for AT&T I talk on phones all day as well but he is an awesome employee a real asset to the company he went threw all the options and gave all the prices for what I needed keep up the good work buddy

-Chris.F., January 1
Had a question after placing order. Called back, left massage, and Buddy calls me back about 15 minutes later. Super service. I wouldn't have bet a dime to a dollar regarding a call back. All customer service should be at least half this good.

rons, December 19
I was so confused about warranties and Buddy explained and put my mind at ease. He was so helpful and pleasant to talk to it was refreshing. Great guy. Great company.

Nola, December 19
Very helpful awesome guy. Thanks for you help and look forward to getting more stuff in the future.

Adam, October 4
Very helpful! :) though I'm not in US, he still gave me the advice I needed. thanks man. keep up the good work! :)

mark (from Dubai, UAE), September 8
A quick note to thank Buddy, I was sitting at my desk last Thursday thinking what should I get myself for my birthday? I logged into your site and found a few items that would do nicely , but the shipping would not get them here until the following Tuesday this was not going to work. I called and spoke with a very gracious gentleman named Buddy he was able to get my order out that day and I received it at work the next afternoon no issues.. This made my birthday weekend very enjoyable. Thanks Buddy and Crutchfield

Randall Shaw, August 12