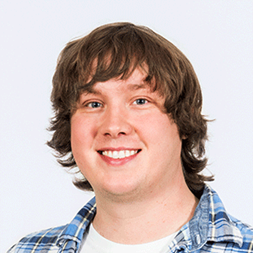 Charles
Advisor since 2016
Located in Norton, VA
Charles
Musician and total gear nerd - I love cool new gadgets and great A/V or stereo music setups!
Tech I'm excited about:
Headphones, hi-res music, great stereo setups, and surround sound.
Instruments I play:
Guitar, and I attempt to play some banjo as well.
Favorite movies:
Amadeus, Star Wars Episodes 4-6, The Lord of the Rings films, The Evil Dead series, City of God.
Favorite books:
Anything from J.R.R. Tolkien and Neil Gaiman. Honorable mention goes to HP Lovecraft, Stieg Larsson, Edgar Allan Poe, and Alan Moore. I also love to read about history.
Share how Charles helped you:
What customers say about Charles
I spoke with Toyota Corp, my Toyota Dealership, local audio places and no one could help me till Luke. Luke answered all my questions, very knowledgeable, and helped me create the system for my truck that I wanted. It will cost me a quarter of what the audio guys wanted and a tenth of what Toyota wanted for a JBL system. I got a Kenwood speaker overhaul. Can't wait. Highly recommend Luke.

Terry Haney Jr., May 10
Really knowledgeable and very courteous he knows his stuff. Give him a complement!

Kathy , April 18
As a first time buyer who only previously had help from a friend; Luke was a great help. He walked me through each product I had in my shopping cart and let me know if it was compatible as well if it was good quality. Overall he was a great help and provided me with a great experience with Crutchfield support. Thanks man.

Joshua , March 13
Luke helped me find everything I needed to setup my new bar with a complete audio system for live performances, from scratch. He seriously knows everything about everything! I should've asked him what stock to invest in next, he would've made me rich!

Charlie, February 16
This is a review I needed to post immediately. I am in the process of getting a new head unit and four speakers for our 2007 ford f 150 Supercrew. After pricing the unit and speakers at a local shop that installs car remote starters and car audio I figured WOW I'm going to need a little more time to get my cash together but with persuasion from a friend who has ordered through CRUTCHFIELD I called and spoke to Luke my advisor. I can't begin to tell you how pleased I was with making this call. Luke was able to help me with any questions I had which were many. No pressure and very informative. I told him exactly what I wanted from seeing elsewhere and he reassured me with some patience it was something I can easily do myself. he suggested a few other products that CRUTCHFIELD has to make my install process a lot easier. Luke created a list of all the items we talked about for my purchase and sent me an email to have on hand for when I make my purchase. and the most exciting thing was that after getting a price of $800 from an install shop I can do myself for under $500 Luke gave me the confidence that I can tackle this myself once purchased and installed I will send another review THANKS AGAIN Luke FOR ALL YOUR HELP IDEAS SUGGESTIONS AND MOST OF ALL YOUR PATIENCE TODAY !

Dan , January 29
Super helpful and super patient.

JOHNNY, January 29
Luke really helped me a lot with building an awesome home theater system. I was debating between a soundbar and surround sound, but he helped me decide what route to take. He also explained the process of how to hook everything up and what wires to use. I am very happy with my Sony receiver and Polk Blackstone surround system.

Matthew, December 31
Luke was super helpful in helping me find the right product for my truck. He went above and beyond with customer service and I was highly pleased and taken care of. Thanks!

Teresa, December 6
I put a complete system in a new Wrangler Rubicon. I should say Luke did. Luke helped with head unit, amp, speakers, sub and even a back-up camera. Not just the big components but all the detail stuff needed for a successful install. THANKS!

Barry, December 1
I had tons of questions! he answered all of them and even some more. Today I experienced one of the best customer service I've ever had. This guy knows what he's doing and what he's talking about.

Abe, November 29
Luke was amazing and helped me set-up an entire sound system from scratch. It's not often you get this level of help. 10/10 would recommend to anybody looking for help!

Gunner , November 9