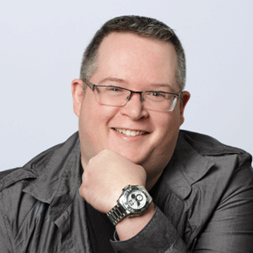 Garrett
Advisor since 2015
Located in Charlottesville, VA
Garrett
Fan of film, music, and comics. Whether 4K or laserdisc, MP3 or vinyl, I love it all!
Tech I'm excited about:
Car speakers and stereos
Instruments I play:
I play a little guitar, as well as dabble in music production/midi devices using Maschine.
Favorite music:
I listen to everything, but will always have a soft spot for '90s alternative.
Favorite movies:
Big Lebowski, Scott Pilgrim VS. the World, Pulp Fiction
Share how Garrett helped you:
What customers say about Garrett
The Dude Abides! Garrett was great. He is truly an asset to Crutchfield. Friendly, knowledgeable, took all the time necessary to answer my questions. I purchased the item I called about largely due to the service provided by Garrett.

Charles, May 1
Simply put, Garrett is great!! He brings new meaning to customer service. He always goes out of his way to make sure you are getting exactly what you need. And he never tries to up sell you on anything. What a concept! We use him for all of our personal and professional needs. Crutchfield is so fortunate to have him as an Advisor.

Clark, February 11
Garrett sealed the deal regarding today's purchase. Garrett was professional and extremely courteous. Garrett addressed all my questions promptly and provided me the information I was seeking. My issues were totally resolved and influenced today's purchase from Crutchfield. I'm looking forward to receiving the new TV. I sincerely Thank You and will return to Crutchfield for future needs.

Joseph C. Pepper, March 14
This guy definitely knows his stuff! Walked through step by step to help me perfect my new setup. Thanks again for your time Garrett, You Rock!

Robert, February 21
Garrett exceeded my expectations and is an outstanding rep for Crutchfield! He was knowledgeable, courteous, service oriented and projected trust and confidence.

James, January 17
Garrett was incredible! I was not sure which receiver I should get. I plan to install the components and Garrett made sure I selected exactly what I needed and he carefully walked me through the process. I highly recommend Crutchfield and Garrett!

Larry, December 7
Stuck in a situation in which I had rather stringent time constraints and Garrett was professional and informed. This helped to get what was needed done quickly and comfortably.

Alda Dye, October 12
I reached out to Crutchfield for help choosing a new system. Between all of the choices at stores and online it became impossible to pick the right product at the right price. Garrett was my Rep and he walked me through many options and was very knowledgeable on all of the products we reviewed. Needless to say I found everything I wanted without breaking the bank. Thanks Garrett!

Charles Kearns, September 23
Man, Garrett really knew what he was talking about. He was VERY helpful and knowledgeable in picking out what I needed and made it affordable! I couldn't get the things I needed to hook up my stereo here. Garrett is a tremendous asset to the Crutchfield company.

Brian, April 13
Garrett was a most helpful representative. Patient, did not rush me off the phone. Very pleasant. Would order another product from the company just because of his professionalism.

Brenda , April 13
Garrett was great. He listened and provided recommendations without the hard sell. The online buying technology is awesome!

Jon Schwartz, March 14
Garrett was incredibly kind, professional, and informative, which reflects greatly on Crutchfield. It was the best customer service experience I have ever had.

Michael Neal, March 3
This is very cool--to talk to and see the company representative. And, on Saturday! The young woman I spoke to earlier, whose name I forgot, was also super nice and helpful. Since the price of the speaker is the same everywhere, I chose this company because of the lifetime tech support and no tax.

Karen, December 17
I opened a chat with Garrett for help with choosing a home theater receiver as I haven't bought one in years. I was purchasing it as a gift for my in-laws and explained what they currently had, what I thought their requirements were (or lack thereof, as they didn't need all the bells and whistles). And I told him kind of what I was looking for. He asked that I wait a moment while he researched a few items. While he did, I searched for reviews of receivers to see what other sites recommended. When he came back with his choices, the first one was one that was recommended highest on another site's reviews, so it seemed he was on target. He was very helpful and I like that he tailored our conversation to my replies. I'm pretty laid back and have a sense of humor, he picked up on it instantly and replied in the same way. I found him very professional and knowledgeable about the product features. Crutchfield definitely has some great employees!

Marc M, December 11
Garrett was awesome!! Helped me with upgrading a head unit I purchased. Made the exchange quick and simple! A real joy to deal with someone so dedicated to customer service!

Elias, November 30
Garrett is awesome! Helped me decide which speaker I should go with to replace my old barely working ones. 10/10 would contact Garrett again in the future!

Eliezer, October 26
Garrett completely outfitted my vehicle addressing my specific requests and made it incredibly easy. Crutchfield customer service is second to NONE!!

Kevin F, October 2
I was looking for a 2.1 stereo system and Garrett pointed me to the NAD D3020. He answered all my questions and asked a few of his own. I am very pleased with my purchase, it sounds FAR better than I could have hoped. Garrett will be my "go to" guy in the future.

Matt, September 26
Fantastic! Narrowed my car stereo down to two choices. Garrett could look at my screen and discuss each stereo. He intently listened to how my Grandson (it's a gift) wanted to use the stereo and quickly listed the advantages of one against the other. Can't get any better service. Also gave me a tip on how/where to wire the mic for the system. He's friendly, personable and professional. Thanks Garrett.

Cliff, September 2
Just getting into car audio. Garrett was very helpful with explanations and recommendations, patiently answering all of my questions. Thanks again!

David, August 13
Although I have purchased many things from Crutchfield over the years, Garrett was far and away one of the GREATEST people to ever help me. He really knows his stuff and he really spoke to me on a level that I easily understood. He acted like an old friend which is what I love.

Jay, August 3
Garrett was very helpful and full of knowledge about receivers and the overall home theater setup. He knew all the answers to my questions and took the time to listen to me. That's why I keep buying from you guys. Great job Garrett!

Les , July 29
Very helpful and friendly!

Chase, July 20
Garrett took the time to answer my Questions about By-wiring BY-Amp should I use pre-amps or receivers for music is the surround sound good for listening to music or Stereo better two or four speakers.. He was not trying to hurry me up and go to something else until I had everything I needed and answered everything. Thanks Garrett.

Charlie, July 19
I cannot begin to explain how knowledgeable Garrett is about, what certainly appears to be, all things electronic. His personality and humility helped turn what was a stressful project into something refreshingly enjoyable. I never saw myself completing a project like the one I undertook - but I did, successfully. I'm sure it wouldn't have happened if Garrett hadn't gone out of his way to make sure I had the right product, tools and information. Perhaps more importantly he made me believe I could do it. Best service I've received anywhere from anyone.

Conor, July 18
Garrett thanks for all your help with my receiver selection. I just love it brother...it sounds awesome!

Charles, July 11
Professional service and support with a very inviting personal touch. Garrett is top notch!!!

Thomas , July 4
Garrett helped me find everything I was looking for despite the lack of knowledge I had on TV speakers. A great pleasure to do business with, and definitely knows what he is talking about!

Ryan, June 18
Straight forward and had the answers for all my questions. Just the help I needed before purchasing on the website!

Cody, June 7
Garrett helped me by telling me what my current head unit had for an output and let me know that any of my selections would work. No pressure. No hassle. I appreciate the help!

Mitch, June 4
Garrett took the time and helped me decide which soundbar was the best fit for me. Very knowledgeable.

Clark, May 25
Garrett was very patient and helpful in guiding me when it came to choosing a complete custom car audio system. He really knows his stuff! Thanks!

Javier, April 28
Garrett was awesome! It's been a real pain figuring out what harness to buy for my truck but I had a lead which Garrett helped confirm and I'm going to order that soon. He also gave me some recommendations on a couple other things which I'm also planning on saving up to buy. Thank you sooo much! Really hoping this harness works since my stock stereo is on crack and the amp setup wasn't compatible with my last harness purchase.

Eric, March 1
Wow, this is the best advisor I've encountered. After 2 hours, chatting online, I've got the complete dream system specified for my 2002 F150 - I have had it since new - and now it's time to give it an update from Crutchfield. Thanks Garrett!

Andrew, February 6
Thanks for all your help today Garrett! It was a pleasure working through what would be the best receiver for our needs! Crutchfield is the only place I go for stereo and TV's because of their top notch service.

Ethan, January 18
Extremely helpful!! Spoke clearly, very respectful, knowledgeable, and helped me with info and choosing products best for me. Amazing customer service! Thanks!

Sam, December 8
Probably the most helpful conversation I have ever been involved in. Garrett really went out of his way and explained things and recommended some great products to me. I never knew how easy it could be to get help or gain knowledge about what kind of speakers to look for or what accessories you would need. Having him help me was probably the best part of my day!

Isaac H., November 28
Garrett was fantastic to chat with. He knew the answers to exactly what I was asking!

Paul, November 25
I was looking at these Klipsch Reference RS-42 II speakers for my surround back speakers and what the cost would be for those or should I wait for something a little bit better to go with my Klipsch RB-61 II. What be good match for those speakers. Thank You

Tony Gulley, November 22
Fantastic! A credit to the ultimate in customer service! Please see that his written file reflects such excellence in service.

Martin, October 15
Fantastic! A credit to the ultimate in customer service! Please see that his written file reflects such excellence in service.

Martin, October 14