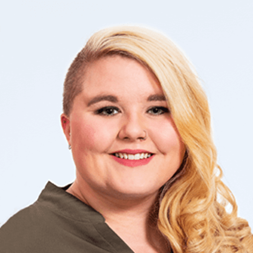 Gigi
Over 400 hours of training
Located in Norton, VA
Gigi
Find me having a concert in my car or a dance party with my dogs. Always lost in a killer song!
Tech I'm excited about:
Apple CarPlay and Android Auto are definitely car audio life changers!
Favorite music:
My Spotify plays everything from "Hotel California" to "Defying Gravity" to "Self Care" to "Fergalicious" to "Whiskey Glasses." Nothing is off limits!
Favorite books:
Harry Potter is a lifelong favorite! New reads include "The Hate U Give," "I'll Be Gone in the Dark," and "Know My Name."
My biggest adventure
For a recent birthday, I spent the weekend in NYC as my first solo excursion. It was the most incredible and liberating experience. Endless food, museums, and magic!
Share how Gigi helped you: