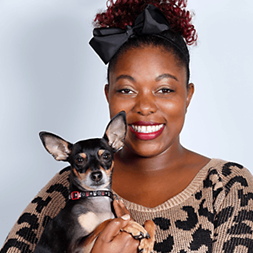 Kristina
Advisor since 2016
Located in Charlottesville, VA
Kristina
I'm an animal lover who enjoys spending time outdoors, listening to music, and watching movies!
Tech I'm excited about:
All things Pet Tech and Smart Home related!
Favorite teams:
GO WOLFPACK! :-)
Best thing about working at Crutchfield:
The people are wonderful and there are plenty of furry friends here!
My biggest adventure
Going to the Bahamas for our honeymoon (SO much fun!)
Share how Kristina helped you:
What customers say about Kristina
All I can say is that she was so great that I sent Mr. Crutchfield a personal email.

bruce freund, June 21
Could not have done a better job! Knows all, great personality, the works !! Great Rep !!

Richard Fox, June 19
Kristina is AWESOME. Great experience and ordered the next day. John

John McDermott, June 6
She was a big help! Just got my stuff today and everything worked great. Thanks!

Jesse Sides, May 27
Kristina is a great listener. I went on a long and confusing explanation of all the requirements I had for a new car stereo head unit and she was able to make sense of what I said. I had some tough questions and she answered them quickly, she knows her stuff. I am glad I spoke with her because her competence gave me the piece of mind I needed to place my order.

Jon, May 18
Kristina is AWESOME! Knowledgeable, patient, easy to talk to, and all around brilliant! Thanks for being you ^_^

D , May 2
Kristina offered quick and excellent advice helping me choose the correct speakers for my vehicle. Plus she has a sunny personality and is fun to talk to.

Mark, March 20
Kristina was FABULOUS!!!! She was friendly and courteous in helping me with what harness I will need and picking out the Radio that fits my needs. Thank you again Kristina!!!!

Mark M, March 9
Kristina was knowledgeable and did a great job in researching the answers to my questions. Her "marks" are definitely above standard.

William, March 5
She was awesome......nuf said.

James Caprio, February 23
Kristina was so friendly and understanding. She made my day.....

Rochelle, February 23
Kristina may very well be the best customer service rep I have ever encountered. She is very knowledgeable, and found exactly what I needed in short order. It was a pleasure to place an order with her.

Dennis S, February 21
Kristina was very efficient and extremely helpful and my product arrived exactly on time!! Thank you!!

Patrice, December 5
Kristina was the most helpful Live Chat expert I have ever had dealings with. Very knowledgeable, really looked at what I was saying and responded with excellent answers and suggestions. Kristina, you rock!

Teal Griffeth, November 17
Kristina was very helpful in my selection and made sure I had the Best deal possible.

Phillip , November 4
As with every Crutchfield transaction I have had, whether as a customer or simply asking for information, Kristina was helpful and answered my questions. Thanks again for great customer service.

David, October 4
Kristina did an excellent job helping me select the right components to fit my Tundra and budget. She took the needed time to review all my options and provided guidance when I asked. Kristina even helped me select the speakers and sub that will work the best for my system. I give her and Crutchfield an A++++

Brian Myers, September 23