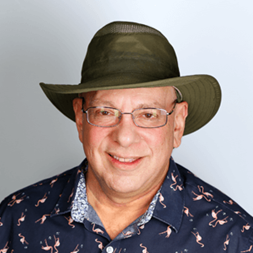 Marshall
Advisor since 2003
Located in Charlottesville, VA
Call or text Marshall at: 1.434.218.6048
Marshall
Tube heated, tape tempered, film cooled. 21st century updated for all your AV needs.
Tech I'm excited about:
Music & video streaming light my fire, car stereo keeps it burnin'.
Instruments I play:
Guitar, harmonica, recorder, and B-flat Kazoo
Favorite music:
If it has a beat, I'm down with it. Oh. I still cry at operas.
Favorite streaming service:
Netflix, Prime, HBO, Sirius/XM and Tidal music service!
Share how Marshall helped you:
What customers say about Marshall
Marshall helped me track down a part for my new Onkyo receiver that was difficult to find anywhere else. He was a huge help and super nice over the phone and email. Thanks Marshall!!

Matt Lambert, March 1
I am a throwback to vinyl and tape and have always had the highest end of stereo equipment. I am relatively confused by the digital world and what is needed to achieve the new "high end". Marshall answered all my questions concerning 4K HD and the equipment needed to achieve same. He offered a conservative approach to upgrades.

Richard Karpowich, December 23
You can't spell Awesome without Marshall! Well,maybe you can but he is great anyway! Fantastic customer service and very knowledgeable, rare combination.Had I more granite I would build a higher pedestal!Thanks and keep up the good work.

ThomasPrince, December 15
Marshall was FABULOSO.!!!!! Gratzi, Gratzi, Gratzi!!!!!!! He was VERY helpful. If I need more help I am looking for you.

Tracy Basso, December 10
Marshall was very helpful and great asset for Crutchfield.

Donald Jay Krupp, November 18
Marshall, thanks for talking with me as a human. I'm in a service support role and have been for a long time...You are at the top of your game and provided one of the best experiences I've ever had in any industry...Thanks for being a true professional and a true gentleman!

Mike, USAF 32 yrs, November 6
Marshall is AWESOME. Not only was I delighted to find your web site last night as it is the answer to my TV sound woes but it also brought me back to my old days of having a rocking 2 channel sound system to listen to the Rock n Roll greats. Marshall answered all my questions today about the Yamaha receiver and Polk speakers I found on your site and we kicked around the good old days of vinyl and fond memories of the past. What a great fellow to have on your team! Thanks, Marshall for all your help!

Christopher Tippins, September 30
Marshall is very knowledgeable. He answered all my questions without being condescending and provided excellent customer service. Marshall is an asset to your company.

Norma, August 21
Couldn't of asked for a more helpful person. He was highly educated on all the parts I was talking about. Wasn't even on the phone that long. Will be ordering more from him!!!

Jeremy Ball, August 19
I cannot tell you how nice it is to talk to people/companies that actually know what they are talking about. Now days there are too many shops that just sell boxes without any knowledge of the technology. Good Show Marshall!!

Lee, August 2
Whatever Marshall is making, he deserves more! He was so helpful when I called to ask about improving the sound on my new vehicle. You can tell that he knows his stuff and that he actually enjoys discussing products with customers. What a great experience! I will be a Crutchfield customer for a long time now. Thank you Marshall! I can't wait to install my new speakers.

Dave, July 3
Marshall was extremely friendly and helpful. Enjoyed spending my money with him!

Jack , June 14
Awesome customer service!!!! Without a doubt a great company. Return customer for sure. Thanks again Marshall

Sharon , June 11
Marshall was a great person to chat with. He seems to be very knowledgeable and eager to help. I'm happy to see that retail shopping does not have to be mind-numbing experience. WHAT TOOK ME SO LONG TO FIND YOU GUYS???

Mike, May 28
I could not ask for more in customer assistance. I thought I was calling with an embarrassingly simple question. However, Marshall took some time to ask about my system and what I was doing. It turns out things were not so simple and he offered two possible solutions to the problem. Not only was he knowledgeable, but he took great effort to educate me (without making me feel stupid). This has to have been one of the best, or perhaps the best, purchasing experiences I have had. I am so happy that I went to a professional company that is staffed by intelligent professionals rather than going the Amazon route.

Paul, May 4
Marshall "ROCKS" great help and fun. Helped me figure out all my questions.

Tim , January 18
Thank you for your help today Marshall. I appreciate your expertise in helping me select a replacement for my 20 year old amp! I thought I was headed the right direction and appreciated your validation. I can't wait to get the new Pioneer installed and dialed in! Thank you.

Travis, January 13
Extraordinary customer experience. I believe in saying positive things when someone deserves it. Too many people only report negatives these days. But this gentleman was so polite, knowledgeable and helpful that it blew my mind.

Don, January 11
Thank you Marshall! He understood why I was so disappointed that my refurb unit didn't last but two weeks AND called the installer HIMSELF to make sure he understood replacement options. Who offers to do that anymore??? MARSHALL! Ask for him; he won't let you down. I went from being a little teary (yes; I will admit it. I was so disappointed) to feeling like someone really cared about my total experience with Crutchfield. I have spoken to other advisors; all have been fine, but he is EXCEPTIONAL. Thank you, Marshall.

Julie, November 23
Very patient with me and my many questions. When things did not go right with my payment method he waited for me to get it resolved. An asset to the Crutchfield family. He also has a very cool name!

Frank, November 12
I called with multiple questions and left the conversation with more answers than I sought. The interaction was wonderful! He was patient with me and was incredibly knowledgeable about every rabbit hole question I had. I am extremely impressed with the service I received and as a result will be utilizing Crutchfield for all my applicable future consumer needs. Thank you so much for your help!

blake, October 17
I had so many problems with my order (user generated) that any normal customer service rep would have run away screaming while pulling their hair out and left me to ANYONE else. Not Marshall. He was awesome! Handled my issues like a boss and, I suspect, that not a hair was out of place the entire time. Thanks Marshall! You're wonderful!

Katy, September 16
I wanted a touchscreen car stereo where I could hook up a rear view camera, see different pod shows and of course listen to the radio. Marshall was very knowledgeable and helpful. A true professional. It only took him a couple of seconds to pull up just what I needed. He made the process easy. I'm looking forward to it's arrival.

Thomas, August 16
Marshall was super helpful! He knew everything I needed and loaded it in a cart for me. Super fast solution. Thanks!

Rosalind , August 15
Thanks Marshall for the link to a Blu-ray player with digital optical output that was reasonably priced. It was so easy and so quick. On another note I like the Crutchfield technique of showing a picture of the connections on the back of the device. This one did not, however there was a link to the manual which showed the connections.

Russ, August 8
Marshall was friendly, informative, and knew his stuff. I enjoyed your music and electronics insights. I made a solid purchase choice, and I look forward to doing more business with Crutchfield in the future.

Steve, August 3
Marshall was FANTASTIC with my purchase of the JBL's for my 2016 Honda Sedan. Once the speakers arrived, it was missing the master sheet for the installation. I left a message to have Marshall call me back. I was expecting Marshall will call me the next day, since it was 9:50 PM EDT (they close at 10:00). Within a minute, Marshall called me back and I told him the issue. He forward me to Edward in Support/Tech/Install team. I explained to Edward and he sent me a file that has notes on how to install plus color pictures of the install of not only the front speakers, but also the tweeter, rear deck and subwoofer. He sent it at 10:02 that night and another file the next day just in case I did not get the one last night. BEST CUSTOMER SERVICE BAR NONE!!!!!!!!

Hieu , June 30
Marshall was excellent. Listened attentively, without interruption, and answered every question immediately. Very knowledgeable about the Pioneer radio I am going to buy. Very impressive, considering the huge inventory Crutchfield carries.

John, May 20
Marshall was great. He was super easy to talk to and was able to field all my questions with ease. Definitely what makes Crutchfield so awesome to work with!

Matt, May 19
Very nice to work with and very informative. Told me just what I needed to hear. Thanks Marshall!!

Rob, May 4
They were right that you guys have everything. Marshall was excellent and walked me through the website, found the part, and expedited the whole process. Thanks.

Greg, April 6
I asked Marshall about three dozen questions in rapid succession and he gave me 100% effort on each one. He helped me spec out my new system and I couldn't be more grateful for both his patience, knowledge, and professionalism. When you are ready to put some serious cash down it's nice to have an understanding of what your buying and the logic behind it. I really liked the soft sale approach. Not once did he ask or push me to buy. He merely made recommendations and acted like a consultant. In fact, he actually talked me out of some tech that he thought was overkill. He was a trusted adviser / friend rather than someone who's trying to fill up your shopping cart and empty your wallet. Thank you so much!

Rob, April 4
Marshall, thank you for your outstanding service. This is my 2nd big order from Crutchfield. This is the reason.

Tom , March 23
Marshall was very professional and quick to point me in the right direction to solve my audio problem. His recommendations and application were right on.

Eugene, March 6
I run a large customer service department and hope my employees handle our customers in the same professional manner that Marshall handled my inquiry. He was very knowledgeable in the product I was interested in, and ensured that I had everything I needed to complete my project. I will order from this company again because of his quality service.

Chris V, March 6
Marshall was super to "work" with. He was very knowledgeable and had actually heard, and was technically familiar with, the Sonos products I was inquiring. His assistance and information have led me to believe that a successful, and quality, purchase will be made. Thank you Marshall for your professionalism and assistance!

Greg, March 1
Marshall was amazing, he had all the time I needed. he took no shortcuts and answered all the questions I had in detail. His efforts will make the difference in choosing Crutchfield for my equipment and support. You have a super person on your team !!!

steve, February 20
Marshall did a great job of getting me the best product at the best price for my personal needs. Great experience. Thanks again Marshall!

doug mayfield, February 16
Excellent service with no pressure whatsoever. Gotta also share that the tech line rep was also very helpful too. Thanks Crutchfield!

Art, February 8
Marshall is the real deal audiophile. He was great to chat with.

Elliot, January 28
Had questions concerning use of Commander unit. Marshall took the time to check out the manual. That is great service.

Robert, January 25
I had a problem with the advice I was getting from a local installer for a nav/audio solution for my 2014 Honda Odyssey. Marshall confirmed that my installer was on the right track and gave me a couple of ideas for ways to add brackets to hold a portable Garmin. Great Customer service!

Fred, December 30
Super friendly, easy to talk to, patient, very knowledgeable and helpful!

Alney, December 17
Excellent both in technical detail and customer service. A true asset to your business.

Jon, November 29
Marshall helped my husband and I narrow down a set of perfect earphones. Marshall was enthusiastic, very professional and helpful. Our headphones are on their way!

Kathryn, November 24
Marshall was kind / courteous. He helped with all needs with both vehicles I called about. He was good finding what matched well and knows his product line very well. Nothing was too much trouble. Thank you I agree with others AWESOME service !!

Wes, November 15
You need to clone Marshall. Didn't overwhelm me with a ton of options for me to waste my time looking at. I explained what I was looking for and Marshall delivered just that. Fantastic support, friendly, and knowledgeable.

Garrett, November 5
Marshall was great in explaining where I could find images for my particular unit which is no longer sold at Crutchfield and answered my questions about Bluetooth microphones. Awesome Service~!

Mike, August 25
Amazing customer service, I barely knew anything about my car and speakers, clarified absolutely everything for me, great guy!!!

Abinayen, August 10
Guy comes right in and gives me a good recommendation and reasons. Exactly what great customer service is. Thanks Marshall

Daryl A, June 14
Great service, calm and helpful, always had all the info I needed.

carlos, March 8
I think it is very easy for many people to always say negative things but when it comes to Marshall there are none based on my experience. I had multiple phone calls over several months. And when I was frustrated, he had a cool head. Doing your own stereo system in a vehicle you are not familiar with can be daunting to say the least but he made sure I had everything I needed and reassured me when I thought I did not have what I needed. He was also prompt, conscientious, and focused. He was cheerful and an easy person to converse with. When you are delving into an area that is unfamiliar, Marshall is the kind of person it is great to have in the lead. Would not hesitate for a second to call him again!

Steve, August 29
Marshall was a pleasure to deal with, and he new exactly what my needs were.

autostereo, March 17
Let me start by saying thanks to Marshall! He was super helpful, friendly and knowledgable. Keep up the great hiring and give Marshall his kudos! I'm definitely a new Crutchfield customer now! Thank you

Sean, February 14
Just want to thank you Marshall for your help in product selection and the installation. The install went smoothly and I am very happy with the sound. Crutchfield and you do a great job with support and products. I will not hesitate to recomend you to friends. Thanks again, Michael

James, July 19
I called about a car stereo upgrade for a car I am going to buy. (just setting things up so to speak) Marshall was so cool, knowledgeable and easy to talk to that I really felt like I made a friend. He knew the products and gave me a lot of confidence about doing my stereo myself. Great guy, great prices and support. What a great team, he made a new customer hands down.

Duane , August 11