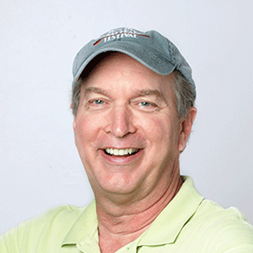 Norm
Advisor since 2006
Located in Charlottesville, VA
Norm
Home theater/whole house audio installer designer who loves installing easy to use systems.
Tech I'm excited about:
I love using Sonos wireless speakers in my own home, easy to setup and even easier to use! I also have six Alexa speakers scattered throughout my house, I even have an Alexa Echo installed in my car! Very convenient.
Favorite TV shows:
The Big Bang Theory is one of my favorite shows.
Favorite streaming service:
I use Pandora along with Netflix and Amazon Prime.
Best thing about working at Crutchfield:
I get to work with customers designing what makes them happy to be at home enjoying their family and friends. How cool is that!
Certifications
A/V Design Group
Denon CI Certified
Share how Norm helped you:
What customers say about Norm
WOW!!! I wish every business had a Norm! Life would be so much easier. Thanks Norm. Crutchfield will be my first go to from now on.

David, March 9
I have been working with Norm since 2008! What a joy. We did a whole house audio and visual project with that new Sonos thing. Wonderful design and experience. And today, for any little thing I need, Norm is there! Thank you Crutchfield!

Cheryl h, December 12
WOW.... Another reason I shop with Crutchfield. Service and product knowledge above and beyond.

Bob May, November 7
I had an awesome experience with Crutchfield because of Norm. I ordered from Crutchfield for the first time in 2011 and Norm set the bar for excellent customer service. I recently purchased an in-dash DVD player and every question I had he answered it with confidence! Keep up the good work, Norm!

Jessie, October 3
Norm helped me put a list of what I needed to "cut the cable" and explained what was truly needed and what was optional. I feel confident in the purchase I made today thanks to his help over the last couple months.

Denni, September 9
I ran into an issue with a car amplifier where the OEM radio would not output sound after the installation. Apparently, some OEM radios will not output sound if they do not detect a speaker load attached to them, because the amplifier draws a much smaller load on the radio than speakers. After talking with Norm and not immediately arriving at a solution, he called me back an hour later with a solution. I was shocked at this level of customer service, and thoroughly impressed that Norm cared enough about my problem that he kept researching a solution after we had ended our call. He had found some relatively cheap load-generating devices that are installed between the OEM radio and the amplifier. They should arrive tomorrow and I am confident that they will create enough load that the radio will output sound once again. Thanks, Norm! Your level of dedication is a rarity these days and you should be commended for it!

Jason, August 23
Norm was very friendly and helpful in placing my order. No muss, no fuss, got my confirmation quickly. Hope to work with him again on my next order!

matt dodson, May 30
Norm listens. He is extremely knowledgeable and has the gift of teaching. He can explain how things work and why one component in your individual situation can be better than another of equal quality. He is patient, supportive, and available to help for the life of the gear. Thank you Norm, for helping me decide and purchase this awesome system! You rock!

Doris , May 17
I needed a new radio for my daughter's car. Norm listened to me as I told him what I was looking to get. He asked a few questions to better learn what I needed and then made a recommendation.. He explained how his recommendation fit what I was looking for and answered a few questions I had about the product. Working with Norm was a pleasure.

Joe, April 6
Great advisor, willing to provide clarification and understanding; Norm and I spoke in length about what can be done with my 97 BMW M3, speaker replacement. Made me feel comfort in the selection of speaker I was thinking about and how to check the speakers that are currently installed. Provided me detail photos to disassemble the door and lower speaker housing to determine the way forward, planning on calling this week to make my purchase. Thanks again Norm !!!!!!

Ed, April 3
A genuinely nice guy as well as knowledgeable. He Helped me turn a good install into a one of the best resulting installs I've had.With a few techniques,improved sound quality of the Infinity Kappas to a new level! Just have to say THANKS!

Erik, March 20
Norm is THE MAN!!!!!! Very congenial,and,VERY helpful. Looking forward to doing more business with him in the future.

William, January 26
Norm is great spoke over several days answered all my questions and help me put together a system on budget. He knows his stuff very helpful and great person to talk with. Keep up the good work.

Lazaro, December 31
Norm is impressive. I was upgrading my Pioneer unit to another Pioneer with more features. He was able to show me that the connectors were the same and then he was able to add exactly what I needed to my cart. This is the best service I have ever seen! Keep up the great work! This is why I come to Crutchfield!

Brian, December 29
Norm was extremely helpful. He was pleasant, knowledgeable about the sound bar product I was looking for, and made the whole buying experience very pleasant. I'm a past Crutchfield customer and will surely come back because of people like Norm there.

Kevin, December 2
Norm was awesome helping me set up my system and helped me pre-assemble it. Started pulling the dash off at 2 pm on Sunday and was home watching the Patriots play the 49ers by kickoff. This was my second system I've installed and it was super smooth! System for my stepdaughter's BMW for Christmas is next.

Thomas, November 20
Norm was fantastic! He knew exactly what I needed to complete my project. I will always use Crutchfield !

Dave Jendal, November 15
Norm was great found what I needed very quickly and cool being able to put it on my cart. That's a really nice feature. Crutchfield has a very good one in Norm.

William , November 3
Norm demonstrated exemplary customer service in every respect. He was attentive, polite and patient. Moreover, Norm was very product-knowledgeable and guided me through the selection process with my satisfaction as his clear first priority. This was my first experience with Crutchfield and Norm you've made a customer for life. Thank you!

Jim, November 3
Norm was such a great help and a cool person... Crutchfield has the best customer service... I will definitely buy from them again.

Anthony , October 4
Am speechless with the million dollar customer service that I received. Norm is brilliant and very helpful in listening and understanding what I was looking for. There was no rush or pressure to make any purchases !! The level of customer service is beyond my wildest expectations. This is the first time I ever felt like a made a million dollar purchase even though I only spent over $300. From start to finish it was just perfect and signify every aspect of how customer should be treated. Thanks guys you rock!!! The person that took my payment was super sweet and just wonderful.

Xian Edwards , October 1
Norm is both a great guy and an encyclopedia of knowledge on all things audio/video and home theater. He takes the time to understand your needs and knows the answers. Norm has helped me with every piece of gear I've purchased over the years and is the key reason I only consider Crutchfield - why would anyone go elsewhere?

Steven, August 23
Norm was fantastic. Listened to my monologue on speaker cable and pointed me in the right direction. Great experience and love the attitude. Thanks!

Michael, August 16
What can I say, Norm took care of it all.Thanks Norm!

Larry, July 28
Very helpful! He was able to put everything I needed to do a sub install in my car. Showed me everything and what it all did and thanks to him I have some great knowledge in car audio!

Josh, July 24
I can tell he loves his job, very knowledgeable and helpful. Outstanding customer service! Thank you Norm, very much appreciated!

Ben, July 13
Great guy, very helpful putting together a replacement sound system for my son's 2008 Pontiac G6!

Jim, July 9
I am new to Crutchfield. My experience was outstanding, great company, excellent customer service, amazing people; they go out of their way to help . Norm was amazing, super nice and very accommodating. I will continue to order from Crutchfield over other companies.

Lisa , July 9
Excellent advice from Norm during the component selection and installation discussion. Using shopping cart to exchange documents/recommend installation or upgraded products is extremely effective and innovative. Norm even uploaded the connection pin out schematics for my vehicle. Crutchfield has an outstanding technical services group. Norm was an absolute professional and was a true example of the legendary Crutchfield superb customer support I have read about, but never experienced until now.

John M., July 1
Called and was connected w/ Norm.I had some questions about 3 different projects and he answered all w/ helpful answers and installer's knowledge/tricks. I've been doing business w/ Crutchfield since the 70's and they have only gotten better w/ time ! Thanks Norm.

Mark, June 15
Super nice guy, and really helpful. I LOVE Crutchfield because of people like this guy who aren't just willing to hear about install plans, but they WANT to hear about it, because they actually LIKE helping people to get their systems running at 100% of what it can be, and it's awesome. Double thumbs up!

Daniel Erbach, May 31
Norm rocked! I'm not very knowledgeable when it comes to car audio but he was very friendly (and patient) with helping me figure out the correct items that I needed. I felt he went above and beyond to make sure i had a good experience. Thanks Norm!

Evan, May 23
Norm was very friendly, knowledgeable and lot of help. It was a pleasure working with him.

Alan, February 21
I just spoke to Norm on the phone about A surround bar and he was extremely helpful in explaining what we would need. Thank you for having him as an excellent employee.

FRED , February 18
I needed little help selecting the right installation kit for my car. Norm was a big help. Quick friendly service . . . just like I've always received when calling Crutchfield. Great sales people and a great company.

Seth, February 10
Norm was pleasant knowledgeable and helped me understand what i was buying. Thanks, Norm!!!

Lucy, January 23
Needed a basic Blu-Ray DVD Player to replace an older Sony. I called Crutchfield and was connected with Norm who was very friendly. After we talked about my needs we agreed on the Sony S3500. He sent me a quick email with the order info so I ordered it right then and had the unit in a couple days. So far happy with the new Player. Norm was also very friendly and helpful on a couple quick questions when I called back during setup. Thanks Norm!

Garry, January 22
Called Crutchfield needing assistance with a Sonos Play 3....within a couple minutes Norm had trouble shooting tips, and Sonos US toll free number for help. (not to mention he answered within 2 rings) Talked to Sonos and offered a reasonable replacement offer. Problem solved within a matter of minutes. I spent way, way too much time internet troubleshooting and bad advice before going to the folks who know. Love this Company.

Brian , January 14
Very helpful, friendly and professional.

Wilma , December 18
Norm was very helpful and pleasant to talk with. Help me solve an issue with my order in a timely manner thank you so much I really appreciated your help. Outstanding customer service. Happy Holidays.

Hector, December 10
I called an adviser for help, and Norm was the one I got. My first question was about some speakers I purchased some time ago from Crutchfield but never got them installed. He looked up the speakers and checked out if they would work in my new car. Bingo !! they fit. Norm took the time to check out the specks without me saying I was going to make a purchase on this phone call !!!!! I then told him what else I was going to purchase, made sure they would fit and sent them to my cart (cool) while we were on the phone. THANK YOU NORM, and Thank You Crutchfield for being and great company. I'll call you again real soon for my receiver.

Sean McClellan, November 29
Norm was GREAT in helping me understand HDCP2.2. He really helped me understand the sound bar that I am purchasing. Thanks Norm!!

John C, November 24
Straight to my answers once he got my details of what was important. Will contact him again when we get to the next phase of our A/V installations. Thanks Norm!

V.V. Burns, November 16
Norm!!! Great job answering all my questions and advising me on the product. A pleasure, thank you.

Gary, November 6
Norm was an extreme pleasure to work with. It has been a very long time since I installed stereo equipment. He took his time with me to be sure I fully understood my new project, and he completely explained the features of the new receiver. Norm's assistance in choosing the best equipment that fit my budget was right on the money. I rate Norm and his customer service at a perfect 10. It is this experience that will keep me coming back to Crutchfield in the future. Thank You!

Derek , November 6
I found Norm's knowledge to be exceptional and really knew the answers to my questions. I have been a customer at Crutchfield since 1979 when I entered college and bought my first car radio; this was as big a deal to me at the time as anything imaginable. Ha! I expect to contact Norm when I get ready to make this decision. Advisors like Norm are the reason that everything in my house except my computers came from Crutchfield!

WILLIAM, October 31
Super knowledgeable!

Angela, October 31
Norm was extremely helpful assisting me in the purchase of a new wall mount TV arm! Thank you Norm!

Juli , October 23
I sincerely appreciate Norm's help and expertise while ordering for my Mark VII, I also enjoyed chatting while we sorted out the order and what I was wanting to do with the radio installation. So Big Thank you of appreciation.

Ken, October 19
Norm was great to talk with. He answered all of my questions, and provided something that is rare in today's fast paced world...outstanding customer service, and I know outstanding customer service when I get it:)

Anthony M Wray, September 29
Norm educated me a little on everything. I was looking for a sub replacement and after asking what amp, car, etc. He set me up perfectly and explained why. I recently called him about tweeters and my set up and he gave me great recommendations. Doesn't try to push the more expensive product he pushes what is best for the application. Actually told me I should change out my mids that I was looking to do. This is one reason I keep coming back to Crutchfield and that is why I have his direct extension, he is the only guy I want to talk to.

Cory, September 23
Norm spent about an hour with me setting up sound design for a new home. Lot of fun working with Norm, his product knowledge was impressive. Glad we talked, he had solutions for every room I'm working on. I'm in the beginning stages of the design, Norm put me on the right track with absolutely no hassle. THANKS NORM!!

Chris , August 15
THIS GUY IS AWESOME!!!!!!!!!!!!!!!!! He just saved me a ton of extra work and I really appreciate it. I was gonna hard wire in another circuit from my battery so i could have some extra lighting and such. That is until I got a hold of Norm here and he showed me a really easy way to bring in a new circuit. Thanks again Norm!!

Seth Donaldson, August 10
Norm helped me get the EXACT dimensions of my car's door panels so I could figure out why a few of the speakers I wanted wouldn't fit. Very helpful. Thank you!

Matthew, July 21
I called Crutchfield just looking to start my research. By the time I was done my order was placed, and I did not feel rushed, but was very much informed and confident in my purchase due to Norm clearly explaining to me and walking me through all the components needed. Also, he was not a "typical salesman", as he talked me out of the more expensive unit I was looking to buy, because it was not the right component for my use. Thank you Norm!

Vincent, July 6
Norm is the man!!!!.Very helpful with installing my radio in 2008 Ford Escape as I had many questions.

randy ferron, May 5
It was such a pleasure to deal with Norm. His product knowledge is outstanding! I was also very impressed with the fact that he didn't rush me and took the time to answer all my questions before I placed my order. Crutchfield is lucky to have such a great employee!

John Sergeant, April 7
Norm has been amazing. He helped guide me in my Sonos purchase, did not upsell me, and took my calls for three nights in a row before purchase answering all of my questions. After the purchase he also helped with install questions and troubleshooting on multiple occasions. The result has been fantastic. I will NEVER buy electronics from any company but Crutchfield again, and will always deal with NORM!

Mike, September 10
Norm is the best advisor he was very helpful and knowelgable. Thanks Norm for everything!

noah, June 2
Wow! It is so refreshing to deal with someone knowledgeable who really cares about solving your problem. I will never buy another piece of audio equipment anywhere else!

George, March 29
A rare and postive experience! Norm actually took the time to listen to the challenges I was having regarding a multi-amp wiring and mounting solution for my car. He made great suggestions as we worked through options together. He populated the shopping cart based on need and budget, described how best to use/place the selected items, and patiently addressed all my questions. 5 out of 5 star attitude and value. Thank you Norm and Crutchfield!!

Greg, March 10
I recently placed my first order with Crutchfield after a referral from a friend. It was so easy to find a top of the line stereo that fit my boyfriend's old truck. The customer service I received from Norm was so impressive! He was very friendly and eager to help me with all my needs. When I called him or emailed him he got back to promptly with the answers I needed. I highly recommend Norm as a wonderful advisor. Thanks again Norm!!!

Kari Tam, January 26
Very helpful and very knowledgeable. Helped me get the right set up for my older vehicle. Order came missing something. Called him, fixed the problem. If I ever call back definitely will be asking for Norm. Thanks!!

Joe Riihl, November 11
Norm was awesome to work with. I had a generic idea of what I wanted to purchase, but he filled in all the "technical knowledge" gaps. I never felt pressured to buy anything I didn't want, and I feel very confident that I purchased the best stereo and speakers that fit within my budget. Way to go, Norm!

Sean Masterson, September 27
Norm is knowledgeable and friendly. He helped guide me through the excellent products available at Crutchfield and helped my pick the car speaker that were just right for my tastes, my car and my budget.

Rob Ward, May 21
I ordered a Kenwood radio from Norm. He helped me pick out a radio with the options I wanted and didn't try to pressure me into buying anything I didn't want. Got the radio couple days later and it works perfectly so 'cause he helped me I ordered speakers from him and will continue buying from him.

justin l. arrington, April 27
I have purchased a lot over the years from this fantastic company. The prices are great, the shipping is fast and the outstanding support staff comprised of quality people like Norm are what keep me coming back first to check what they have to offer. Your get an A+ in my book Norm and well done Crutchfield for your dedication to service.

Aaron A, November 30
Norman helped me choose a wall TV Mount for a special application. He is definitely one of the most professional and knowledgeable phone reps I have ever dealt with. He guided me from page to page, manual to pop up windows, all with an ease that was remarkable. Patient and understanding, he led me to the product that fit my need. Crutchfield did it again! Great service, extensive product line and a wealth of information all at one place. Thanks!

Richard Davison, June 11
Norman was quite possibly the most informative representative I have worked with in my 20 years of buying ANY PRODUCT. Buying technical products always tends to be a more complicated process then other purchase types, but Norman was hands down the most qualified, friendly, and patient person I have ever had the pleasure of speaking to. He answered questions even if they weren't geared around the specific product I was looking into buying, and never once rushed me off the phone. I will without a doubt be purchasing some of the products we discussed in the coming months FROM CRUTCHFIELD, and Norman is the majority of the reason why I will. Kudos to him....

Mark, June 8
After conducting extensive research to redo my whole house media center, which includes now adding a PC to funnel through all my video and audio needs, I was very grateful to get to talk with Norm before making any of my purchases. Even when I thought I had the answer to a complex situation I had, Norm came up with better solutions, and he even kept me within my budget. If I had to do it all over again, I would have called Norm first after just outlining my basic needs. A BIG THANKS to Norm.

Omar, May 25
I just hung up with Norm. He spent over an hour talking to me about the system that I'm trying to put together. I literally can't recall ever having service this good. He is an absolute expert in designing home theater systems and he patiently listened to a million dumb questions from me as he educated me step by step towards the right solution. I would have expected to have paid $100 for an hour consultation with someone like him to sit down with me and help me out. I still can't believe that the service that I just received was free. Thank you so much to Norm for all of the help. I can't wait to get my new gear!!

Bruce, May 17
Norm was just great - really big help - not only did he helped me put together my system, but answered all of my questions flawlessly. He showed great patience in helping me make my purchase. Great job Norm! Thanks again - Joseph

Joseph DeMartino, May 9
I had the pleasure of speaking to Norm after a long, drawn out saga of dealing with a local audio "expert" in my home town. Long story short, Norm gave me the guidance and attention for me to trouble-shoot my issues, recommend a new amplifier, and finally, hook it up to ensure that everything worked as planned. Norm was extremely patient and informative and definitely will make me choose Crutchfield for all of my audio needs going forward. Thanks again Norm!!! Joe

Joe Mason, May 1
Looking through the Crutchfield Catalog for years, I always thought the testimonials praising the help received from the tech support guys were from folks who new little to nothing about A/V. "They can't offer ME any help", as I thought I knew most everything I needed to know to purchase my home theater system, Then I called and spoke with Norm. The guy's an A/V Jedi! His knowledge not only in the technical specs of any and all things A/V, but also his many years of experience in installation taught me more in a few phone calls than I had gained in years of playing with this stuff. And if you CAN come up with a question that he doesn't immediately know the answer to, he's emailing or calling you back in just a few minutes with the answer and several solution options. He never pressured me to buy the highest priced option, but rather made recommendations to fit my budget and the rest of my system. You can't find this level of expertise in the big electronics stores. I can't wait to start working on my next system; Norm will be the first person I'll call. Way to go Crutchfield, and many thanks to Norm!

Keith Holt, January 23
Thanks for talking to me about my SMART. Gonna start with the receiver and look at the sub and other speakers later.

Jeffrey White, January 22
Norm spent quite a bit of time on the phone with me clarifying wiring questions regarding the surround sound pre-wire I have in many rooms of my new construction home. He recommended gear that I have since done research on and have added to my "must have" list! I will be implementing the system he recommended in phases, as soon as the wife signs off. Thanks Norm!

Andrew, November 1
I recently had Norm as my advisor on a complete car audio system purchase. I couldn't have asked for a nicer, more knowledgable advisor. He always returned calls. Was very through in explaining things to me, and never pushed products on me that I didn't need. Honesty is hard to come by these days. Norm is an example of a exceptional person working for a great company! I hope to do business again with Crutchfield. Thanks Norm!! :)

Jake W. (Evansville, In.) 4/21/09, April 21