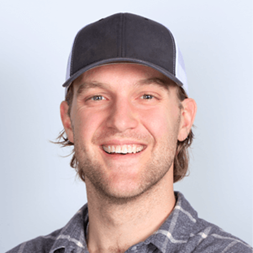 Otis
Advisor since 2015
Located in Charlottesville, VA
Otis
Rock, movie, and sports nut. I love to help people get the best sound for their experience.
Tech I'm excited about:
Turntables, integrated amps, and high end stereo speakers.
Favorite music:
Slayer, Metallica, Judas Priest; The heavier, the better!
Favorite TV shows:
Twilight Zone, Columbo, Fawlty Towers, Breaking bad, the list goes on and on!
Favorite teams:
Pittsburgh Pirates, Cleveland Browns, and Virginia Cavaliers (Go Hoos!)
Badges
* Pro Audio Advisor
* Home Theater Advisor
Share how Otis helped you:
What customers say about Otis
Otis did a great job helping with the right equipment with the radio I was looking for. He did a fantastic job helping me and I would ask for him if I had any problems. Thank Otis for a great job. I would recommend him to anyone who needs a great stereo system.

David Lewis, October 26
Otis was awesome to work with! Very knowledgeable and helpful. Outstanding customer service by Otis and Crutchfield.

Joel, October 5
I first talked with Wayne. I described my problem and here solved it instantly. i decided to purchase the Sony TV from Crutchfield immediately. He transferred me to Otis in sales. I had placed an order for the TV with another major retailer and after talking to Wayne and Otis, I called and canceled my order. Otis then took my order. What great guys. Talking with real people who obviously loved their work and cared about their company and customers. How rare in this day and time. I look forward to my next purchase from Crutchfield.

James, September 16
Otis was very helpful and knowledgeable. I am pleased with his professionalism and outstanding customer service. Looking forward to connecting my Klipsch sound bar and sub. Thank you!

Mike , July 1
Otis was awesome. Knew exactly what I needed and didn't try to convince me to spend more.

Scott Mitchell, May 18
Otis hand picked a car audio system based on a few key points I knew I was looking for. He took the time to talk through every item with me to make sure I knew what the items were and make sure it fit my needs. It was an extremely personable experience that I was hoping I'd get from Crutchfield and Otis did not disappoint.

Adam, May 10
Otis is very in tune with the products he deals with. Has a knowledge of stereos is above par and can give you great feedback and an unbiased opinion to get you to the product that will serve you best:)

Patrick , May 6
Otis provided excellent responses to my questions and steered me in the correct direction to solve my surround sound speaker re-configuration. I was glad he was able to steer me towards a more matching set of speakers to work with my existing front channels and not push me into a more expensive set. I'll be calling Otis next time I need a product that is in Crutchfield's product line.

Justin, March 10
Otis helped me figure out what kind of setup would be best for the type of music I listen to. He also showed me some new products that I didn't know about and I look forward to visiting Crutchfield's website again! Thanks- really great customer support!

JP, February 7
Otis was fast, friendly, and helpful. He answered my question (that Google couldn't) in less than a minute. Thanks!

Andrew Dalbey, January 6
Otis provided me with a comprehensive discussion the selection of speaker components for my AV receiver. He was very knowledgeable and answered my many questions. I know little about A/V equipment and ask a number of questions. Otis was very patient and knowledgeable as I asked for clarification of each recommendation. Super customer service experience.

Lou , December 2
Otis was very helpful in providing information about televisions. He answered all my questions and gave lots of other info. My husband and I love the great service at Crutchfield.

Karen, November 26
Otis is great dude. I am installing a very important sound system in the 2009 GMC Crew Cab my dying father gave to me. As you might imagine, I only want the best of the best going into his truck. I explained I want clarity above all else and since I'm an Okie and Stillwater is 40 miles from me I use all Kicker (Stillwater Designs) equipment and wiring. He made some great suggestions and explained how to get the best out of my equipment. Thank You Otis, From My Dad and Myself. It means the world to me to have your help.

Ryan Owasso, November 10
Otis helped me figure out a way to connect smart phones/tablets to my stereo system, with utmost attention to performance: settled on the Audioengine B1, and it performs beautifully.

Christopher , September 17
Otis rocks. Quickly sorted out my questions on some distinctions between products and functions. Explanations were clear and concise. Very knowledgeable and quickly took time to confirm his facts to be sure I was getting the correct info. Give that man a raise!

Mike, September 13
Otis is what support should and must be. Very friendly, understandable and quick to know his stuff. I had tried for days to order these kits but no one could confirm the requirements to the level that Otis did. Went through this on another install which ended up costing me $300. Deleting my other .com accounts and Crutchfield is now my favorite. Way to go Otis you show an old man what Customer Service should be!

Edward, August 20
Otis did a great job informing me of all the options on my new receiver and pointed me away from an older model that I was originally interested in that wouldn't have been compatible. He was very patient and answered all of my questions. Great job and another great Crutchfield experience.

Ryan, July 21
Otis rocks! Had a customer service need and he knocked it out of the park. Courteous, logical, and to the point. Thank you Otis, thank you Crutchfield!

Nick, July 19
Awesome help from Otis. I like the guy was helpful and listened.

Matt, June 20
Dude you rock, Thanks!

Frank, June 18
Otis did a fantastic job of helping me select the perfect speakers for my media room while looking for the best value (not just the cheapest). I feel much more confident that I have the right equipment. Thanks Otis!

Nicholas, June 11
I was looking to upgrade my factory sounds a bit, but without voiding my warranty.Otis knew what to do and not to do in order to achieve that, while getting something better into my vehicle. Also leaving me with the ability to add an amp later, post warranty. Thanks!

Dan, April 1
I wasn't sure which car radio would work best with my factory speakers. Otis helped me decide on a great radio, was very knowledgeable, and was a pleasure to work with. This is my second car radio purchase from Crutchfield and both times I had an awesome experience. Crutchfield will always be my first stop when shopping for any audio/video equipment.

Darrin Z., February 22
Otis is awesome. On web chat he was clear, courteous and to the point. His advice gave me the confidence to start my project (total audio replacement for my 2003 Acura TL).

Armando, February 12
Otis was very helpful and considerate. He actually listened to my requests rather than just try to sell me product like many other chat services.

Steve, February 9
Twice in one night Otis helped me over chat, he was very responsive and reassuring and I appreciated his help very much.

Jay, February 4
Otis was very helpful and knowledgeable helping me out when I had a few questions about a product I was looking at for my car. He is very friendly, today was the first time I chatted with him and I felt like he was a friend I had known for a while. I would recommend Otis to anyone looking for information on any product and I will be referring to him for future purchases, this man is what customer service is all about!

Hugo, February 2
Otis is great. I bought a Yamaha R-S500 and after receiving it, decided to return it and upgrade to the Yamaha R-N602. At first I was embarrassed, but he completely understood and made me comfortable in the upgrade. I really love dealing with Otis, and Crutchfield in general. Hey Otis, GO BROWNS!!!!

Scott, January 29
Otis is a true Rock Star and extremely knowledgeable, I felt like he was in the room with me looking at the components, he gave me great insight as to how it all works together

Mark, January 21
Very patient and couterous!

Douglas, January 18
Otis was extremely helpful and knowledgeable about the products we have discussed. He has helped me purchase new speakers for my car and a new 4k TV. He has been very helpful during both purchases and I would definitely consult his expertise when deciding on future purchases.

James, January 7
Otis was extremely helpful and knowledgeable about the products we have discussed. He has helped me purchase new speakers for my car and a new 4k TV. He has been very helpful during both purchases and I would definitely consult his expertise when deciding on future purchases.

James, January 7
He was very polite and helpful; I know very little about car parts and equipment. I was under the impression I needed new speakers, but he advised me that changing the radio might improve quality much more, and I could always change the speakers later. He was also patient with me since I am not the most knowledgeable in technology either!

kaitlin, December 4
Very pleasant purchasing experience with Otis. My first purchase with you and I had two web chats yesterday with questions about the product I just purchased and that went well also. It is neat that you put Otis and the folks I chatted with up on my computer with a pix. Looking forward to a continued great experience with you! Otis represented you very well! Not always the case with other companies. Don't change! Pass on my thanks to Otis.

warren conner, November 13