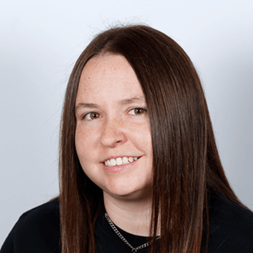 Tatum
Advisor since 2017
Located in Norton, VA
Tatum
I love being on 2 wheels, spending time with my family, and car audio.
Tech I'm excited about:
Car Audio - Component Speakers, Subwoofers, and Amps!
Favorite TV shows:
Orange is the new black, NCIS and Criminal minds.
Favorite getaway spot:
Gatlinburg, TN.
Best thing about working at Crutchfield:
I actually get to touch the products and get my hands dirty.
Badges
* Remote Category Advisor
Share how Tatum helped you:
What customers say about Tatum
I have bought other items from Crutchfield, but had specific question. Tatum did an outstanding job of recommending the right item and gave me some information that I didn't know. My wife is 100% satisfied and thankful for her help and knowledge.

Corey T., May 19
Wow! Just wow!. My wife will spend hours in the grocery store. But I'm an in and out kinda guy. That's how Tatum was. She got 'er done, baby! Good Job!

Tony, December 20
Went beyond her "job title" to help me with what I needed. Very good employee and was a pleasure to do business with.

Jesse, September 17
Tatum helped me immensely in an items that I was unable to find anywhere else on an obsolete stereo that I bought over a year ago she seemed very knowledgeable and eager to help thank you Tatum!

Greg M., August 21
Tatum is awesome and a pleasure to work with. I've just bought a few things so will be needing answers very soon :)

Jimmy J, August 13
Tatum is the Best!!!!

Mike B., August 6
Ms Tatum was extremely helpful to this shopper with very limited knowledge regarding a home theater system.

Steven, July 23