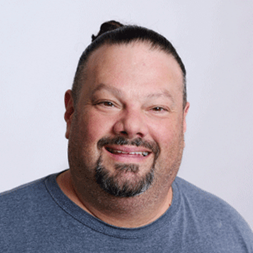 Tim
Advisor since 2009
Located in Norton, VA
Tim
I am a mild mannered home and car electronics expert by day, Protector of Asgard by night
Tech I'm excited about:
New 4K Televisions looks to be Amazing.
Favorite movies:
This is a hard one , but I would have to say both of the Avengers movies.
Favorite getaway spot:
I enjoy visiting the realm on Asgard and hanging out with the homies!
Favorite teams:
I am the biggest Kentucky Wildcats fan on the planet!
Badges
* Marine Audio Advisor
* Personal Audio Advisor
Share how Tim helped you:
What customers say about Tim
Tim was great helping me pick the right accessories needed for installation of my new audio gear, and at a great price! Thanks Tim.

Ty M., April 10
Tim was fast replying and did his best to help me find what I needed.

Tyler, December 27
Tim was very quick and very kind. He helped in every way. If I order again or need help he's my go to guy.

Greg P, December 13
Tim is the coolest person at Crutchfield very helpful!!!!!!!!!!!!!!

Tim O'Neill, November 8
My guy Tim told me everything I needed to know about wiring in a new stereo into my car, Thanks Dude!

Jack Moloney, July 30
Tim was AWESOME! Helped me out a lot! The only downside is he's a UK fan, come on, man... :)

Michael, April 28
Tim was fantastic helped me pick out the best radio for my truck. I ordered it on Wednesday and it was delivered that Friday afternoon. Put it in and didn't even have to cut out the back support. THANKS TIM YOU ARE GREAT!

Mark, April 14
Tim was awesome. I had some confusion with an order I had and some questions about pricing. He was able to actually put everything I needed to install my car head unit in my cart and explained everything well. He's personable and professional. Keep up the good work Tim!

Tim , April 12
Tim was awesome. I had some confusion with an order I had and some questions about pricing. He was able to actually put everything I needed to install my car head unit in my cart and explained everything well. He's personable and professional. Keep up the good work Tim!

Tim , April 11
Tim made choosing a new car radio/CD/navigation/Bluetooth/backup camera very simple. He recommended an external speaker and the hook ups I needed. I will definitely consult Tim with any other purchases I make from Crutchfield. Thanks so much!

Shari, April 10
Extremely helpful and pleasant. Answered ALL of my questions quickly and professionally. Provided a range of options for price and features. Very knowledgeable. Will recommend him and Crutchfield to both friends and family! Can't wait for premium sound! Thank you again.

Miss Beachy, March 17
Tim did a super job getting the correct parts I needed for my car stereo install!! From the components to the checkout. Very pleased. Thanks Tim!!

Kevin, February 15
Tim is the Best, he helped me with my selection of speakers for my car. Very friendly and helpfull, I received the speakers on the day Tim said. Go Kentucky, I look forward to talking to you again. Coach Lewis

Ross , January 28
Tim was an amazing help when I called in looking to purchase a turntable. He provided me with excellent information that helped me make a purchase that I'm very happy with.

Kevin, December 29
Tim is excellent to work with. He always calls me back when I have questions on items at Crutchfield. AAA customer service skills. I purchased a pair of Klipsch RF-7II from Tim. I could not have been happier with my first purchase from Crutchfield.

Ben, October 7
Soooooo wonderful to be able to spend all the time necessary to feel good about your Crutchfield purchases. Tim couldn't have been and nicer or more helpful. Thank you for everything!

Elaine Thompson, September 24
I was hesitant about buying an expensive, open box camera from the Outlet Store, but I was curious enough to call. I had a list of questions concerning both the product and Crutchfield's policies. Tim took the call, and he could hardly have been more helpful or more reassuring. On the basis of that call, I did order the camera, and I could not be more pleased. Excellent service. Thanks.

Bill W., September 6
Tim + modern technology over website = quick and easy adjustment to my order!! Thanks Tim

Grant, August 14
Tim was amazing. I was completely lost in the complexities of a home theater system. He helped me figure out what would work with my older TV. He was absurdly patient with my many and I'm sure, stupid questions. Great guy!

Joseph, July 23
Tim helped me select a set of home theater speakers to go with my new Onkyo AV Receiver. Instead of asking a couple of questions and trying to push a particular system on me, Tim listened carefully to everything I had to say and asked very prudent questions about my existing system and the layout of the listening room. He carefully digested all of this information that I presented to him and he came up with 2 extremely nice systems both of which fit my needs to the tee. Not only was I impressed with Tim's level of knowledge, his laid-back attitude, and his impressive interpersonal skills, I was thrilled to know that I had found an Advisor who truly cares about his customers. Thanks for everything Tim!

David, June 8
I called into Crutchfield to get advice on upgrading my speakers in my Camaro. I got Tim on the phone and he went immediately to work helping me decide on the best solution for my car. He explained the pros and cons of certain speaker component systems and there performance and what I would need to have the proper sound performance. He walked me through everything and put together a great package for me. Tim should be recognized for his superior customer service , great attitude and superior knowledge last but not least his dedication to his job and making sure the customer is 100% satisfied. Thank you Tim and Crutchfield for all your help!!!

Willaim, March 26
Tim was extremely helpful and provided me with all the information I needed! If you need help with your vehicles stereo equipment, Tim is the man to talk to.

Joe, February 4
Tim was very helpful and very fast in helping me choose a amp for my subwoofer box in my truck! Best customer experience I've ever had!

Logan, January 18
Tim was VERY helpful in recommending products to upgrade my factory system in my Jeep Wrangler. Thanks!

Marcus Gerrits, December 8
I told Tim exactly what I wanted and he made sure I had everything that I needed to put my new stereo system together in my truck. Very knowledgeable, and very good guy.

Vern, November 23
Tim was extremely easy to work with. He helped customize the perfect sound system for my Honda. Definitely use him if you need any help deciding on a new set of speakers!

Nick , October 10
Tim was incredibly knowledgeable, and PATIENT. Great guy.

Humberto, July 23
Tim was great, helped me select and order a new Pioneer entertainment system for my auto. He was very knowledgeable and made good recommendations. I would order from Tim in the future.

Tim in FL, March 9
Great guy helped me all the way thank you for your help!!! He got it done faster than I expected anyone to thanks, again.

Jake , August 4