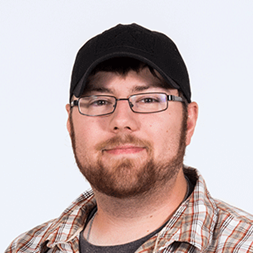 Wade
Advisor since 2016
Located in Norton, VA
Wade
Learning new technology to teach the alien overlords how to overpower the humans.
Tech I'm excited about:
Bluetooth speakers, remote start systems, and the magic that is Dolby Atmos!
Favorite TV shows:
Futurama, Game of Thrones, Longmire, Deadwood
Favorite books:
Night Angel trilogy by Brent Weeks and The Rangers Apprentice by John Flanagan
Favorite hobbies:
Gaming, hiking, reading, and relaxing with a nice stereo setup and turntable.
Badges
* Remote Category Advisor
Share how Wade helped you:
What customers say about Wade
Wade was a real big help in directing me on what to purchase for my Sirius Satellite Radio for my 2017 Ford Transit Van.

mike wolfe, May 23
Wade was awesome. He was patient, listened carefully, and took the time to understand what I was trying to accomplish with a new turntable and powered Bluetooth speaker setup. He was also knowledgeable about the product options available to me. Thanks again for all your help. I ended up ordering a system for my youngest daughter and a (more tricked-out system) for me.

Roger Martin, May 10
Wade was extremely helpful and knowledgeable about a very custom solution, while understanding the budget constraints. I should have just called earlier instead of doing the hours of research ending in frustration... He earned the business and I very much appreciate his expertise. Thank you Wade!

Brian, May 2
I had a head unit I bought for one vehicle and wanted to install in a new vehicle. Wade walked me through my options and got my order processed for the right gear in under ten minutes. He was very polite and is obviously very knowledgeable in his field. This is why I keep coming back to Crutchfield, they always have a great attitude and all the help you need.

Mike, April 28
I haven't purchased anything that went as easily and pleasurably as this in...I can't remember when. Wade was a consummate professional who helped guide me though the buying process. He didn't try to sell me a $500 head unit when I told him I was looking to go low end. But he did recommend upgrading just a bit to get Bluetooth capability, which, when he mentioned it, made a lot of sense for my wife (it's for her van). He helped get me the dash kit I needed, the wiring harness, and most importantly, he suggested that I choose "Ready Harness", which may be the best $20 I've spent in the last ten years in terms of value for the dollar. That is just such a no-brainer. Made it a 10-minute, plug-n-play install. Wade was courteous, polite, patient, and really, really helpful. I ran the sales training function for a Fortune 500 company for a decade, and I know what makes a good salesperson. Wade is it. He's in that perfect zone between mindless and unhelpful order-taking, and pushy, obnoxious overselling. My purchase was better because he was involved in it. I got a better head unit than I would have, I got "Ready Harness", which I didn't even know to ask for, and he saved me a ton of time and hassle. Just can't say enough good things about Wade. Give him a raise and long weekend!

Will, April 25
Wade made some great recommendations regarding the speakers in my older Land Rover and helped me protect them against moisture. Check out Saipan and stop by sometime. Thanks.

Alex, April 24
Well I have to say it's been about 20 years since I've put a new sound system in and they have changed so much. Everything that I order and needed was right. The pre-wired harness was the best 40 bucks I've spent in a long time what a time savings. Thanks again!

Pete , January 17
I contacted Wade on chat to ask about a crazy whine-like sounds that was coming through my speakers - I figured it was from the engine ignition system feeding back through my stereo. Wade recommended checking the ground of the radio and VOILA! He nailed it! I ordered a wiring harness kit and two sets of speakers for my car because of Wade's help - I bought from Crutchfield because of my fantastic experience with your techs - Way to go Wade!!!! Cheers, SF

Just An Old Coot, December 12
Wade heard what we needed and got straight to work. We would never have gotten what was necessary without his expert guidance. Thanks, Wade.

Bob Keenan, December 4
He was extremely helpful with a car receiver choice because he listened carefully and gave me options that perfectly fit my needs. He provided super service. Thank you Wade!

William , November 2