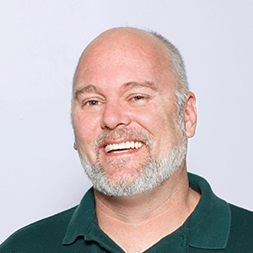 Ziggy
Advisor since 2000
Located in Charlottesville, VA
Ziggy
I love to DJ, surf, snowboard and Sail- It's not the destination it is all about the Journey!
Tech I'm excited about:
Turntables, all of our Pro Audio Gear, Home Automation, Marine gear and Personal Audio
Instruments I play:
Turntables
Favorite music:
Led Zepplin is my absolute favorite. Too many to list after that.
Favorite movies:
Fast Times At Ridgemont High, Breakfast Club, and Star Wars
Certifications
Pro Audio Certified
JL Audio Certified
Denon CI Certified
Share how Ziggy helped you:
What customers say about Ziggy
Thanks for your help today, Ziggy! I appreciate your assistance in making my final decision, choosing a new system for my Solara. I'm sure I won't be disappointed! Mr. Crutchfield: Give this man a big, fat raise!

Russ J., February 14
The knowledgeable employees and the high functioning company made me extremely happy to give my hard earned money to Crutchfield!

A.C. , February 6
Ziggy is a great guy. Super knowledgeable. Really knows his stuff. Takes the time to explain it all. Helped me solve some really complex car stereo installation configuration issues. Great service. Can't say enough good things about Ziggy. Besides, he likes Zeppelin. Nuff said.

Brian Weaver, January 23
The whole team of advisors is a great group. I talked to about 5 and they gave me all the answers I threw at them !!. Ziggy was the last one I pestered. With this, I gave my order this morning. Used you guys about 25yrs. ago. Well. I am back. Sincerely Doug.

Doug Butz, November 23
Ziggy is the man, I had him to send me info on my car and it was not a problem, I have been buying from Crutchfield since the late 80's and had always had great success.I have bought receivers, speakers, amps, subwoofers for all the cars I've owned over the years.I will continue to buy from them and the technical division are very helpful.

Darryl, September 14
Ziggy was awesome helping me with speaker selection and helping me with my unique install situation. He guided me through some creative thinking adding speakers to my trailer and making all this work with fitment and installation ideas. Ziggy is very knowledgeable about sound systems and will go the extra mile making sure you have all the right equipment for a smooth install. Thanks brother.

Mike Woolsey, June 1
Ziggy was a huge help in getting everything I needed for my rig! Very knowledgeable and made great recommendations.

Nick, May 19
This Cat knows what he is doing! Set me up with a bad system that worked for my needs and my budget. Gave honest, knowledgeable advice where needed, and always showed me the value of each component. Put this dude on commission so he can start making some big money! Very sharp Cat!

Michael DI Blasio, May 12
Ziggy is AWESOME! What a great guy and very knowledgeable about all of the products at Crutchfield. I will not go to any other source for products that Crutchfield sells than Ziggy and the amazing online wonder store known as CRUTCHFIELD.com.

Jeff, May 9
Ziggy has been such a great help to me with my audio purchase for my truck. I am a rookie when it comes to electronics. he has helped me through the entire process and has answered all my questions and there was a lot of them. lol I will continue to reach out to Ziggy and Crutchfield for all my electronic needs.

Rachael, April 13
Ziggy has vast knowledge of the items sold here and is super friendly at that! He directed me to some items, but not off the wall expensive ones; just ones that will fit my needs and the area I'm trying to create! Thank you Ziggy for your help, friendliness and sharing your knowledge!

Ken , February 27
Needed information for wire type and size for my amp and some of the specs for running it. He was able to help with perfect answers and was quick to help me. Great one to work with.

Anthony, February 14
Best customer service rep I have had. Very chill person. Very helpful. Listened to what I was looking for and helped me find a product that I wanted. Awesome guy to talk to!

Eric, February 12
Ziggy provided great service and is very knowledgeable on audio equipment.

Mark, February 3
Ziggy has been awesome since day 1. Very helpful and knows his stuff had a problem with my Sony card and he took care of it i'm glad he has been the person to help me out with my purchase he has been perfect!

Eduardo, January 13
DJ of efficiency and a spinner customer satisfaction.

Michael , December 28
Ziggy ROCKS!! Very helpful and personable. Been using Crutchfield for almost 30 years and advisors like Ziggy are the reason why!!

fletch, November 29
Ziggy blew my mind. I hit him with audiophile question and he shot back the correct answer. Then he not only located me the best solution for my vehicle, but sent me a link to a shopping cart with exactly everything I needed to install the equipment into my exact make and model vehicle. Online help with actual intelligence and knowledge of the product being sold is unheard of across the board... Until now. Thank You Ziggy!

Joey, November 14
Ziggy very quickly helped clear up a couple of pre-purchase questions about a turntable/speaker set I wanted to buy. I am pleasantly surprised at the level of service offered by Crutchfield, both before and after a purchase! Rare thing in the world of big box online retailers. Thanks so much for your help!

Miller, October 21
Ziggy is the MAN! Thanks for your help.

fosho, September 13
Ziggy was awesome! He knew everything I needed he was on it!! I blew my car speakers up and he found my car year make and model in seconds. Within 6 minutes we where done with the deal. It was my pleasure getting him thanks Ziggy.

Tom, August 18
Ziggy really helped me out when my online purchase got hung up in the Visa verify process. He was attentive and gave me some great feedback about the speakers I was buying and what kind of amplifier power would be required. Terrific guy!

Greg, July 20
Ziggy provide excellent assistance. Very knowledgeable and easy to deal with. Thank You Ziggy.

Richard White, June 29
Talked to Ziggy and told him I wanted to exchange the camera for a higher model and he made the process very easy. At the end of the conversation with him and customer service - I tried to remember when the last time I had a return this easy... It's been awhile. I've purchased a lens to go with the camera since the original purchase. I bought a Scratch and Dent--- when I got it-- the only thing that was scratched and dented was the packaging.. Camera inside was pristine.. Happy customer here.. Thanks Ziggy and Jane (I think that was her name). You guys get my medal for awesome Customer Service..

Ed, June 22
I was curious about issues I might have replacing the factory unit on my '03 Honda Pilot, and he had all the answers. His prompt and detailed information convinced me to purchase through Crutchfield. Thanks!

Shawn, June 22
Great service, great personality and made more money for Crutchfield by selling something to wife, giving her free shipping lol....

Richard, June 19
Great helper, quick and to the point. He didn't try to talk me into the most expensive product. I was able to purchase the items in my budget. Thanks for the help, I will be back!

Travis Flanders, May 31
Ziggy was very helpful in the purchase of a new subwoofer ordered for me and getting it shipped to my home. The people at Crutchfield have always been very professional for many years for me. Thank you Ziggy for all your help.

Joseph , May 26
I had been contemplating buying a new radio for my '07 Chevy cobalt for some time. I also wanted to install it myself to save money. Ziggy helped me through the process after I'd selected the radio I wanted and made sure I had all of the necessary install accessories. He gave me his direct number in case I had any additional issues. This is my first experience with Crutchfield and Ziggy made it a memorable one. I will definitely consult with him on future purchases.

Charles, May 26
This dude hooked me up with a complete list of everything i needed to get my ride bumpin' somethin' proper!

Bobbyu, May 12
Ziggy took the guesswork out of what will work and put together a perfect package for me. You just earned my business. Thanks Ziggy!

Adam Friedman, May 5
Ziggy was very professional and answered my questions with great accuracy. He patiently explained all the technical jargon related to the system that I wanted. Thanks very much.

Vincent M, April 20
Ziggy not only answered my question, but also gave me info on a center channel speaker that would be a good match. Thanks Ziggy, and please thank Mark for setting up my cart. You guys are great, and I love Crutchfield!

Ernest, March 18
Ziggy is very patient and explained me all the difficult technical stuff. Thanks.

Marcos , March 8
Perfect speakers for the stock tape deck in my 93 Honda Del Sol. A snap to install, thank you!

David, September 15
Ziggy was tremendously helpful in making my decision on the right navigation head unit for my car. Very knowledgeable...a true asset to your company. Thank you Ziggy !!

Mike M, August 18
Ziggy was extremely helpful to me, he answered my questions thoroughly and was quick to reply. Ziggy, you saved the day!

Zane Kicker, May 19
Wonderful advice, love everything about Crutchfield!!

Chris , March 3
Ziggy is the man!! He was knowledgeable, patient and incredibly helpful in finding replacement speakers for my wife's older model car. Understood my price point and did not try and sell me something I did not need or crazy extravagant. Rare to have quality customer service like this these days - Ziggy will be my first contact for my next electronics purchase.

Todd, November 26
Thanks for the suggestion on the HK SB26. Very happy with the purchase!

Mark, October 31
Ziggy was a pleasure to work with. He was patient and knew the answers to my list of questions. Not to mention he's a real nice fella. I plan to contact him the next time I need to order something. I wish all the businesses I worked with had half as nice and intelligent representatives.

Mike, August 21
Ziggy is great!!!!!

john h schoenrock, April 13
Of great assistance on my order - well, done, fella!

Denis, December 9
Ziggy was able to answer all of my questions and concerns very professionally and that quality service is exactly what I needed. I will most definitely take his advice and purchase the Pioneer radio that I am lusting over. Thanks Ziggy, stay cool my friend!

Alex M, March 23
Great service and taking time to understand the question for troubleshooting. Fresh approach to customer service! I'll be back if the ideas you suggested don't work for the car and home theater.

Rick, December 31
Ziggy was incredibly helpful with regards to my order prior to my purchasing it. I ended up ordering a complete home theater system including video, audio, internet connections, etc. He went through my shopping cart and made suggestions on changes even when that reduced to total cost of the order. Ziggy made me feel like he was looking out for me and not just trying to make another sale at maximum price. Thank you very much Ziggy.

Tim, June 22
Ziggy made my life easy when we had to change my order around before it got shipped. Smooth and simple!

Andrew, May 29
Even via phone conversation, I can tell Ziggy is a really good guy who wants to help. He's never let me down on an audio question, however vague/specific/random it may be. Really appreciate the help and recommend him to anyone ordering from Crutchfield.

Dave A, April 13
Ziggy was very helpful when i asked to go over my order before final purchase. He even advised me that upgrading to a slightly better Radio would end up saving me $$ on my total order over all. The installation and service was very good. I would recommend any self-motivated person that's thinking about purchasing and installing yourself to do it. Thanks Ziggy for your help.

Matt E., March 4
I recently moved to a new home, and Ziggy helped me build a complete 3D AV system. He asked the right questions, and guided me to the right choices. He was not only knowledgeable, but a pleasure to work with. I manage a very large customer service department, and appreciate pros like Ziggy!

John, November 9
Great Guy, knowledgeable, saved me money!!

Bill B, September 21
Ziggy was extremely pleasant and helpful in setting up my order. His knowledge of Crutchfield's products, and audio in general, allowed me to get exactly what I needed for my home theater.

Luis, June 3
This guy rocks, he knows enough to guide you in the direction that YOU want to go with your electronics and is willing to help above and beyond. Thanks again Ziggy.

Nicholas, December 24
Ziggy was extremely helpful in ordering my new TV and theater system. Crutchfield had better pricing and policies than a similar unit I ordered elsewhere, and Ziggy worked with me to reserve an order, providing me time to cancel the other. Resources on Crutchfield online and their staff are tops.

William Cross, December 1
A nice fellow that guides you to the correct product for your needs. Recommended.

RVA, August 20