17-minute Sonos setup
A newbie installs a three-room wireless music system
Heads up!
Welcome to this article from the Crutchfield archives. Have fun reading it, but be aware that the information may be outdated and links may be broken.
Editor's note: The Sonos system has evolved since we published this popular article. Sonos players can now be set up without a hard-wired connection to the Internet. The Bridge component featured in this story has been superseded by a new component, the Sonos BOOST. For up-to-date information, please read our Sonos buying guide. Thanks for visiting Crutchfield.com.
---
How easy is it to set up a Sonos wireless multi-room audio system? We asked Rachel, one of our web designers, to give it a try. She had no previous experience with Sonos, but was excited to have it in her new home.
Rachel lives in a two-story house with her husband and twin toddlers. She decided to start with Sonos in three rooms, which meant that she needed to install four components: a Connect, a Play:3, a Play:5, and a Bridge. We followed Rachel around with a stopwatch, taking notes as she went along.
[Note: There's a new way to set up a Sonos system that's even easier and faster. Read about it at the end of this article.]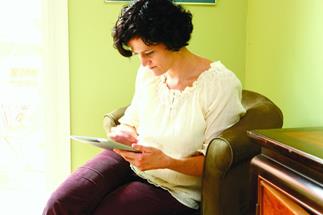 Minute 1: Download the Sonos App
To start, Rachel downloaded the Sonos app for her iPad from the iTunes® store. Once she pulled up the app, it gave her step-by-step instructions on setting up her new system.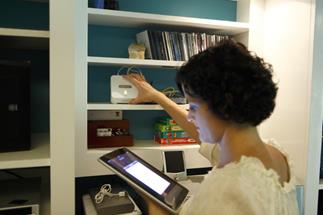 Minute 3: Setting up the Sonos Bridge
The Bridge connects your Sonos system to your home network, so you can access Internet music services, Internet radio stations, and music stored on networked computers. Rachel set up this piece in her basement near her router and modem, and connected the Bridge to her router with the included network cable.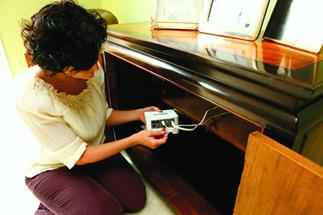 Minute 5: Setting up the Sonos Connect
We wanted to make Rachel's Sony home theater system part of the larger Sonos system in her home, so we incorporated a Sonos Connect. This player plugs into a wall outlet and connects to the Sony home theater system with an audio cable. This was the most "involved" step of our Sonos setup, since it required audio and power cables.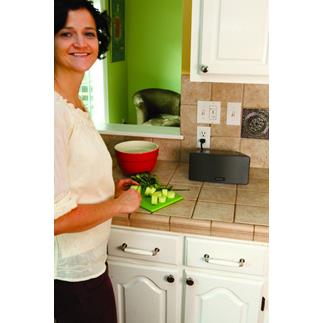 Minute 6: Setting up the Sonos Play:3
The Play:3 is Sonos's smallest player. With three built-in amplifiers and three built-in speakers, this player is small but mighty. It's a standalone player, so it plugs into power and then provides warm, rich sound. Rachel set this player up in the kitchen, so she and Ben can enjoy music while they cook.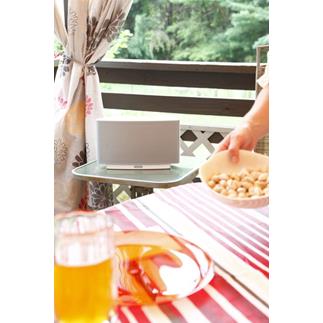 Minute 7: Setting up the Sonos Play:5
The Play:5 is a standalone player that's larger than the Play:3. The Play:5 has five built-in amplifiers and five built-in speaker drivers, so it's better equipped to fill a larger room with sound. We initially used this player out on Rachel's deck, but she later moved it into the large basement playroom for her sons to enjoy music while they play.
Minute 8: Updating the players
Once we had all the players set up, we needed to update the software to the most recent version. Because all of the players are controlled by an app, this was easy. Rachel touched a button in the app and all players checked for updates and implemented the updates.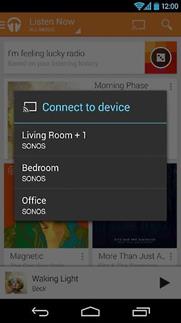 You can play to Sonos speakers directly from the Google Play app.
Minute 15: Setting up music services
Next up, we had Rachel use the Sonos app to log into music services. We set her up with a new Beats Music account as well as her existing Pandora Internet Radio account. As Rachel discovers more music services, she can add those to her Sonos system, too — the folks at Sonos frequently update their compatible services as new ones are released.
She recently added a trial of Google Play and was delighted with its user-friendliness, especially the "I'm feeling lucky" radio function.
"Without touching anything, 'I'm feeling lucky' loaded a playlist with songs I would totally dig," Rachel said. "Other services I've tried get in a rut and seem to play really obscure songs or multiple recordings of songs that already played."
You can "throw" music to your Sonos players directly from the Google Play app. That adds a nice measure of convenience, as you don't have to stop and open up the Sonos controller app.
Another reason to consider Google Play is that you can add your iTunes® library to Google Play for free. Store up to 20,000 of your songs on Google's cloud service, and seamlessly blend your music with Google's. You can even import your iTunes playlists into Google Play.
"That is something my husband will love." Rachel said. "He has many CDs and rare MP3 downloads that aren't available on iTunes or Google Play."
Minute 17: Ready to party
Within 17 minutes, we had a Sonos Bridge and three Sonos players set up, and Rachel and Ben were exploring music on Pandora through the Sonos app on their iPhones. After a discussion of what to play first, they picked a room and started listening to music. They quickly figured out how to play music in multiple rooms of their house, too.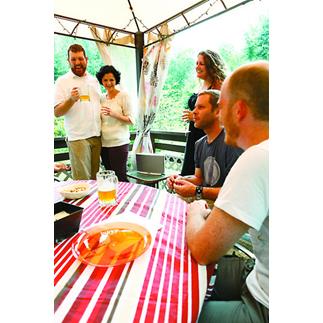 Portability for a party
We timed this setup so we had everything up and running the day before Rachel held a huge housewarming party. On the day of the party, the weather was beautiful so Rachel wanted the majority of the party to be held outside. To bring the music outdoors, Rachel set up the Play:3 on her patio and the Play:5 on her second-story deck. She set up a playlist and had the two outdoor players, along with the Connect in the living room, pump that music through her house — indoors and out.
The new way to set up Sonos
Until recently, a Sonos system required one wired connection to a home network. In most case this meant connecting the BRIDGE to your network router. The BRIDGE actually established a separate "mesh network" for the Sonos components. Now you can put Sonos speakers on your Wi-Fi network. However, the BRIDGE method is still an option, and it can improve performance in homes with limited Wi-Fi capability.