2005-2010 Scion tC
2005 • 2006 • 2007 • 2008 • 2009 • 2010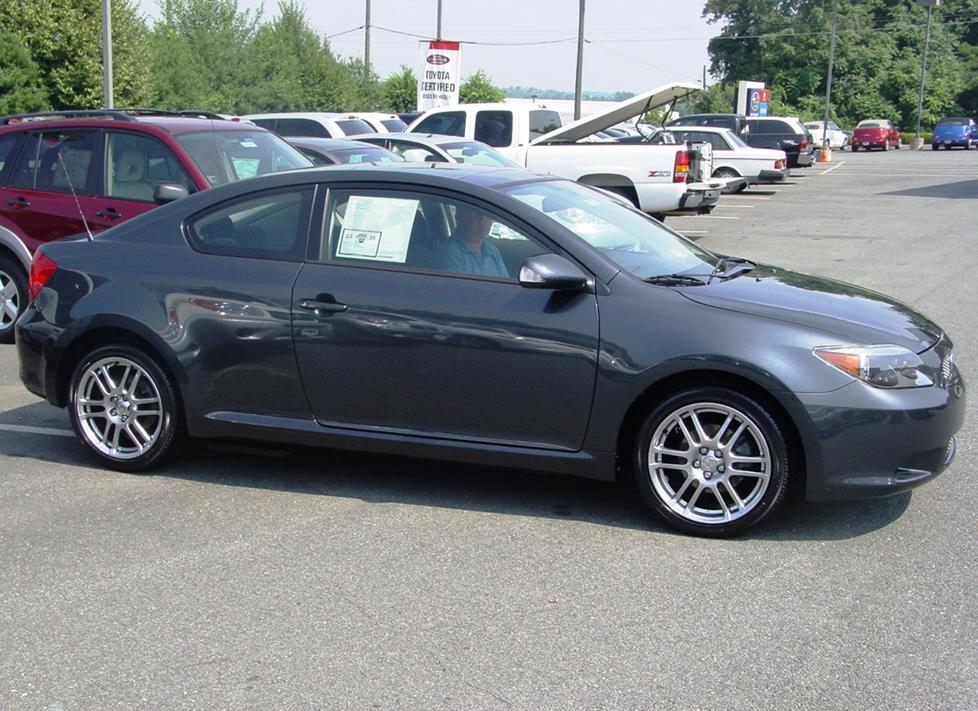 In a nutshell: This article is an overview of your tC's audio system and its upgrade options. Use our vehicle selector to find the gear that will fit your Scion.
Overview of the Scion tC
Although the Scion tC did not appear to be particularly innovative on first blush, there was a clear difference between it and its compact competitors. The tC was entirely designed around five central customer-satisfaction points: price point, available options, performance & driving experience, purchase confidence, and most importantly in our case, 21st century vehicle-entertainment packaging.
This little Scion excelled in all aspects, and as a result, the brand got off to a very nice start. With appealing looks and rock-solid Toyota reliability, these cars appealed to both the young people it was aimed towards and older folks who were looking for something that was efficient and fun to drive. A tC can still be a lot of fun, and a new stereo will only add to your driving enjoyment.

The tC's Pioneer stereo (Crutchfield Research Photo)
Factory stereo system
As a standard entertainment offering, the Scion tC carries a 'flip-up' AM/FM/CD stereo and a 6-speaker Pioneer audio system, driven by a 160-watt (peak power) amp. There was also an option to add a subwoofer powered by its own 35-watt amp. Along with the more traditional electronic elements, the car also offers MP3 playback, plus an additional audio input jack for an iPod®, cell phone, or other audio device.

Here's what the mounting kit looks like in the dash (Crutchfield Research Photo)
Replacing your factory radio
The car's dash cavity is nearly 9" deep, so there should be no problem removing the standard receiver package and replacing it with an upgrade that requires more space. The factory stereo is a double-DIN size, so you can replace it with the same size receiver, or use an adapter kit to install a single-DIN receiver. There are also mounting kits available that will let you eliminate the Scion's flip-up door and mount the stereo flush with the dash. The necessary mounting kit and wiring harness are available at a deep discount with all stereo orders.
Detailed installation instructions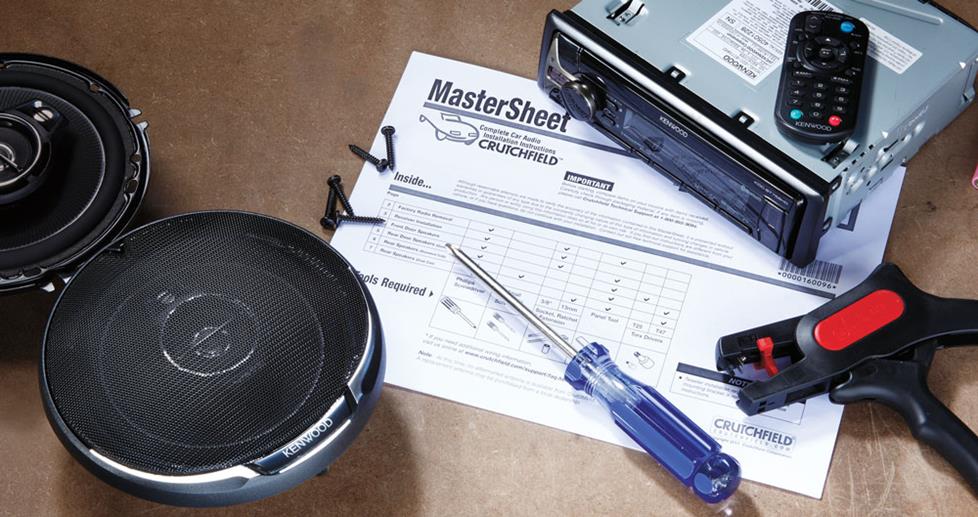 If you're looking for step-by-step instructions on how to install a car stereo or speakers in your car, there's nothing better than our exclusive
Crutchfield MasterSheet
™. This detailed, well-illustrated document is free with your Crutchfield order, or you can purchase one separately for $9.99.
Getting into the receiver itself is pretty straightforward, and offers no particular concerns. All you need to do is follow the step-by-step instructions in the Crutchfield MasterSheet™, and you should be good to go. The entire Scion configuration has been designed to allow the customer to tailor his/her driving experience and, as a result, the replacement and upgrade process has been made as simple as possible.
Tools needed: Phillips screwdriver, small flat-blade screwdriver, panel tool
Shop for car stereos that fit your Scion tC
Steering wheel audio controls
It's relatively easy to retain your Scion's steering wheel audio controls when you install a new stereo. When you enter your vehicle information, our database will choose the adapter you need to make your factory steering wheel controls work with your new receiver.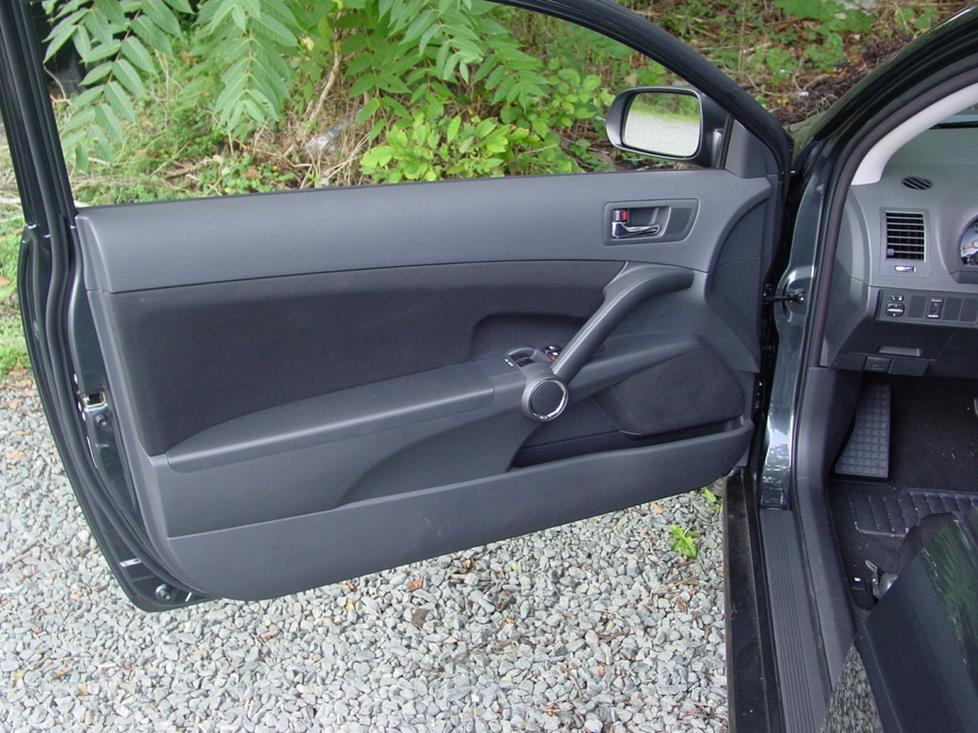 The tC's front door (Crutchfield Research Photo)
Replacing your factory speakers
Wondering what's involved in swapping out your Scion's speakers? Here's a brief look at what you'll need to do.
Front doors
The Scion's front door speaker system is comprised of a 4-ohm, 6-3/4" diameter woofer in the lower portion of the door panel, mated to 4-ohm, 1-1/2" tweeter installed in the mid-line, adjacent to the door lock panel, just under the window opening. The mounting height (the gap between the front of the speaker and the door panel) for a new speaker is very shallow.
Because of this and the need for a mounting bracket that works with the oversized opening in the door, your options for replacement speakers will mostly be limited to 5-1/4" component speakers (those with separate woofers and tweeters). There are also a few 5-1/4" full-range speakers that will fit, but you'd be better off taking advantage of the easy-to-get-to tweeter location and installing components.
Remove the door panel according to the directions in your Crutchfield MasterSheet. Start by prying off the sail panel at the top of the door panel. Open the screw cover found behind the door release handle and remove the screw. Pry off the front piece of the door pull handle and remove the two screws revealed there. Then use a panel tool to pry off the door panel around the edges, and lift if off of the door.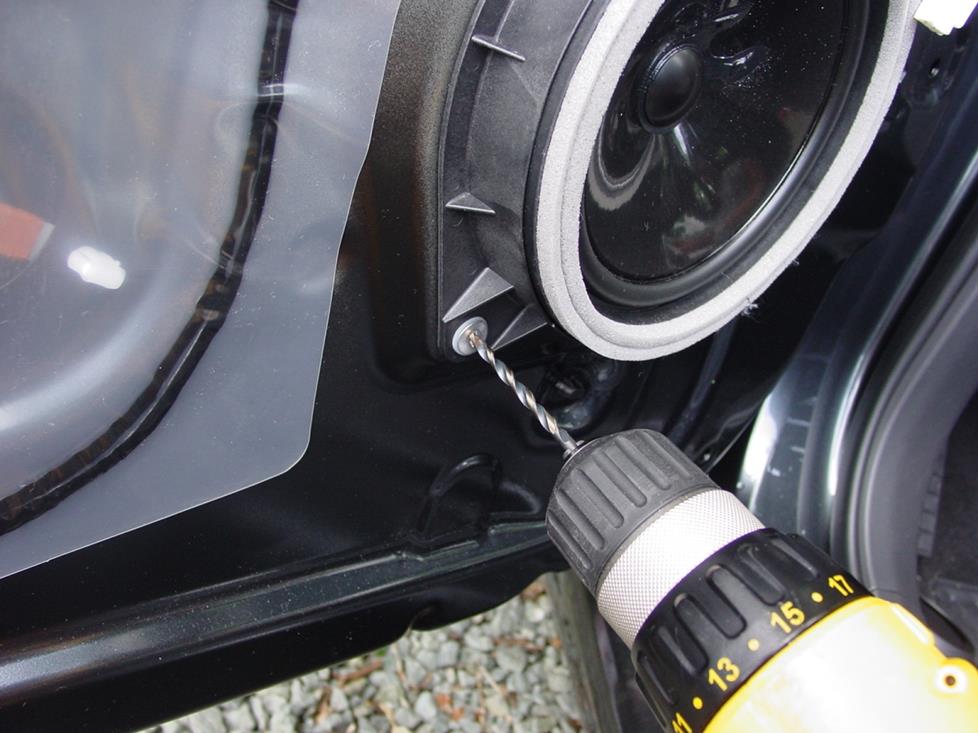 Drilling out the speaker rivets (Crutchfield Research Photo)
The woofers are riveted onto the door, so you'll have to drill out the rivets using a 1/8" drill bit. You'll also need an adapter bracket to install your new speakers. Mount the speaker in the bracket, then hold it up to the door and use a pen to mark the locations for the screw holes.
Set the speaker assembly aside and drill the new screw holes, again using a 1/8" bit. Then connect the speaker wiring harness and screw the speaker into place. The mounting bracket and wiring harness are available at a discounted price with your Crutchfield speaker purchase.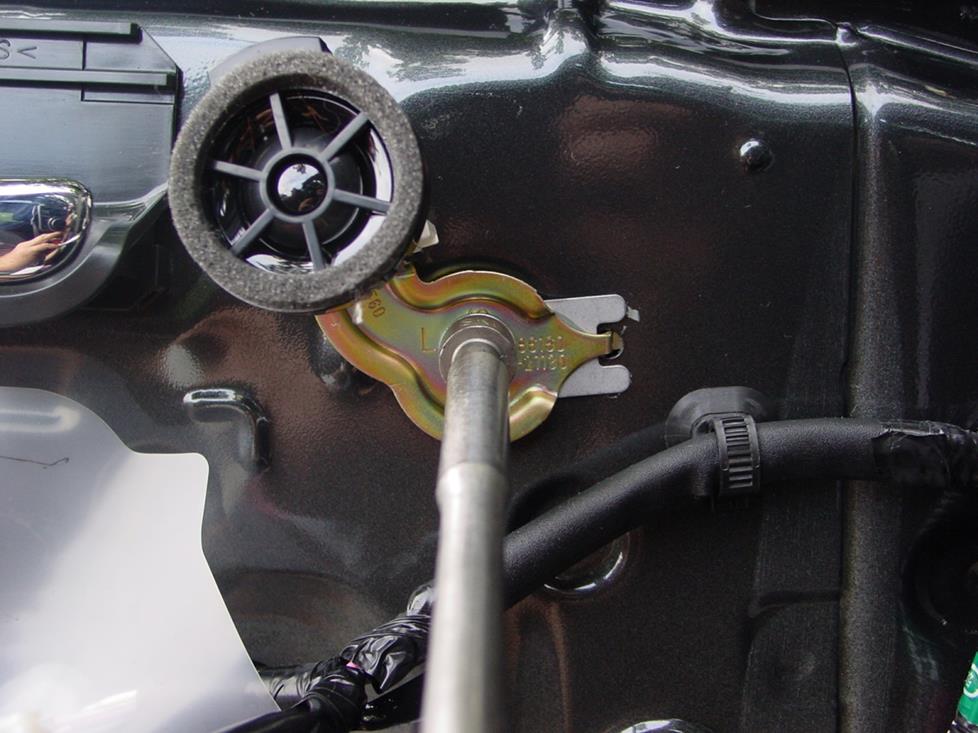 The factory tweeter (Crutchfield Research Photo)
The tweeter is mounted on a bracket which is attached to the door by a single screw. It's easy to remove, but for new tweeters, you'll need to fabricate a new mounting bracket. We carry a universal backstrap that can be cut to the proper size to mount your new tweeter.
Other than the rivet issue, the rest of the upgrade is pretty vanilla.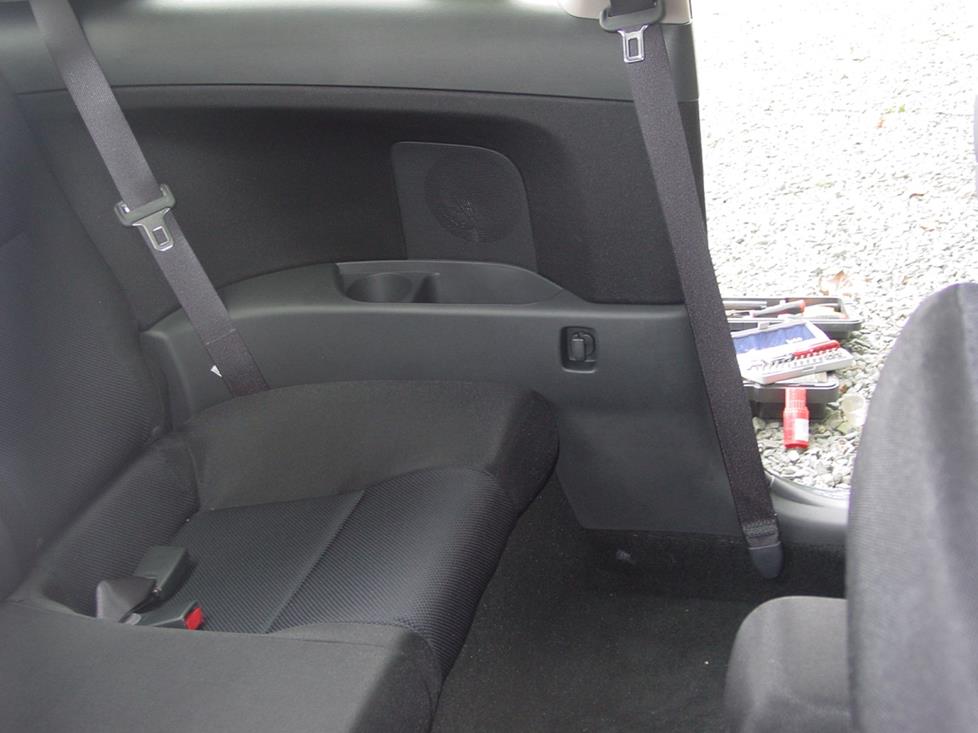 Rear side panel (Crutchfield Research Photo)
Rear speakers
The Scion's rear speakers are located behind the side panels, so getting to them involves a little more work, but it's not that hard. Accessing the speakers involves removing the lower part of the rear seat and the side panels, but the process is explained step-by-step in our Crutchfield MasterSheet. Use care when removing the rear seat cushion since there is an internal retaining strap attached to the floor.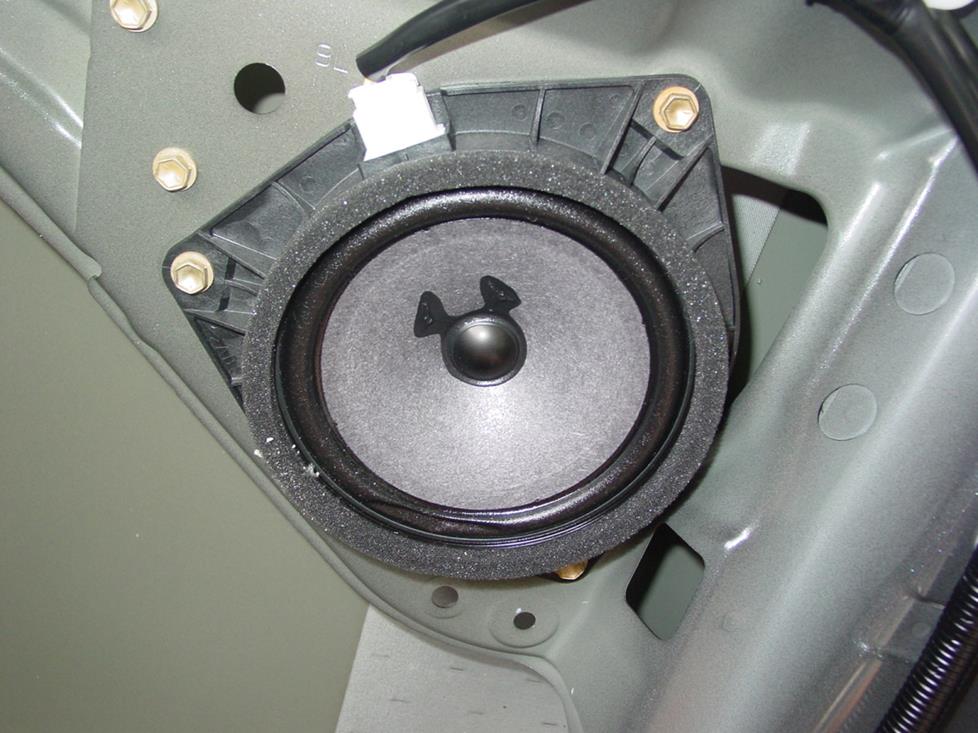 The Scion's rear speaker (Crutchfield Research Photo)
The rear speakers are 5-1/4" diameter cones, and are fastened to a side panel bracket with screws. As in the front, you'll have to use a mounting bracket to install the new speaker and drill new screw holes to install it. The available space between the inside portion of the side panel, and the top of the speaker is minimal, so when you choose a replacement, make sure you don't buy something that's too deep for the available space. As in the front, your options will be limited to mostly component systems and a few full-range options. A Crutchfield advisor can help make sure you choose speakers that fit.
If you want to get a component set, you'll have to custom-mount the tweeters on the side panel, or only use the woofers. Our article about tweeter mounting can be helpful here.
Tools needed: Phillips screwdriver, small flat-blade screwdriver, panel tool, drill & 1/8" bit, ratchet & extension, 10mm socket
Shop for speakers that fit your Scion tC
Bass in your Scion tC
The Scion stereo system could be augmented by an optional factory subwoofer. If present, it's located inside the car's cargo area. The component is comprised of a 2-ohm, 6-3/4" subwoofer powered by a 35-watt amp, and is integrated into a molded cavity to the right of the spare tire. As a result of the integrated configuration and low-impedance design, replacing this woofer is likely not worth the effort. If you want to replace the woofer, you should also replace the amp with something with more power.

The factory subwoofer can be found above the spare (Crutchfield Research Photo)
If you don't have the factory subwoofer, you can add a powered subwoofer or standard subwoofer/amp system. There's plenty of room in the storage area for a subwoofer enclosure, but powered subs take up much less room and are easier to set up.
Other options for your tC
Here are some other ideas for upgrading your Scion:
iPod® and satellite radio adapters
If you don't want to replace the factory receiver, you can still add musical variety to your Scion. We offer several adapters that will allow you to use an iPod, MP3 player, or satellite radio with the factory system.
Dynamat
The Dynamat Xtreme Door Kit is the perfect way to seal in sound. This heavy-duty noise damping material is easy to install, and it really makes a difference. One kit will take care of the doors. If you install a big sub, you might want to line the cargo area as well.
Security
Installing a security system in your Scion isn't easy (security systems rarely are), but it's definitely a good idea. Our Crutchfield Advisors can help figure out what you need to get the job done, but we usually recommend taking your car and new gear to a professional installer.
Shop for car security systems for your Scion tC
Find the audio gear that fits your car or truck
Visit our Outfit My Car page and enter your vehicle information to see stereos, speakers, subs, and other audio accessories that will work in your vehicle.