2006-2008 Dodge Ram standard cab
Upgrading the stereo system in your Dodge Ram
2006 • 2007 • 2008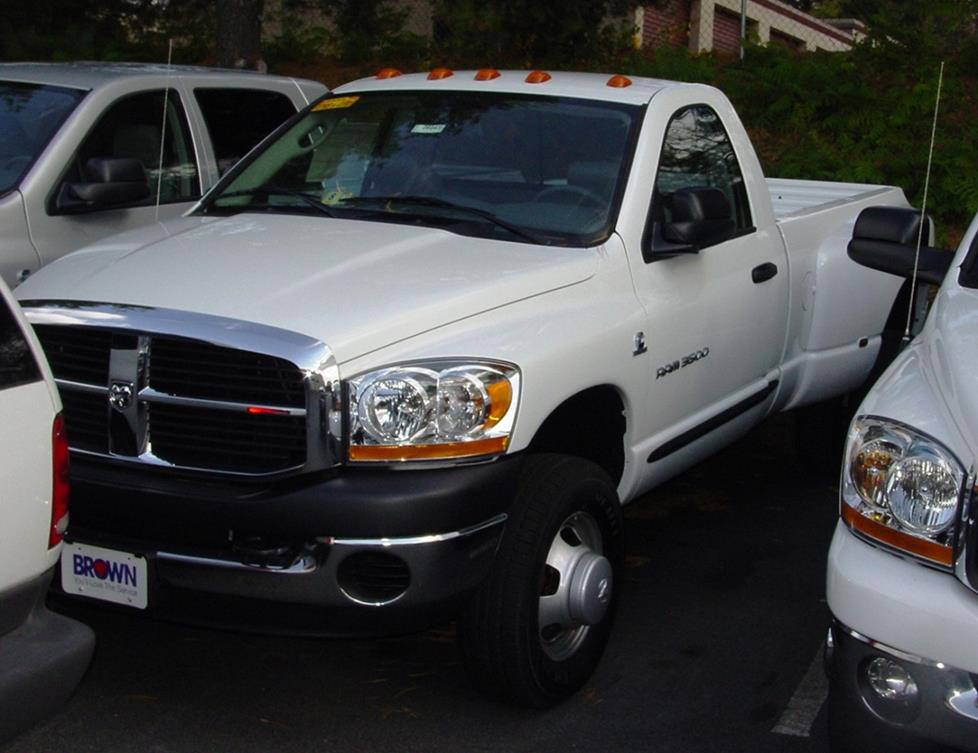 In brief: This Crutchfield Research Garage article gives you an overview of your Dodge Ram's stock stereo system and your aftermarket upgrade options. Use our vehicle selector to find the gear that will fit your pickup.
Overview of the Dodge Ram standard cab
When it comes to full-size pickup advertising you hear plenty of talk about (cue raspy macho voiceover) "power, torque, and towing capacity." You don't hear so much about style, mostly because it's probably hard to talk about that sort of thing in a raspy, macho voice. That's kind of a shame, because Dodge trucks have been some of the best-looking pickups on the road for the last couple of decades.
With lines that evoke both the Power Wagons of the past and the semi-trucks of the current day, Dodge trucks have maintained just the right mix of curvy and curmudgeonly through several restylings. The Ram truck's 2006 mid-cycle update, for example, added bigger, brighter headlights, but there's no mistaking it for anything other than a Dodge.
As per standard light truck procedure, the Dodge Ram was available in three different weight classes. The cabs and the disassembly instructions are the same whether you have a 1500, 2500, or 3500, so we've divided the line by cab configuration. In this article, we'll deal with the Standard Cab. We also have profiles of the 2006-2008 Dodge Ram Mega Cab and Ram Quad Cab pickups if you have one of those.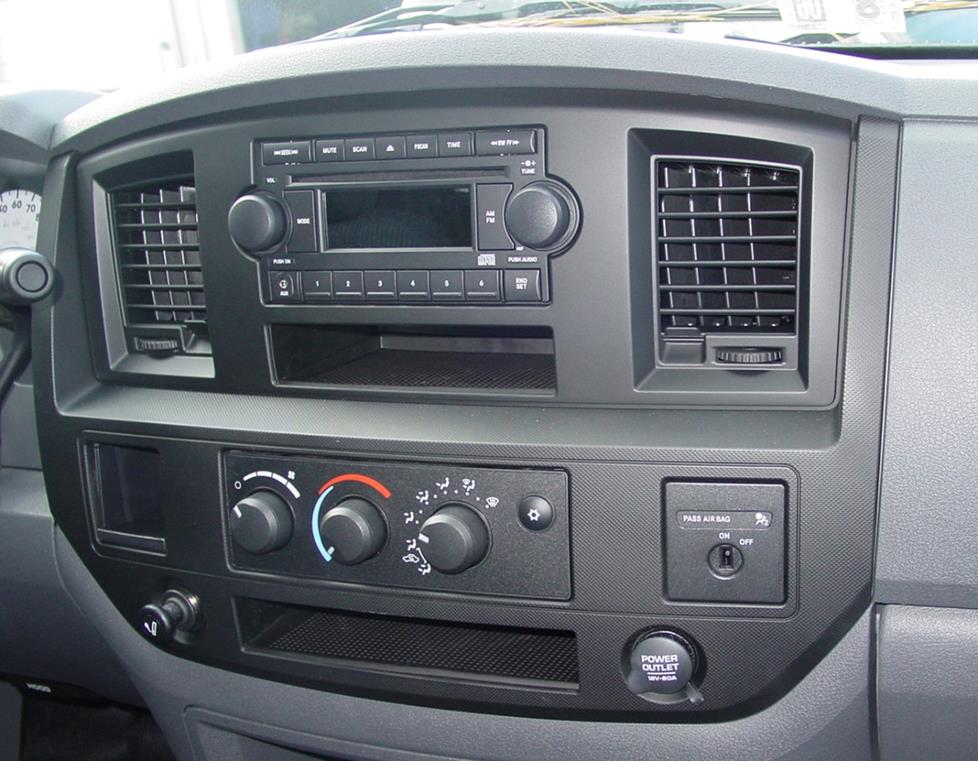 The Ram's base receiver was this AM/FM/CD unit (Crutchfield Research Photo)
Factory stereo system
The Ram's base radio was a trusty AM/FM/CD receiver with 4 speakers, while the upgraded version featured an Infinity system with an AM/FM/MP3 6-CD changer and 7 speakers. A navigation receiver could also be paired with the 7-speaker stereo. These systems range from okay-ish to not-bad, but in a brash, brawny truck like this, that's just not going to cut it.
Due to the vehicle's dash configuration, an aftermarket receiver with a retractable screen may not work, and a receiver with a fold-down face definitely won't work. Finding a receiver that will work is pretty easy when you use our Outfit My Car tool, but some of the factory features that may be present in your truck, like Uconnect®, satellite radio, and the DVD player, won't work anymore.
That's not really a problem, since all those functions can be replaced and improved with the right aftermarket stereo gear. A variety of single-DIN (2" tall) and double-DIN (4" tall) receivers will fit in your truck, so you have plenty of options to choose from.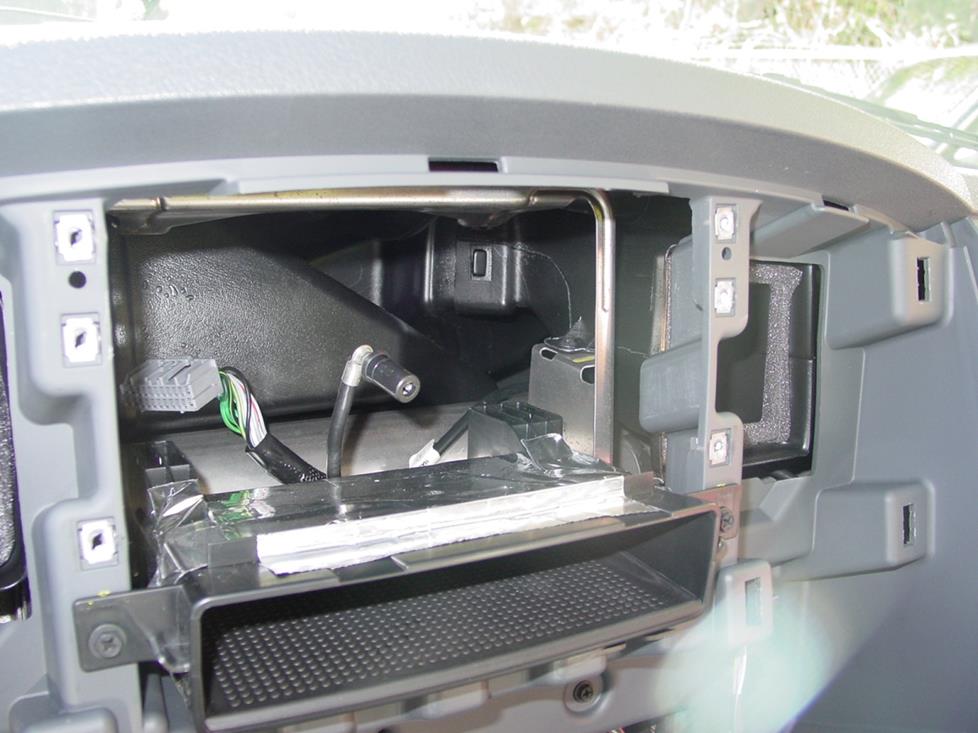 There's plenty of space here for a touchscreen navigation receiver (Crutchfield Research Photo)
Replacing your factory radio
Does your truck have a console? If so, is it a half-console or a whole console? How you answer that question will determine how you're going to go about removing and replacing the factory radio. The "half" console has three cupholders that form an "L" shape, while the "full" console has three cupholders that are all in a line. You'll need to deal with the cupholders to get to the radio.
Of course, if your vehicle is not equipped with a console, you can scroll down to the part that applies to all trucks.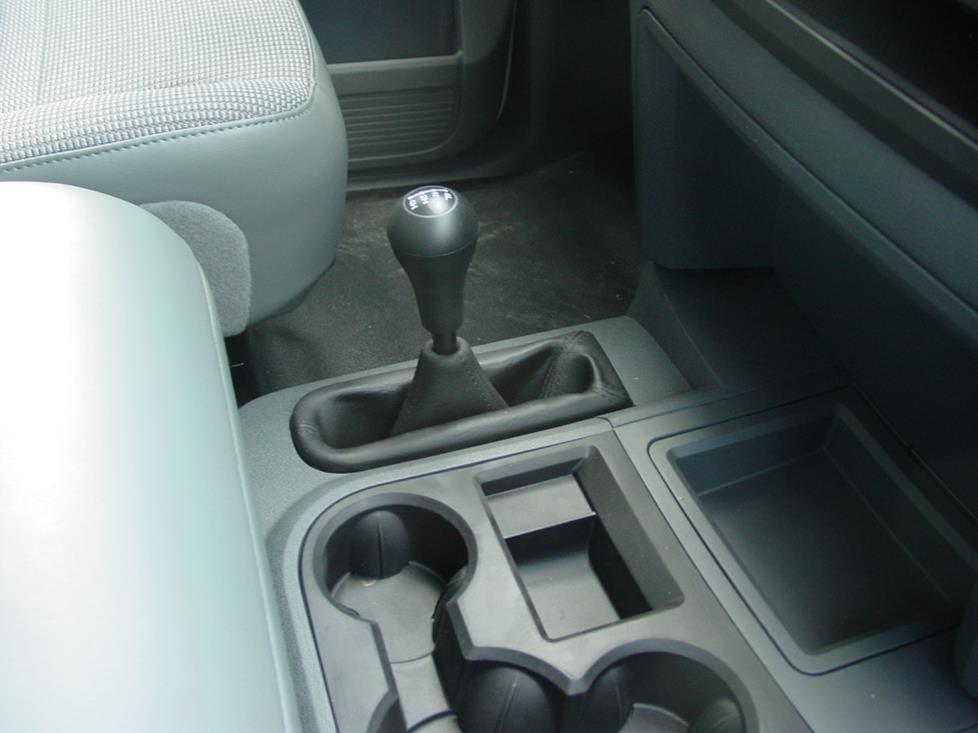 The Ram's "half-console" has three cupholders in an "L" shape (Crutchfield Research Photo)
Half-console
You'll start on the left side of the console. Some 4WD trucks have a transfer case shifter in this location, in which case you'll need to remove the rubber boot. Pry up the insert in the top of the shift knob, then remove the exposed nut. Pry around the perimeter of the shift boot and lift it over the shifter. That will expose two 8mm screws, which you'll need to remove. Other trucks have a pen tray here, instead of a shifter. You'll need to pry the tray up, then remove the two exposed 8mm screws.
Next, you'll pry up the cupholder tray, remove two exposed 8mm screws, and lift the cupholder panel up and out of the way. Remove two 8mm screws from the forward storage tray, and pull it out. Remove two 8mm screws under lower dash trim, remove the trim, then remove two more Phillips screws exposed when you removed the trim.
Full-console
For the full-console model, you'll start at the rear edge and pry up the console/cupholder panel to release the retaining clips. Pull the panel upward and rearward to remove it. Remove the three 8mm screws from console base, then pull the console base up to remove it. Next, remove two 8mm screws in the lower dash skirt and remove the skirt. Pull the lower dash trim downward to release the retaining clips and pull off the trim. That will expose two 8mm screws, which you'll also need to remove.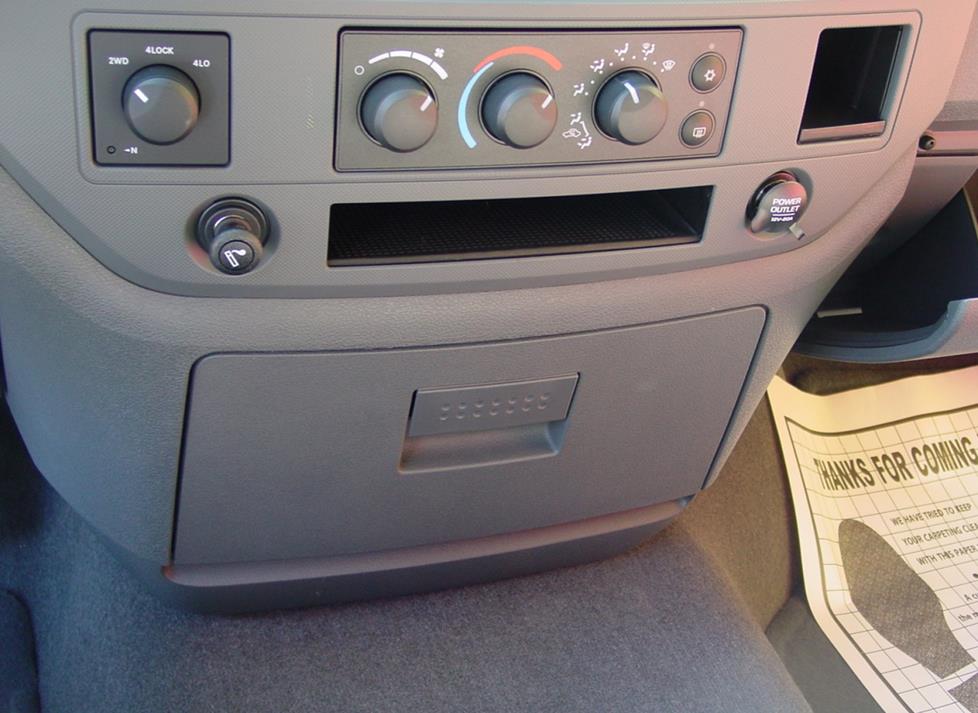 Here's what the Ram looks like without a center console (Crutchfield Research Photo)
All trucks
Where were we? The following steps apply to all Rams, so you non-console folks can start paying attention again.
Place the gearshift in the lowest position. Starting at the top edge of the receiver trim panel, pry across the top and sides of the trim panel to release the retaining clips. Pull the panel out, disconnect the wiring harnesses, and remove. Be sure to use a pry tool, or at the very least, put a thick sheet of paper behind the panel to protect it. The factory radio is held in place by four Phillips screws. Remove them, disconnect the harness, and remove the radio.
Detailed stereo and speaker removal instructions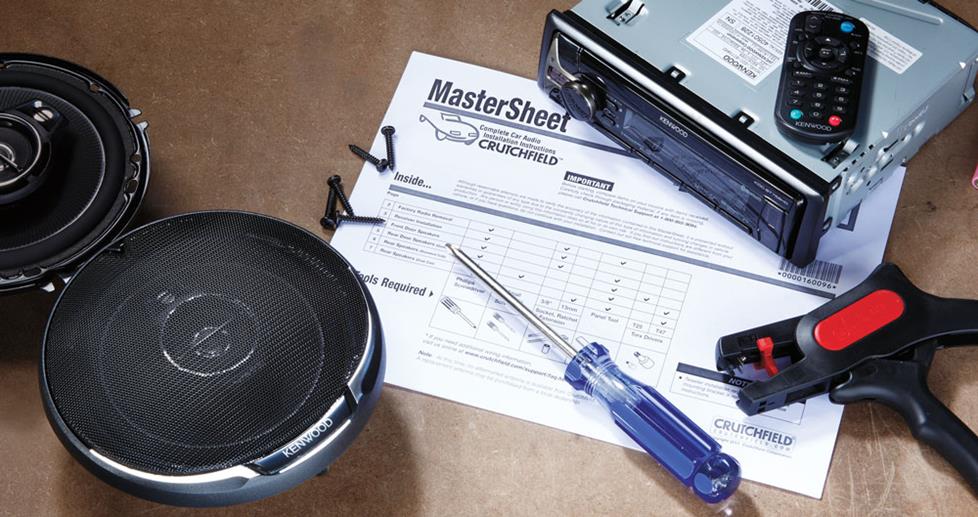 With step-by-step disassembly instructions and plenty of up-close, detailed photos, our exclusive
Crutchfield MasterSheet
™ takes the guesswork out of removing the factory stereo and speakers. It's free with your Crutchfield order, or you can purchase one separately for just $9.99.
To install your new receiver, you need a dash kit, which is available at a deep discount when you buy your stereo at Crutchfield. You'll also save big on the wiring harness adapter you need to connect your receiver to the factory wiring. If your truck is equipped with Uconnect and you want to retain that functionality, a special wiring interface is available for that, as well.
Tools needed: Phillips screwdriver, small flat blade screwdriver, 8mm socket, ratchet & extension, panel tool, thick sheet of paper
Steering wheel audio controls
It's relatively easy to retain the steering wheel audio controls when you install a new stereo in your Dodge. When you enter your vehicle information, our database will choose the adapter you need to make your factory steering wheel controls work with your new receiver.
Shop for car stereos that fit your Dodge Ram 2500
Replacing your factory speakers
The Ram's 4-speaker system has speakers in the front doors and, depending on the cab, somewhere behind the rear seat. The optional 7-speaker Infinity system adds speakers on each side of the dash and a small fill speaker in the center of the dash.
Trucks with the Infinity speaker system
The Infinity system's front door speakers only receive bass frequencies from the factory amp. That means any new speakers you install will also only receive (and play) bass. To get the best possible sound, you should also replace the dash corner speakers, preferably with the same brand as your new 6"x9"s.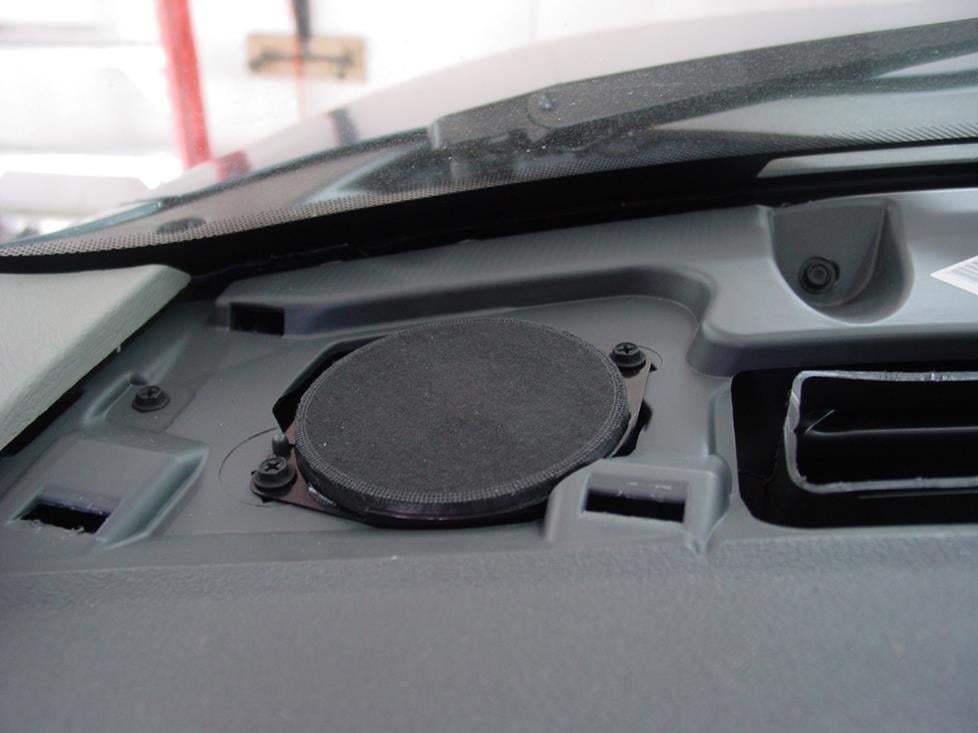 The corner dash speakers are easy to reach and replace (Crutchfield Research Photo)
Dash speakers
Whether you're removing the 3-1/2" speakers in the corners or the small (around 1-1/2") speaker in the center, the tools and techniques are the same. Pry across the edge of the vent/speaker grille trim panel to release the retaining clips, then pull the panel towards the rear of the vehicle. Remove two Phillips screws from the speaker, then pull it out and disconnect it.
Tools needed: Panel tool, stubby Phillips screwdriver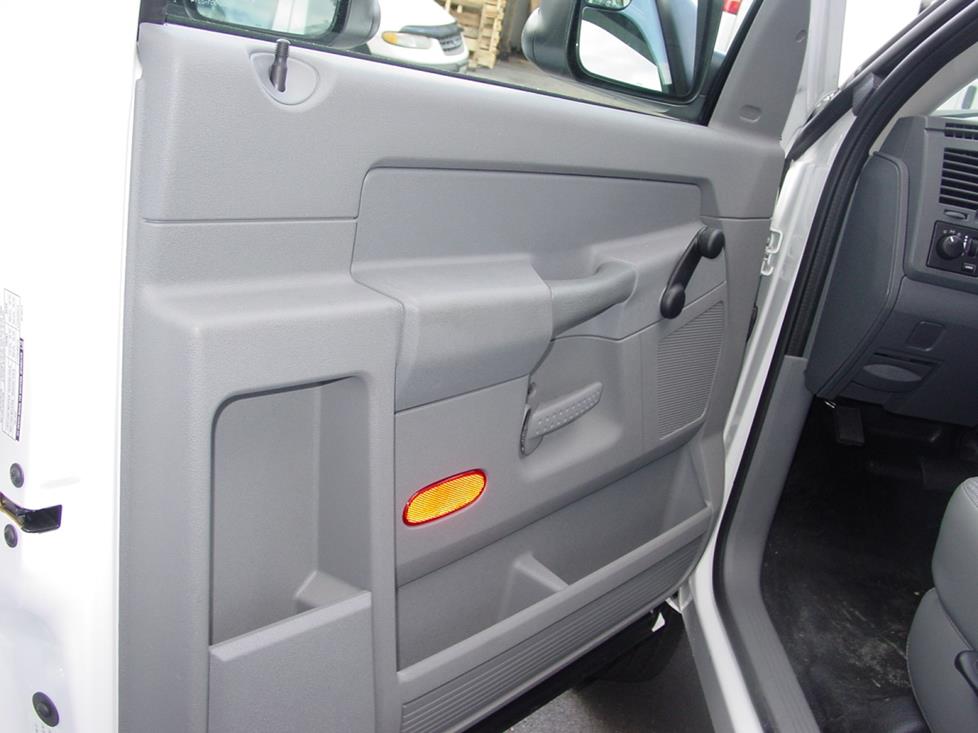 Replacing the door speakers is a reasonably painless process (Crutchfield Research Photo)
Front door speakers
The factory 6"x9" front door speakers can be replaced by same-size, 5-1/4" or 6-1/2" speakers. A speaker adapter bracket is required for the smaller ones, and it's available at a steep discount with your speaker purchase. Remember that if you have the Infinity system, these door speakers only play bass, and the same goes for your new speakers, too.
You'll need to remove the door panel, which is a reasonably simple procedure. Be sure to keep the various screws you remove from the doors (or anywhere in the truck during this process) organized, because you'll probably need them again when you put everything back together. It's also a good idea to test speaker operation before you the reinstall the panel.
Complete instructions for speaker removal can be found in your Crutchfield MasterSheet, of course.
Tools needed: Panel tool, Phillips screwdriver, 10mm socket, ratchet & extension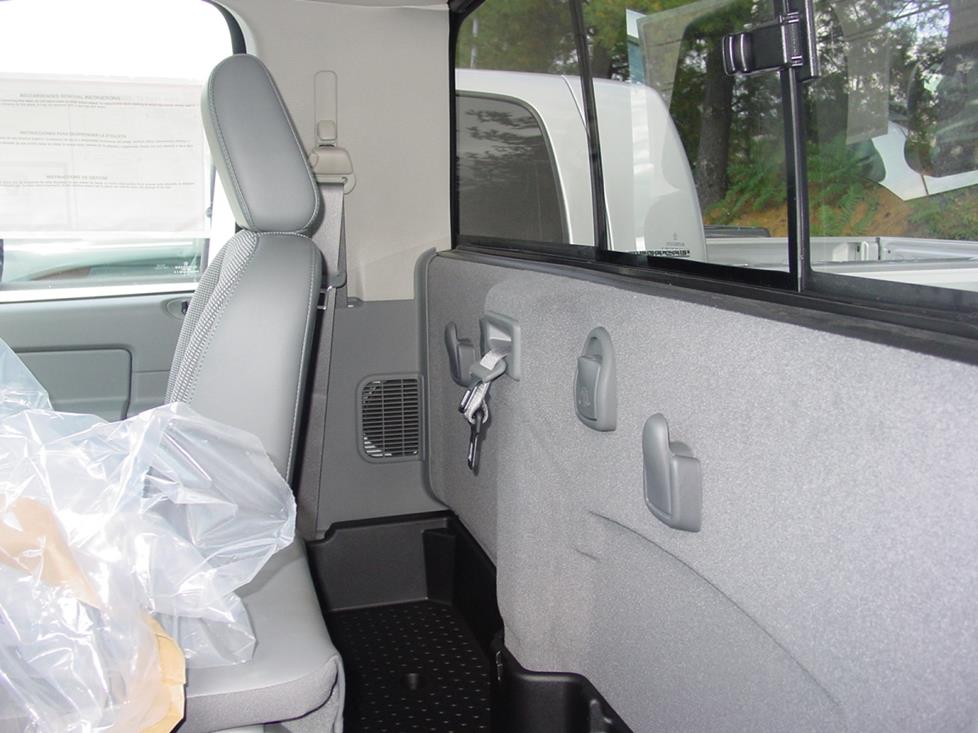 You can replace the factory rear speakers with a variety of 5-1/4" models (Crutchfield Research Photo)
Rear speakers
The factory 5-1/4" speakers are located in the side panels behind the seats. Replacing these speakers isn't especially difficult, but there is drilling involved, so it helps to have good tools and a solid understanding of how to use them. Plenty of 5-1/4" speakers will fit in these doors, so you have lots of replacement options.
You'll start the process by removing three Torx T-25 screws from the rear tool box and removing the box from the truck. Next, you'll pry off the screw cover on top of the seat belt hanger and remove one Torx T-47 bolt. Let the seat belt hang while you work the rear pillar trim panel out of the door gasket, then pry around the top and sides of the pillar trim to release three retaining clips. Remove one Torx T-47 bolt from the lower seat belt anchor and let it hang, too.
Moving down, pry up on the door scuff plate to release four metal clips. The scuff plate does not have to be removed, but it does need to be loosened. Work the lower pillar trim out of the door gasket, then pry around the edges to release five metal clips. Now, you'll work the seat belt out of the panel and remove the panel.
This will expose the speaker. Remove three Phillips screws, pull out the speaker, and disconnect the harness. You'll need to drill new mounting holes, so hold the new speaker in place and mark the new mounting holes. Remove the speaker and drill the holes using a 1/8" bit. Always be careful when drilling in a vehicle, and be sure to wear eye protection and take note of what's behind and around the place where you're drilling.
To install your new speakers, connect the new speaker's wiring adapter to the vehicle's speaker harness and mount the speakers on the truck panel. Be sure to test the speakers before you button everything up again.
It's entirely possible that your replacement speakers do not come with the screws you'll need to secure them to the truck. Check the box before you start working, and make that trip to the hardware store if you have to.
Tools needed: Torx T-25 and T-47 drivers, right-angle Phillips screwdriver
Shop for speakers that fit your Dodge Ram 2500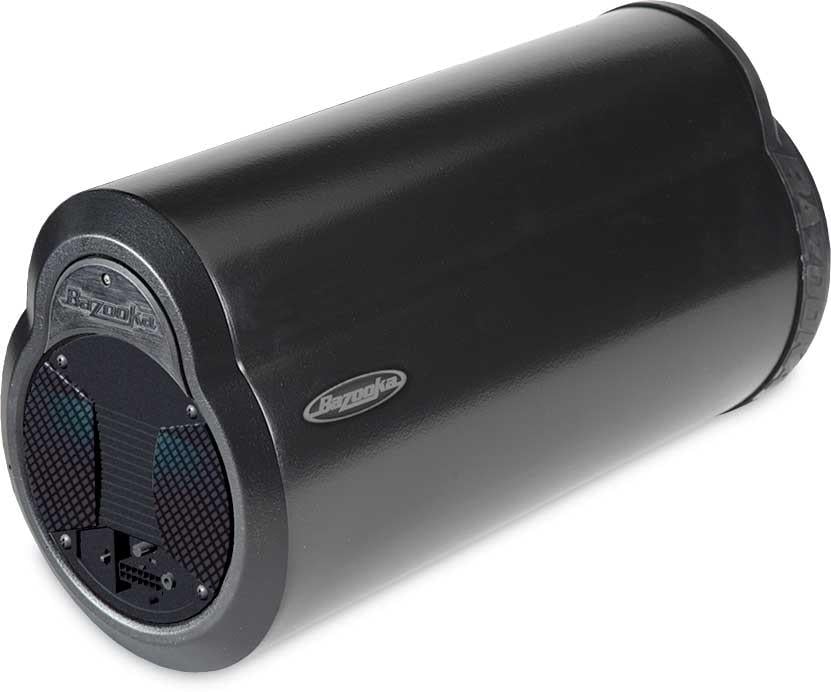 The Bazooka BTA6100 will fit nicely behind your seat
Bass in your Ram truck
Despite the restrictive confines of a standard cab, there is a bit of room for a small subwoofer box in your Ram. You'll have a 32" W x 16" H x 8" D space to work with, so there's room for something interesting back here. That's also plenty of room for a powered subwoofer if you want an easier, smaller bass option.
This is not the hardest DIY job ever, but if you don't have a lot of installation experience, you might want to have the work done by a car audio professional.
Other options for your Ram
Here are some other ways to improve the performance and everyday functionality of your Ram pickup.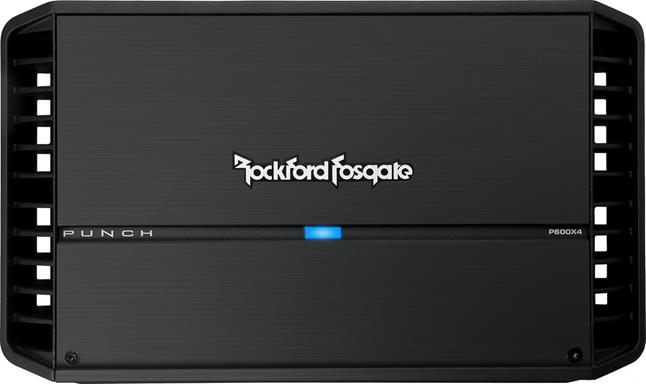 Rockford Fosgate 4-channel amplifier
Amplifier
The Dodge Ram is a well-built truck, but it's still a truck: it's big and noisy, especially the 2500 and 3500 versions. Adding an external amplifier to your audio system will make your new speakers achieve their full potential. And you don't have to crank the volume to make it sound good. The additional power of an amplifier will make the music sound strong and full at all volume levels. With a good pair of 6"x9" speakers in the front doors powered by a 2- or 4-channel amp, you can even get by without a subwoofer. Y'know, if behind-the-seat storage is that important to you...
Backup camera
Maneuvering a big pickup in a crowded parking lot can be a huge challenge. Adding a rear-view camera and a big-screen receiver can help. We offer cameras from Alpine, Kenwood, Sony, Pioneer, and more. Some are designed to work with same-brand receivers only, but others come with a composite video connector and will work with almost any video receiver.
Sound damping
Your Ram is a big vehicle with big doors and a big grille, so it punches a big hole in the atmosphere. To prevent wind noise and road roar from undoing the great work your new stereo is doing for you, make sure you install Dynamat when you're replacing your speakers. This soundproofing material will dampen the sounds you don't like, so you can get more enjoyment out of the ones you do.
Remote start and security systems
Adding remote start capability to your vehicle lets you warm it up in the winter or cool it down in the summer. The iDatastart system is incredibly convenient and makes it easier than ever to install a remote start system, so we highly recommend it. The module requires a vehicle-specific T-harness (sold separately) to connect with your vehicle's computer, security, and ignition systems, so we ask that you call to order so that we can make sure you get the right harness for your ride.
You can also talk to your Crutchfield Advisor about a security system. They're not as easy to install (we usually suggest letting a professional do the job), but we can help you choose a system that'll work in your vehicle.
Shop for car security systems for your Dodge Ram 2500
Find the audio gear that fits your car or truck
Visit our Outfit My Car page and enter your vehicle information to see stereos, speakers, subs, and other audio accessories that will work in your vehicle.