8K TV is here. Is it for you?
Everything you need to know about 8K TV for 2019
Heads up!
Welcome to this article from the Crutchfield archives. Have fun reading it, but be aware that the information may be outdated and links may be broken.
ow that TV shoppers have grown comfortable with 4K TVs, the 8K TV era has begun. Last fall, Samsung introduced the world's first 8K TV, the 85" QN85Q900R. At the recent Consumer Electronics Show, Samsung showed more 8K LCD screen sizes. Sony showed 85" and 98" LCD models, while LG had both LCD- and OLED-based 8K models.
These and other 8K TVs will become available sometime in 2019. Should you factor 8K into your TV buying decision? Let's explore.
What is 8K?
8K is the newest official display format for TVs, with twice the horizontal and vertical resolution of 4K. Here's the math: an 8K TV screen has 7680 pixels across and 4320 pixels down, for a total of around 33.2 million. 4K has 3840 x 2160 pixels, for a total of about 8.3 million.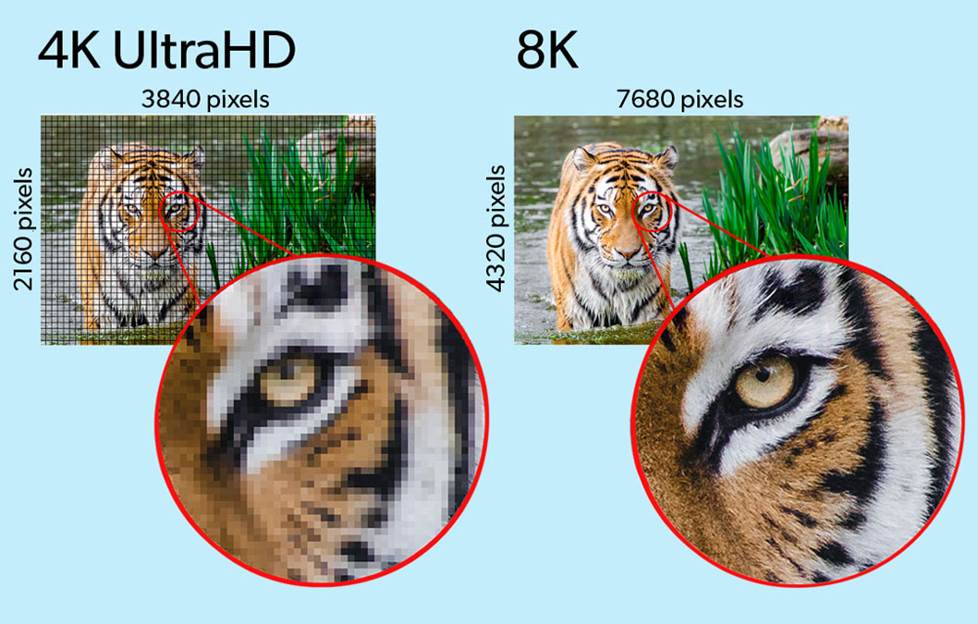 8K screen resolution can show four times as much picture detail as 4K. Image: HDMI Licensing Administrator, Inc.
What is the benefit of 8K TV?
8K's millions of additional pixels can show incredible picture detail. Each 8K pixel is only 1/4 the size of a 4K pixel on the same-sized screen, so 8K can show much finer detail. 8K resolution means that even large TV screens will be capable of displaying extremely sharp images.
But 8K TVs have more to offer than just a gazillion pixels. As we've learned with 4K TVs, the video processing is as important as the resolution when it comes to producing a lifelike picture. Because 8K TVs are likely to be each manufacturer's flagship models, you can expect them to include the most advanced video processing.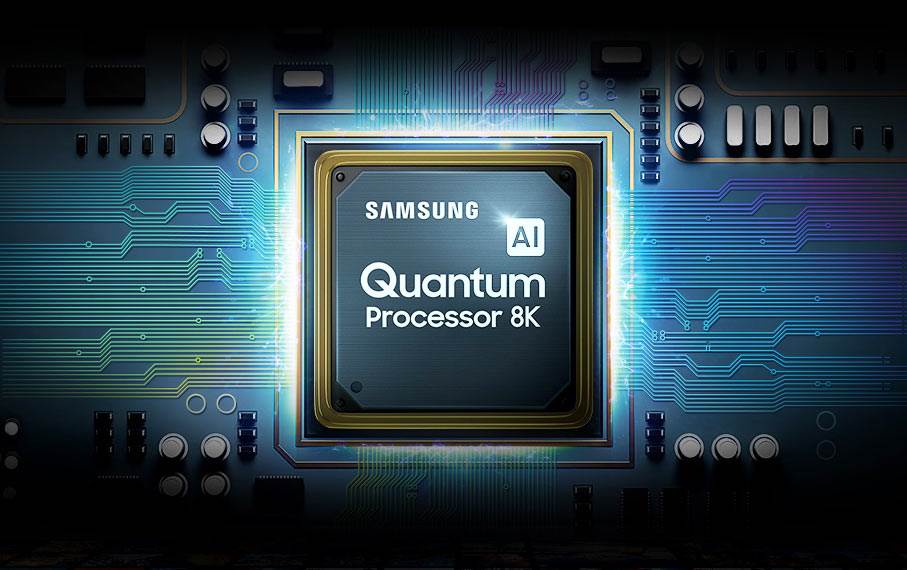 Samsung's QLED 8K TVs feature powerful AI-enhanced video processing that upconverts lower-resolution signals to match the screen's resolution.
High-performance 8K TVs will also feature ultra-precise illumination. For LED-LCD TVs, that will probably mean full-array local-dimming (FALD) backlights with hundreds of independently controllable zones, for nuanced lighting effects and deep black levels. OLED models will feature that technology's pixel-level dimming, but possibly with higher peak brightness capabilities than we've seen from previous OLEDs.
Is there any 8K TV content to watch?
Not really, unless you count a few dozen 8K nature clips on YouTube. There is currently no 8K content available via broadcast, disc, or streaming services, and none expected to arrive in the forseeable future.
Because 8K video requires so much data, it's unlikely we'll ever see an 8K disc format. Web streaming will be the most likely source of content, as new codecs are being developed to reduce the amount of data needed. This is the same scenario we saw when 4K was launched — the major streaming services like Netflix and Amazon were the first to offer it.
HDMI 2.1: A new standard designed with 8K in mind
The current HDMI 2.0 standard was developed to accommodate 4K TVs and video sources, and it can handle the highest-quality 4K signals available. But HDMI 2.0 connections and cables won't be enough for 8K video.

8K signals can contain more data than current HDMI 2.0 cables can carry. So at some point you'll need an HDMI 2.1 (Ultra High Speed) cable to connect an 8K source to an 8K TV. Image: HDMI Licensing Administrator, Inc.
The 2.0b HDMI connectors found on current 4K TVs can support data rates up to 18 Gbps. 8K/60Hz video will exceed that number. We'll need HDMI 2.1 connections, which can handle up to a whopping 48 Gbps! The problem is that the chipsets and testing protocols for 2.1 have not been finalized yet.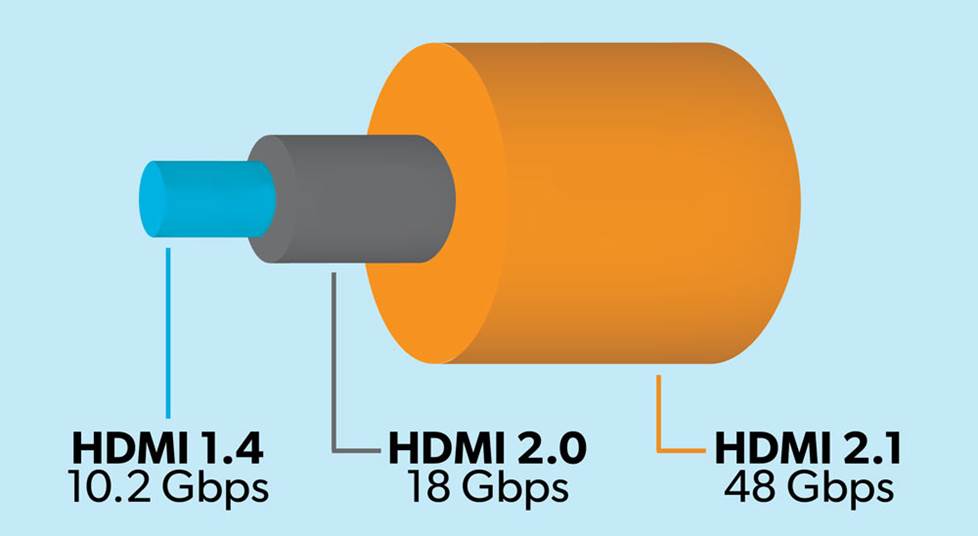 Image: HDMI Licensing Administrator, Inc.
So, 8K early adopters should be cautious. Not all of the initial crop of 8K TVs may be capable of supporting future 8K formats as they become available. We already know that Samsung's first 8K TVs will support 8K/30Hz video at launch, but not 8K/60Hz.
But as the early leader in 8K TV, Samsung has a smart approach. Their 8K QLED TVs all come with the company's outboard One Connect Box. You connect your source components to the One Connect, which then hooks up to the TV via a single cable that supplies both signal and power. Samsung will probably offer an upgraded One Connect with HDMI 2.1 connectors.
How much will an 8K TV cost? And is it worth it?
As of this writing (3/7/19), we have three Samsung models, with prices that range from $5,000 for their 65" model, to $10,000 for the 82" set. We expect most of the interest in these first 8K models to come from early adopters who take pride in owning the latest and greatest technology.
For those looking for a great TV for the living room, many of the best of last year's 65" 4K models are available for under $2,500.
Should I buy a 1st-gen 8K TV?
Even if you're really interested in an 8K TV, it would probably be wise to wait for the dust to settle a bit. Some early adopters who bought some of the first 4K TVs ended up with sets that weren't compatible with subsequent 4K formats. It's nobody's fault, really — that's just the way things sometimes go with bleeding-edge tech.
Should I postpone a 4K TV purchase and wait for 8K?
For 2019, it's predicted that nearly all TVs sold in the U.S. with screens 50" and larger will be 4K. You can find good 4K TVs at very reasonable prices, and even the best 4K models will cost much less than same-sized 8K models. So, for most folks looking to upgrade their viewing experience this year, a 4K TV will make more sense.
Personalized advice from our team of experts
Need some help choosing the best TV for your system and room? Our expert Advisors know the gear inside and out. Contact us today.
Free lifetime tech support is included with every Crutchfield purchase.