A review of the Alpine Halo9 iLX-F309 multimedia receiver
A new advisor dives into the installation and features of a unique big screen car stereo
Heads up!
Welcome to this article from the Crutchfield archives. Have fun reading it, but be aware that the information may be outdated and links may be broken.
In this article... I talked to Anthony, a new Crutchfield advisor, about his choice of the eye-catching Alpine Halo9 iLX-F309 digital media receiver. Its large 9" touchscreen display, small chassis size, and gobs of great features that made it a perfect choice for Anthony's system.
recently wrote about an audio gear installation that Anthony, one of our new advisors, performed in his 2007 Toyota Camry. The Alpine Halo9 iLX-F309 digital media receiver he chose as his control center really made me redefine my notion of how a car stereo should look in a vehicle's dash. Anthony mentioned how intrigued he was by the design of factory displays that appear to "float" right out of the dash in newer vehicles.
A video review of the Alpine Halo9 iLX-F309
Before I get into the details, here's Anthony to tell you all about the receiver:
Can a big display be too big?
When I first heard about a receiver that offers a 9" touchscreen display with a chassis that fits in a 2" tall (single-DIN) dash opening, I have to be honest. I thought it would look really weird in most vehicle applications. But as I studied the receiver mounted in Anthony's Camry and asked him a few questions, I came to understand why this stereo is such a cool piece.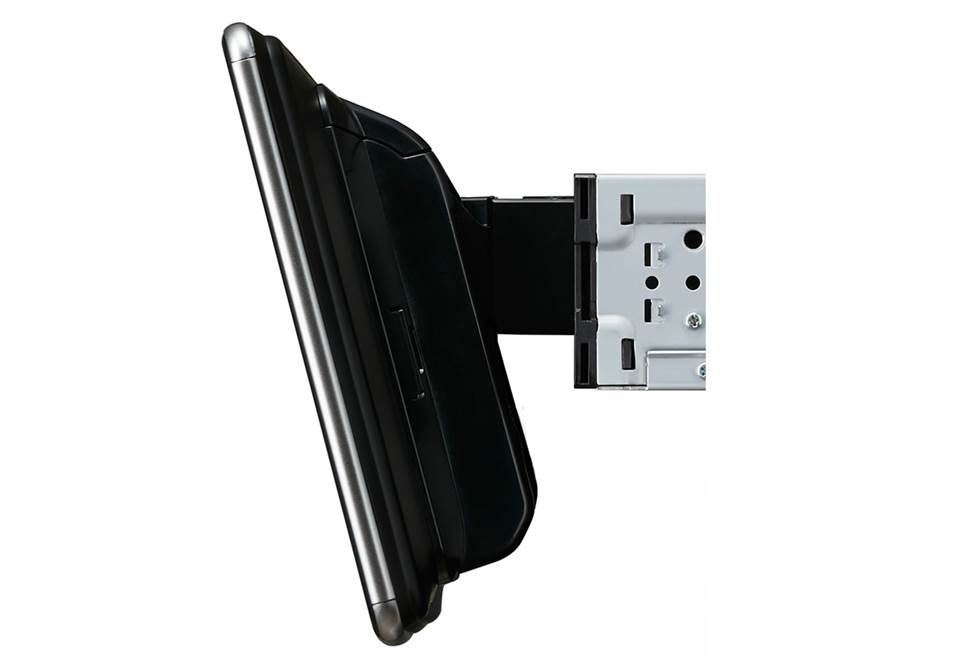 caption here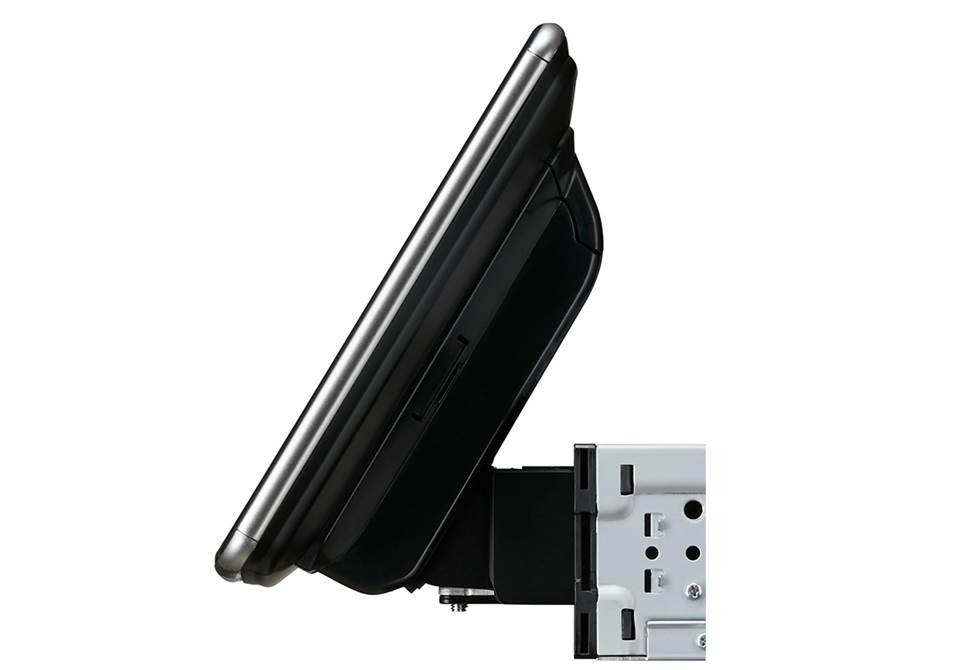 caption here
Adjustments to fit most dashes
In looking at the size of what Anthony referred to as a "floating tablet", I initially thought that the display would block a lot of the dash real estate, including vents and climate controls. But you could tell that Alpine actually had a lot of these concerns in mind when they designed the Halo9.
This Alpine lets you adjust the display's angle and amount of extension from the dash, which really adds to the versatility. These adjustments have to be done before the stereo is affixed to any dash kit you'll be using. And you can't easily adjust it after the fact, so you'll want to think about the layout as you do the installation, just as Anthony did.
The tradeoff is that the display is secure. It can't be removed from the dash without properly removing the stereo.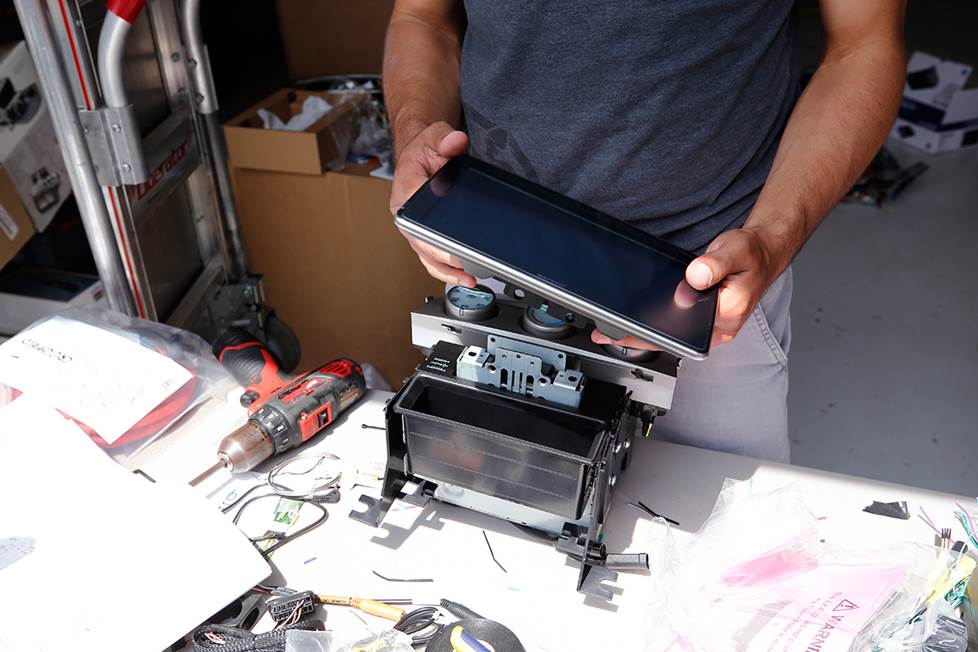 Anthony assembled the kit with his Toyota's dash console, so he could set the display to work best with his climate controls.
Very forward-thinking touchscreen display
If it happens that your dash vents do fire towards the back of the stereo's display, it's actually ok. The back shell of the display can take the heat and cold dished out by your vehicle's HVAC system. Alpine also built in some courtesy lights at the bottom of the display to light up anything below the stereo, like your climate controls or storage pockets.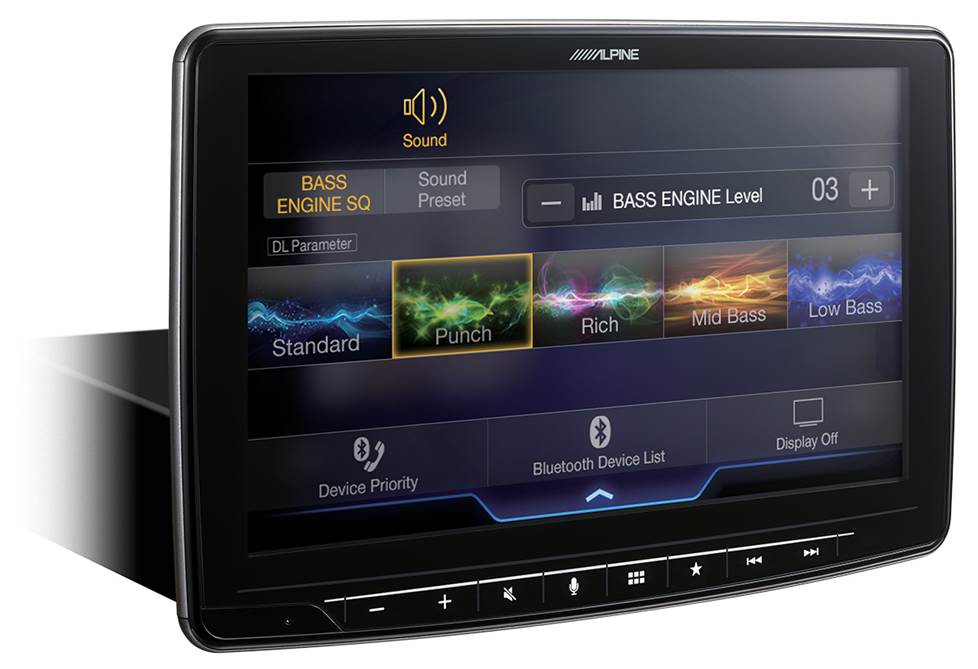 This Alpine's big screen real estate gives Anthony easy access to deep tone controls.
Control central for Anthony's audio system
Anthony already had an amplifier and subwoofer in his Toyota. He wanted to complete his system by adding new Alpine speakers, an amplifier for them, and a car stereo that would provide connections for all of this. He also wanted Apple CarPlay™ to work with his iPhone® and a bevy of sound-sculpting tools to tweak his sound just the way he liked. The Alpine Halo9 iLX-F309 receiver delivered.
He also wanted a stereo that was compatible with the iDatalink Maestro radio interface. It's this interface that allows him to get the cool dash gauges to show up on the Alpine screen in the video above. The iDatalink Maestro also lets Anthony see vehicle diagnostics and engine codes on the stereo. So if his Toyota ever has engine trouble, Anthony will know what's going on before he ever rolls up to the shop.
Smartphone integration
Anthony and I were super impressed by the loading speed of CarPlay and various functions as he wheeled through different sources. Of course, the big screen was a treat to look at and control the media that Anthony threw at it. With built-in Bluetooth®, Android Auto™, and Internet Radio capabilities, it's sure to please anybody who wants to get their smartphone involved.
Sculpt that perfect sound
One aspect that Anthony had just begun to fiddle with was this Alpine's deep tone controls and equalizer settings. Not only did it have the preamp outputs to connect to his speaker and subwoofer amplifiers, but it also offers a 9-band parametric equalizer and time correction to make sure Anthony's always sitting at center stage.
He was also digging into the Alpine's TuneIt™ app, which allowed to him save his favorite sound-shaping settings and share them with other TuneIt users. He could search for folks who'd set up the tone controls in their Camrys and load their settings to try out in his Toyota. So brilliant!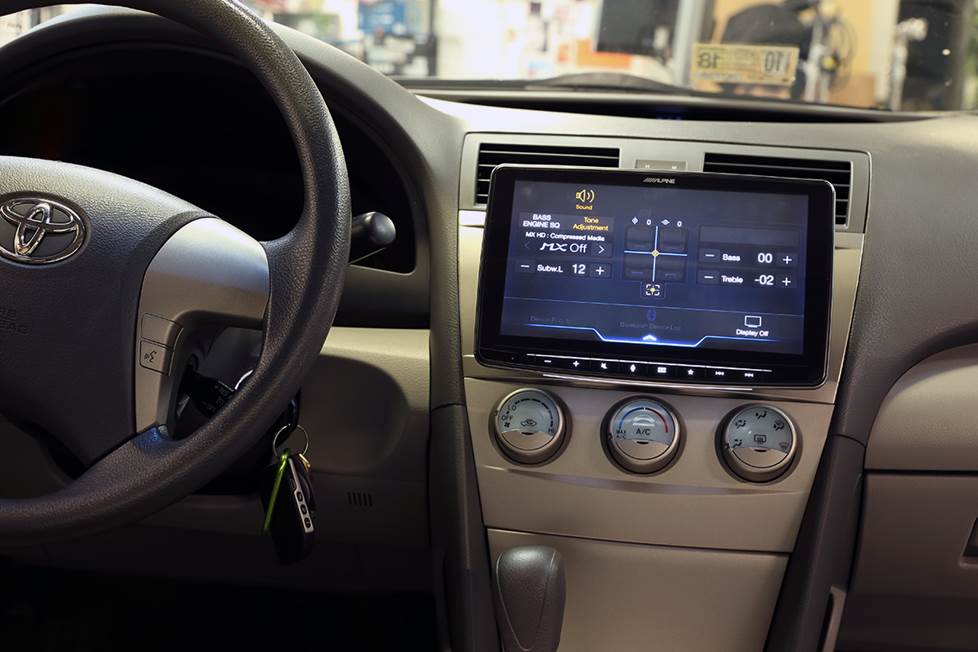 The display's position gives Anthony the best viewing angle, and the courtesy lights illuminate his climate controls.
Final thoughts on the Halo9 installation
While Anthony initially chose the Alpine Halo9 iLX-F309 digital media receiver for its look and display size, he ended up being pleasantly surprised by the many other features this gem packs. I was too. Anthony wished there was some fine-tuning that could easily be done to the position of the display in conjunction with the chassis, but overall, it's a great receiver for someone looking for the biggest display and most fit options they can get.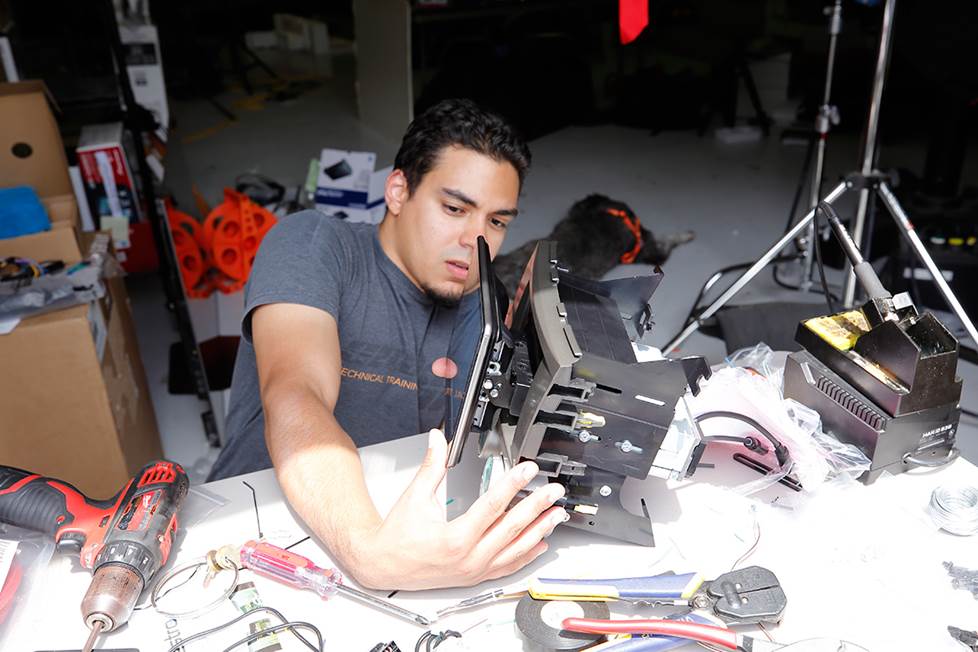 Anthony knew that adjustments would be difficult after the dash assembly went into the dash, so he made sure the angle was set before he reassembled everything.
Ready to check out the car stereo that's right for you?
Have questions about choosing a stereo? Our expert Advisors know the answers. Call or chat with us today. Free lifetime tech support is included with every Crutchfield purchase.