An early look at the Alpine Halo9 iLX-F309 multimedia receiver
Go big in your dash with a 9" floating screen
Heads up!
Welcome to this article from the Crutchfield archives. Have fun reading it, but be aware that the information may be outdated and links may be broken.
In a nutshell: Below is my review of Alpine's exciting new iLX-F309 multimedia receiver. It features a 9" touchscreen display that "floats" in front of the dash and fits in most single-DIN dash openings. It's a big and bold way to get the benefits of a finger-friendly receiver in many vehicles where it wasn't possible before.
Even though it wasn't going to be on the streets until February, Alpine let me get hands-on with their brand-new iLX-F309 touchscreen receiver for a couple of days after Christmas. This sneak preview had me pretty excited, as I got to try out a 9" touchscreen stereo designed to work with most single-DIN (2" tall) dash openings. It presents a welcome new option for many drivers who would ordinarily be shut out of a big-screen, in-dash experience without major modification to their vehicle.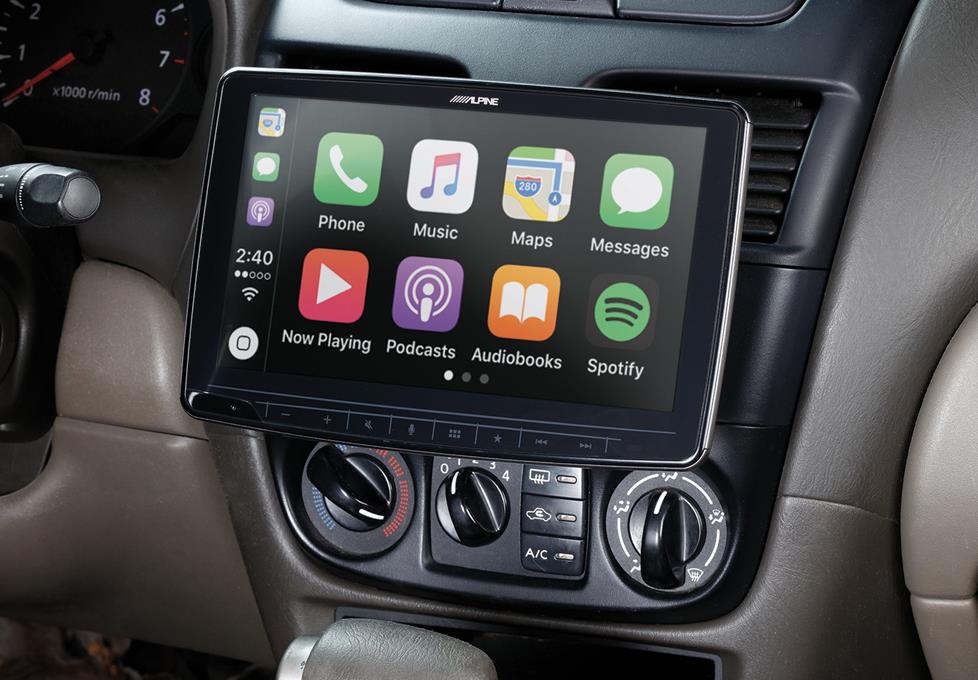 Alpine's iLX-F309 receiver looks cozy in the dash of my 2004 Nissan Sentra.
Float into the future with the Alpine Halo9
The iLX-F309 receiver features a "floating" screen design, which puts the adjustable 9" display in front of the dash itself, connected to a "brain" which goes in the dash's 2" opening. Alpine solved the issue of climate controls and other important dash functions by offering five vertical mounting positions for the screen. And the articulating mount also let me move the angle of the screen forward and backward, so I could get the best view from the driver's seat. It looks way cool and is easy to operate with fingertip, touchscreen control, and a few dedicated buttons along the bottom of the bezel.
Lots of car stereo features and room to expand
One thing that really struck me when unboxing the iLX-F309 is how much stuff's included. Alpine really thought this through by including way more than just the standard car harnesses and USB pigtail. There's a microphone for using the Apple CarPlay™ or Android Auto™ voice functions. A GPS antenna maintains accuracy when trying to use navigation through the phone.
Alpine doesn't include a rear-view camera, but there is a dedicated harness in case you want to add one. And it's compatible with the iDatalink Maestro interface module, which will retain a lot of your factory stereo's functions. There's even a cable-management system for the stereo's rear HDMI input to keep your phone cord from getting mangled.
How it installs
The stereo ships in two parts: the chassis/brain and the 9" screen with the attached mount. The chassis goes into the dash opening and should fit in most vehicles easily since there's no disc player involved.
To install it in my dash, I had to first figure out how the screen would accommodate my Nissan Sentra's climate controls and vents. I eyed how the screen would look against my dash and determined the proper vertical slot on the mounting apparatus. My dash is not angled so I didn't have to worry much about adjusting the screen forward or backward.
I then attached the mount to the chassis with screws and the screen to the proper vertical slot with more screws. Once everything was installed with my existing dash kit (from my previous aftermarket stereo), it felt solid, like it couldn't just fall off if I hit a speed bump.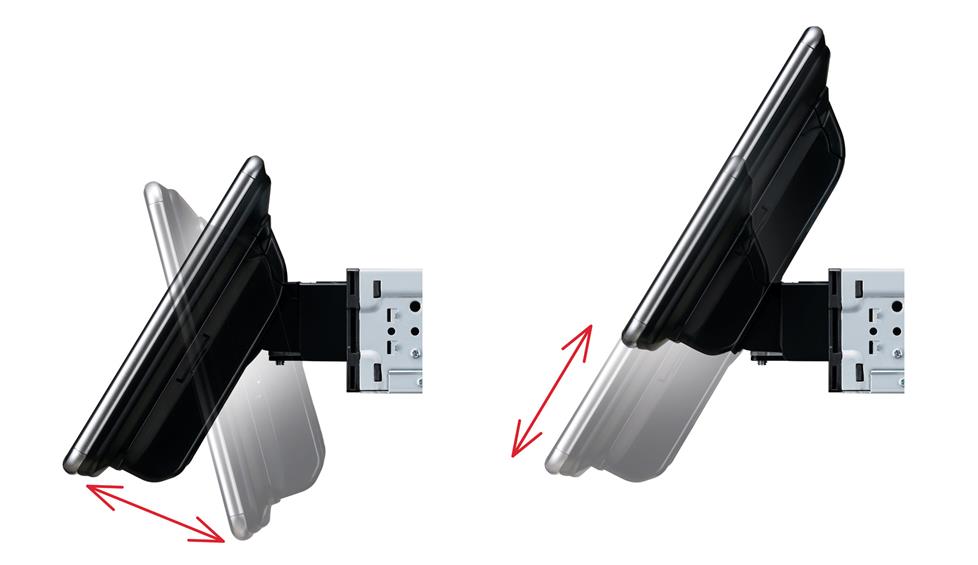 The iLX-F309's articulating display can be adjusted forward or backward to get the best possible view from the driver's seat. The adjustable 9" screen can also be moved several inches vertically.
Inspired Alpine design
I talked to Alpine ahead of getting my hands on the stereo, and they told me, "It's certainly different, especially in the after­market radio world. But when installed, the look of it on the dash should not be unfamiliar — it looks right."
After installing it in my Sentra, I agree. It's eye-catching, but not distracting. Alpine also told me that the receiver works best in ISO-DIN applications, which use screws to secure the it in place in the dash opening, for stability. When shopping with Crutchfield, our website will tell you if the iLX-F309 is a good fit for your car.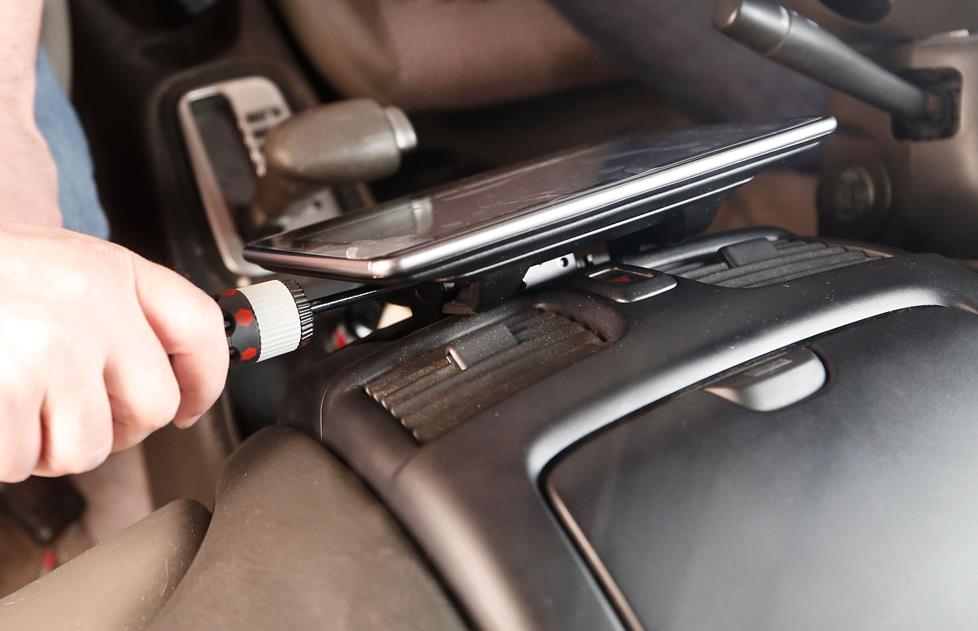 Securing the iLX-F309 in the dash requires screwing the display into the chassis.
One small hitch
Since I was given an advance preview of the iLX-F309, there were a couple of issues along the way. I wasn't able to maintain a continuous power connection between the chassis and screen after I installed it into my Sentra, which was due to an error on my part. I have to emphasize that this error was due to my misreading of the installation instructions. But since I was on a deadline, I didn't have time to remove and re-install the stereo in my Sentra. However, I was able to bench-test it with a battery and it worked just fine.
Bench testing the iLX-F309
It's not quite the same as trying it in the car, but at least I was able to get a feel for how the stereo's interface worked. The main menu's not flashy, but it does give easy access to sources and functions. Like most of Alpine's capacitive touchscreen stereos, swiping through the interface is a cinch, even for my big dumb fingers.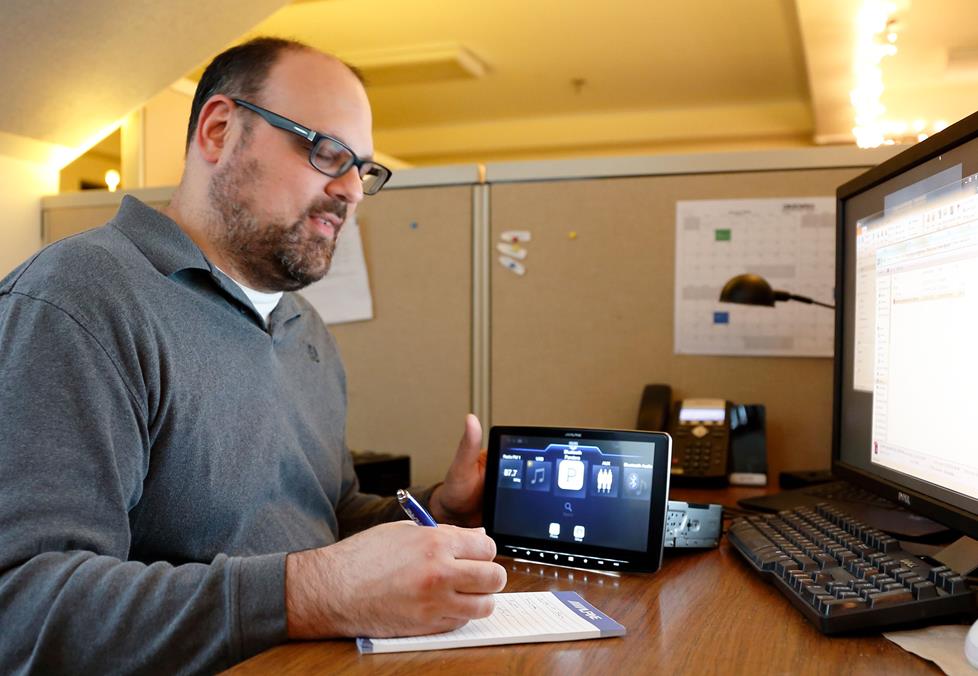 Apple CarPlay
I don't have an Android™ phone, but my iPhone® 6S is always ready to help me test out a new receiver with Apple CarPlay. The iLX-F309 does quite well on this front, with the large screen giving me a great look at the phone icons. There's a dedicated microphone button along the receiver's bottom bezel for activating Siri® voice commands, and of course I can touch on the left-hand side of the display to go home or to access recently used functions — it's easy to switch between Maps, Podcasts, Music, and so forth.
Apple CarPlay compatibility lets me do all sorts of cool things on the iLX-F309's gigantic screen, including thumb up/down on songs via Pandora and learning about developing traffic jams near the office.
More fun and functionality
There's a "favorites" button along the receiver's bezel, so I can make shortcuts to preferred stuff like radio stations, destinations, and phone numbers and get to them quickly. I didn't get to play with the built-in HD Radio™ tuner or optional SiriusXM satellite radio (the tuner must be purchased separately) but it's nice to know they're there. After I disconnected my iPhone I plugged in a thumb drive with FLAC audio files and was pleased to see the stereo could play them. It can also run select video files from a thumb drive, but only when the emergency brake is engaged.
Sound sorcery — easy audio adjustments
Even though I couldn't listen to the Alpine Halo9 in my car, I was able to check out the handy sonic setting screens while bench testing. There are numerous adjustments which could be made easily with my fingertip, including time correction and crossover points. And the stereo's also supposed to be compatible with Alpine's TuneIt app, but I couldn't make it work. Again, I was dealing with a time crunch so I assume this would've been taken care of eventually.
A couple of things I would change
The iLX-F309 is a great way to introduce owners of older cars stuck with a single-DIN dash opening to the wonders of big-screen convenience. It has a lot going for it, although the fact that it's two separate pieces might be a turn-off for some.
One thing that I would add is a knob for quick volume adjustments, but I can understand why it's not there. I'd also add a second USB input, so one wouldn't have to stop to switch between smartphone use and a thumb drive. And certainly a detachable face would go a long way to easing security concerns, but it's tough to see how that'd be practical with such an involved piece of gear.
Give the Alpine Halo9 a go in your dash
We're expecting the iLX-F309 to arrive in February, so check this space for a pre-order link. We know it'll be tough to say if you'll be fully pleased with such a large screen in your dash, especially if it might cover up vents or climate controls. That's why we offer a 60-day total satisfaction guarantee. Be sure to check our vehicle selector to see if will fit your car first, and if the stereo's still not right for you, just return it in like-new condition for your money back.
Personalized advice from our team of experts
Have questions about this receiver or any other touchscreen options for your vehicle? Our expert Advisors know what's up. Call, email, or chat with us today. And free lifetime tech support is included with every Crutchfield purchase.