Anatomy of Polk LSi M Speakers
A look inside Polk Audio's best home speakers
Heads up!
Welcome to this article from the Crutchfield archives. Have fun reading it, but be aware that the information may be outdated and links may be broken.
The Anatomy of an amazing tower speaker
What makes a great floor-standing speaker sound so effortless and realistic? For Polk Audio and their LSi M series speakers, it's the ability to easily recreate concert hall volume levels while maintaining accuracy, and to naturally reproduce complex low-frequency instruments and special effects. In other words, it has got to be able to play loud, clear, and deep.
To find out how Polk achieves these goals, we took a closer look inside one of their best floor-standing towers, the LSi M 705. What we found was a strong combination of cutting-edge technology and good old-fashioned engineering that makes this speaker an excellent choice for both music and home theater enthusiasts.
Click on a

to learn more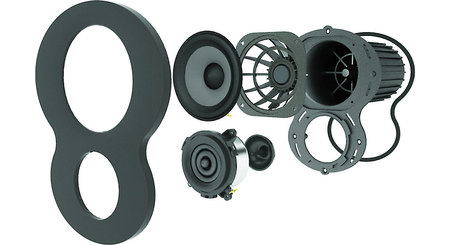 The Dynamic Sonic Engine
The heart of Polk's LSi M speaker sound. This molded enclosure-within-an-enclosure houses the midrange and tweeter in precise alignment for crystalline highs and accurate mids across a wide listening area.
Sparkling clear highs: the key to life
A great tweeter is crucial to the overall clarity and accuracy of a speaker — adding a sense of space and openness around each individual instrument and sound. That's why Polk spent so much time developing their new ring radiator tweeter design. It boasts high power handling, enhanced dynamic range, wide dispersion, and extended top-end response. You'll experience astonishing detail and delicacy, even at sofa-moving volume levels.
Polk's most advanced crossover ever
Think of a crossover network as the traffic cop of the audio world, directing highs to a speaker's tweeter and lows to the woofers. The best crossovers, such as Polk's exclusive Orth design in their LSi M series models, are painstakingly engineered to take full advantage of each speaker component's strengths. The result is transparent and dynamic sound, with a smooth, accurate response across a wide listening area.
Oval drivers for deep bass and a slimmer profile
The unique shape of Polk's Cassini oval woofers increases the overall radiating surface area for deeper, more musical low-frequency response, while allowing for a narrower cabinet with a smaller footprint.
The cone of each driver is made from Super Cell Aerated Polypropylene, a mineral-filled plastic that's been "puffed up" with injected air to form a honey-comb structure. This advanced material offers an unbeatable combination of stiffness for less flex and lower distortion, low mass for faster, more efficient movement, and high internal damping to prevent unwanted cone vibration from coloring the sound. All you'll hear is deep, clean bass.
Last updated 12/17/2019