What's on Apple TV?
HD video, AirPlay and more
Heads up!
Welcome to this article from the Crutchfield archives. Have fun reading it, but be aware that the information may be outdated and links may be broken.
Apple TV® is a pretty versatile device — so much so, it can be hard to get a handle on exactly what Apple TV is. At the most basic level, consider Apple TV a digital media receiver.
That is, it's a component that can access audio, photo and video content from connected devices in a home network, and the Internet as well. It then sends that content out so that photos and videos display on a connected TV, and audio plays through a connected sound system.
Those are the basics — but that's only part of the story.
Apple AirPlay® (and Home Sharing)
A quick word about AirPlay
AirPlay is an Apple wireless technology that lets you stream content from any device that runs iTunes® — such as your iPhone®, iPad®, iPod touch®, or computer — to an AirPlay-compatible receiver that plays the audio and video you're sending. AirPlay has it's own ecosystem, so you can sync and control multiple AirPlay-enabled speakers with your PC, or use your handheld Apple device as a remote to select and control what's being played. (See our Intro to Apple AirPlay for more info what this technology can mean for you.)
AirPlay with Apple TV
With AirPlay, you can use your Apple TV to get high-quality audio. Simply connect the Apple TV to your home theater receiver, or your TV's sound bar. Through AirPlay, you can stream audio from your Apple portable device to your Apple TV, and from there to your best speakers.
You can select your favorite song on your iPhone and have it fill the room. Play a game on your iPod touch and have the sound effects rumble through your speakers. Or watch a video in your den on your iPad and get engaging sound from your bookself speakers.
You can duplicate the screen on your iPhone, iPod touch, or iPad with AirPlay Mirroring. Streaming wirelessly through the Apple TV, your TV will show your device's touchscreen display. You still use the touchscreen on your device for control and navigation. This can be used for any app on your iPhone, iPad, or iPod touch, including game apps. Basically, if you can see it on your device, your friends can see it on your TV. Instead of everyone crowding around your phone to see the new video you found on YouTube™, touch the AirPlay button to let your friends enjoy it on your TV.
Home Sharing with Apple TV
With Home Sharing activated, you'll see the iTunes libraries on all your connected devices. So from your computer you can select to hear a playlist on your visiting friend's iPhone. Or if you don't remember whether that new song you downloaded is on your iPad, your iPod touch or your PC, you'll be able to search all three iTunes libraries simultaneously and instantly find it.
Home Sharing also lets you find photos and videos on your shared devices. You can play those home videos stored on your PC on your HDTV. Or display on your TV the pictures you just took with your iPhone.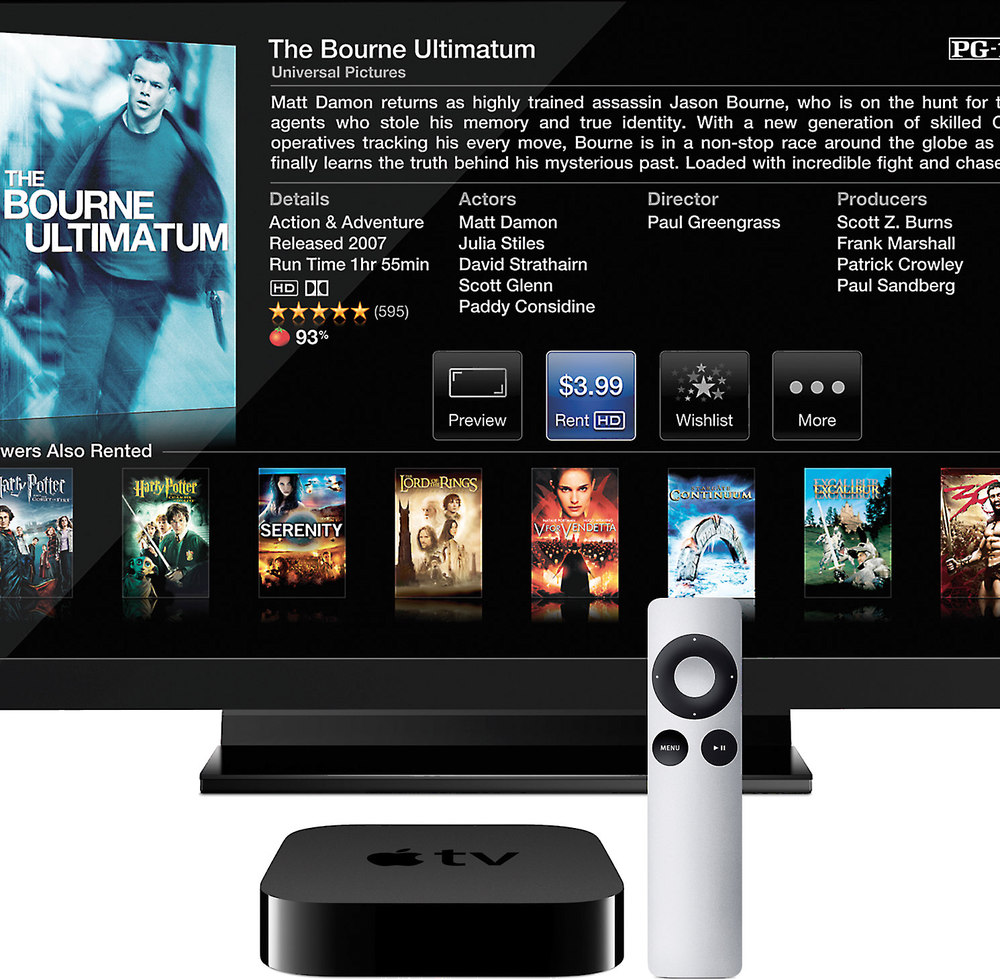 Rent or purchase movies and TV shows from iTunes through Apple TV.
iTunes video rental and purchases
Through your home's Internet connection, Apple TV can directly access parts of the iTunes store. Using your TV as your display, you can navigate through the store and select movies and TV shows to rent, or purchase. And you can also access video podcasts to view (many of which are free).
TV shows or movies you've already purchased through iTunes will show up when you set up and log into your Apple TV. If you've been watching TV shows or movies on your iPhone or iPad, you can continue watching them through your Apple TV on your HDTV. With Apple TV, you no longer have to store your videos on your Apple portable device.
Any media you purchase from iTunes through your Apple TV is downloaded to your computer. But using the features mentioned above, you'll have access to it from any of your connected devices.
Internet-only content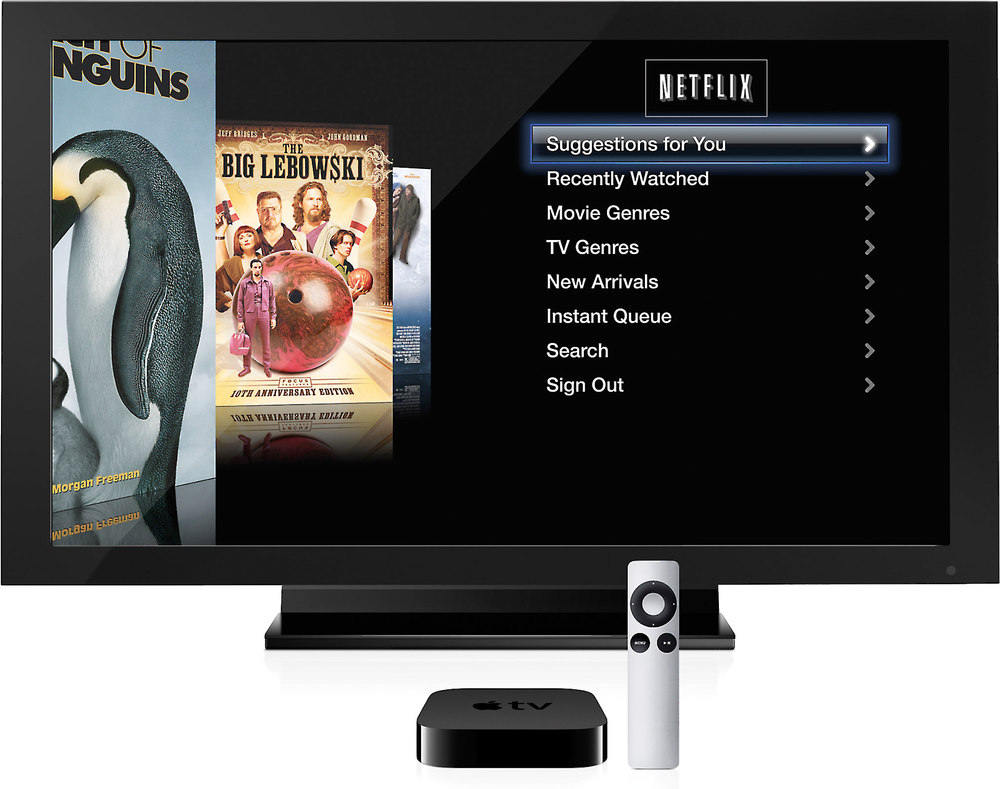 Easily browse Netflix with Apple TV
Netflix® with Apple TV
If you have a Netflix account, you can also access it through Apple TV. The interface lets you browse your queue, and make selections to view instantly. Of course, anytime you make changes in your Instant View queue through a computer or the Netflix app on a portable device, you'll see them the next time you use Netflix through your Apple TV.
Some Netflix content available through Apple TV is in HD, and can have Dolby Digital 5.1 surround sound. Depending on your TV and speaker connections, you can experience this enhanced video and audio through your system with Apple TV.
Sports and news
Several sports and news organizations provide free and paid-subscription content that you can access through Apple TV. These services include NHL, NBA, and MLB games — some in HD. The Wall Street Journal Live offers exclusive news features available through Apple TV.
Internet video and Internet radio
YouTube and Vimeo with Apple TV
Apple TV has it's own navigation screen for YouTube. The system lets you search and select YouTube videos in a way that's more user-friendly than most TV-based navigation systems. You can also access Vimeo with a similar interface. This video site features independent films, animation, celebrity channels, educational videos, HD videos, and much more free long-form content.
Online photos
You can also browse photos in flickr. The display is similar to Cover Flow, so you can quickly cycle through photos. And you can also select the account you want to browse. Apple TV also allows you set up slide shows from flickr accounts. When you do, you can also choose music from your iTunes library to accompany the slide show.
Internet radio tuner
Apple TV also features an Internet radio browser, similar to the one built into iTunes. You can choose from over twenty different categories, representing over 10,000 stations from around the world that you can listen to for free. Simply select by genre, and then dig down further into the various stations to make your selection.
iCloud accessibility
Photo Stream with Apple TV
The Photo Stream function of iCloud automatically saves the most recent 1,000 photos taken with a connected device to your iCloud account on the web. Apple TV can access any or all of those photos from iCloud and display them in a slideshow on your TV. So photos you took last week with your iPhone can be shown on your TV — even if you haven't gotten around to transferring them to your computer.
A brief word (or two) about iCloud
iCloud is Apple's online backup system for the media you have stored in your iTunes library. It automatically gives you access to every song you've purchased through the iTunes store. This is a free service that's a benefit for having an iTunes account.
You can access your iCloud music through any device running iTunes 10 (even Apple TV). You can also redownload past iTunes purchases. This is handy if a hard drive you have iTunes-purchased music on fails and you want to replace it.
iTunes Match
There's also a paid service called iTunes Match. When you subscribe, your music collection is backed up to an online server. You can then access this music from any device running iTunes 10. The advantage is that all of your music is backed up — not just what you purchased from iTunes but music you've ripped from CDs, or music you've bought from other sources.
Apple scans your library, and gives you access to all the songs they can match in iTunes. Songs the system doesn't recognize or doesnt have it uploads to your iCloud account. Apple TV can access your iTunes Match tracks from the iCloud to play through your TV and connected sound system. So even if your computer is offline or otherwise not available, you can still enjoy your iTunes music library.
One more thing — the remote
Apple TV comes with its own small remote, that not coincidentally looks a lot like an iPod. You can use it to control all the features outlined in this article.
Apple also offers a free Apple TV remote app. This app turns your iPhone, iPod touch, or iPad into a touchscreen remote for your Apple TV. It also lets you control iTunes on your computer, tying all your AirPlay-compatible devices together.