Audioengine D3 USB DAC review
An impressive performer
Heads up!
Welcome to this article from the Crutchfield archives. Have fun reading it, but be aware that the information may be outdated and links may be broken.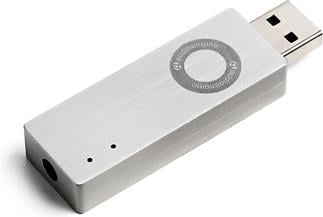 It looks like a USB thumb drive, but makes your music sound out of this world.
If computer audio is your thing, then Audioengine should be on your radar. This innovative company builds a number of noteworthy products designed to enhance your music listening experience. One of those products is the pocket-sized D3 digital-to-analog converter.
This tiny USB DAC plugs into your computer to bypass its built-in sound card, processing your digital music files with greater precision and accuracy. The D3 also features a built-in headphone amplifier that sends more juice to your headphones than a typical computer headphone jack. You get a powerful, yet portable, one-two punch.
It's probably worth noting that the D3's larger sibling, the Audioengine D1, has been one of Crutchfield's best-selling DACs for quite some time, with numerous 5-star customer ratings to its credit. Though their external designs are clearly different, the D3 shares a good bit of family DNA with the D1, including identical DAC chips. So the question in my mind is — can the Audioengine D3 measure up to its big brother's strong reputation? I plugged one into my laptop to find out.
A closer look at the D3
Externally, the D3 looks like a somewhat largish, old-school USB thumb drive. Its two-piece metal injection-molded aluminum body fastens together with four tiny hex-head screws to form a lightweight but solid package. And I must say that its brushed aluminum finish looked right at home plugged into my MacBook.
Although small overall, the D3's width could potentially be an issue with some computers that have closely spaced USB ports. Attempting to insert another USB device while the D3 was installed on my MacBook proved to be a very tight squeeze. Computers with more widely spaced ports, or ports on opposite sides, should have no problems.
The D3 sports two LED indicators. A white one that shows it's powered up, and second blue one that only comes on when you feed the DAC high-resolution music files above 48 kHz. There's no way on the DAC to differentiate between 88.2kHz and 96kHz high-res sample rates.

The D3 comes with a mini-to-full-size headphone adapter and a cloth storage pouch.
On the end opposite the USB plug is a 3.5mm minijack where you can plug in your headphones, or an optional patch cord to connect it to a pair of powered speakers or your home stereo. There are no other connections or controls on the DAC's exterior — power is supplied via the USB port, and the D3's internal analog volume control is adjusted using your computer's on-screen or keyboard interface.
Audioengine thoughtfully includes a full-size-to-mini headphone adapter, handy if your headphones need it and you don't already have one. There's also a small cloth pouch for transport and storage. I wish Audioengine had included an end cap to protect the DAC's USB plug when not in use. But that's just a minor nitpick.
What's on the inside?
The D3 uses an AKM4396 digital-to-analog-converter chip, said by Audioengine to be "well regarded for its low noise and high fidelity." This bore out well in my experience as I found the D3 to be absolutely dead silent in operation, with no audible background noise. An asynchronous USB receiver chip handles the music files streaming from your computer to reduce timing errors, called "jitter," that can adversely affect the sound quality of your music.
The D3 is able to decode music files up to 24-bit/96kHz natively. It can also play higher-resolution files, but your computer will down-convert them first. High-res music fans with a large collection of 176.4 kHz or 192 kHz files may want to consider a DAC with the capacity to play those files directly without downconversion.
Like most portable DACs at this time, the D3 is not able to play DSD audio files — a less common but increasingly available high-resolution music format. I suspect for most people, though, this won't be major issue.
Getting started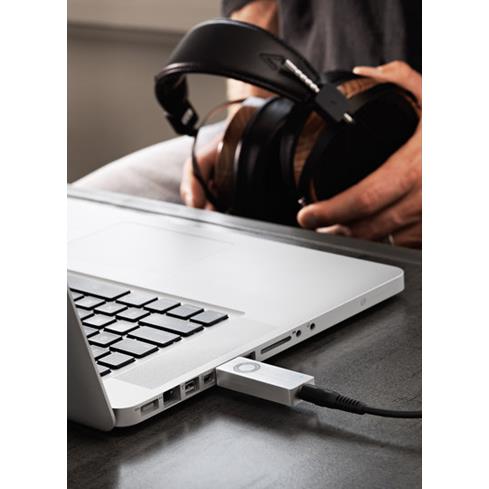 The D3 is super-easy to use, and small enough to take along.
The D3 is easy to setup and use. Just plug it into a USB port and select it from your computer's audio devices menu if you're using a Mac. With Windows PCs, the D3 simply installs itself and is ready to go without any additional prompting. That's it! No additional drivers or setup required.
To evaluate the D3's sound, I used my MacBook to play a variety of music streamed or downloaded from the internet, and ripped from CDs. I wanted to see just how well the DAC could handle music ranging from highly compressed MP3s to 24-bit high-res files. An assortment of headphones — ranging from easy-to-drive in-ears to more challenging, high-impedance around-the-ear models — made up the rest of my listening system.
I also wired up a pair of Audioengine A2+ powered speakers to create a "desktop system." Interestingly, the A2+ speakers have their own built-in DAC, and can connect to your computer via USB. Out of curiosity, I compared the sound of the A2+'s built-in DAC and the D3 by simultaneously plugging in the A2+'s USB cable and line-level inputs (connected by patchcord to the output of the D3) — then switching back and forth between the two DACs from my laptop.
The A2+ speakers performed admirably using their own built-in DAC. The sound was clear and concise. But when I switched over to the D3, the speakers practically jumped off the table. Bass output increased noticeably, and was much tighter and more controlled. Mids took on more presence and clarity, with a greater sense of "you are there" intimacy. The highs, as well, sounded more detailed, with more air and space around the instruments. The overall improvements were surprisingly greater than I expected.
I really do like the A2+s. But to anyone who already has a pair and is looking for a boost in performance, the D3 represents a major step-up path.
The sound
Right off the bat, I'll say that the D3 easily crushed the built-in DAC and headphone output on my laptop. There was simply was more bass, volume, and detail than I ever heard coming straight out of it.
The D3's powerful headphone amp delivered more than enough output to drive all of my headphones without any problems, from the most sensitive in-ears to the least sensitive Sennheiser HD 600 around-the-ears.
Down to the Waterline, from Dire Strait's eponymously named first album, for example, starts off quietly, with low-level waterfront sounds mixed under Mark Knopfler's guitar that are difficult to discern. Not so with the D3. Its resolving power brought out those subtle effects to where you could easily hear the foghorns and the tugboats cruising by.
Next up was Tin Pan Alley from Stevie Ray Vaughan's Couldn't Stand the Weather. The CD-quality rip (16-bit/44.1kHz) of this old audiophile chestnut playing through the D3 clearly revealed the tracks huge dynamic range. Vocals were smooth and well defined, with a great sense of immediacy.
The D3 also plowed through compressed MP3 files and streaming audio with equal aplomb, bringing out the best in what was there after digital compression, and smoothing over any rough edges without totally erasing details. The only thing missing was the last degree of ambiance and low-level detail that defines good uncompressed recordings.
Switching to 24-bit/96kHz files showed that the D3 could also play ball in the high-res arena. The tunes in my collection sound warm, deep, and dynamic. The D3 clearly imparted that sense of ease and transparency that comes from great recordings done right in high resolution.
Not a "cure-all" for bad sound
In the same way that taking photos through a professional-quality lens allows you to see previously invisible details and blemishes, adding a high-performance DAC to your system better reveal differences in sound quality among different audio sources — both the quality of the original recording, as well as the detrimental effects of digital compression. Even playing through a great DAC, many streaming Internet radio stations and some highly compressed MP3 files can still sound thin and distant. The moral of the story is, don't blame the messenger. Go ahead and add a DAC, then seek out better music sources to be amply rewarded with vastly improved sound quality.
The bottom line
The D3 is an impressive performer, especially when you consider its small size and reasonable cost. Anyone looking to up their music-listening game with a portable, travel-friendly DAC should definitely put the D3 on their short list of contenders.