AudioQuest DragonFly V1.2 DAC review
Can this little bug give my music wings?
Heads up!
Welcome to this article from the Crutchfield archives. Have fun reading it, but be aware that the information may be outdated and links may be broken.
I don't know about you, but the first thing that comes to mind when I think of AudioQuest is their extensive line of audio and video cables. In fact, I'm listening to my powered desktop speakers through one of their terrific-sounding Evergreen mini-to-RCA cables. Plugged into the other end of that cable is another AudioQuest product, the DragonFly V1.2 digital-to-analog converter. The DragonFly is bypassing the sound card built into my laptop computer (even though my computer's sound card isn't broken), and processing my digital music files in its place.
AudioQuest claims the tiny DragonFly can provide "beautiful sound from any computer, anywhere." To be honest, the sound coming from my laptop's headphone jack isn't half bad; although I suppose there's always room for improvement, right? But can such a small device really deliver on such a big promise? Most of the great-sounding audio gear I'm familiar with is huge by comparison. Still, given my positive experiences with AudioQuest's cables, I'm inclined to give them the benefit of the doubt and find out for myself just how much more "beautiful" my music can sound.
A closer look at this bug
On the outside, the DragonFly resembles a basic USB thumb drive, albeit one with a cool-looking dragonfly logo on top. That logo does more than just look cool, it also lights up when you plug it into your computer, and changes color to indicate the incoming sampling rate of your digital music files. Each sampling rate, including 44.1 kHz, 48 kHz, 88.2 kHz, and 96 kHz has its own color so you know exactly what source frequency you're getting. It's nice to have that degree of accuracy. Some DACs only light up to tell you when you're above a certain sampling frequency, but can't pinpoint the exact number.
A smooth, rubberized black finish covers the entire outer surface of the DragonFly, and the overall impression is one of a product that's solidly built and quite heavy for its size. Audioquest includes a cap that fits snugly over the USB plug to protect it when the DAC is not in use, plus a small leather pouch for storage.
A closer look at the Dragonfly reveals a minijack at the opposite end of the USB plug where you can plug in your headphones, or an optional patch cord to connect a pair of powered speakers or home stereo system. Otherwise, there are no switches, buttons, or controls of any kind on the DACs exterior, it's powered and controlled exclusively through your computer's USB port and on-screen interface.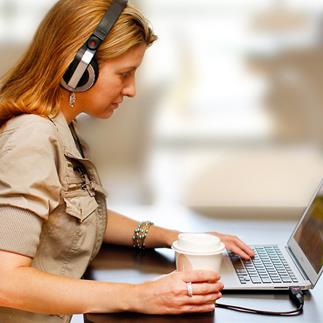 The DragonFly plugs into your computer's USB port to process your music files in place of your PC's sound card. A minijack lets you plug in headphones, powered speakers, or even a home audio system.
Volume control
Speaking of controls, the DragonFly's output level is set using your media player (JRiver, Amarra, Audirvana, etc.) or computer's system volume control. A "variable output mode" lets you adjust the volume going to a pair of connected headphones, powered speakers, or even a power amplifier. Or, you can push the volume control setting all the way to maximum for "fixed output mode." This mode can be used to connect your computer to an A/V receiver or traditional preamp, just like you would connect a CD or Blu-ray player.
Although controlled "digitally" via your computer's software volume settings, the DragonFly actually incorporates a high-resolution analog volume control with 64 discrete output levels, or "steps." Why an analog control instead of digital? It turns out that most digital volume controls work by throwing out bits of audio data in order to reduce volume levels, reducing your music's resolution in the process. The DragonFly's precision stepped analog control avoids that problem.
What's in this DAC
Along with its built-in volume control, the DragonFly features an ESS Sabre™ digital-to-analog-converter chip, a well-regarded brand of DAC with a reputation for excellent sound quality. There's also an asynchronous USB receiver programmed to control the timing of music files streamed from your computer. This asynchronous data transfer reduces timing errors — known as "jitter" — that can make your music sound harsh and edgy, and smear subtle details.
The DragonFly also contains a built-in headphone amplifier. The amp provides cleaner, more powerful output than the headphone jacks on most computers — an important factor with many higher-end headphones that need the extra juice to perform their best.
Possible issues with a thumb drive form factor
One possible concern I've heard voiced about this thumb drive style form factor is the potential strain it could put on your computer's USB port, especially with a heavy headphone cable hanging from it. I can't say I had any problems, but I was being very careful when plugging and unplugging the DAC. And I was using it at home in a stationary setup as opposed to a mobile environment, where things can get tricky. Still, if you're a worrier, AudioQuest makes an extender cable that can plug in between the DAC and your PC's USB port to take any possible strain off the connection.
Size might matter, as well. While the DragonFly never caused an issue by being too large to allow other USB connections to be made next to it on my MacBook Pro, it could be a problem if your computer's USB ports are very narrowly spaced. AudioQuest says their extender cable can help with that, too.
Handling high-resolution music files
The DragonFly can play any PCM audio or music files that your computer can handle, ranging from compressed MP3 or AAC (iTunes®) tracks to CD-quality 16-bit/44.1 kHz, to native high-res music files up to 24-bit/96kHz. It will still play even higher-res files, but your computer has to down-convert them to do so. This may be a consideration if your music library consists of a large collection of 176.4 kHz or 192 kHz files, and you want to squeeze every last bit of sonic goodness out of them.
It should also be noted that the Dragonfly is not capable of playing DSD files, a somewhat less common but increasingly available high-resolution music format. I imagine for most folks, that shouldn't be a deal breaker.
Topping out at 24-bit/96kHz also means that the DragonFly is basically plug-and-play for both Mac and Windows-based PC users. DACs that handle higher-resolution music files usually require Windows users to download USB 2.0 audio drivers to their computers in order to play them. Mac users get a break because their OS-X operating systems already support USB 2.0 audio. In any case, it's not an issue with the DragonFly.
Getting set up
The DragonFly is impressively simple to use. Since it draws the power it needs through your computer's USB port, it's also easy to take along if you're travelling — no extra power supplies to drag around (and forget). Hookup is simple, too. Just plug it into an unused USB port and select it as your preferred decoder from your computer's setup menu. AudioQuest thoughtfully provides an excellent Computer Audio Setup Guide with their instructions to make certain you get off to a good start for better sound.
My evaluation "system"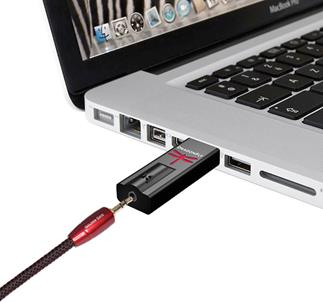 It only takes a few moments to set the DragonFly up to enjoy better sound from your computer.
To evaluate the DragonFly, I employed my MacBook Pro laptop computer and a variety of music streamed or downloaded from the Internet, as well as music ripped from CDs. An assortment of headphones, including the Sennheiser HD 600, HD 598, and Grado SR80i, as well as a pair of older Klipsch Custom 3 in-ears made up my listening devices.
The DragonFly provided more than enough output from its built-in headphone amp to drive the relatively sensitive Klipsch in-ear, Grado, and Senheiser HD 598 headphones with gusto.
The Sennheiser HD 600's lower sensitivity posed a greater challenge. I could easily live with the slightly attenuated, but still ample, volume levels available to the HD 600s from the DragonFly. However, those with higher-end or difficult-to-drive headphones, and a taste for higher-volume, may need to consider a DAC with a more powerful headphone amp. That means one likely requiring AC power, which loses the advantage of portability.
I also connected a pair of Audioengine A2+ powered speakers, since I expect that powered desktop speakers make up a good percentage of computer audio systems.
Although I didn't try it for this review, the DragonFly also makes it easy to listen to your computer-based music through a home audio system if you don't already have a DAC that accepts a USB connection in your setup.
The Sound
So how did the DragonFly perform? In a word — terrific. It easily bested the headphone output of my laptop computer by a wide and audible margin.
Playing a few tracks of long-familiar tunes made me realize just how much more open, spacious, and detailed my music could be. The DragonFly unraveled recordings in a way that let me easily follow each individual instrument in its own space (even revealing a few I had never heard before), and pick out individual voices singing in harmony in a group.
Umasha (Strawberry Swamp Fever Mix), from Mickey Hart & Planet Drum's Supralingua, for example, is a depth charge of a track – explosive and powerful, with huge dynamics and deep bass. And the DragonFly easily telegraphed all these aspects of the recording.
With this CD-quality rip (16-bit/44.1kHz) of the track, water trickles convincingly in the background, accompanied by the enveloping chirps and squawks of all the swamp critters. When the bass and percussion kick in, it's enough to lift you out of your seat. High-frequencies sounded smooth and natural, but not at the expense of lost detail. The track's plentiful reverb was there in spades, with long decay times that seemed to stretch out for an eternity.
Switching to something completely different, I cued up Chan Chan from Ry Cooder's brilliant Buena Vista Social Club. The CD-quality rip (16-bit/44.1kHz) of this track clearly revealed the sound of the recording studio through the DragonFly. One could almost feel exactly where the walls and ceiling were located in relation to the musicians. The spread of instruments across the soundstage was deep, wide, and even. Vocals were well defined, with a sense of immediacy and vividness that brought them to life.
Wanting to see how the DragonFly fared with compressed music files I switched to iTunes Radio (bit-rate unknown, but probably 256kbs, or less). The Grateful Dead's Althea from their live Without a Net album was streaming at the time, and I must say the sound was far better than I anticipated. Jerry's road-weary voice came through the mix with convincing emotion. Crowd noise and hall sounds, details that frequently disappear with compressed music files, were present in surprising quantity.
The same thing happened again with a few downloaded tracks from iTunes. The sound was unerringly pleasant and smooth. The only thing missing was the last degree of ambiance and low-level detail that defines good recordings played back without digital compression. The DragonFly did a fine job of making streamed and compressed files sound as good as possible.
On the opposite end of the digital music spectrum, the DragonFly made the 24-bit/96kHz tunes in my collection sound exceptionally warm, deep, and dynamic. Highs, especially brass cymbals, had a natural shimmering ring that made them sound amazingly real. Drums delivered the kind of sharp, percussive snap and punch that you get when you hear them live. In all, the level of transparency and detail was impressive and addictive. I didn't want to stop listening.
The state of your music library
One point to take into when adding the DragonFly, or any high-performance add-on DAC for that matter, to your system is its ability to reveal differences in sound quality among different audio sources — both the quality of the original recording, as well as the potential detrimental effects of digital compression. Even thru a good DAC, many streaming Internet radio stations and some highly compressed MP3 files can still sound rough and threadbare. Only now, you'll hear the flaws even more clearly!
Higher bit-rate music streaming services fared noticeably better, benefitting significantly from the "DAC treatment." CD-quality and high-res sources generally provided the best overall sound, and the greatest improvements, as you might expect. The bottom line, don't expect miracles. DACs can't really make a poor source better than it is, but they will bring out the best in a good one. It could be time to upgrade your music library.
The bottom line
This little bug yielded smooth, detailed, and natural sound with plenty of dynamics and tight, powerful bass. Plus, its price is so reasonable that almost anyone interested in getting better sound from their computer can probably afford to purchase one. I would give the DragonFly V1.2 my best-bang-for-the-buck rating.