Beats Executive™ headphones review
Bold sound and noise cancelation in a sleek new design
Heads up!
Welcome to this article from the Crutchfield archives. Have fun reading it, but be aware that the information may be outdated and links may be broken.
Substance meets style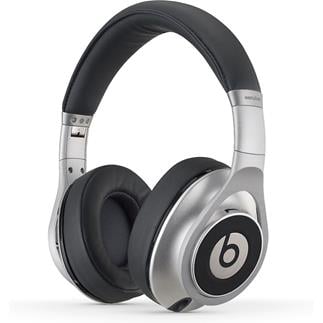 You've seen them on pop music superstars, professional athletes, gossip sheet pin-up girls, and kids on the street: the ubiquitous Beats headphones, developed by one-time rap bad boy and now bona fide industry mogul, Dr. Dre™. Those colorful headphones with the lowercase "b" on the ear cup have revolutionized the industry by making over-ear headphones fashionable.
Now Beats is extending its reach, with a new upscale design geared toward frequent travelers. But don't make the mistake of thinking Beats is just interested in creating status symbols. Their previous models boast impressive sound quality, and the new Executive further refines the Beats sound for a performance as cool as their sophisticated new look.
Designed for travelers
With the Executive, Dre has traded bright colors for a sleek brushed-metal finish with black accents. Combining stainless steel, aluminum alloy and soft leather, these look and feel luxurious while remaining lightweight. They also fold up for quick storage in the included travel case, so it's easy to slip them into a small bag or purse.
The Executive is a noise-canceling headphone and requires two "AAA" batteries to operate (there is no option for passive listening). I particularly liked the magnetic battery cover on the left ear cup, which is secure yet easy to remove. The cover also has an attached string to keep it from falling to the ground or getting lost. These are nice touches that distinguish the Executive from previous Beats models.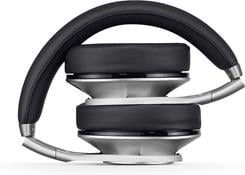 The Beats Executive headphones fold up for quick storage in the supplied travel case.
The Executive also includes two cables, one featuring a three-button remote designed for use with Apple devices. The remote may appear to have only one button, but if you press on either side of the red center button, you'll discover the "secret" volume controls.
Powerful noise-canceling technology
How effective is the noise-canceling feature of the Executive? I tried it out first with no music. I was surprised that I could hear my coworkers' conversations. "Why aren't these things working?" I wondered. Then, as I switched them off, the hum of Crutchfield's air conditioning system once again filled my ears. The Executives had completely neutralized it.
Once I started listening to music, all external noise melted away. At one point, while listening to Talking Heads, I pulled off the headphones and was shocked to discover a phone conversation taking place on one side of me, and two people conversing just to my left. The combination of the Executive's noise-canceling circuitry and my music played at a reasonable volume had blocked it all out.
Less bass is still plenty
Aside from looks, the biggest difference between the Executive and other Beats headphones I've auditioned is the toned-down bass. Beats is known for big bass, and the Executive brings it.
So how do they sound? As these are Beats headphones, I had to start with some hip hop. Rising star (and Dr. Dre protégé) Kendrick Lamar's "Swimming Pools (Drank)" sounded nice and clean, with impactful bass that was neither distorted nor overwhelming. The vocals were crisp and clear, standing out cleanly from the low-end bed over which they were delivered. The Executives are clearly capable of impressive bass response and making rap sound as bold as it should without inducing a migraine.
Not just for hip hop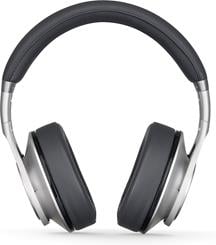 The Executive's deep bass does not overpower the highs and mids.
The Executive is being billed in some places as "your father's headphones." So how do they sound with music that's not quite as new or hip as Kendrick Lamar? Yep, it's time for some Steely Dan.
Judging by how tight "Gaslighting Abbey" from Two Against Nature sounded, Steely Dan can teach these young kids a thing or two about laying down a groove. The vibrant bass guitar drives the song forward, with punchy guitar and keyboard fills filling in the gaps. There is a lot of musical space in this song, and at times I was aware of the hiss from the noise canceling-generated tone. But that's an issue with all noise-cancelers. Bumping up the volume can reduce or eliminate this minor annoyance.
"Scatterbrain" from Jeff Beck's Live at Ronnie Scott's Jazz Club was a revelation. The Executive handled Vinnie Colauita's frenetic drumming with speed and precision rather than recklessness and distortion. The more I listened, the more impressive these headphones sounded with a wide range of musical styles.
Can Beats go acoustic?
I wanted to see how the Executive's bass-heavy sound handled acoustic music. "I am a Pilgrim," from Willie Nelson's Country Music, sounded thick and full, though the acoustic bass was a bit too dominant. Yet I was very pleased with how balanced the presentation was on "Nobody Knows You When You're Down and Out" from Eric Clapton Unplugged. The bass line in that song was just enough to give it a little low-end boost without obscuring the acoustic guitars, piano or vocals.
I love jazz and often lament how deeply buried the bass is on so many recordings from the 1950s and '60s. But with the Executive, "Yeah, Yeah, Yeah" by Eddie Harris benefitted from having the bass nicely accentuated, augmenting Harris's bouncy sax playing without detracting from the drums or piano. Perhaps this may offend purists looking for totally accurate sound. But to my ears the Executive's bass-forward sound signature added more to this performance than it subtracted.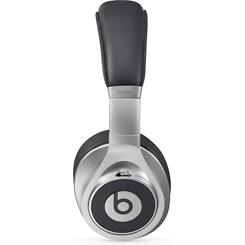 Do they rock?
Some headphones that sound great with acoustic music don't do so well with hard rock. To see how hard the Executive can rock, I sampled the guitar-heavy pop-punk of Ted Leo and the Pharmacists. Bass and midrange dominated the proceedings on "The One Who Got Us Out." The high frequencies took a slight backseat in what was a very musical presentation from a tune that often sounds a bit bright to my ears. The Executives actually evened out this song, adding presence particularly in the upper bass/lower midrange that so often gets lost in hard rock played through cheap headphones or factory car speakers.
The bottom line
I had a great time auditioning the Beats Executive. Their powerful bass response adds impact to music without running roughshod all over the presentation. When you combine the noise-canceling benefits along with their bold sound, the Beats Executive headphones are an excellent choice at this price – particularly if you need to hear your music over the drone of airplane engine noise, omnipresent office conversations or loud HVAC systems. The Executive is a great entry point to the Beats headphone line for those who have so far resisted the revolution.