Beats by Dr. Dre™ Pill
This tiny Bluetooth® speaker delivers big sound
Heads up!
Welcome to this article from the Crutchfield archives. Have fun reading it, but be aware that the information may be outdated and links may be broken.
The dilemma
It happens all the time. I'm in the kitchen listening to music. My iPod touch® is docked in a small speaker system sitting on the counter. Everything's great while I'm there washing dishes or fixing a snack. But then I'm right in the middle of a great song as my kitchen duties conclude. As I head to the bedroom to fold some laundry, I wish there was a quick and easy way to take that song with me without interruption. Instead, I have to unplug my docking station, carry it into the bedroom, locate an accessible outlet, plug it in and restart the music — and I'll have to repeat this process when I inevitably head back to the kitchen to start dinner.
A sound solution


So it was with great glee that I spent a weekend with the Beats Pill. The Pill gives new meaning to the term "multi-room audio". It's a remarkably small Bluetooth® speaker designed for maximum portability. The name is derived from the unique shape, similar to an aspirin capsule or those old RCA microphones. But the shape is not the defining characteristic of this speaker. It's the size. This thing is TINY. It can even fit in the back pocket of my jeans.
The Pill requires no wires except the one to charge its built-in battery, accomplished either with your computer or the supplied AC outlet charger. A fully-charged battery provides about seven hours of listening time. The Pill also features a line-in jack and a mini-to-mini cable, for wired listening from a portable device as an alternative to Bluetooth. There's even a line-out jack for connection to a home system.
Simple Bluetooth pairing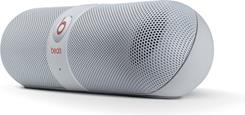 The Pill is available in white, black and red.
But the Pill is primarily a Bluetooth speaker. So I turned on my iPod touch's Bluetooth connection and paired it with the Pill. It was a simple process that took a grand total of about 30 seconds. And with Near Field Communication (NFC) devices like the Samsung Galaxy, pairing is as easy as touching the device to the Pill. Once paired, audio output is automatically sent to the Pill with easy track and volume control on your device. I was able to listen to digital music stored on my iPod, as well as streaming songs from MOG, a totally addictive digital music service that gives me access to millions of songs at the push of a button.
Sound that exceeds expectations
After pairing my iPod with the Pill, I placed it on the mantel in my living room to see how it sounded (though round, the Pill features a flat bottom, so it won't roll away). With any speaker this small, you have to have reasonable expectations for sound quality. I came away impressed with the amount of sound the diminutive Pill pushes out, as well as the clarity. I was concerned that in an effort to extract too much bass from the Pill, Beats would create a speaker that delivers dull, distorted sound. Not so – the Pill's sound is rather smooth and surprisingly clear. The bass response is not going to blow you away, but I found it sufficient given the small size of this speaker.
Control volume with your Bluetooth device or with the Pill's on-board volume buttons.
Next, I moved to the kitchen. This is the beauty of the Pill. I just grabbed it and carried it in, no interruption to the music, no wires or plugs to fool with. Because it's wireless and small, I could put it just about anywhere, even moving it from one spot to another as I moved from rinsing dishes at the sink to chopping vegetables at the bar.
Even though my kitchen is fairly large with vaulted ceilings, the Pill easily matched my larger sound dock in terms of volume and sound quality. I couldn't believe how much sound this tiny speaker was pushing out. I had assumed I would need to max out the volume to make it listenable, but I ended up dialing it back down a bit as it got a little loud.
Impressive wireless range
Next, I left the Pill in the kitchen while I took my iPod touch to the living room to test the range of the Pill's Bluetooth capability. Beats claims a 30-foot range which proved conservative as I found the Pill functioned from as far as 40 feet away. I could keep my iPod in my pocket and move around with very few drop-outs or hiccups, as long as I stayed in the same room. And with the iPod resting within several feet of the Pill, I listened to SiriusXM radio with no drop-outs for about 45 minutes.
While I was listening to music downstairs, my seven-year-old daughter was upstairs in her room listening to Radio Disney on our iPad®. She has always been content to make do with the pitiful iPad speaker. But when I brought the Pill upstairs and paired it with the iPad, she grinned as her music instantly got louder and clearer. She was hooked, and the Pill immediately shot to the top of her wish list.
Easy to take anywhere
The Pill features line-in and line-out jacks and a USB input for charging.
In warmer weather, I wouldn't hesitate to take the Pill out on our deck or the front porch. I could also envision bringing it to get-togethers with friends, whether I wanted to give the kids something to entertain them for a while, create instant background music for the adults during dinner (over which I could maintain complete control) or enlighten everyone about a new song they absolutely must hear.
Because it's so small and requires no wires, it's easy to slip the Pill in a bag and bring it with you, without having to worry about lugging a large speaker and finding a place to plug it in. Roughly the size of a beer bottle, the Pill even comes with a form-fitting zippered carrying case for extra protection — it's very own Pill koozie.
The bottom line
The Pill's raison-d'être is not sound quality, but rather portability and wireless capability. On these points, it is a clear winner. And the sound is impressive coming from such a small wireless speaker. You can find better-sounding Bluetooth speakers, and you can find smaller speakers. But I'm not sure there is a speaker this small with this kind of sound and ease of use.
The Pill is a very cool product, one I could find a lot of use for. Its portability, wireless function and ease-of-use would make it a worthy addition to any home where music is welcome in every room and beyond.