Best AV receivers for 2020
Our top home theatre receivers from Yamaha, Denon, and more
In this article: Our top home theater receiver picks for 2020, along with a few shopping and setup tips.
I spent the first half of my Crutchfield career as an advisor, helping our customers design audio/video systems. I loved doing it because the excitement that home theater adds to our lives is palpable.
I'd hear back from folks after they'd hooked everything up. "Hey Kramer," they'd say, "My new system rocks!" I want to help you experience that same joy in your home.
What makes these receivers my favorites?
Below are my seven favorite home theater receivers for 2020. So what makes them stand out? Well, my selections are based off of my listening experiences, customer feedback, and industry reviews. This is by no means an exhaustive list, but it highlights some of the best options available.
Naturally, not every awesome receiver we carry is listed here. But my hope is that it gives you some solid footing as you plan out your new system. As new models for 2020 debut, I'll update my list accordingly.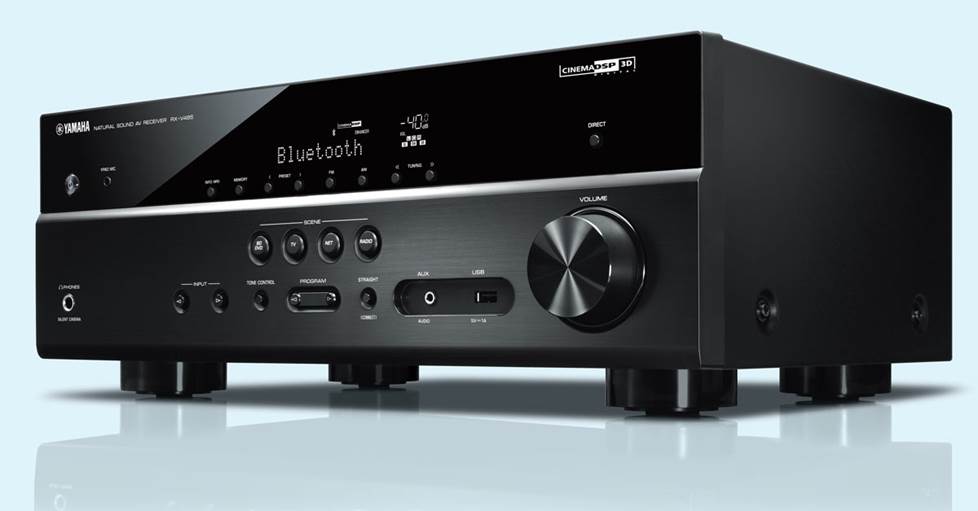 Easiest receiver to use — Yamaha RX-V485
It might be hard to remember, but we haven't always been able to control A/V equipment from our phones. But now that we can, life sure is a lot simpler when it comes to using our gear.
Yamaha leads the way on this front with their value-packed RX-V485. It combines an easy-to-use on-screen interface with an intuitive control app. Together, they make switching sources, changing volume, and picking songs quick and easy.
Despite the RX-V485's modest price tag, it's actually loaded with features you'd expect from a more expensive model.
On the video side it supports 4K and HDR-encoded content. And for music it uses Apple AirPlay® 2, Bluetooth®, and MusicCast for high-quality wireless streaming.
Details
5-channel amplifier
80 watts per channel
HDMI connections: 4 in, 1 out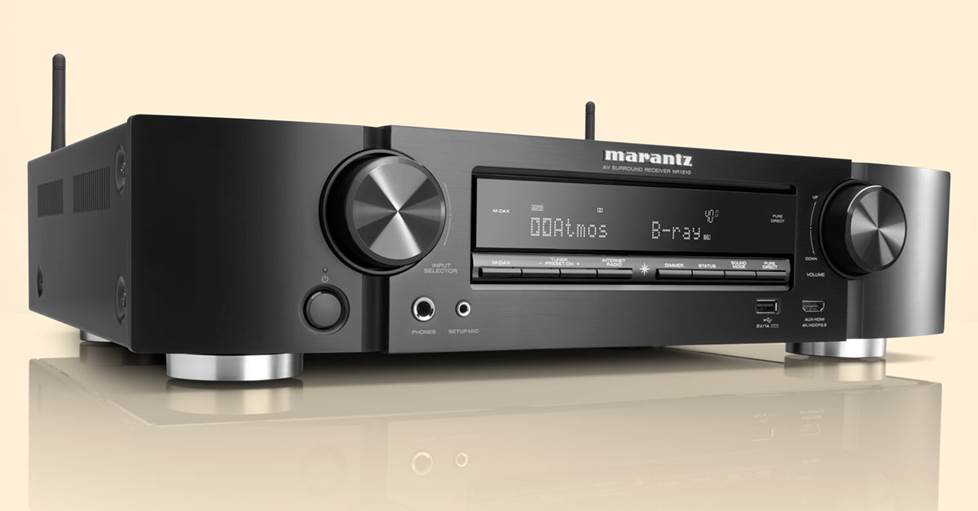 Best receiver for small spaces — Marantz NR1510
Large home theater receivers definitely have their place. I own one, and love it — but I had to cut out the back panel of my entertainment cabinet for it to fit. Thankfully, there's a fantastic alternative if you're tight on space.
The Marantz NR1510 features a slimline design, so it's not as tall or as deep as many other models. At just over 4" high, it's an excellent choice for use on a smallish shelf, or inside a slender A/V cabinet.
Details
5-channel amplifier
50 watts per channel
HDMI connections: 6 in, 1 out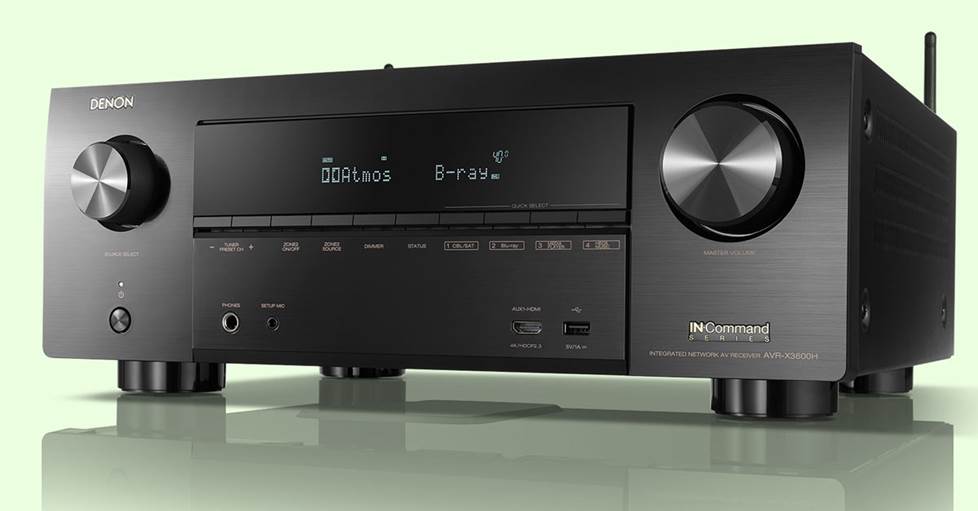 Best multi-room receiver — Denon AVR-X3600H
When I bought my house, I cut holes for speakers and ran in-wall wiring for my home theater before I even moved in. I'm definitely an "old school" speaker guy in that regard. But I also love the wireless speakers I have in other rooms for music.
This two-tiered approach lets me get the most out of wireless and wired technology. If that's the kind of setup you're looking to do, check out the ultra-capable Denon AVR-X3600H.
Plenty of power for your whole house
The AVR-X3600H has nine channels of amplification, and can power up to three zones of audio.
That means someone could be watching a movie in 5.1-channel surround sound in the living room and at the same time, you can also have music playing through speakers on the back deck and in the kitchen.
This receiver also features "Heos built-in," which is Denon's wireless music ecosystem. Heos built-in lets you link the AVR-X3600 to wireless Heos speakers for seamless multi-room music.
You can read my article about Denon's Home series speakers to learn more about how Heos works.
Details
9-channel amplifier
105 watts per channel
HDMI connections: 8 in, 3 out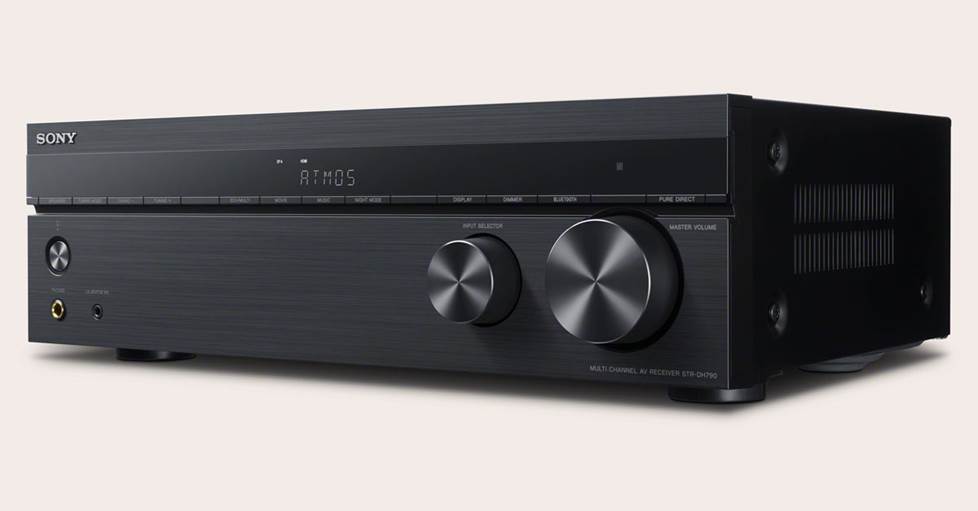 Best budget receiver — Sony STR-DH790
Having a sweet surround sound system doesn't have to set you back a ton of cash. Sony's STR-DH790 is a wonderful choice for getting great A/V performance out of a modest budget.
This receiver powers up to seven speakers at a time, so you can drive a 5.1.2 Dolby Atmos system with it. You can also play music wirelessly from your phone through Bluetooth.
Choosing the right receiver for your system
As you're shopping, make a list of features that are "must haves" for you. That way you'll know whether jumping up to the next level model is worth it or not. Features like a second zone of audio or a phono input are more useful to some folks than others.
So what are you giving up by going with a budget-friendly model like the STR-DH790? Well, it doesn't have Wi-Fi, so you can't control it with an app. It also doesn't support wireless streaming through Apple AirPlay.
That said, the sound quality is excellent. And, this receiver has enough power to drive most home theater speakers.
Details
7-channel amplifier
90 watts per channel
HDMI connections: 4 in, 1 out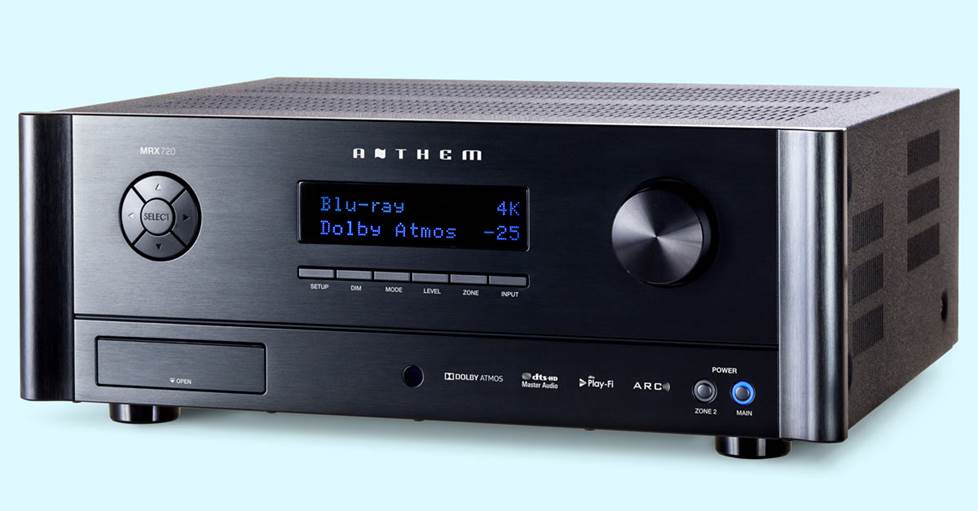 Best room calibration — Anthem MRX 720
Most home theater receivers come with a microphone that lets you calibrate the receiver's sound to your room. Anthem's MRX 720 is no exception. In fact, it includes ARC (Anthem Room Correction) Genesis — widely considered one of the best room correction platforms in the industry.
This advanced calibration system takes acoustic measurements of your room. It then creates a customized correction curve that fine-tunes the output of your speakers and subwoofers.
The resulting sound is clear, smooth, and ultra-detailed, with tighter bass and more impactful dynamics than before.
If you have a particularly challenging room acoustics-wise (lots of reflective surfaces, for example), the MRX 720 is a wonderful choice to get the best sound possible out of your space.
Details
7-channel amplifier
140 watts per channel
HDMI connections: 8 in, 2 out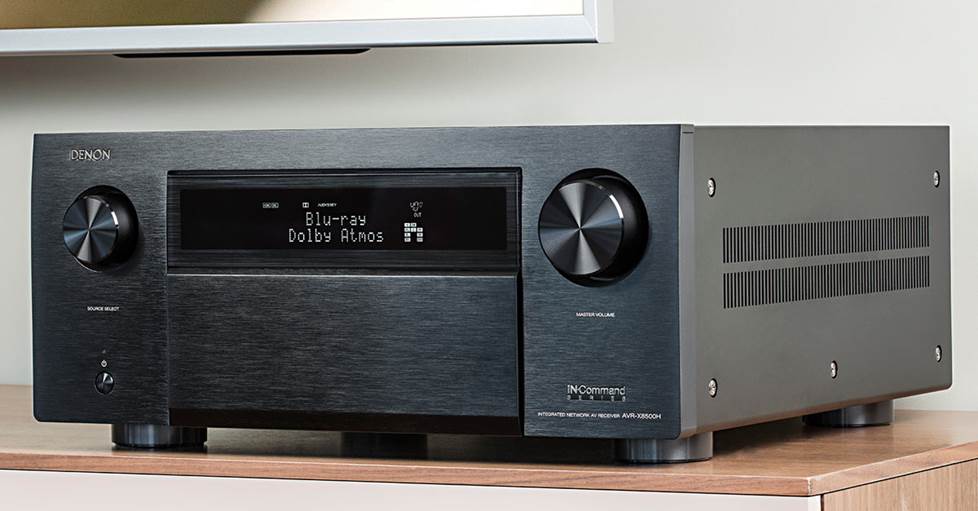 Most versatile receiver — Denon AVR-X8500H
If you're planning a large home theater system, you'll be hard-pressed to find a more capable receiver than Denon's flagship AVR-X8500H. This A/V juggernaut has 13 channels of power — enough to drive even the most demanding surround sound setup.
Think of it this way: the AVR-X8500H can power a traditional 7.1-channel surround sound system, plus six overhead effects channels at the same time. It's an ideal choice if you're going all-out with a Dolby Atmos or DTS:X® system.
At 150 watts per channel, the 'X8500H is well-equipped to handle virtually any bookshelf, floor-standing, or custom-install speaker you have.
Great for movies and for music
The AVR-X8500H isn't just an excellent home theater receiver. It's also great for multi-room music, too. Powered stereo outputs for second and third zone playback let you fully customize your home entertainment experience.
And just like with all of Denon's receivers, you can easily switch sources and control volume right from the Heos app on your phone.
Details
13-channel amplifier
150 watts per channel
HDMI connections: 8 in, 3 out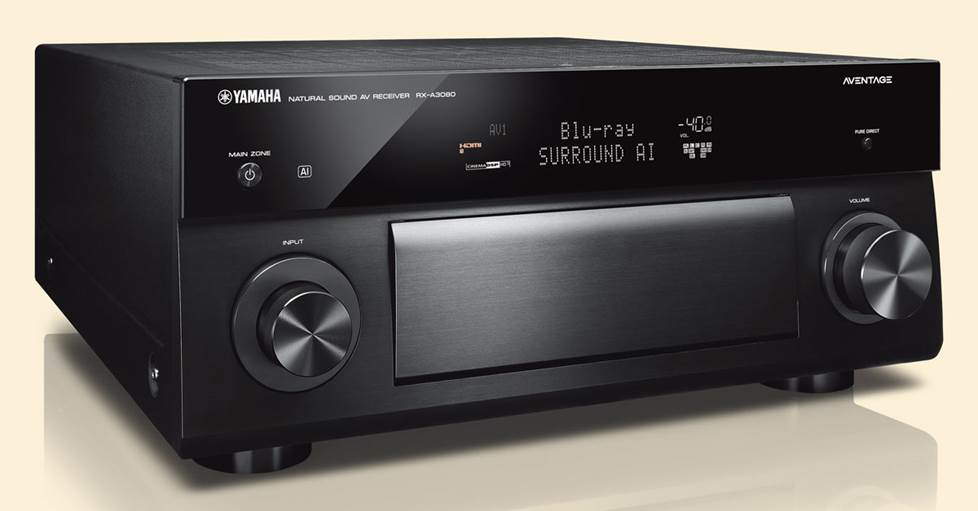 Best all-around receiver — Yamaha AVENTAGE RX-A3080
It's not easy to pick a "best" home theater receiver. That's because we're pretty selective with what we carry at Crutchfield. Each model we offer brings a unique mix of features and value to the table.
With that in mind, I believe the best all-around receiver we currently sell is the Yamaha Aventage RX-A3080.
As the flagship receiver in the Aventage lineup, it has every technology I look for — crystal-clear amplification, advanced audio/video processing, a huge power supply, an intuitive user interface, and superb wireless music streaming.
A true "whole house" receiver
The RX-A3080 supports up to four zones of audio, and can drive nine speakers at a time. So you can focus all of its power on your surround sound system, or use some of it to play music in other spaces.
This receiver uses YPAO (Yamaha Parametric Room Acoustic Optimizer) to calibrate its output to your room's acoustics. The included microphone even comes with its own stand to make your room calibration simple.
If you're making a long-term investment into your home theater system, the RX-A3080 is my pick for the best all-around receiver we carry.
Details
9-channel amplifier
150 watts per channel
HDMI connections: 7 in, 3 out
Tips on choosing the right receiver
There are a few key factors to keep in mind when shopping for a new receiver. Questions like "how much power do I need?" and "how many inputs and outputs should it have?" are important to consider.
Those topics and more are covered in our home theater receiver buying guide.
Get the most out of your new receiver
Once you've gotten your new receiver home, check out our setup tips to get the best sound possible from your system.
Free lifetime tech support is included with every Crutchfield purchase.
Connect with us for a personalized recommendation
Have questions about choosing your next receiver? One of the great benefits of shopping with Crutchfield is working with an expert Advisor. For one-on-one shopping advice, call, email, or chat with us today.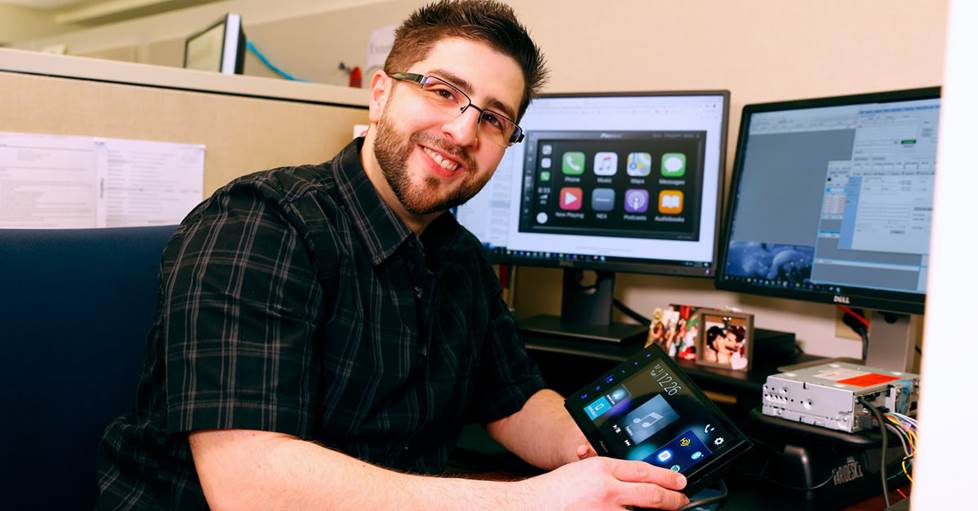 Give us a shout today for free, personalized advice.
Our advisors can send specific Crutchfield pages to your screen, saving you a lot of browsing time. Best of all, they know the gear inside and out, so they can help you make the right choice.
Jump into the conversation
If you have a question about a receiver you're considering — or want to pick my brain about anything in the article — leave a comment below.
I respond quickly, and if I don't know the answer I'll find someone here that does. Thanks for reading!
Last updated 5/11/2020