How to build the ideal car stereo system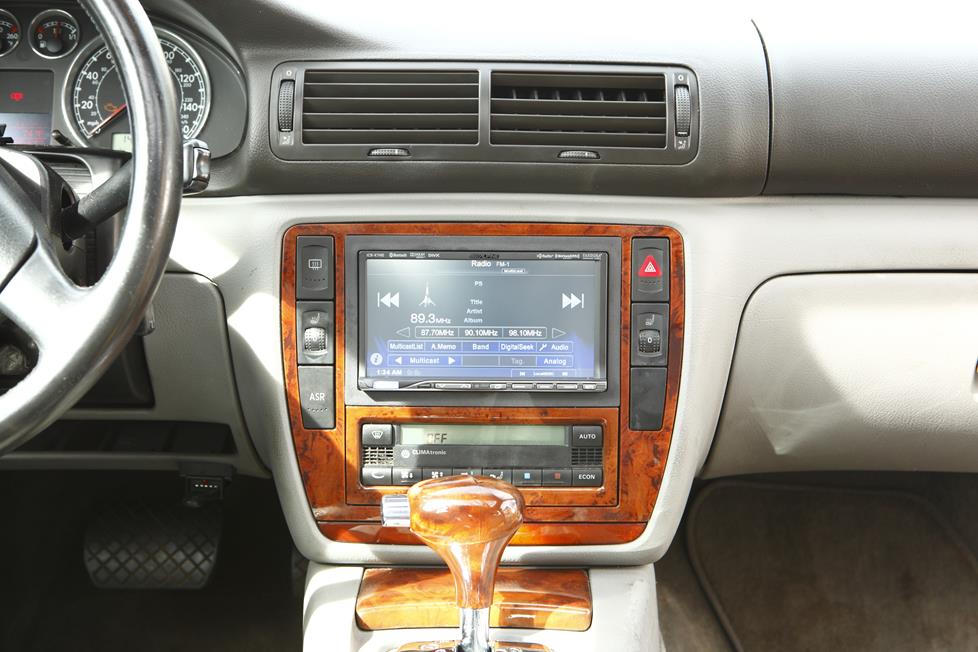 The best receiver is the one that's right for your car and right for you (Crutchfield Research Photo)
Figuring out what you need
The "ideal" car audio system is not necessarily the loudest one, or the most expensive one. It's the one that best meets your needs. So, the first step is to figure out what your needs are. Start off by asking yourself: what is the one thing you want your new car stereo to do for you? If you don't come up with an answer right away, then start by taking a look at your current system.
What type of car stereo system do you have now?
How does the sound of your current system make you feel? Do you find yourself tapping your foot or drumming your fingers on the steering wheel? Does a funky rhythm section get you smiling? Does a blues guitar solo send shivers down your back?
No? Then is the sound flat, dull, tinny, or wimpy? You're probably listening to a car radio that's struggling to drive flimsy, old factory speakers. The good news is that you have a lot of options to choose from when replacing the various components in your audio system.
But what if you're unsure about exactly which component is the problem?
It's not always easy to diagnose what's causing problems in a vehicle's audio/video system. You know it sounds lousy, but you don't necessarily know why. You don't have to be a car audio expert to figure it out, though. Here are some simple steps you can take to narrow things down:
First, listen for a few minutes while parked in the driveway.
Twist all the knobs and push all the buttons. Do all the functions seem to work okay? Listen to each speaker individually by adjusting the balance and fader controls. Turn up the volume and the tone controls. Are all the speakers working, or do you hear a slight rattle or a buzz?
Next, drive around and listen carefully.
Hit the highway and turn your car stereo up loud enough to be heard above the road noise. What do you hear? How does it sound? What do you feel like you're missing?
Finally, find a place to park the car.
But don't turn down the music just yet. Keeping the volume at "highway level" (but without the road noise to confuse your ear), do you hear a lot of distortion? Set the balance, fader, and tone controls right smack in the middle. How's the overall sound of the speakers? What's lacking? Bass? Treble? Clarity?
Now, rate your current gear.
Make a list of the components in your system, and rate them on a scale of 1-10. You'll get the most bang for your buck by replacing the lowest-rated components first. If the car receiver ranked the lowest, the fix is relatively obvious. Installing a new receiver is frequently one of the first steps to achieving better sound, since the audio signal sent to the rest of your system is much cleaner and stronger when it comes from an aftermarket source.
What would you like your radio to do that it won't do now?
Make calls and stream music using a Bluetooth® connection?
Tune in to satellite or HD Radio™ broadcasts?
Control an iPod®, iPhone®, Android™, or other portable audio device?
Play CDs or MP3 files?
Play DVDs on a retractable or built-in display?
Play louder without distorting?
Knowing what you want your receiver to do makes it easier to choose the right one for you and your car. If you know the receiver isn't the problem, or you just don't want to part with your current receiver, you can focus on building up the other components in your car's system. If your speakers sound okay at moderate volume, but not at highway volume, you may want to start by adding more power. If the speakers sound bad all the time, you should probably replace them first.
So, what are your options for improving your car stereo?
Now that you've evaluated your current stereo system, it's time to address the different needs you've identified.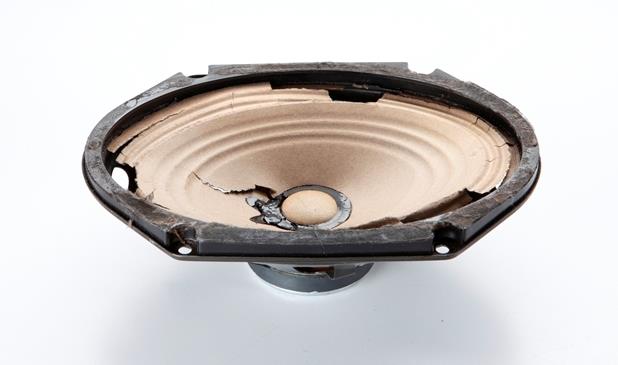 Your factory speaker could look something like this (Crutchfield Research Photo)
Need to replace your old or broken car speakers?
Most factory-installed car speakers are made of lightweight paper or other cheap-to-produce materials. Even "premium" factory speakers tend to wear down and distort a lot faster than aftermarket speakers, so even if they sounded good when you bought the car, they've probably dropped off a bit over the years.
A new set of aftermarket speakers will improve the entire range of your sound, from deeper bass to more well-defined highs. Best of all, they're easy to install and usually more affordable than a receiver.
Aftermarket speakers are made with higher-quality materials, so they'll give you much better sound and increased durability. Full-range speakers (some combination of a woofer, a midrange, and/or a tweeter) fit easily into your car's factory locations and are probably your best bet for improved sound. If you want to hear everything your music has to offer, use a set of component speakers with separate woofers and tweeters to transform your dashboard into a concert soundstage.
Does your music need a little more "oomph?"
If your sound seems to lack that certain something, you need to give your speakers more power. An amplifier increases the volume of your system without distorting it, so you'll have no trouble hearing your tunes with the windows down and the sunroof open. Amplifiers also give your music new life by bringing out musical details and clarity, resulting in better sound quality at all volume levels.
Do you drive a noisy car?
Is your music getting serious competition from your car's exhaust note? You should look into sound deadening materials. A little Dynamat in your vehicle will help keep road noise, vibration, and exhaust rumblings from interfering with your musical enjoyment.
Do you want to feel the beat?
If you like your sound, but want some added depth, a subwoofer is a great addition to any system. Augmenting your setup with a subwoofer driven by an appropriate amplifier will fill in the low notes that small full-range speakers aren't designed to hit, giving you a richer overall sound. You can choose from component subs to customize your sound or preloaded enclosures for easy installation.
If you want a sub, but are concerned about how much space it might take up in your car, then you might want a powered subwoofer or a vehicle-specific subwoofer enclosure. These subs mount in your cargo area or under a seat, so you don't lose much storage space.
What kind of music do you like?
Think about what kind of music you listen to, and also how you listen to your music. If you like it loud and heavy, you're going to want outboard amplifiers and a subwoofer or two for sure. Is jazz or classical music more your style? A new receiver should provide plenty of RMS wattage to a set of full-range speakers — though you'd still benefit from the low-frequency output of a subwoofer.
Now, let's get to the source — the music source, that is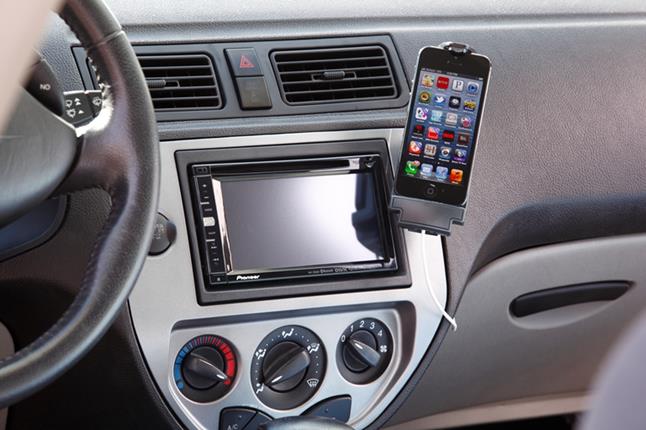 Many receivers are made to work with your smartphone (Crutchfield Research Photo)
If the car receiver ranked the lowest on your list of priorities, then you have several options. Think about your driving and listening habits to decide which features you want. It's important to think about what your other primary sources of music are, and whether or not you can enjoy them in your car.
Do you rely on your phone for music and more?
If you use your phone for just about everything, including music, look for a receiver that features a USB port and Bluetooth®. You can play digital music files stored on your phone, and, if you have Bluetooth, stream internet radio. You can also play tunes stored on a thumb drive or plug in an MP3 player with a USB connection.
If you own a portable music player or iPod®, look for a receiver with an aux input or two. USB inputs will charge your iPod when it's connected, and offer direct audio connection for faster signal transfer. If you get a receiver with a large monitor, you'll get the added convenience of touchscreen control and easy viewing of songs and playlists, even album art and video.
If you don't use CDs anymore, we offer a number of "mechless" digital media receivers that don't even have CD players. If you still enjoy your discs (Which is totally cool!), most new CD receivers will play just about any format that fits on a disc.
Is your car your office?
Receivers that have Bluetooth® capability are really convenient if you make a lot of phone calls in your car. In most cases, you can hear callers over your speakers simply by pressing a button on your receiver. And if you have a display screen, you can see the Caller ID and dial via touchscreen. if you're a Pandora fan, you can stream your music wirelessly through the stereo.
Do you travel a lot?
If you spend a lot of time in your car, you should consider investing in a new receiver with multiple inputs and a wide list of features. USB and aux jacks are essential for iPods and other devices, and Bluetooth is a great thing to have for hands-free calling and music streaming. Many receivers are SiriusXM-ready, so all you need is a subscription to start enjoying the amazing variety of commercial-free music, live sports, and talk. Best of all, you get coast-to-coast coverage so you won't ever lose a station again.
Like to take the family on long road trips?
An in-dash video receiver can change your driving experience. Or better yet, go for backseat video. Your passengers can be quietly entertained in the back seat, so you can concentrate on getting everybody there safely. Replace your headrest with one that has a built-in screen, or purchase a model that simply slides over your existing headrest. Overhead monitors, which mount on your vehicle's ceiling and fold up when not in use, are also a convenient option. Keep in mind that some DVD players also let you connect with video game systems.
And for those, um, "directionally challenged" individuals amongst us?
End the "should we stop to ask for directions?" debate by installing a GPS navigation system in your car. Just enter your destination into the trip computer and follow the voice prompts and visual directions. You can also see points of interest and updated traffic information. Most in-dash display monitors are also compatible with easy-to-install rear view cameras, which will help the "spatially challenged" avoid backing into lampposts, garage walls, and other cars..
What if I can't change my stereo?
We also carry a wide variety of adapters and other solutions for adding most of these options to your factory stereo. Use our "Outfit My Car" tool to see what's available for your vehicle.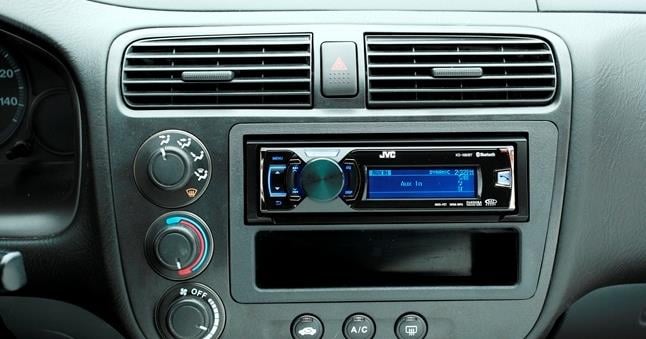 Finding the right receiver is easier than you think (Crutchfield Research Photo)
How to shop the Crutchfield website
What kind of budget do you have in mind?
Think about how much you want to invest in your car A/V system. The goal, of course, is to get the system that you want without paying extra for features that you don't need.
Do you want to purchase everything at once, or would you rather build your system one or two pieces at a time? A gradual approach to system building can put even high-end systems within anyone's grasp.
If you're paying attention to price, check out our weekly specials on the Crutchfield home page to find popular products at great discounts. You'll also want to check out the Outlet Store for more great deals, including "open box" and "scratch and dent" items.
Find what fits your vehicle.
You can do that right here, right now, online. Just use our vehicle selector to see which items will work for your vehicle. It's fast and totally easy.
Once you enter your vehicle information, you can search the car audio site for in-dash receivers, car speakers, and everything else that will fit your vehicle.
You can also get an idea of how easy it will be to install the gear you're considering. Keep in mind that Crutchfield offers free installation gear and information for most orders for car A/V equipment.
Surf the site — make a list of components you like.
Surf through the site and keep an eye peeled for products that appeal to you. You can shop by brand, price, or category at any time, and can even locate a specific component based on the item number that you saw in our catalog. (Speaking of our catalog, why don't you go ahead and request one? It's free, and it's full of informative, entertaining articles about the latest car and home gear.)
When you do see something you like online, drop it into your shopping cart (you can always take it out later) or save it to your "Wish List" using your free Crutchfield account. This is a great way to use your cart as a scratchpad or to remember where you left off when building your ideal system.
Learn more about car audio
To learn more about any product category, take a spin through our extensive Car Audio/Video Learning Center. You can watch instructional videos, read helpful articles, reports, and reviews on products that we've tested for you, or even see what improvements other Crutchfield customers have made to their vehicles to help you get some ideas.
Our Research Garage contains a number of Vehicle Profile articles that explain the ins and outs of car stereo installation for a variety of car and truck models — maybe even yours.
Still need help deciding?
By now, you're a lot closer to creating your ideal stereo system. You've listened carefully to your current system and pinpointed the ways you would like to improve it. You've used our Vehicle Selector so you know which receivers and speakers work with your car. And you probably also have a short list of your favorite components.
A few clicks are all it takes to send your new system straight to your door. But if you need a little more information before deciding on your purchase, don't hesitate to get in touch with us. You can call us at 1-888-955-6000, start a live chat online with one of our Crutchfield Advisors, or email your questions to advisors@crutchfield.com.
We'll be more than happy to answer any questions you have — both before and after your purchase.