Best stereo gear for your Jeep Wrangler
Go-anywhere audio gear that our Jeep customers love
In this article, we'll show you some of the products that our Wrangler-owning customers really like. With the right car audio gear, you can keep in touch while you're getting away from it all. Or just crank some tunes and drive over some rocks. It's up to you.
Whether your idea of off-roading means climbing rocks and slogging through mud or driving up a dusty lane to a winery, there's nothing like a Jeep Wrangler. Equally at home in the back country or a country club parking lot, the Wrangler is an American original that seems to get better with each generation.
How to get the best stereo for your Wrangler
If you're shopping for a new stereo for your Wrangler, you've come to the right place. Crutchfield carries a wide range of single-DIN (2" tall) and double-DIN (4" tall) receivers, and when you buy from us, you'll get a nice discount on the dash kit and wiring harness you'll need to install your new stereo.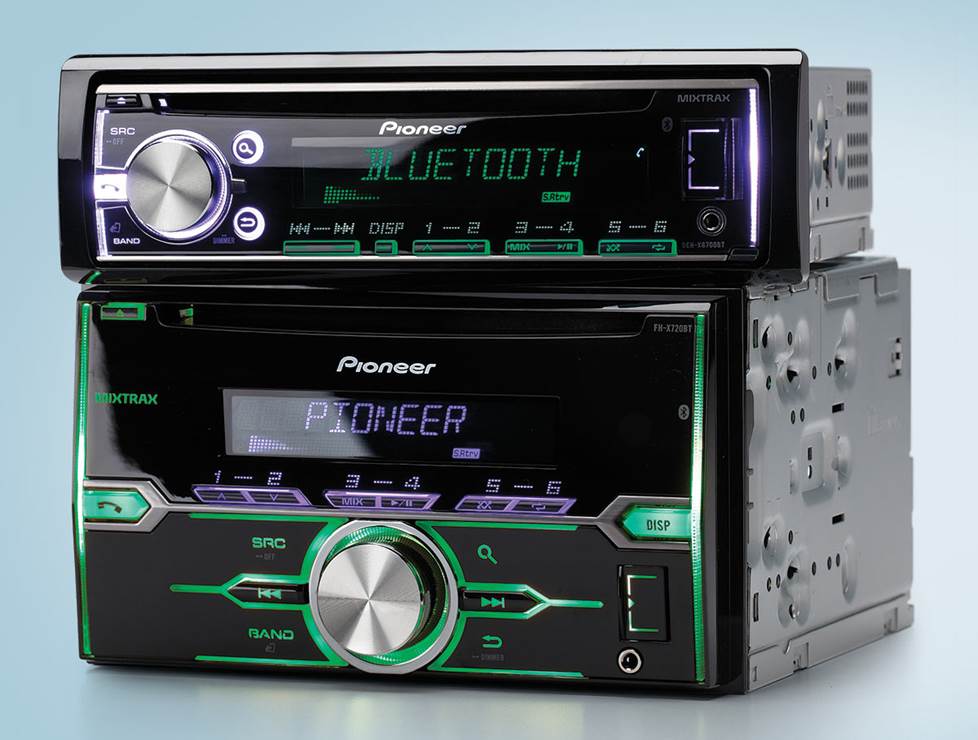 A wide variety of single-DIN and double-DIN receivers will work in your Wrangler
To see what fits your Wrangler, enter your vehicle information on our Outfit My Car page and let our database show you what works. If you don't see anything for your specific model (rare, but it happens), just give us a call. Our experts can help you find a new stereo that'll fit nicely, sound great, and stand up to whatever you get into.
Marine-rated receivers for your Jeep
If your Jeep spends as much (or more) time in the dirt as it does rush-hour traffic, you need audio gear that's designed for life in the outdoors. Most of it is listed as "marine" gear, but it's also totally suitable for your Jeep.
Marine-rated receivers look and perform like regular car stereos, but they're engineered to live in moisture, dust, and muck. Conformal-coated circuit boards, water-resistant faces, and special covers for CD openings and/or USB and AUX ports ensure that these receivers will stand up to whatever you can dish out.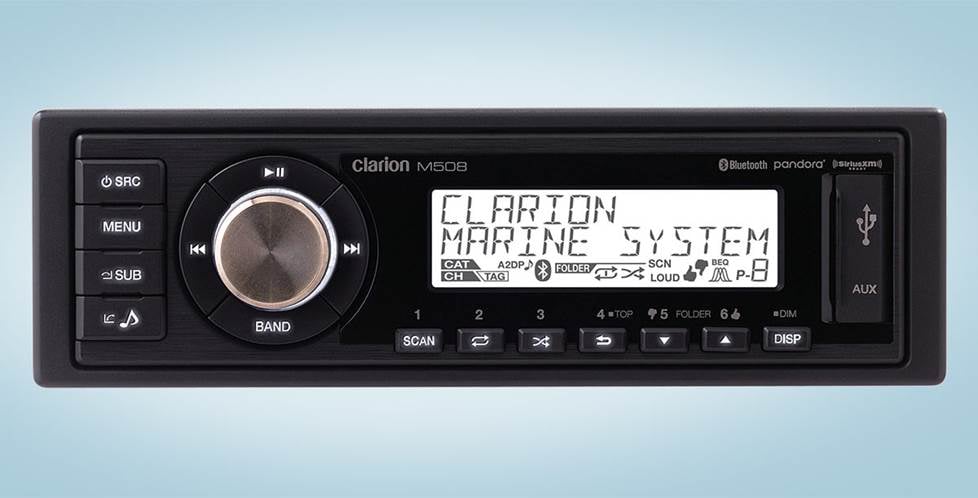 This marine-rated Clarion M508 receiver won't mind getting muddy.
We recommend digital media receivers for off-road use, because who wants to put up with CDs that skip when you're rolling through the rough stuff? With a DMR, you can plug a flash drive into the USB port or use Bluetooth® to play anything on your phone or other device. Secure the device in a cubby or a jacket pocket, and you're ready to go anywhere.
Gauge-style receivers for older Jeeps
Speaking of digital media receivers, a standard stereo isn't always the best solution. For older Jeeps, including CJs, a gauge-style receiver might be a better choice.
These digital media receivers are designed to fit into standard-size (3") gauge openings, so they'll give you the functions you want in the space you have available. And they're every bit as tough as their single-DIN cousins. You can find them listed with our other marine-rated stereos.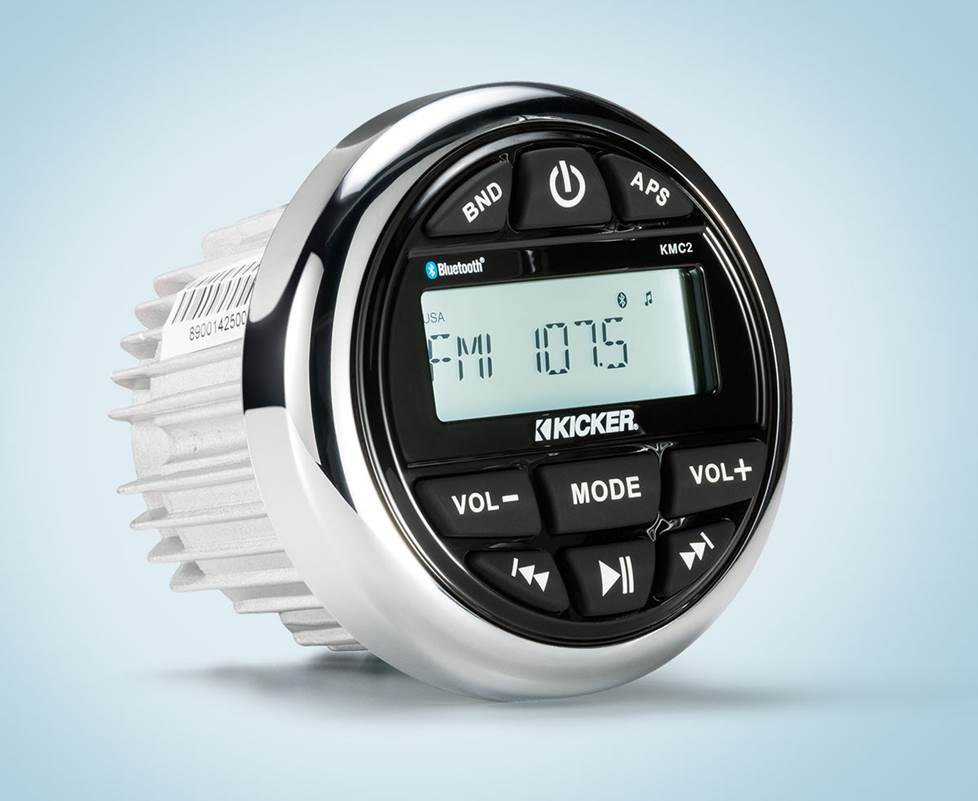 Custom-fit receivers for your Jeep
Looking for the ultimate in style, sound, and functionality? Alpine's Restyle digital media receivers bring smartphone connectivity to select 2007-2018 Jeep Wranglers. These feature-packed performers fit perfectly into your Jeep, bringing you built-in Bluetooth connectivity, Apple CarPlay™ and Android Auto™ capability, and plenty of inputs. These receivers are not marine-rated, but they're pretty tough and they look terrific. Once you enter your vehicle information, we'll tell you if there's a Restyle system that fits your Jeep.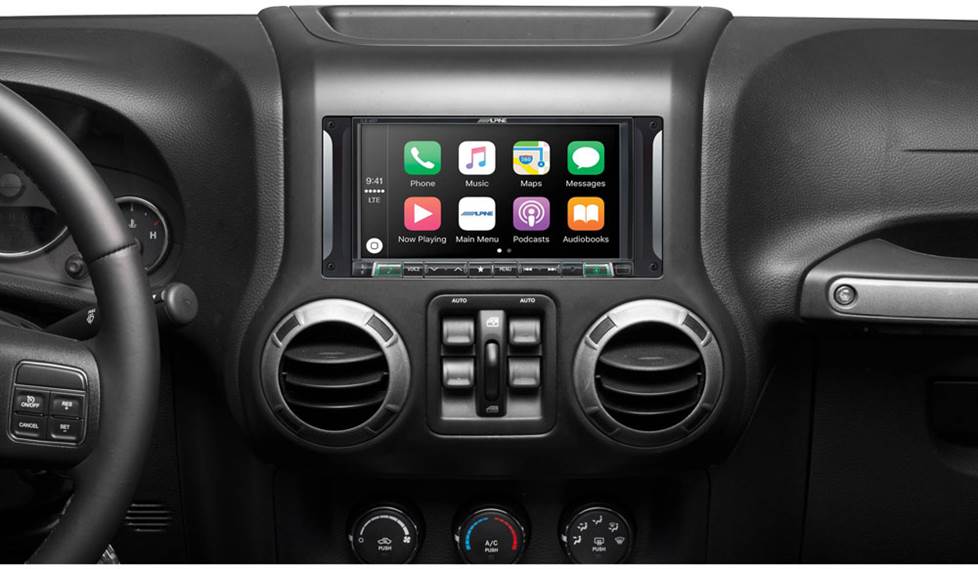 This Alpine In-Dash Restyle System is designed for select 2007-2017 Jeep Wrangler and Wrangler Unlimited models
Portable navigation for the 'burbs or the boonies
If your Jeep is used mostly for street and reasonably gentle off-road use, there are plenty of double-DIN touchscreen navigation receivers available. But those receivers aren't always the best choice for serious off-road vehicles.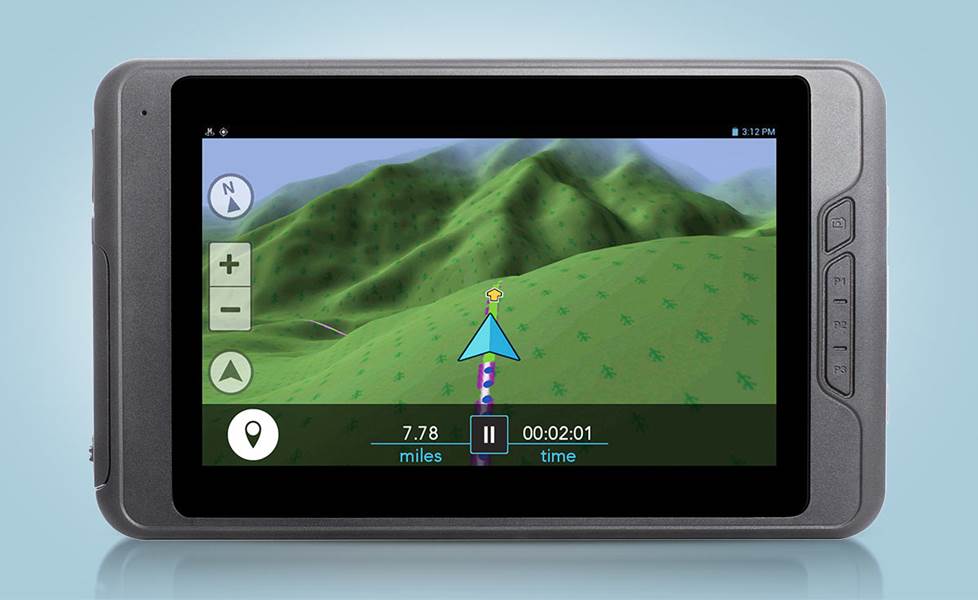 A portable GPS navigator like this one can provide helpful off-road guidance. Some even feature built-in HD cameras that can record your trips.
We offer a wide variety of portable GPS nav units that, quite frankly, might fit the outdoor lifestyle a little better than those big-screen models anyway. Whether you mount yours directly on the dash or use a holder, you'll get turn-by-turn directions, traffic updates, and everything you need to make your trip go smoothly. And you can slip it into your pocket when you go for a hike, which is also cool.
Want even more functionality? There are several GPS/camera combo units (like the Magellan above) that will tell you where to go and record your drive.
Speaker options for your Wrangler
You already know that aftermarket speakers are better than whatever the factory installed in your Jeep, but the speakers you choose should reflect the way you use your vehicle. If most of your driving takes place on the tarmac, we stock a huge selection of high-performance aftermarket car stereo speakers that'll sound fantastic in your Wrangler. You can put together your own system, or step up to a system that's designed for your Jeep, like this Alpine direct-fit system.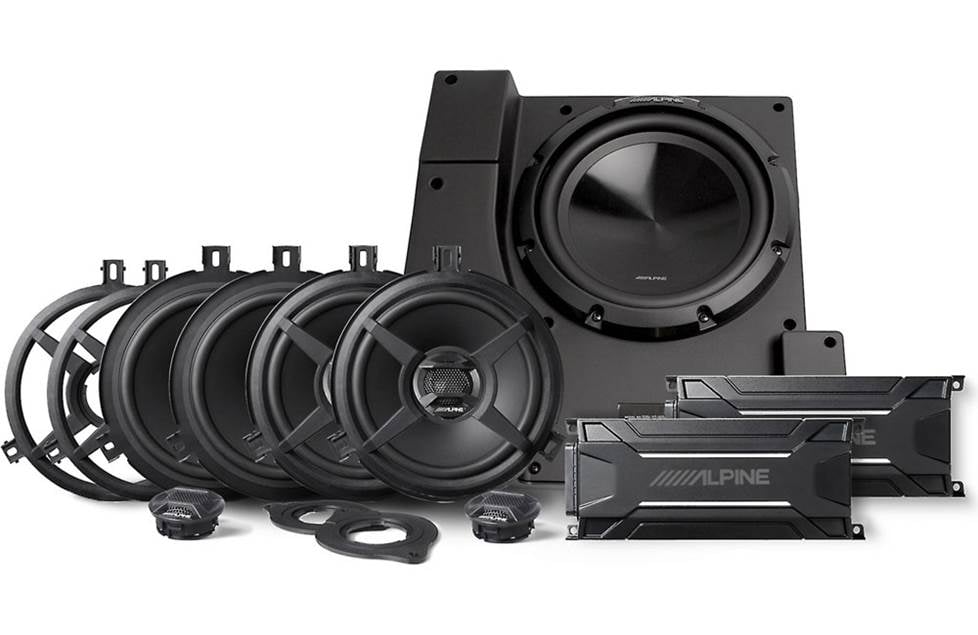 The Alpine PSS-22WRA is a direct-fit speaker system that's made for select 2011-2018 Jeep Wrangler Unlimited models
For off-roading, marine-rated speakers will bring more than just power and performance to the party. With specially treated internals and durable rubber surrounds, they're made to withstand the temperature and humidity extremes they'll encounter off-road.
You're not necessarily limited by your Jeep's factory speaker locations (or lack thereof). You can add to your sound with a set of Select Increments speaker pods. These pods are available for a variety of late-model and vintage Jeeps, so enter your vehicle information to see what will work in your vehicle.
To learn more about your speaker options, check out our article on the Best Car Speakers for 2021. It's a great place to start your speaker shopping.
When you order any new speakers from Crutchfield, you'll get a nice discount on the wiring harness and mounting brackets you'll need to install them. And if you need car stereo installation tools, we have those, too.
Roll bar speakers and lights for your Wrangler
Many late-model Jeeps have built-in roll bar speakers, and we have plenty of aftermarket models that will fit right into those stock enclosures.
But if you're a fan of "al fresco" off-roading and you really like big sound, a set of roll bar-mounted speakers will really bring out the beast in your system. These rugged speakers are made for off-road use, and they'll clamp securely to your roll bar. When you need to put the top back on, they're easy to remove, too.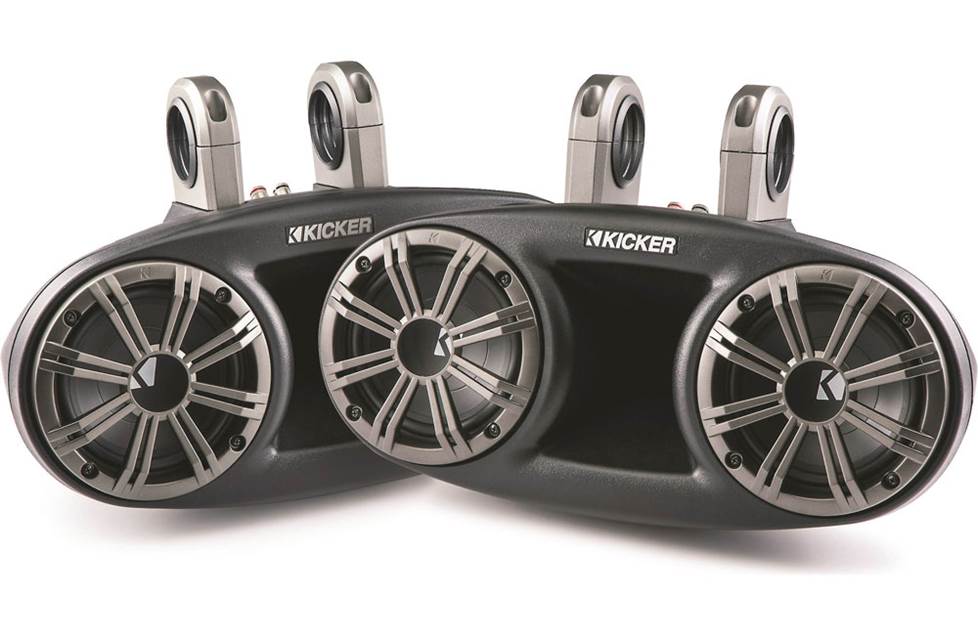 Kicker's KMT674 speakers bring outstanding performance and marine-rated durability to your Jeep
As long as you're adding sound, why not add some light? We offer a nice selection of large LED light bars that will add style and functionality to any roll bar. These bars produce an adjustable full-range beam (narrow-beam "spot" lights are also available) using bright, efficient LED technology. In addition to clear white light when you need it, you can also enjoy full-color RGB accent lighting with some models.
We don't sort this gear by fit, but you can take a look at the entire selection in our ATV & UTV section. Larger tower speakers can be found in our Wakeboard Tower Speaker section.
Amplifiers will really boost your sound
Off-roading can be a rather noisy activity in a Jeep. So can on-roading, for that matter. Hopped-up engines, knobby tires, open-air seating, and the like are the enemies of good sound, on-road or off. If you want to actually hear your music while you're roaring around in your Jeep, add an amplifier to your stereo system.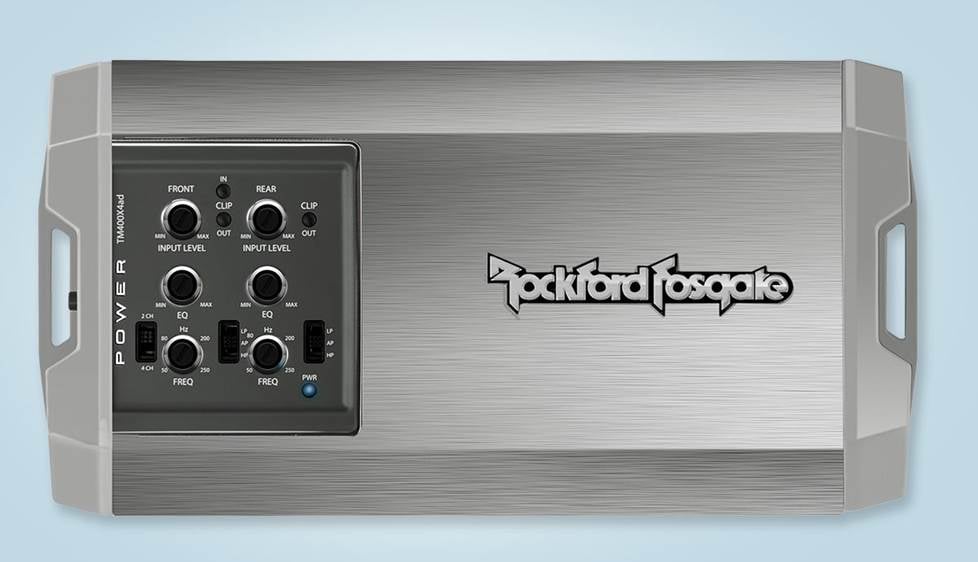 Marine amps like the Rockford Fosgate TM400X4AD give you plenty of power, plus all-weather reliability
If you think an amp is only good for bringing out the high notes in a light opera, think again. An amp will add clarity and volume to any type of music by wringing every last bit of musical detail from your speakers and subs.
For serious off-roaders, we suggest a marine amp, because those models are made to resist moisture and the constant pounding of rough water. If they can stand up to that, they can certainly take a day in the wilderness with you. Many of these amps are surprisingly compact, so they can fit under a seat and out of the way.
Bring the bass by adding a subwoofer
When it comes to improving the bass in your Jeep, you have plenty of options. If you want to go seriously big, you can pop a couple of component subs into a box and secure it in the cargo area. If you want a sub that's already in a marine-rated enclosure, we have those, too. And there are also compact powered subs that are tough enough for off-road use.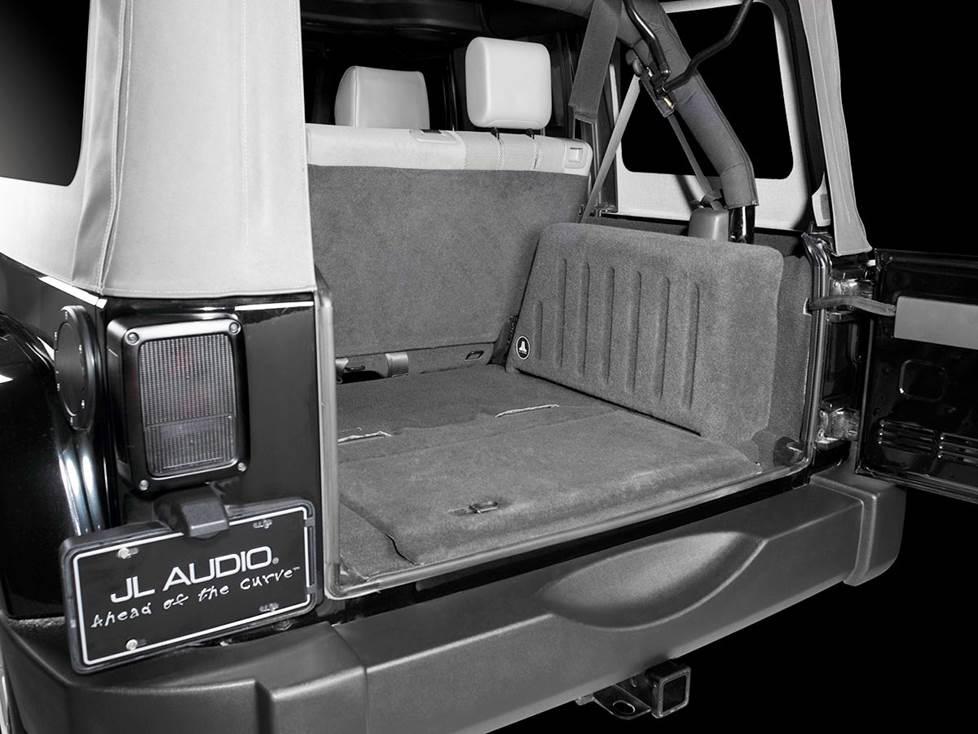 This JL Audio Stealthbox contains a 13.5" TW5-v2 subwoofer and fits 2007-up Wrangler Unlimited models
Depending on which Jeep model you own, you also have the option of custom-designed sub/enclosure combos that will fit right in. They're not marine-rated, but they're pretty tough and they're a great way to add bass without taking up space you'd rather use for camping gear or hunting and fishing equipment. To see what's available for your Jeep, enter your vehicle information in our Outfit My Car tool.
Add a camera. Or two. Or more.
With the top in place, the Wrangler is not the easiest vehicle to see out of when you're backing up in a crowded parking lot. We offer a wide variety of rear view cameras that will make that a lot easier. The camera mounts to your license plate or spare tire and displays its image on your aftermarket video receiver. You can also choose a display that mounts onto your rear view mirror. A rear-view camera can help when maneuvering in the wilderness, too.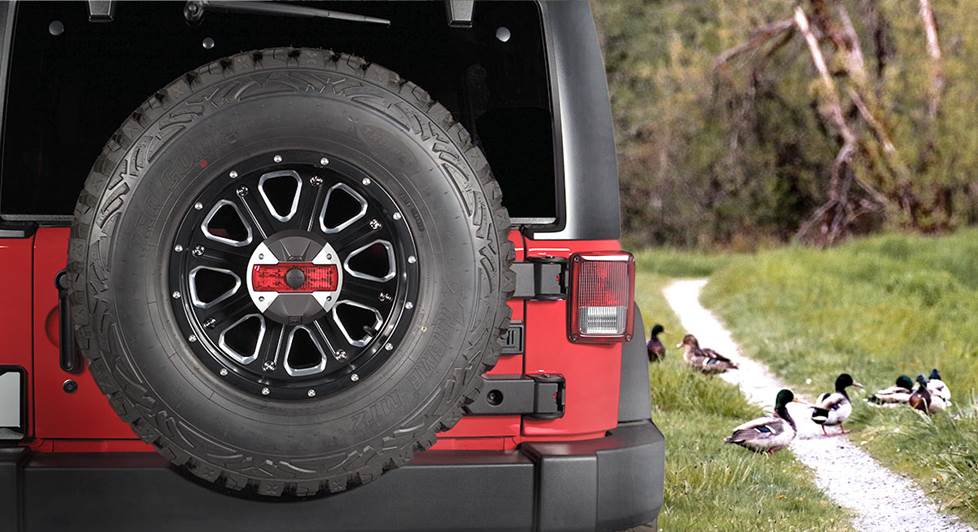 Alpine's HCE-TCAM1-WRA system gives you a seamless factory look while adding a rear-view camera, reverse LED lamp, and brakelight to your Jeep
Speaking of the wilderness, a dash camera is a great way to record all the fun you're having when you're out there. Whether you're crawling up a rocky trail or blasting through a mudhole, that footage will look really good on social media when it's recorded in hi-definition. And on the way home, dash cams are very handy for recording the behavior of other, decidedly less-talented motorists.
For the hardest of the hard-core, action cameras can be mounted all over your Jeep to capture all the action.
Other ideas to improve your Wrangler
If you own a Wrangler (or any other Jeep), you know that there's a vast universe of aftermarket gear out there. Here are some of our other favorite ideas for making your Jeep an even more enjoyable ride.
Get some security: A security system isn't the easiest thing to install, but it can be a smart upgrade in many cases. Rule of thumb: If you think you need one for your Jeep, you probably do. No matter what kind of Jeep or truck you own, we can help you find a security system that'll work for your vehicle.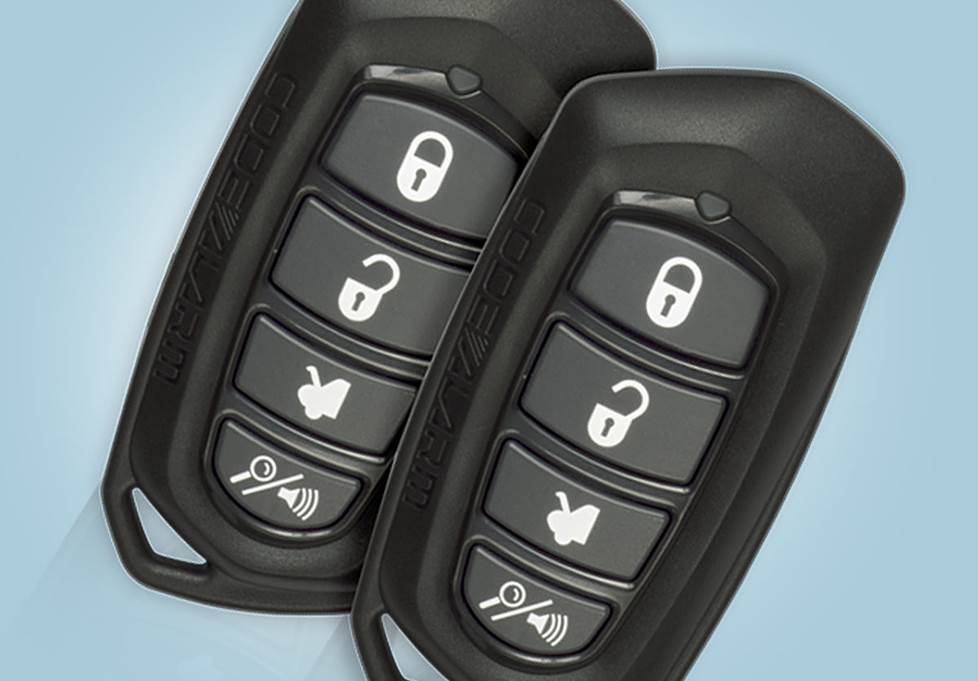 The Code Alarm CA1055 keyless entry and security system protects your Jeep and its contents
Install a remote start system: The popular notion of a remote start system is that it's great for those frigid mornings when you really appreciate being able to start your vehicle and give the heater and defroster some time to work before you go out into the cold. But you'll also appreciate it in extremely hot weather, on rainy days, or any time you want your Jeep running, comfortable, and ready to go when you climb in.
Power your AC devices: Getting away from it all is great, but if your off-road travels involve hunting, fishing, hiking, or camping, there are times when an AC-powered device can really come in handy. With a power inverter, you can convert your Jeep's DC power to AC power and run household devices from your vehicle's power supply.
Pack some spare power: We know you're smart enough to be careful about your battery, of course, but dead batteries do happen. What you need is a compact, powerful, easy-to-use charger that can jump your Jeep in an emergency – wherever you are. We offer a wide variety of power packs that can do just that, plus charge your phone, tablet, or other device.
Protect your floors: If you're going off-road, you're going to get dirty. Or muddy. Or possibly just wet. Either way, a set of floor mats and cargo mats from WeatherTech will keep the ick under control. Enter your vehicle information on our Outfit My Car page and find the mats that fit your Jeep.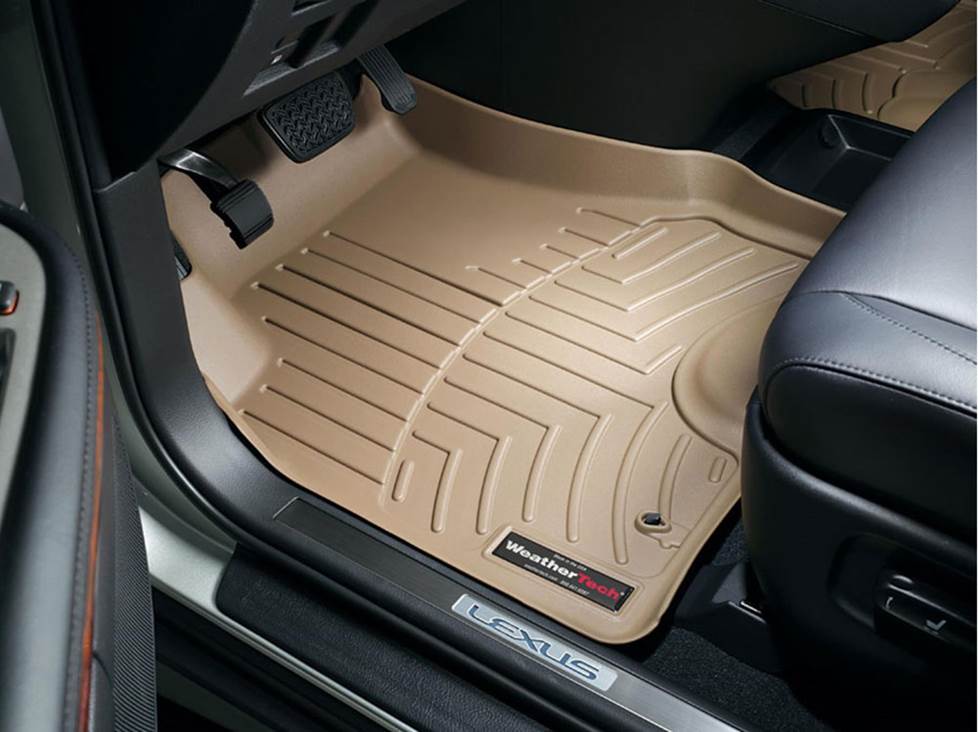 A set of WeatherTech floor liners (sample photo) will keep mud and muck from messing up your Jeep's interior
Add some sound insulation: Between road noise and wind noise, Wranglers can be a little loud before you start playing music. Boom Mat headliner kits block out the noise and insulate the interior of your hard-top Jeep Wrangler. The kit includes three pieces that fit perfectly in the headliner, each cut from marine-grade acoustical foam that resists mold and mildew. The panels are also styled to blend right into your Jeep.
Store your stuff: If your ideal weekend involves a bunch of camping gear, you already know how easy it is to fill a cargo area with essential stuff. Need more space? Thule racks and carriers give you the carrying capacity you need for bikes, kayaks, tents, and more.
Use marine-rated wiring: If you're into hardcore off-roading, marine-rated wiring is a smart investment. The great outdoors can ruin ordinary wiring in a hurry, so if you like getting muddy, make sure your Jeep's audio system is built to last.
When you buy from Crutchfield, you get free tech support for the life of your gear
Got questions? That's what we're here for!
A Jeep project is never truly "done," mostly because adding gear is part of the fun of being a Jeep owner. If you have any questions, our Crutchfield Advisors will be happy to answer them.
Last updated 9/13/2021