Best in-dash navigation stereos for 2022
Check out our customer favorites and best-sellers
In this article... we'll discuss five of our customer favorites for in-dash navigation receivers:
What makes them top sellers and sure bets for 2022? Let's find out!
In most cases, you'll also enjoy the ability to hook up a rear-view camera, or play video content from your phone, a thumb drive, or a DVD while you're parked. Many nav receivers also work with the iDatalink Maestro interface module, which lets you keep your car's factory features, and in some cases will add vehicle performance gauges not available to you before.
As a starting point, here are four recent models which have delivered high customer satisfaction ratings. After reading this article, if you want a deeper dive into what to look for when shopping for a new GPS stereo, check out our in-dash navigation buying guide.
What makes these in-dash nav favorites?
The navigation models we highlight below are not only some of our best-selling stereos. They have also earned an average Crutchfield customer rating of 4 (or more) stars*, which means that our customers really like the receivers once they've spent some time with them.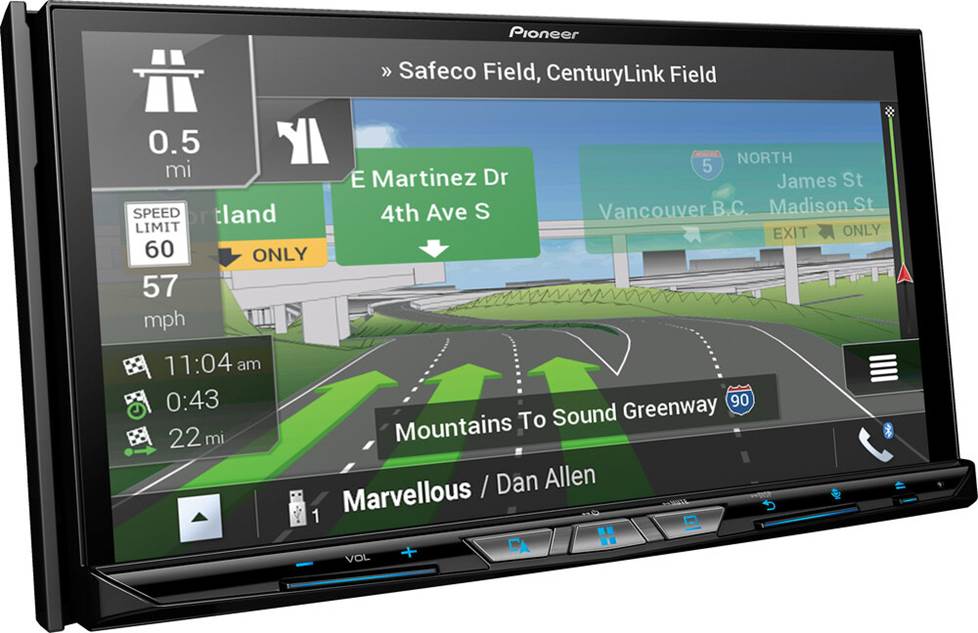 Pioneer AVIC-W8600NEX — Wireless compatibility for Apple and Android fans alike
What you need to know: Pioneer's AVIC-W8600NEX sports a 6.94" capacitive touch display, perfect for controlling Android Auto and Apple CarPlay, which can both be employed wirelessly. It also works with up to two cameras, including a dash cam. And it's compatible with both SiriusXM satellite radio and the iDatalink Maestro module.
Navigation features: Pioneer uses HERE guidance, which includes over 12 million points of interest and coverage across all 50 states, Puerto Rico, and Canada. Built-in real-time traffic updates keep you aware of possible delays, and spoken speed limit warnings help you stay on the right side of the law.
Phone integration features: As mentioned, it works with both wireless Apple CarPlay and wireless Android Auto using a native Wi-Fi network. Pioneer's sweet WebLink app compatibility gives you in-dash access to more apps, including YouTube and Yelp. For Android phone owners, Wi-Fi Miracast lets you mirror your phone's screen on the receiver's display without a wired connection.
Audio features: This Pioneer boasts a 13-band EQ and the ability to use AutoEQ (with an optional microphone) to tune for your car's specific interior. It also offers time correction and listening position adjustments, as well as programming pre-set volume levels for different sources. And for those who enjoy better-than-CD-quality audio, it plays hi-res lossless digital files.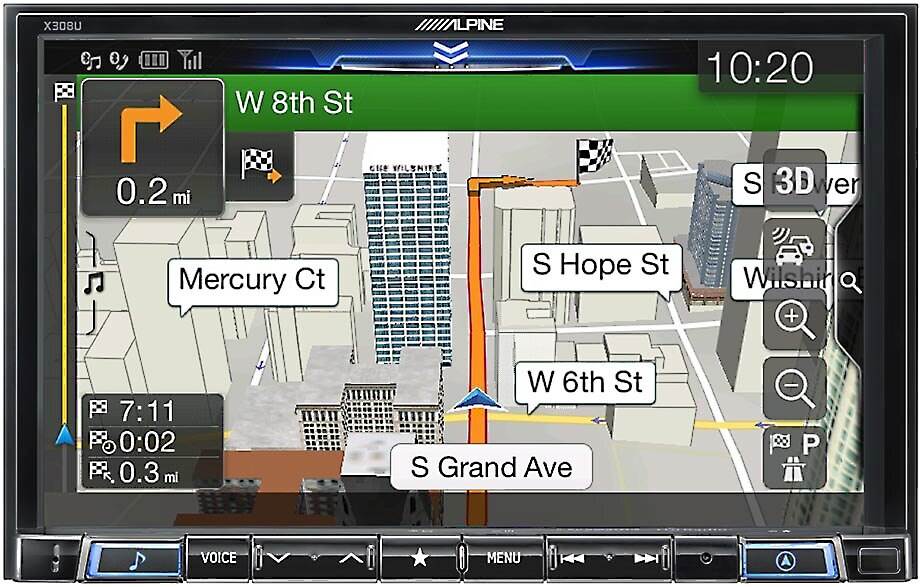 Alpine X308U — Big screen and phone friendliness
What you need to know: Alpine's X308U packs an 8" capacitive touchscreen, Apple CarPlay and Android Auto compatibility. A built-in HD Radio™ tuner and satellite radio compatibility lets you get more from your favorite stations. Its oversized display will likely require a dash kit or some customization to fit in most double-DIN dash openings.
Navigation features: Guidance across the U.S., Canada, Puerto Rico, and the U.S. Virgin Islands, including 3D terrain views and 3D representations of buildings and landmarks.
Phone integration features: The X308U offers wired operation of both Apple CarPlay and Android Auto, so you can count on easy access of your favorite apps and phone functions via the touchscreen or your voice.
Audio features: This stereo works with Alpine's TuneIt smartphone app, which lets you make in-depth adjustments via your phone. Alpine adds a 9-band EQ and a bevy of sonic changeups, including time correction.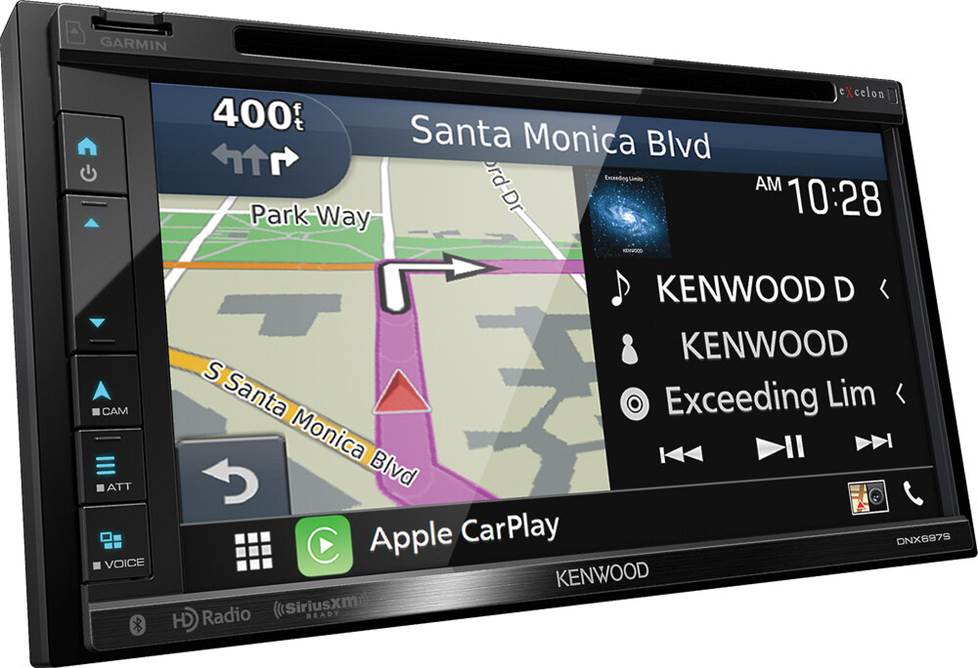 Kenwood Excelon DNX697S — Apple CarPlay and Android Auto, plus Excelon benefits
What you need to know: The Kenwood Excelon DNX697S boasts a highly user-friendly interface for switching sources and making quick adjustments. Its 6.75" touchscreen display puts all your media favorites right at your fingertips. It'll work with up to three different cameras, and Kenwood backs it with a 2-year warranty.
Navigation features: Kenwood loads this receiver with guidance by Garmin, one of the most trusted names in GPS. It boasts spoken street names at turns, lane assistance, realistic views of complicated intersections, and 3D terrain views. You even get three years of free map updates from Garmin with your stereo purchase. It also offers optional traffic reports through the INRIX smartphone app.
Phone integration features: This receiver works with wired Apple CarPlay and Android Auto. Kenwood also allows screen mirroring for both iPhone and Android devices via a smartphone app and wired connection, and Android users can even control the phone via the stereo and vice-versa.
Audio features: Got high-resolution (24-bit/192kHz) FLAC or WAV music files? This Kenwood can play 'em. It also offers a 3-way crossover so you can funnel frequencies to subs, woofers, and tweeter if you're amplifying them separately. The Excelon badge means this Kenwood packs gold-plated 5-volt preamp outputs for better signal transfer, not to mention a 13-band EQ. You also get an HD Radio™ tuner built in, plus compatibility with SiriusXM satellite radio.
Boss BN965BLC with a backup camera — No-frills guidance, plus a touch of safety
What you need to know: The receiver's finger-friendly 6.5" screen gives you convenient command of your music and maps. This Boss BN965BLC combo offers playback from thumb drives and SD cards, plus a front auxiliary input and disc player. A wireless remote control lets your passengers get in on the action. And Boss includes a rear-view camera so you can get into and out of tight spots without fear.
Navigation features: Its maps cover the entire U.S. (except Hawaii) and Puerto Rico. It offers spoken street names at turns, so you'll be sure about your next move. Lane information and signposts provide additional detail.
Phone integration features: Bluetooth connectivity for hands-free streaming and calling, but there's not a lot of integration beyond that. If you want to listen to music from your phone, you'll have to either stream it or use the stereo's auxiliary input.
Audio features: A 10-band EQ lets you make crucial adjustments. The Reverb feature gives your tunes a bit more personality, including a "Bathroom" setting to echo your favorite shower singalongs.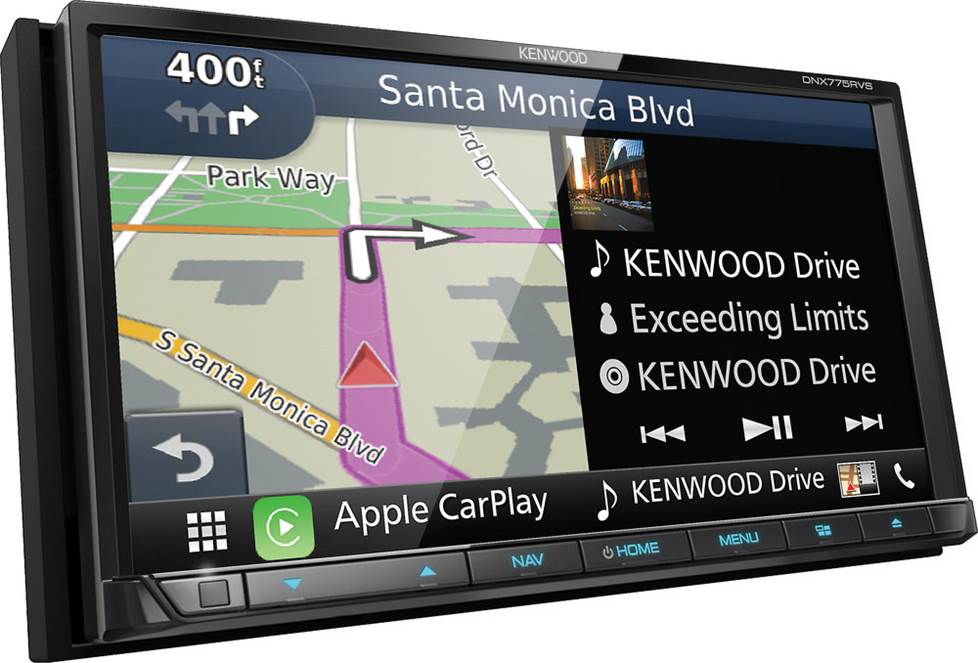 Kenwood DNX775RVS — Custom guidance for RV and rig owners
What you need to know: Drivers of RVs and tractor trailers have special considerations on the road, as one wrong turn could turn into a potential disaster (or at least an uncomfortable situation that wastes both time and fuel). The Kenwood DNX775RVS offers a 6.95" screen and useful Garmin guidance for larger vehicles, plus phone compatibility and significant audio upgrades. As it's a niche product, we don't have customer ratings or reviews just yet, but owners of large vehicles should give this stereo a look.
Navigation features: This receiver offers truck-specific points of interest, including truck stops, weigh stations, and repair spots. It also offers campgrounds and services and more for RV explorers. Specialized routing keeps drivers away from low overpasses, narrow roads, and sharp curves wherever possible, and it offers warnings for steep grades and windy areas. You can input your vehicle's dimensions and hazmat restrictions to make sure you won't get hung up along your route.
Phone integration features: Built-in wired Android Auto and CarPlay compatibility let you keep in touch with your favorite apps, but mapping through those services won't offer the same level of sophistication as the stereo's built-in Garmin guidance. It also works with a couple of Kenwood apps to turn your phone or tablet into a remote control for the radio.
Audio features: Kenwood's 13-band EQ lets you tweak to your heart's delight. The Drive EQ mode helps you enjoy your music better by boosting certain frequency ranges that become hard to hear due to road noise. It also plays high-res FLAC and WAV files.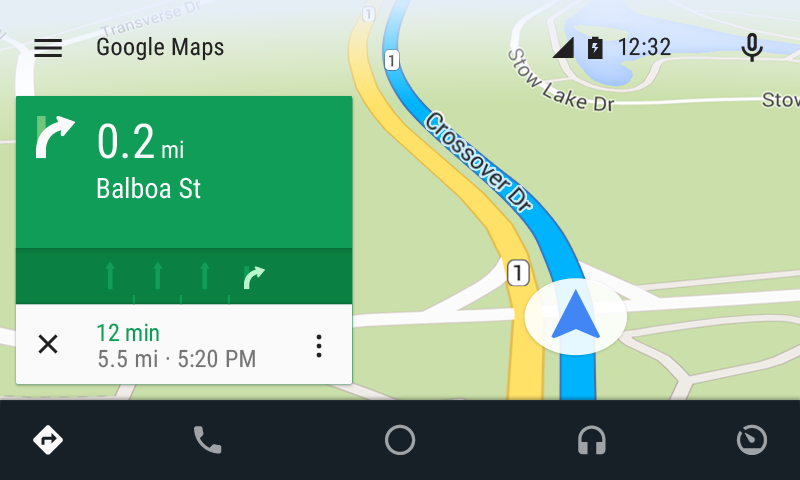 With the right GPS system, getting there can be half the fun
If you're ready to make the move to better maps, sound, and phone integration, there are a few things to keep in mind when shopping for a navigation stereo:
How much do you want to spend? An in-dash navigator that seems like a great value is probably limited in key phone integration features and sonic tweaks. If you don't need to access your favorite apps while driving and are generally not too picky about sound quality, a more expensive model might be overkill.
How long do you plan to use it for guidance? Some manufacturers let you update your receiver's maps for free or for a fee. However, if you can't update your maps, your receiver might not be terribly helpful for directions in a few years.
What fits your car? You'll need to pick a navigator that fits the dash of your car, which is generally not a problem for most double-DIN dash openings. For some newer vehicles, replacing the factory receiver might be impossible because of climate controls or other features which will be lost. There are a handful of options for single-DIN (2" tall) openings, typically with fold-out screens. Receivers without a disc player are especially easy to fit. Use our Outfit My Car tool to refine your choices.
*customer ratings current as of December 2021
Let us help you shop
Don't forget to read our in-dash nav buying guide and contact our advisors if you have any questions or to confirm what you need to install a new navigation stereo in your car.
Last updated 8/25/2021