Best in-wall and ceiling surround sound speaker systems
Our top choices for an elite, clutter-free home theatre
Before I moved into my house, I installed in-wall speakers as part of my surround sound system. My family loves how our home theater sounds! The best part? There are no bulky speakers or pesky wires cluttering up the floor.
These days I spend most of my time researching and writing about speakers. But I also spent seven years designing in-wall and in-ceiling home theater systems. So I'm a firm believer that you can get top-shelf audio performance from speakers that disappear into your décor.
Are you in the process of building your dream system? This article highlights the best custom-install speakers we carry, along with tips on how to build a high-end home theater without any footprint.
5 features that make in-wall and ceiling speakers great for home theater
Premium in-wall and in-ceiling speakers are engineered to reproduce sound as accurately as possible. Here are a few key features to look for in high-end models:
1. Contain and improve sound with a back-box
A built-in back-box gives the speaker its own enclosure, much like a traditional bookshelf speaker. This helps create consistently focused, well-balanced sound — regardless of the space is behind it in the wall or ceiling.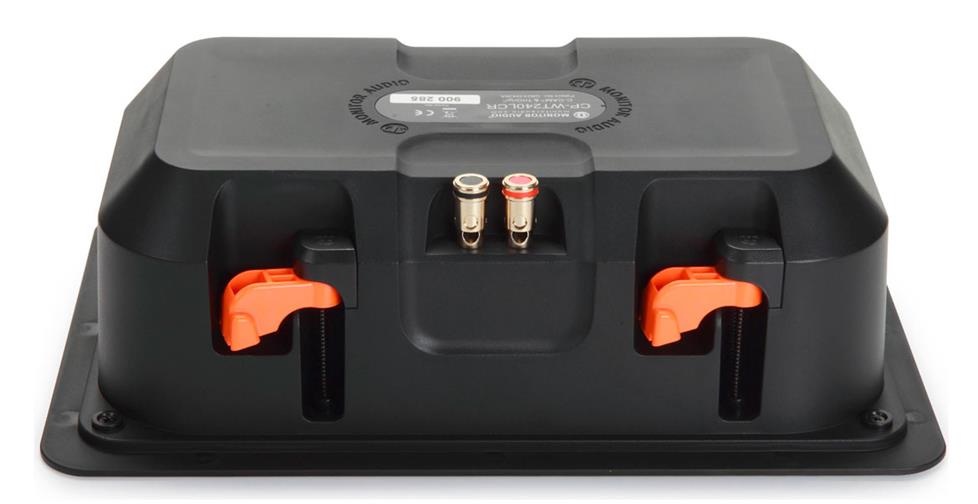 Back-boxes help prevent audio from bleeding through to an adjacent room. They also protect your speaker from dust and dirt.
2. Tone controls let you adapt the sound to your room
Look for speakers with built-in tone controls that let you adjust woofer and tweeter output levels independently. That way you can boost or cut lows and highs to best match your room's acoustics.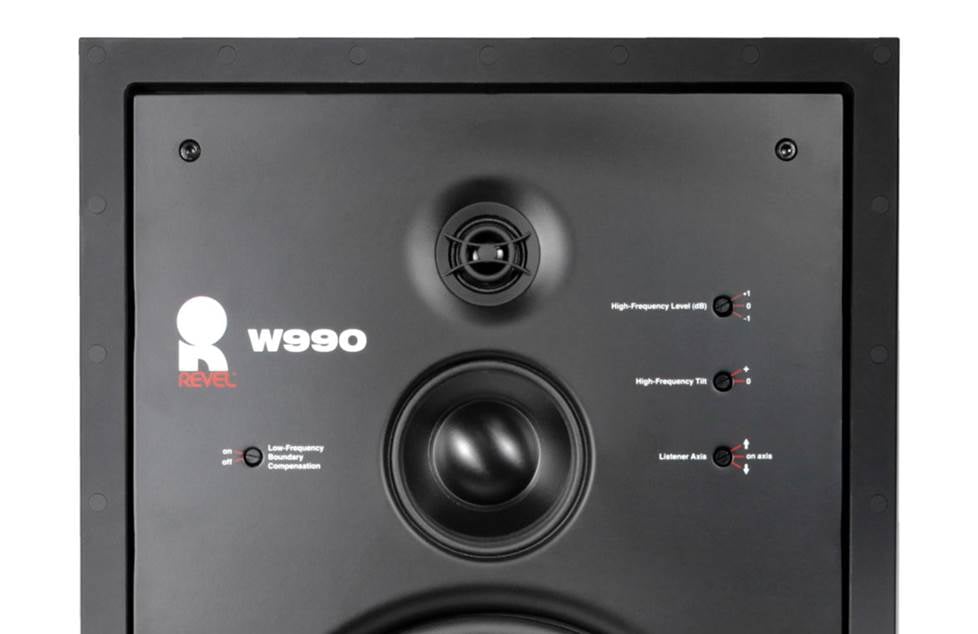 Speakers that have integrated tone controls let you tailor the sound for your room.
3. Use three "LCR" speakers for a seamless front soundstage
Some audio enthusiasts prefer using the same speaker in each location of their home theater. This creates a unified front soundstage, with tonal consistency throughout the room.
LCR (left, center, right) in-wall speakers can be installed horizontally as a center channel, or vertically as left and right front speakers for seamless sound.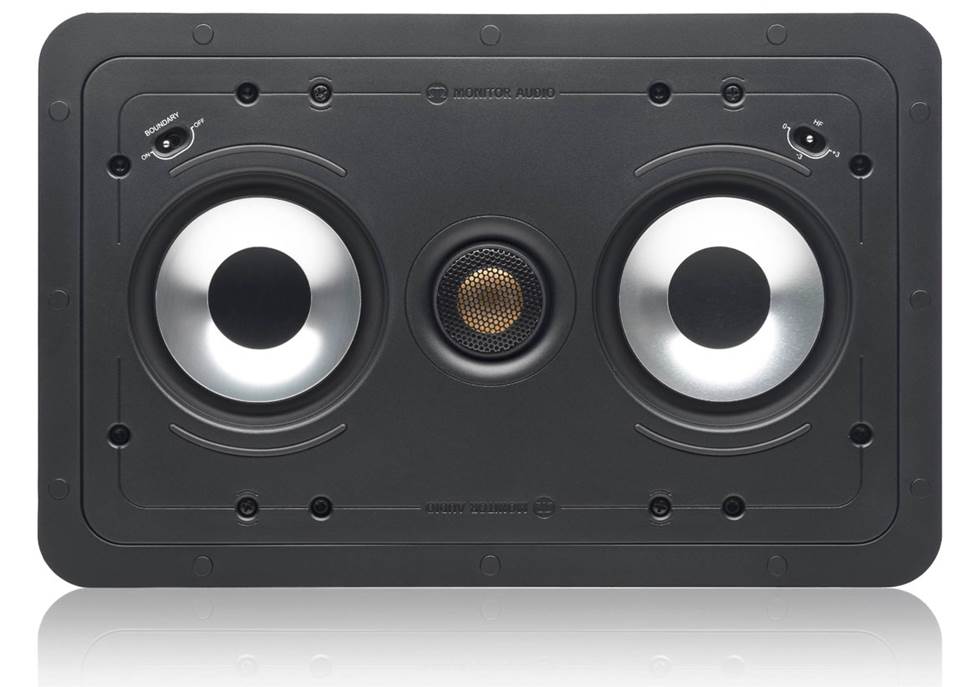 Using an LCR as a center channel gives you evenly distributed high frequencies, since the tweeter is located in the middle of the speaker. If you simply turned a "regular" in-wall speaker sideways, the tweeter would be off to one side.
4. Consider speakers that share technology with high-end floor-standers
Some premium in-wall and ceiling speakers share engineering and design characteristics with their traditional box speaker counterparts.
For example, Monitor Audio uses the same gold dome tweeter and C-CAM® woofer material in their in-wall CP-WT380IDC as they do the highly acclaimed Silver 500 floor-standing speaker. These speakers share a tonal "voice," and have similar power handling capabilities.
Like a capable tower speaker, high-end in-wall models let you get the most out of dynamic — and often sonically demanding — movie soundtracks.
By comparison, modestly priced in-wall and ceiling speakers are often designed for background music. They can be subpar when it comes to home theater applications.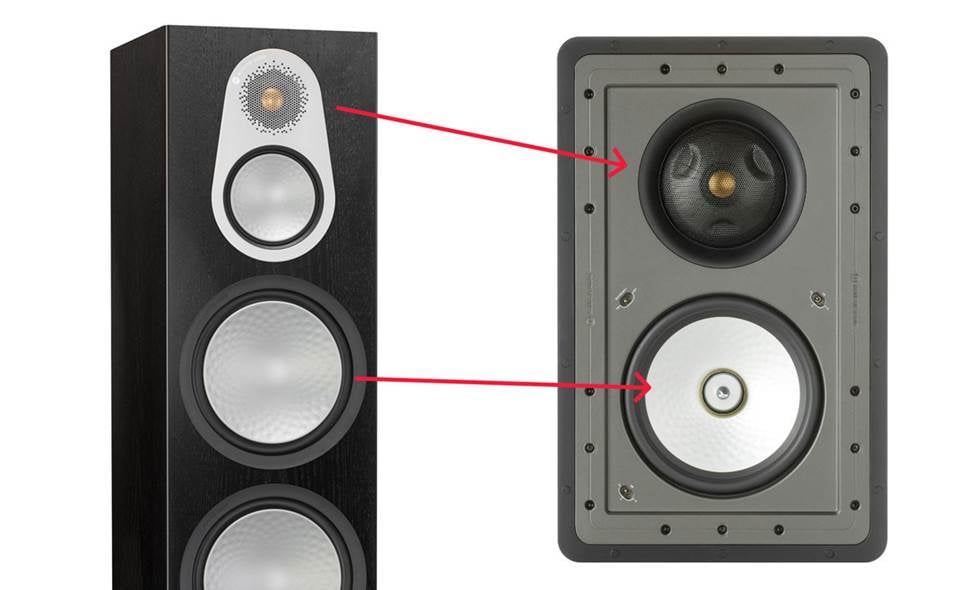 These two Monitor Audio speakers have very different enclosures, but share the same high-end driver materials and sound quality.
5. Angled drivers direct sound toward you
I don't often recommend in-ceiling speakers as the front channels of a home theater system. That's because most models fire sound straight down from the front of the room. Sound feels like it's coming from above your TV, instead of directly from it.
Thankfully, there are exceptions to this rule! Several of the speakers highlighted below are ideal for front-channel installations.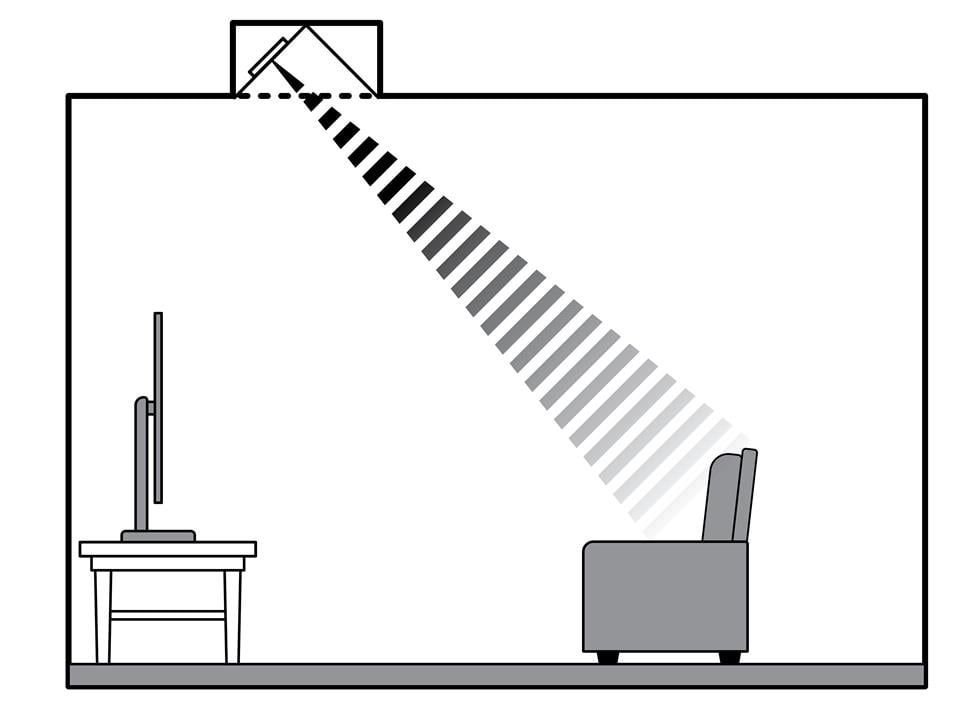 Some high-end ceiling speakers use drivers that are mounted at an angle. This brings sound toward you, creating a much more believable connection between what you're seeing and hearing.
Our top in-wall and in-ceiling speaker systems
Here are our go-to choices for the best surround sound experience. Choose in-wall speakers for the front, and ceiling-mounted speakers for the rear, or vice versa — it ultimately comes down to what configuration best suits your room.
I recommend staying with the same brand for all of your speakers. This ensures tonal consistency ("voice matching") throughout the room.
One exception is the subwoofer. Some brands don't offer an in-wall sub, so you'll have to choose a different brand or buy an out-of-the-wall sub.
If you want free, personalized advice putting together a system, just give us a shout.
1. Monitor Audio speaker system
Enjoy consistently excellent sound
Our customers love Monitor Audio's stellar bookshelf and floor-standing speakers. The company's Controlled Performance Series in-wall and in-ceiling speakers share many of the same design elements of Monitor's traditional speakers, including the company's signature gold dome tweeter and C-CAM driver material.
Build a complete Monitor Audio system
I recommend using the three-way CP-WT380IDC for left and right channels of system. The CP-WT240LCR is an ideal center channel. For overhead surround effects, the bipole/dipole C380-FX offers stunning sonic immersion.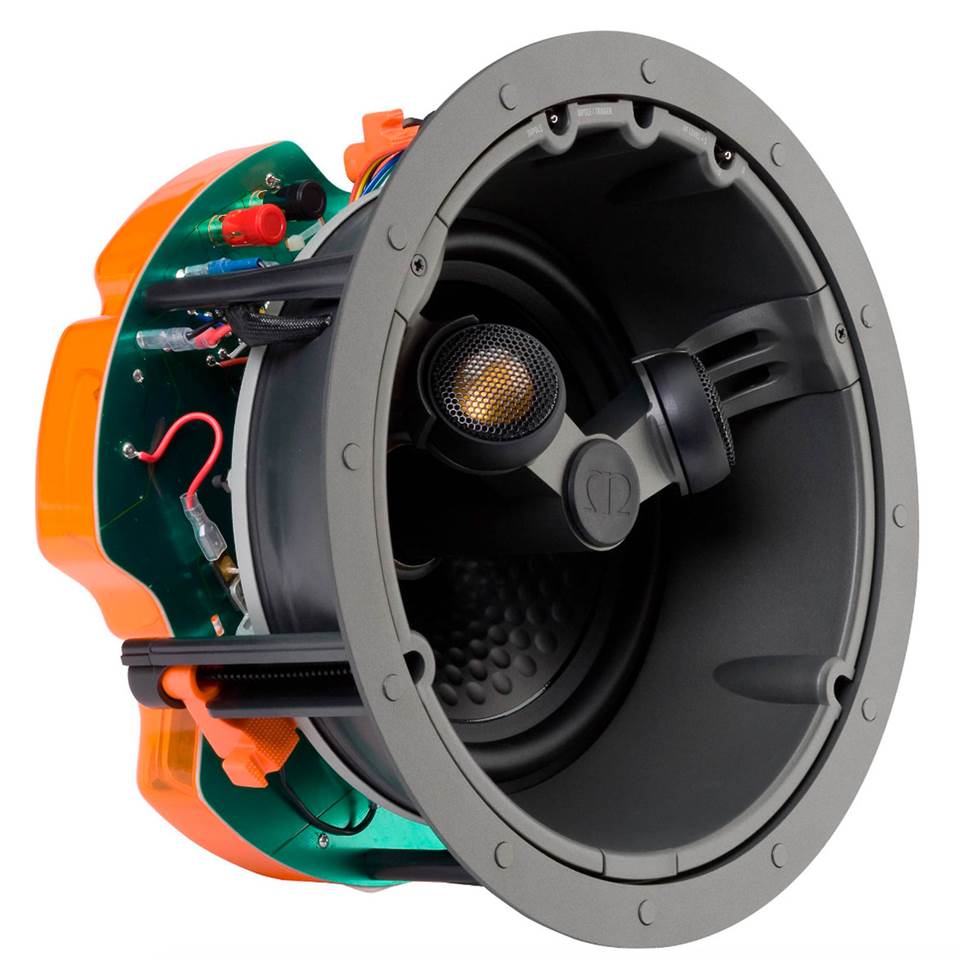 Want crazy-good overhead surround sound effects? Monitor Audio's C380-FX uses tweeters that fire in different directions for immersive overhead sound.
Round out your system with the IWS-10 in-wall subwoofer. It installs into the IWB-10 enclosure, and gets its power from the IWA-250 amplifier.
Each Controlled Performance speaker has an integrated back-box for the best performance.
2. MartinLogan speaker system
MartinLogan is famous in the audio world for their unique Electrostatic loudspeakers. They also create an exceptional line of custom-install speakers. Their Stealth Architectural Series consists of three models: the in-ceiling Vanquish, and the in-wall Edge and Axis.
These three ultra-high performance speakers offer similar voicing to many of MartinLogan's box speakers. That's thanks in part to its Folded Motion® XT tweeter, which is the same one used in many of their popular floor-standing and bookshelf speakers.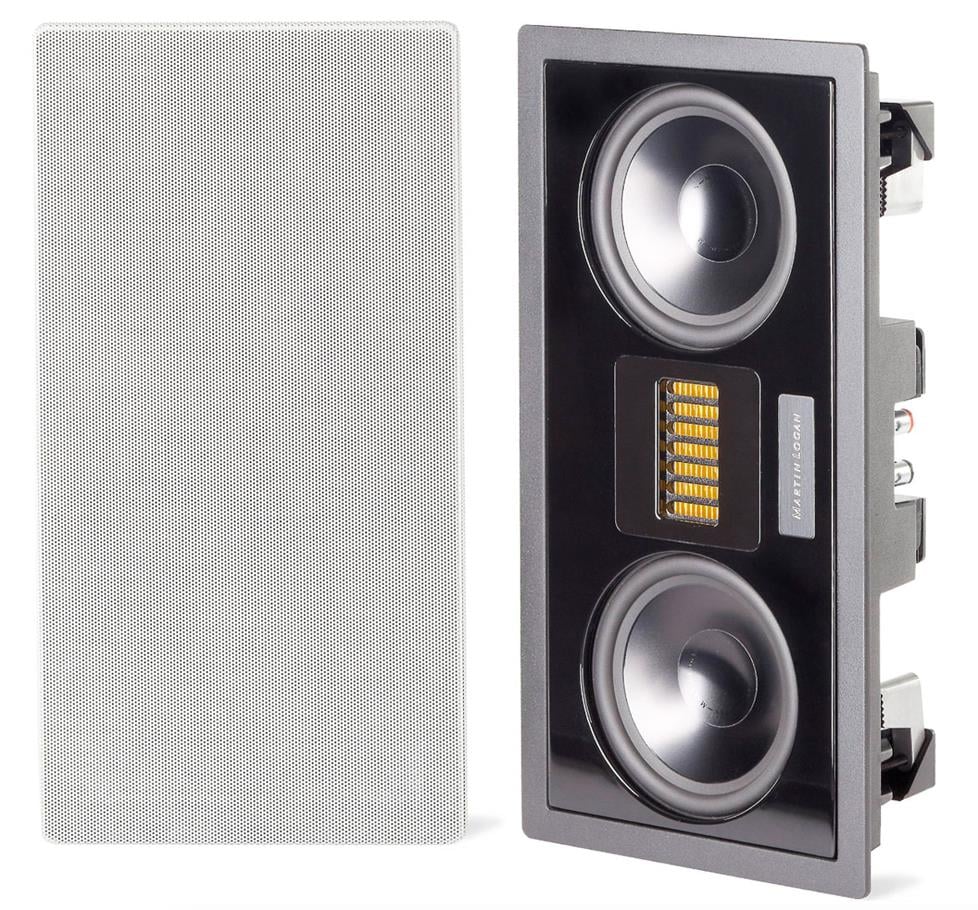 MartinLogan's Axis in-wall speaker pairs superb sound quality with a clean, elegant look.
3. Dynaudio speaker system
Dynaudio has garnered worldwide recognition for their superb speaker lines for homes, cars, and recording studios. They also apply their design expertise to custom-install speakers.
Mix and match the S4-W80 in-wall speaker with the S4-C80 and S4-DVC65 ceiling speakers for a killer surround sound system.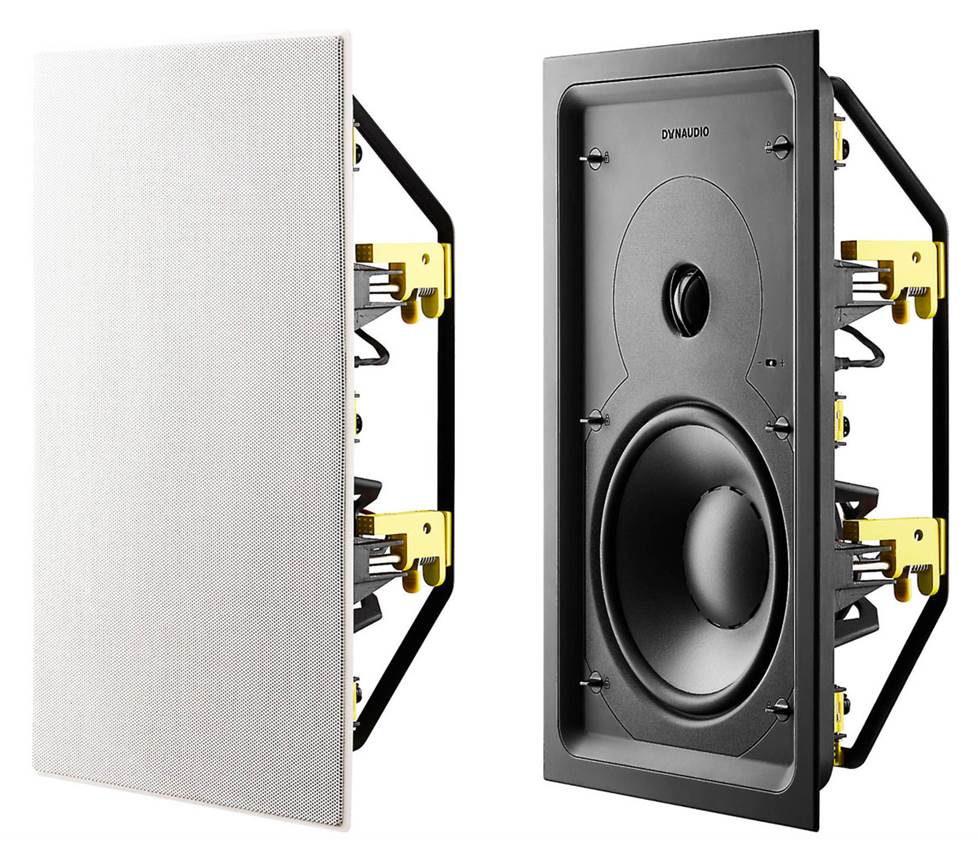 Dynaudio in-wall speakers use uniquely designed baffle latches for quick and simple tool-free mounting.
What about the bass?
Some of the brands I've listed offer a passive in-wall subwoofer for high-quality, hideaway bass. These subs each get power from an external monoblock amplifier. We sell some packages that include a sub and matching amp, or you can buy a standalone amp to drive your sub.
If you don't want to go in-wall with your sub, use a traditional powered subwoofer with your system with confidence.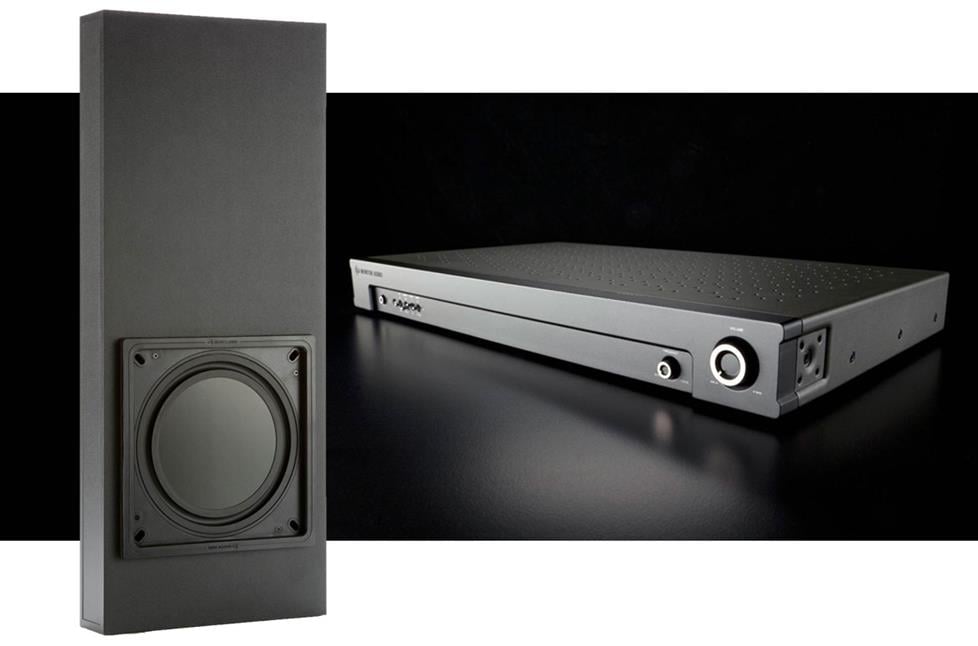 Monitor Audio's IWS-10 in-wall subwoofer pairs perfectly with their IWA-250 sub amp for potent hideaway bass.
Planning and installation tips
Here at Crutchfield we're big on DIY. So we want to make sure you have all of the information you need to get started.
Read my speaker placement and installation guide to learn how to map out the locations of your new custom-install system. And check out our in-wall wiring guide for a deep dive into how it all connects together. Are you designing a home theater system for small room? Read our small home theater ideas article.
We provide free lifetime tech support with your purchase. Our Virginia-based team is here seven days a week to help with any questions that you have.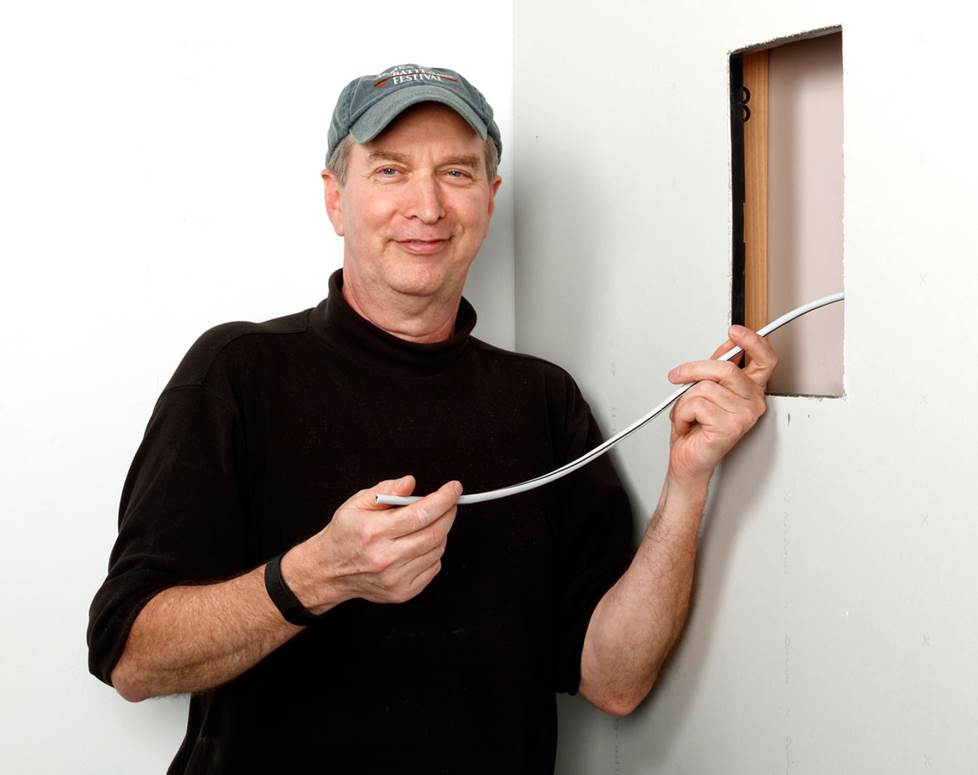 We have an in-house team of A/V experts that are here to help you before and after your purchase.
Get free personalized help from an A/V expert
Want some help choosing the right speakers for your new system? Give one of our friendly Advisors a call for free expert advice.