Best powered subwoofers for the car in 2021
Customer favorites for adding bass to your car stereo
In this article: We'll look at some of our most popular powered subwoofers:
Which one is the right sub for you? Let's take a look!
verybody knows that a good subwoofer brings out the best in any kind of music from classical to hip-hop. A powered subwoofer makes it easy to add depth to your music by matching the speaker, amplifier, and enclosure for the best possible sound. Just connect the sub to your vehicle's power and sound system for an upgrade that'll really make your favorite tunes come alive.
We offer a variety of powered sub designs that'll help you bring the boom to almost any vehicle. Whether you're looking for high power and a big woofer or fine detail from a small box, you'll find something that suits your style and your budget. We've highlighted some of our customers' favorite powered subwoofers to give you an idea of what's available.
What makes these favorites?
The powered subs highlighted below are not only some of our best selling subs. They have also earned an average Crutchfield customer rating of 4 (or more) stars, which means that our customers really like the subs once they've installed them.
These powered enclosures all feature line- and speaker-level inputs that give you the flexibility to connect the sub to your car's stereo system whether you're connecting to a stock radio or a custom installation.
A simple solution for your vehicle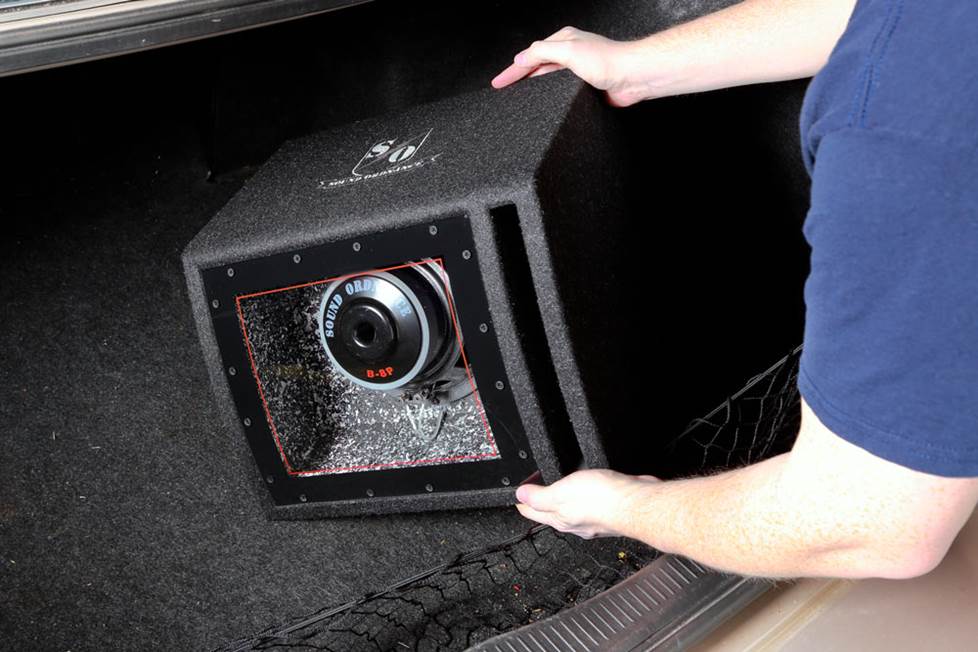 Sound Ordnance B-8P—Great value in an all-purpose enclosure
What you get: With a 8" sub and 80 watts of RMS power, the Sound Ordnance B-8P bandpass enclosure gives you more volume and heavier sub-bass than a similar sealed enclosure would. The polypropylene speaker cone stands up to the demands of your music. And LED lighting behind the plastic front window panel makes this box look as good as it sounds.
Features: Variable phase and low-pass crossover controls let you tune your sub for the desired frequency response.
Space-saving compact boxes let you fit your sound into tighter spots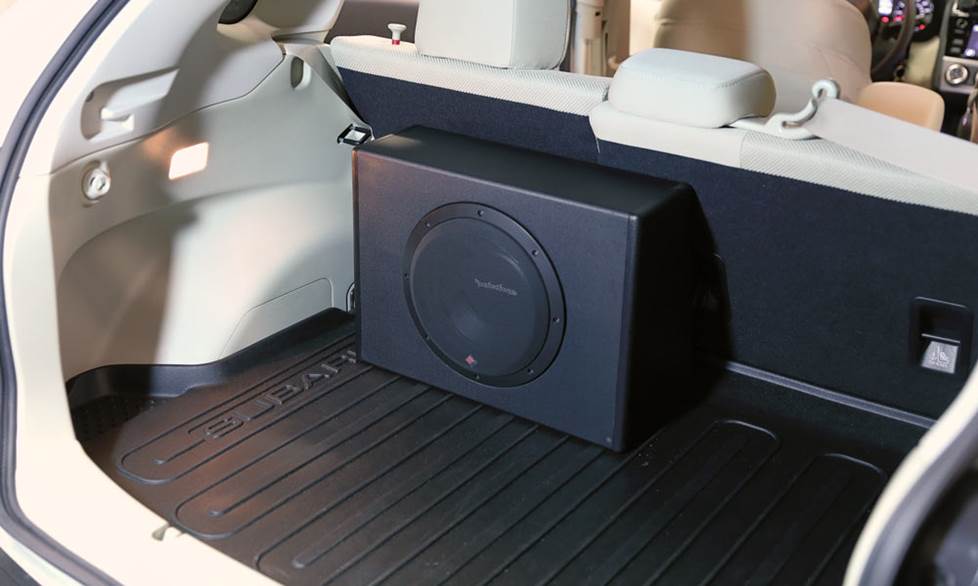 Rockford Fosgate Punch P300-10—Space-saving enclosure with 300W
What you get: When you need to fit big boom into a smaller space, the Rockford Fosgate Punch P300-10 drops into spaces as shallow as 9" including behind the seats of many pickup trucks. Its 300 watts of RMS power will rattle your windows and make your liver quiver.
Features: The P300-10's low-pass crossover, bass boost control, and phase switch give you even more adjustability. The included wired remote control overrrides the amp's gain control to let you crank up the volume.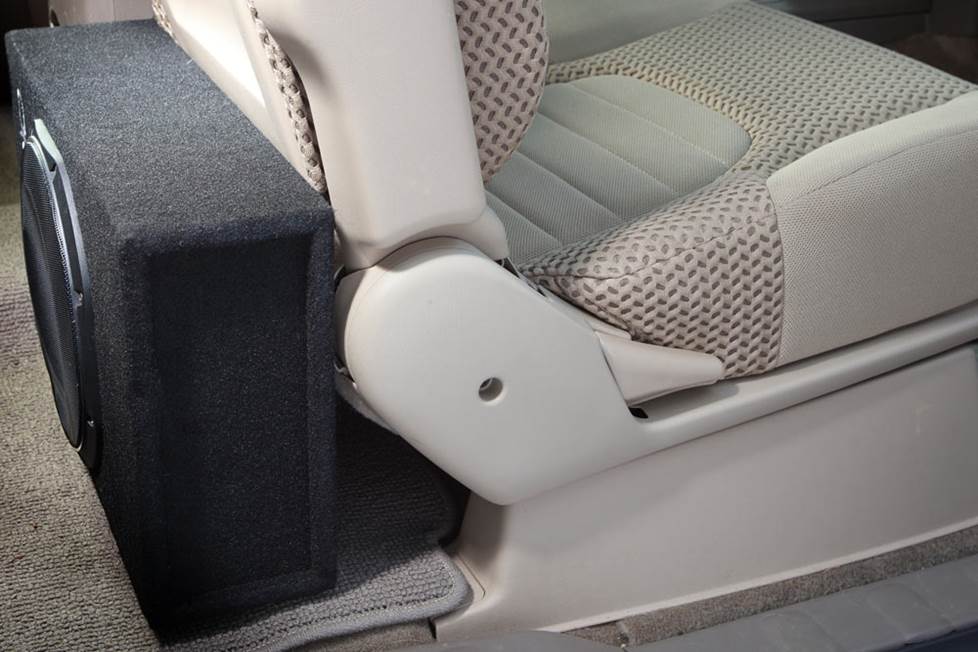 JL Audio ACS110LG-TW1—Truck-style sealed enclosure with 400W
What you get: The JL Audio ACS110LG-TW1 packs a 10" cone and a whopping 400 watts of power into a sealed box that'll stuff behind the back seat of light trucks and SUVs or along the wall of your cargo compartment.
Features: A mica-filled polyproplyene cone combines lightness and stiffness to give this sub clean, deep sound that stands up to high volume levels. Its ultra-low impedance draws maximum power from the specially designed amplifier.
Shallow-mount subs that fit under your seat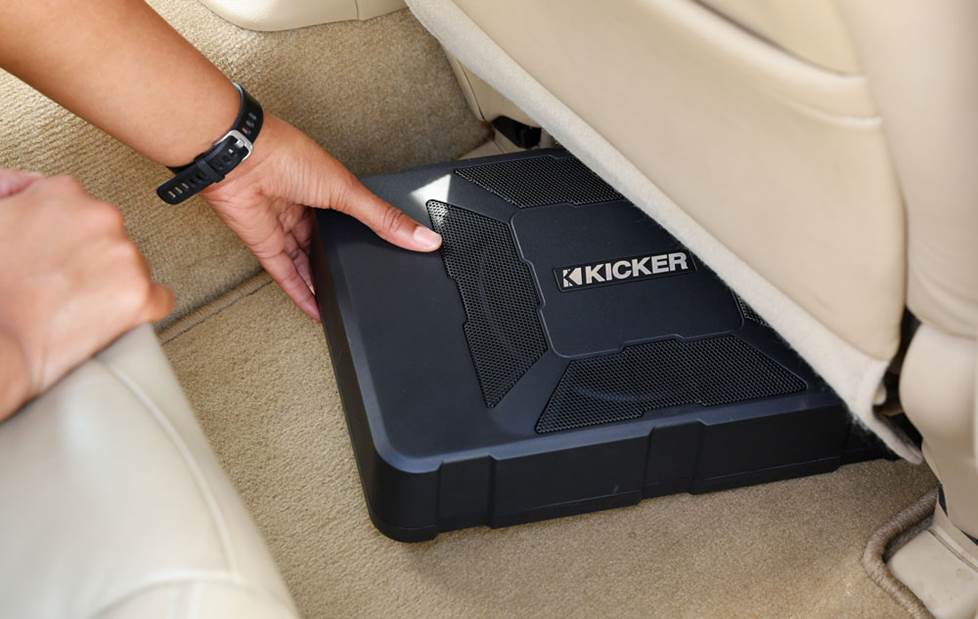 Kicker 11HS10—180 watts and the impact of a 10" sub
What you get: Bring your bass up close and personal with this compact underseat enclosure that's made to fit spaces other powered subs can't. The sealed enclosure channels 180 watts through the 10" woofer to put clean, precise bass right in your lap.
Features: The rugged aluminum enclosure and integrated grille stand up to the stresses of your ride's interior, trunk, or cargo compartment. With a frequency range that goes down to 25Hz, the Kicker 11HS10 gives you bass you can really feel.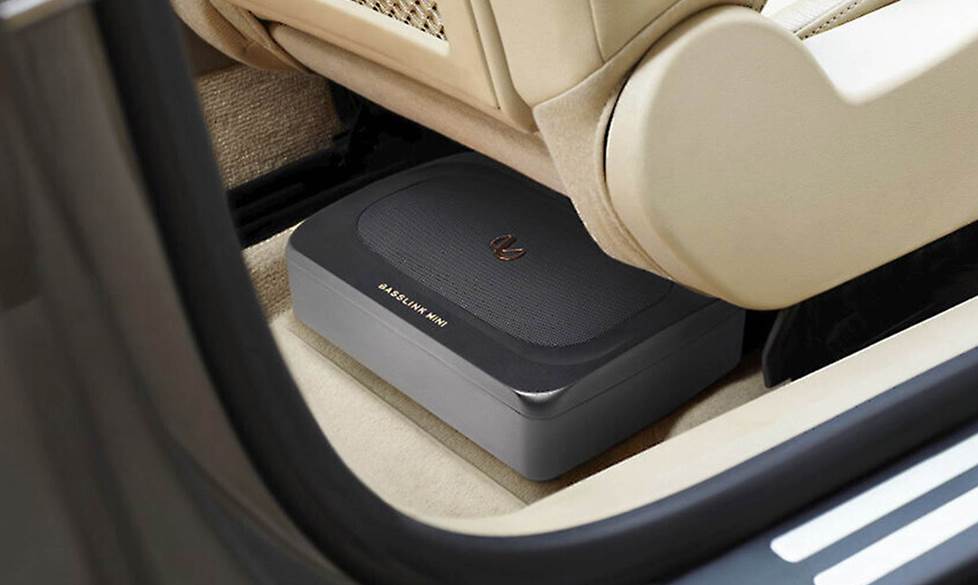 Infinity BassLink Mini—Rugged aluminum enclosure with 100 watts that fits almost anywhere
What you get: This little bundle of boom pumps 100 watts of bass power into a 6"x8" shallow-profile woofer in an enclosure that fits under almost any car seat.
Features: A die-cast anodized aluminum enclosure and metal grille protect your sub from accidental damage. low-pass filter, adjustable bass boost, and phase switch help you dial in your sound. With flexible wiring and control options, the Infinity BassLink Mini has the versatility and punch to suit your vehicle.
Specialized subs expand your installation options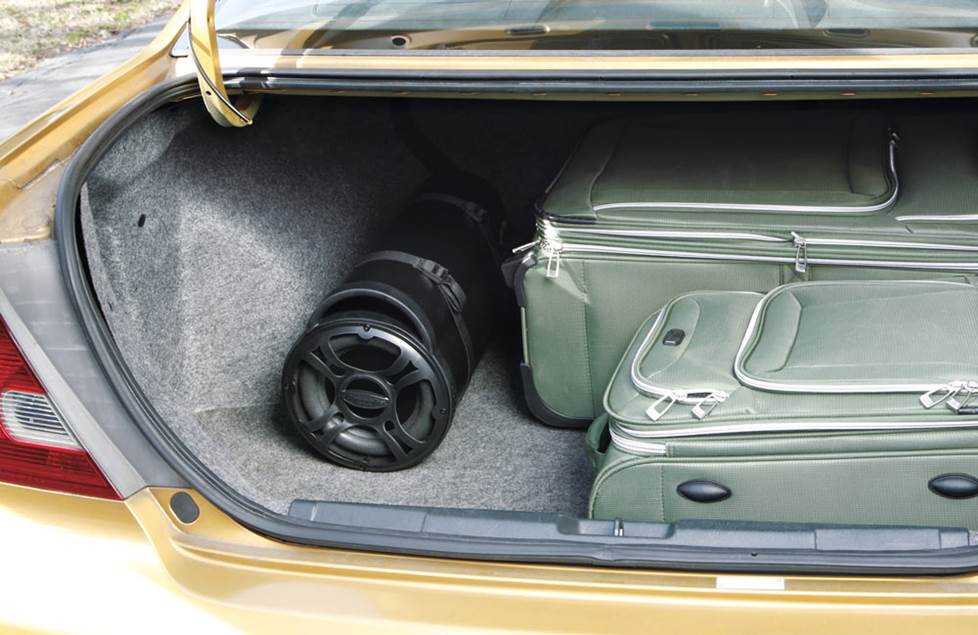 Bazooka BTA8250D—Tube-style enclosure fits in the corner of your trunk
What you get: The Bazooka BTA8250D's plastic tube enclosure lets the 8" subwoofer push the maximum amount of air from the sub and the tube's port for the biggest possible sound. The cylindrical enclosure tucks neatly into the corner of your trunk or under the back seat of a pickup.
Features: A full set of connecting wire harnesses simplify installation and let you disconnect the sub easily when you need more cargo space. Speaker-level outputs let you connect a second passive Bass Tube to really pump up the bass.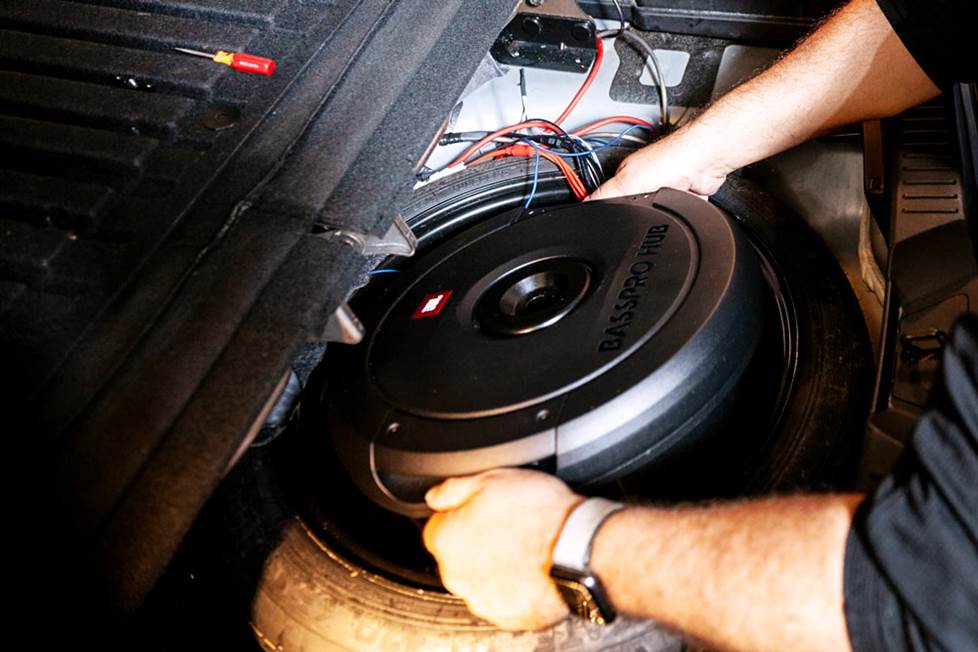 JBL BassPro Hub—keep your trunk space and gain great bass
What you get: The BassPro Hub is an innovative enclosure that mounts over the hub of your car's spare tire to preserve maximum cargo space while giving you the impact of a big subwoofer and 200 watts of RMS power.
Features: The 11" speaker's rugged fiberglass cone punches out deep lows, and the wired remote lets you access a full set of controls including a 12dB bass boost at 50Hz to bring out the full depth of modern music. An easy-to-connect wiring harness makes it simple to remove the sub to access the spare tire.
Get a closer look in our story about a Crutchfield employee's experience with the JBL BassPro Hub.
How do you decide?
When thinking about a powered subwoofer, here are some things to consider to find one that's right for you.
What kind of music do you play? A bigger speaker will give you more output and a fuller frequency response. The type of enclosure also plays a big part in how your music sounds:
Ported enclosures produce the kind of low bass that brings major boom to rock, techno, and hip-hop.
The clarity of a sealed box is especially suited to the balanced, ambient sound of classical and jazz music.
A bandpass box booms hardest at low frequencies, perfect for music with strong, focused bass hits.
These aren't hard limits, though...you may find that a ported box is just the thing for your favorite jazz bass solos.
What's your budget? With prices from $119.99 to $499.99, Crutchfield has an option for almost any budget. Get great sound for a pittance, or splurge for the perfect solution...it's all up to you!
How much space do you have? Our compact, space-saving enclosures let you fill your ride with rich, deep bass no matter how little space you have available.
You can learn more about shopping for subwoofers in our Car Subwoofer Buying Guide.
Let Crutchfield help you shop
Our experienced Advisors are standing by to help you with product selection and detailed information about your options. Contact them via phone or chat. We look forward to hearing from you, and hope this article helps with your search for the perfect sound!
Last updated 1/20/2021