Best smart speakers
Thanks to Alexa and Google Assistant, the future is now
Heads up!
Welcome to this article from the Crutchfield archives. Have fun reading it, but be aware that the information may be outdated and links may be broken.
In this article: The best smart speakers for listening to music and controlling your smart home...
...and some of the best ways to use your smart speakers.
What makes a speaker smart?
Simply put, a smart speaker is a Wi-Fi enabled speaker you can talk to. They each contain a voice-control assistant (most notably Amazon's Alexa or Google Assistant) that answers questions and completes tasks at your command. For example, the following is a recent conversation I had with my smart speaker:
"Hey Google, set a music alarm for 5:30 am."
"Okay, and what music would you like me to play?"
"Red Eyes by The War On Drugs."
"Got it, I will play The War On Drugs tomorrow morning at 5:30 am."
"Thank you!"
I know I didn't need to say thank you to a talking speaker, it just felt right. I have been testing out various smart speakers in my house for the past couple weeks, and their abilities have me feeling grateful.
What can you do with a smart speaker?
When smart speakers first appeared, I didn't understand the appeal. I am someone who would rather type something into my phone than ask Siri. It always felt more precise that way.
Did my opinion change after spending several weeks with smart speakers? Absolutely. This is the kind of technology I saw in Star Trek growing up. Except now it actually exists!
I was surprised at how intuitive both the Alexa and Google Assistant platforms are. Within hours I was communicating with them as if it was second nature.
Here are some of the most popular ways to use a smart speaker:
Play music through streaming services
Give weather and news reports
Set timers and alarms
Keep track of shopping lists
Provide proper spelling and information for schoolwork
Control smart home devices
Alexa responds to more than 50,000 commands. Both Amazon and Google are pouring tons of resources into voice control technology, which means these smart speakers update frequently with new skills.
Control your smart home
One of the biggest reasons to purchase a smart speaker is to use it as a controller for smart home devices. Amazon claims Alexa is compatible with over 20,000 devices, most of which will also work on Google Assistant.
One of the coolest things smart speakers can do is to initiate smart home "routines." This is when you program a series of skills to a certain voice command. For example, "Morning routine" could call up the daily weather report, feed your dog, and start your smart coffee machine. "Leaving" could turn off your lights, turn down the thermostat, and lock your house.
Our top picks
To determine the best smart speakers, I ran several popular voice-controlled speakers through a series of tests. For me, the most important factors of a smart speaker are functionality, design, build quality and sound. With those considered, these are the smart speakers that stood out among the pack.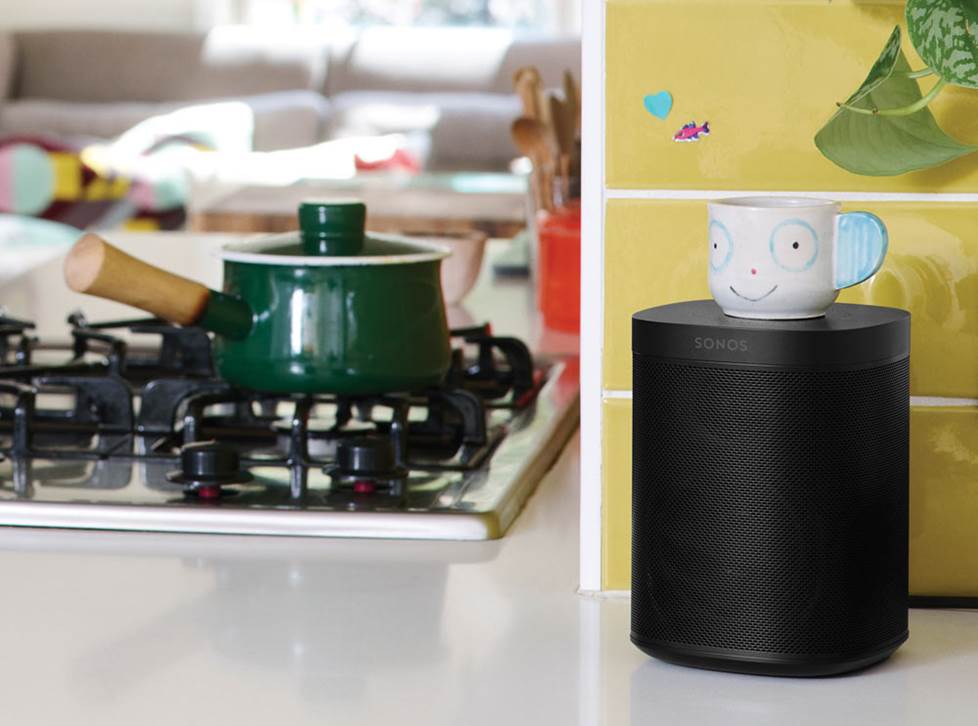 The Sonos One is splash-proof, so it's safe to keep in the kitchen
Sonos One — voice control for the world's most popular multi-room music system
I was excited to try out the Sonos One, as it's one of the most popular speakers with our advisors and customers. (I took home the original, but Sonos has since introduced the 2nd generation of the Sonos One. It comes with an upgrade to the processor and memory, as well as the addition of Bluetooth Low Energy. There is no difference in sound quality.)
Design
The speaker is sleek, with a high-quality feel. I got the sense it's built to impress for a long time. It's even humidity-resistant, making it safe for restrooms and steamy kitchens.
Sound
But sound is the real reason you want to invest in the Sonos One. All the subtle details of the instruments and vocals come across crystal clear. I was especially impressed with the sweet treble it produces. The mids also have a sensational tightness to them. Complex indie rock bands like The National and Arcade Fire were reproduced with brilliant detail.
Features
Sonos didn't become the most popular wireless multi-room music system just for its sound quality. It's also known for an outstanding user experience. How does the experience transfer to voice control?
Pretty seamlessly, as far as I can tell. From the top controls, to the Sonos App, to the Alexa voice control, I did not encounter any issues.
Bottom line
Overall it's a responsive, well-built speaker, with great sound quality for the money. This is a no-brainer for people who already own Sonos speakers or are seeking a voice-controlled building block for multi-room audio.
Details
Two built-in amplifiers
One midrange driver and one tweeter
Six far-field microphones for easier voice recognition at long distance and low volumes
Pair two for stereo mode
"Trueplay" automatically adjusts soundscape to the room for optimized playback
Apple Airplay 2
80+ content services built into Sonos platform
Google Assistant support
What our customers say
Susan from Commack, NY loves the convenience the Sonos One with Alexa brings. In her review she writes, "I am in love with these speakers. Sound quality is amazing. I have never owned an Alexa-controlled device before and I love being able to control the speakers hands-free. Especially in the kitchen if my hands are wet or dirty. She has had no trouble whatsoever understanding my commands."
Read all our customer reviews.
I loved having news and weather visualized on the JBL LINK VIEW display
JBL LINK VIEW — the best sounding smart display
A smart display is a smart speaker with a built-in touchscreen. Ideal for the kitchen, you can use one to pull up recipes and cooking tutorials. Use the built-in camera for video messaging.
If you are planning to use a smart display for videos and music, we recommend the JBL LINK VIEW.
Sound
The JBL LINK VIEW is the consensus best-sounding smart display you can buy today. The design and build prioritize the speaker system much more than the other smart displays currently on the market.
It contains two 2" full-range drivers that deliver surprisingly robust performance. Listening to the upbeat "SGL" by Now, Now was an ear-opening experience. The bass line was punchy, front and center, without muddling any of the other components of the song. It was remarkably groovy.
Features
The obvious benefit is the touchscreen display. As natural as I found the smart speaker experience, I'm still a visual learner. Being able to see the weather, news, and calendar as the information was recited to me made this one of my favorite products in terms of smart home integration. For instance, asking the JBL LINK VIEW to turn on a Philips Hue light automatically activates a Hue control panel on your touchscreen.
As mentioned, Smart displays are great for kitchen use. The recipe presentations make cooking easier and more enjoyable. It's also convenient to ask Google Assistant "How do you cut a mango?" and then see a tutorial in seconds.
Bottom line
This is an ideal option for people who want more control and visualization than a typical smart speaker would offer.
Details
8" HD touchscreen
IPX4-rated splash-proof
Built-in Google Assistant
Built-in dual-band Wi-Fi
Front-facing 5-megapixel camera for video calls
Easily connect to other JBL LINK speakers for multi-room audio over Wi-Fi
What our experts say
Crutchfield's own Ralph Graves was highly impressed with the smart capabilities of the display.
"It really makes a difference with recipes," he said. "Call up a recipe, and the LINK VIEW shows the list of ingredients. Plus it displays the directions a few steps at a time. When family visited for the holidays, I had a slide show of our last get-together playing on the LINK VIEW. That was a real conversation-starter. We went from 'don't need it' to 'can't live without it' in about a week!"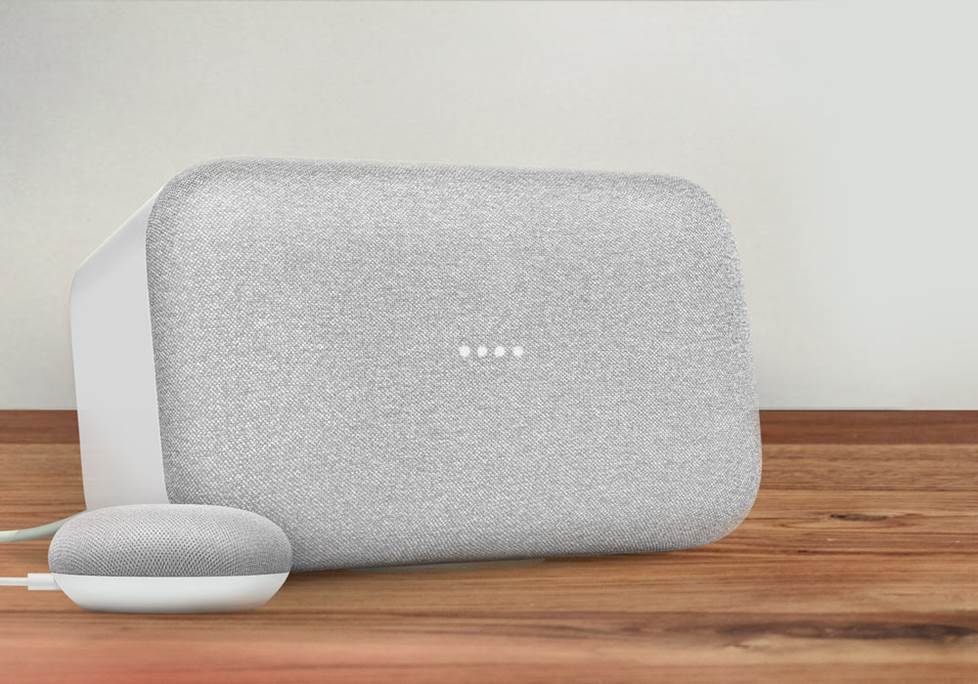 If you want a smart speaker that gets LOUD, look no further
Google Home Max — hey Google, play my party mix
The Google Home Max is an absolute monster. Weighing in at nearly 12 lbs., this speaker is designed to take the volume… well… to the max. I'm constantly setting mine at just 25 percent to make sure it doesn't disturb the neighbors I share a wall with.
Design
I enjoy the minimalist design. The frame fits in well with my room, while the four backlit dots give it a futuristic feel. The basic top controls are responsive, although I rarely used them. It comes with a handy silicone mat to attach to the bottom so the bass vibrations don't rattle the surface it lays on.
Sound
I could not be more impressed with the sound. For a smart speaker, it's as good as it gets. The tones are well-balanced and exceedingly rich. When I listened to a couple of live acoustic performances, it felt like the singer and the guitar were in the room with me.
On the other end of the spectrum, it made booming, highly-produced banger pop songs like "Perfect Places" by Lorde and "Girls Just Want to Have Fun" by Cyndi Lauper transcendent. Google has clearly tuned the speaker to emphasize the low and high ends, and you won't hear me complaining about it.
Chromecast
The Google Home Max comes with Chromecast audio built-in. This allows it to connect over Wi-Fi to any other devices with this feature.
Bottom line
This is a great item for people who want a smart speaker with lush, layered sound. It can also serve as a party speaker.
Details
Dual 4½" woofers and two ¾" tweeters
Six far-field microphones for reliable voice recognition even when the music is louder than your voice
Built-in 1.5 GHz 64-bit quad-core ARM Cortex A53 for extra-quick processing
Recognizes up to six different voices through "Voice Match"
"Smart Sound" room correction technology for optimized sound
What our customers say
Joshua from Waukesha, WI loves the ridiculous volume the Home Max can reach. In his review, he wrote, "Wonderful room-filling sound — The Google Home Max is awesome! The clarity of sound is impressive, and it has fit in nicely with my living room. I barely have the volume to 25%, and it nicely fills the room with sound. It is also very good at picking up your voice, even from the other side of the house."
Read all of our customer reviews.
Need help choosing?
Our advisors can help you find the perfect speakers to meet your needs. If you have any questions, contact us today. We provide free lifetime tech support on every purchase.