Best stereo speakers for 2019
Our top picks for a stellar listening experience
In this article: Until the 2019 models arrive, we're sticking with our top stereo speaker picks for 2018 (updated 1/31/19)...
Early 2019 is a great time to find bargains on existing floor-standing and bookshelf models.
There are few things more enjoyable for me than listening to my favorite albums through a good pair of hi-fi stereo speakers. It's one of the things I purposely set aside time to experience.
What makes these speakers my favorites?
We carry hundreds of different bookshelf, floor-standing, and powered stereo speakers. So many in fact, it can be difficult to narrow things down. I've put together this short list of my favorites to help you choose.
My selections are based off of my listening experiences, ratings and reviews, and feedback we've gotten from our customers. This is by no means an exhaustive list, but it highlights some of the best options available.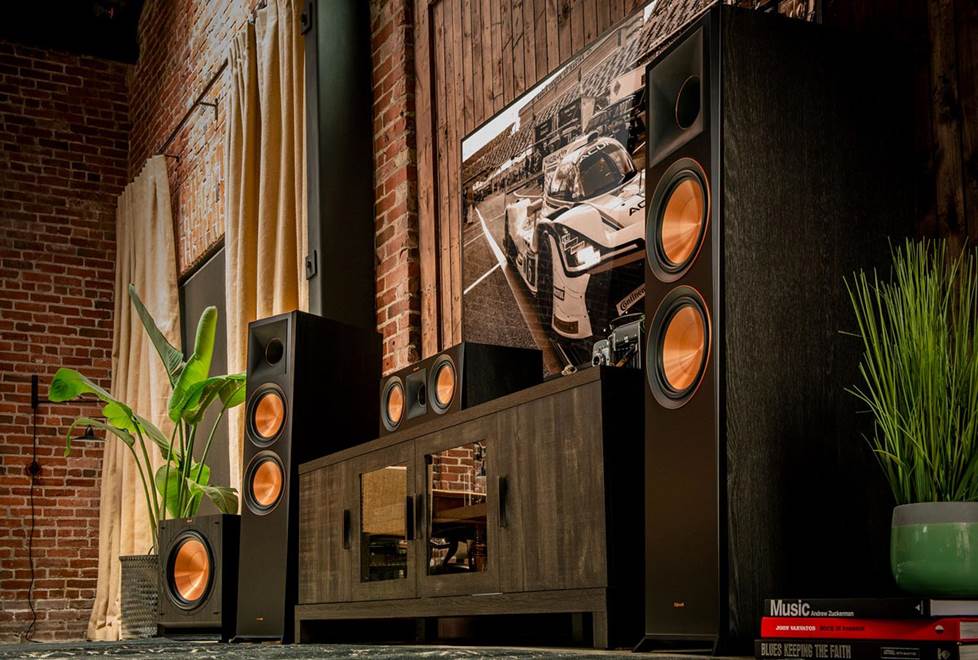 Klipsch Reference Premiere RP-8000F — best value tower speaker
Over the years Klipsch's Reference Premiere speakers have been astonishingly popular with our customers. And for good reason — they offer clear, natural sound and don't require a lot of power to sound great.
The RP-8000F is the newest flagship tower in the lineup. It uses Klipsch's signature horn-loaded tweeter and two 8" woofers for dynamic, high-impact sound. Use a pair as part of a highly efficient stereo system, or as the anchors of a Reference Premiere home theater system.
Details
dual 8" Cerametallic™ cone woofers
1" titanium diaphragm tweeter with Tractrix® horn
Frequency response: 32-25,000 Hz
Sensitivity: 98 dB
What our customers say
"The highs are crystal clear and loud but not harsh or brash; they just blend right into the room. They are so good at the subtle sounds, that sometimes I think I heard something and have to convince myself that it was not real but came from the tweeters.... Amazing fit and finish, these speakers are high fidelity and beautifully constructed." — a Crutchfield customer from Mcdonough, GA
Read all of the Crutchfield customer reviews.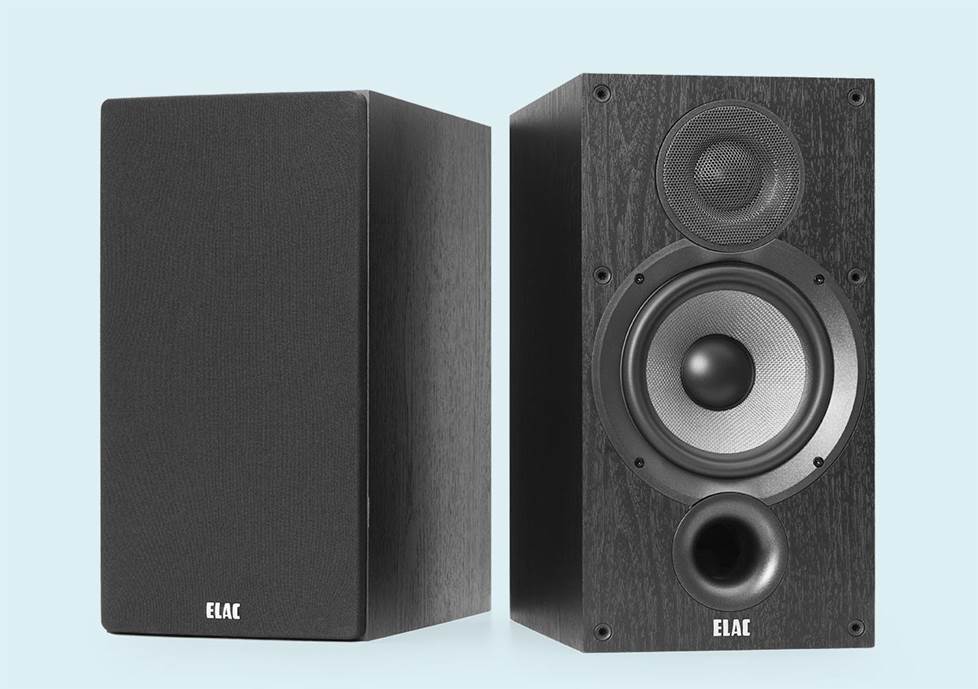 ELAC Debut 2.0 B6.2 — best value bookshelf speaker
ELAC has a well-earned reputation from both industry critics and customers alike for their lineup of high-quality, high-value speakers. The Debut 2.0 B6.2 is the second iteration of the company's popular bookshelf model. It offers an improved 1" silk dome tweeter for extended high-frequency response, and an updated 6-1/2" aramid-fiber woofer for smooth mids and punchy bass.
Fans of ELAC know that renowned speaker designer Andrew Jones has been at the helm of the Debut series since the beginning. Jones himself designed the magnets, woofers, crossovers, and enclosures for each Debut speaker, which allows for high-quality components without the added cost of outsourcing parts and supplies.
During an audition here at Crutchfield HQ, this overachieving bookshelf pair delivered Aaron Neville's "Ain't No Sunshine" with big, solid bass, nice overall balance, and clear instrument separation. You'll be hard-pressed to find a better sounding pair of speakers for the money.
Details
6-1/2" aramid-fiber woofer
1" silk dome tweeter with waveguide
Frequency response: 44-35,000 Hz
Sensitivity: 87 dB
What our customers say
"They are INCREDIBLE for the money. Very compact, so they fit where I needed them to fit; astonishing bass for unpowered bookshelf speakers; and beautifully clear highs." — Erle from Norridgewock, ME
Read all of the Crutchfield customer reviews.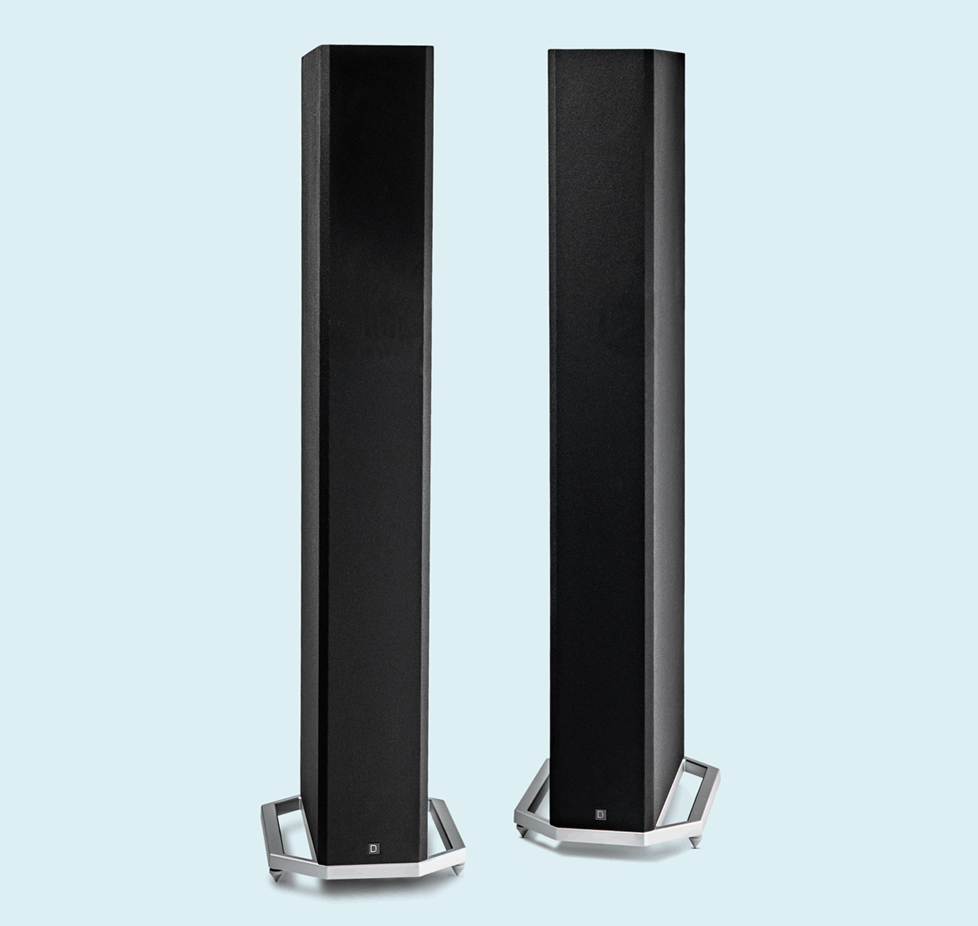 Definitive Technology BP-9060 — best small-footprint floor-stander
There's a lot to love about Definitive Technology's BP-9060 floor-standing speaker. This tower's unique bi-polar design uses both front- and rear-firing speaker arrays for enveloping, three-dimensional sound.
The BP-9060 can really bring the bass, too. It has a side-firing 10", 300-watt powered subwoofer built right into the cabinet. This active woofer moves in tandem with two 10" passive radiators, which together provide deep, powerful bass without the need for an external sub.
A pair of the BP-9060s makes for a formidable small-footprint hi-fi system with a huge soundstage. They're also excellent as the front channels of a home theater system. Add Dolby Atmos® speaker modules to the top of each speaker for immersive overhead effects.
Details
Front speaker array: dual 4-1/2" midrange drivers and 1" aluminum dome tweeter
Rear speaker array: one 4-1/2" midrange driver and 1" aluminum dome tweeter
10" subwoofer with built-in 300-watt Class D amplifier
Dual 10" passive radiators
Frequency response: 18-40,000 Hz
Sensitivity: 92 dB
What our customers say
"They handle acoustic music with finesse and detail while showing warmth that begs for more volume. Sound stage is enormous and just envelops you in a bubble of sound." — Dave from Porta del Sol, PR
Read all of the Crutchfield customer reviews.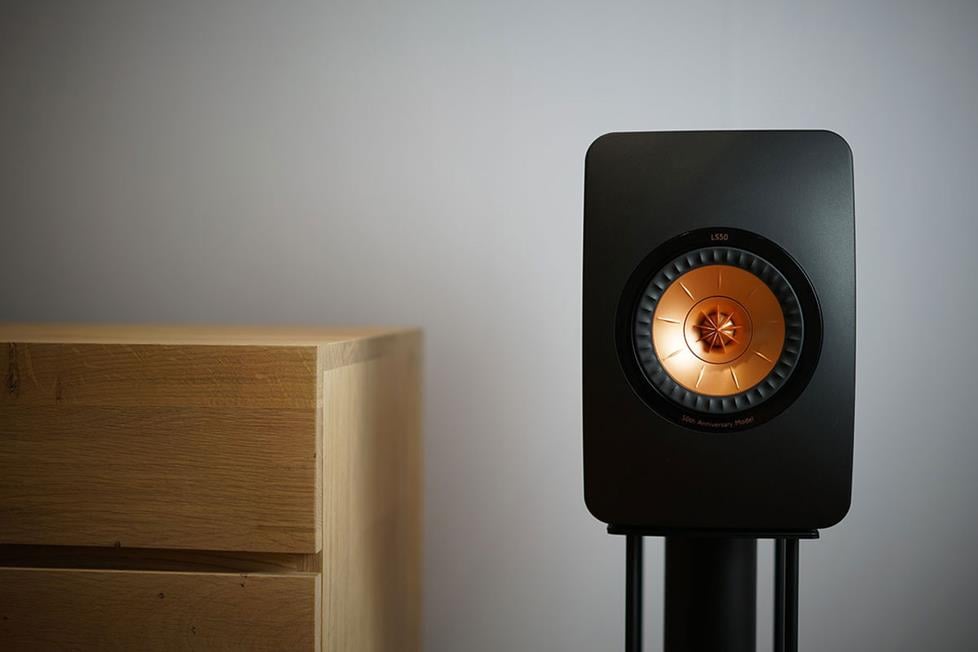 KEF LS50 — best high-end bookshelf speaker
For exceptionally revealing musical performance, consider KEF's LS50 bookshelf speakers. This model marks 50 years of high-end speaker design from KEF, and the results are impressive.
The LS50's extraordinary sound comes in part from its concentrically mounted 1" tweeter and 5-1/4" woofer. The combined placement of these drivers provides a single-point source for each speaker's frequency range, giving you a full, realistic soundstage and precise stereo imaging.
With a sensitivity rating of 85 dB, the LS50s require a lot of power to sound their best. I recommend a high-output power amp or integrated amp to drive them. The LS50s are also available in a powered version. Read my in-depth comparison of the two models.
Details
5-1/4" magnesium/aluminum alloy woofer
1" vented aluminum dome tweeter
Frequency response: 79-28,000 Hz
Sensitivity: 85 dB
What our customers say
"Excellent vocal and music presentation. Very articulate treble soundstage with a judicious amount of bass. I'm very happy with this purchase!" — Carleton from MD
Read all of the Crutchfield customer reviews.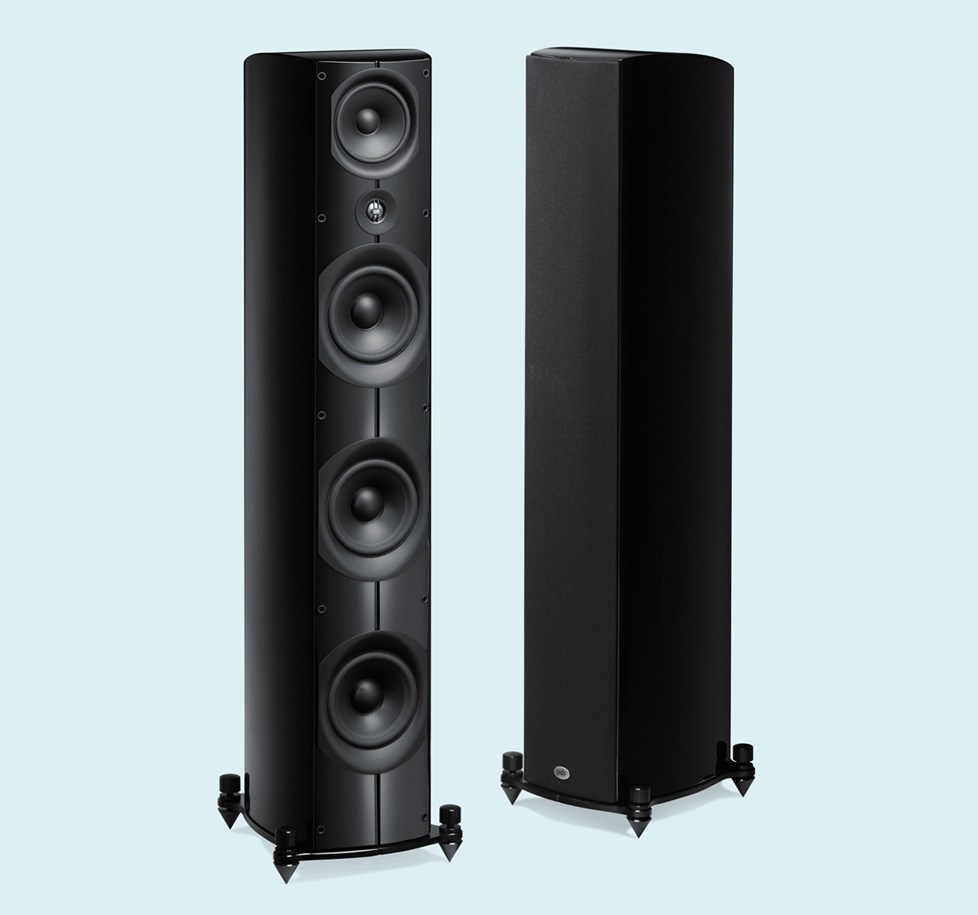 PSB Imagine T3 — best high-end floor-standing speaker
I first became hip to the quality of PSB loudspeakers when their founder, Paul Barton, paid a visit to our headquarters. The Imagine T3 floor-standing speaker is the epitome of Barton's approach to hi-fi sound. It delivers incredibly clear, full-bodied musical performance and remarkably realistic imaging.
The Imagine T3 sports a three-way design. It uses three 7" woofers, a 5-1/2" midrange, and a 1" tweeter to span its impressively wide frequency range. It also includes two port plugs, which let you seal one or more of its bass ports to tailor the speaker's sound to your room.
As with the KEF LS50s — and even more so because of their size — a high-current amplifier is essential to getting great sound from the Imagine T3s.
The sense of realism the T3s provide is unrivaled in their price range. I've found few equals when it comes to sheer musical performance.
Details
1" titanium dome tweeter with neodymium magnet
5-1/4" compressed felt/fiberglass cone midrange
three 7" compressed felt/fiberglass cone woofers
Frequency response: 24-23,000 Hz
Sensitivity: 91 dB
What our customers say
"These are simply the best speakers you have ever heard. I have them connected to a NAD M32 amp, and they are stunning." — Paul from Rohnert Park, CA
Read all of the Crutchfield customer reviews.
Tips on choosing the right pair of speakers
Choosing hi-fi stereo speakers is a personal decision. Your room's acoustics, your amplification, and your source material all affect how speakers will sound in your listening room.
Generally speaking, you'll want to match the size of your speakers to the size of your room. In my small home office, I use a pair of wall-mounted bookshelf speakers and get excellent results. In my large, open-to-one-side living room, I use giant floor-standing speakers to get the performance level that I like.
Get the most out of your new speakers
I've found that proper speaker placement goes a long way towards getting the best sound from your loudspeakers. And the right wire and connections make a big difference, too.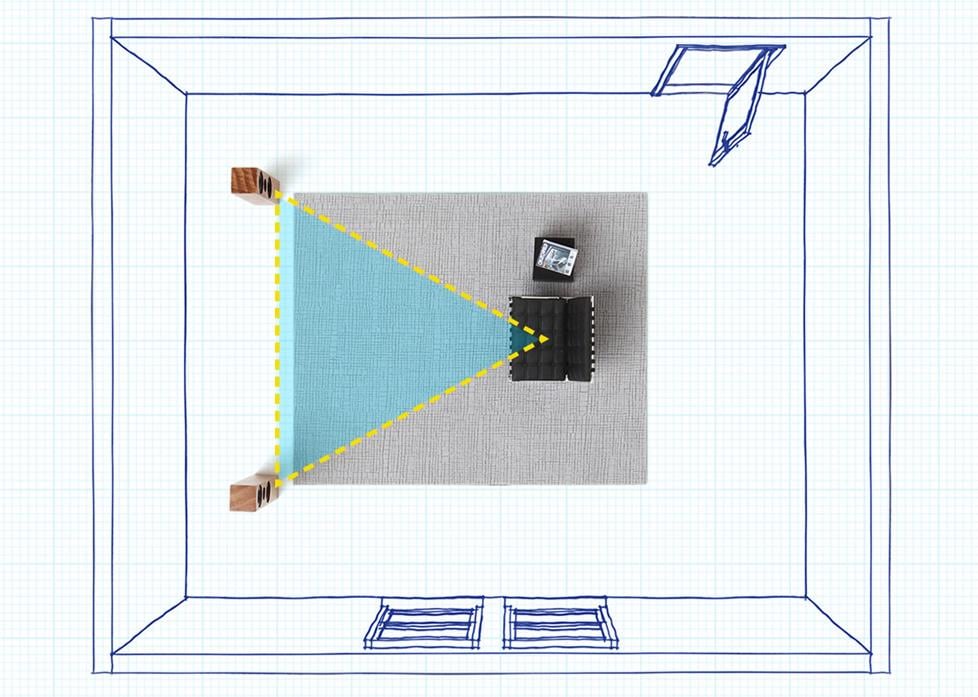 Want to create a "sweet spot" for your system? Read my placement tips on how to get the best sound out of your speakers.
What type of amplifier should you use?
There are lots of different ways to power your speakers. For a budget-friendly system, consider a stereo receiver, which combines amplification with source control and an AM/FM tuner. For higher-end systems, I recommend an integrated amp or power amp for the best sound.
An important factor when choosing your amplification is how efficient your speakers are. In other words, how much volume a speaker produces when fed a given amount of power.
A pair of highly efficient speakers, like the Martin Logan LX16s, produces excellent volume with 40 or 50 watts of power. Some high-performance speakers — like the KEF LS50s and PSB Imagine T3s — are real gas guzzlers when it comes to power consumption. You'll want 100 or even 200 high-quality watts driving these speakers.
For additional insights into choosing speakers, read our stereo speakers buying guide. Check out our home stereo systems guide to learn more about how all the components in a stereo system work together.
While this article is intended to help you choose the best speakers for music, the models featured here (with the possible exception of the self-powered Klipsch Reference R-15PM) are also good choices for home theater systems. To learn how to approach speaker shopping for surround sound, read our intro to home theater speakers.
Get free personalized advice from a music enthusiast
Have questions? Call, email, or chat with us today.
Our expert Advisors know the gear inside and out. They'll help you choose the best speakers for the money you have to spend, the type of music you love most, and the gear you'll connect them to.
Your Advisor can send specific Crutchfield pages to your screen, saving you a lot of browsing time. You'll get a shopping cart loaded up with everything you need for your new stereo system or home theater.
Free lifetime tech support is included with your Crutchfield purchase.