Save at the pumps with a little less thump
Heads up!
Welcome to this article from the Crutchfield archives. Have fun reading it, but be aware that the information may be outdated and links may be broken.
I'm in the car for 3 hours a day because of my commute to work. This time on the road has taught me that nothing is more important than a good stereo and a variety of music -- until gas prices practically forced me to skip meals so I could fill the tank every few days. So I employed every little trick I could to improve gas mileage, including down-sizing my stereo.
One of the big factors in bumping up your MPGs is reducing the overall weight of your vehicle. So I put my stereo on a major diet. Out went the sub and enclosure, two amps, and all the wiring and fuses associated with said amps. Once everything was stripped, I'd removed almost 90 pounds of musical mass.
This lasted about a week before the big step down in listening pleasure finally drove me insane. I needed better bass, and now that my amp was gone, I was taxing my speakers by cranking the volume. So I fixed it. Out went the old receiver for a radio with higher power to compensate for the lack of an external amplifier. The better sound controls on the new receiver allowed me to tweak the bass and treble in the front and rear speakers independently, giving me a little more thump from the back and better highs in the front. The front speakers were replaced with some nice, responsive components so that they would sound great, even running off the receiver's internal amplifier.
So far, so good. But there are still ways to build a lighter system that retains big bass and more power.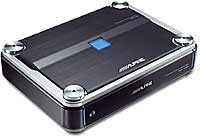 Digital amps, like the Alpine PDX lineup, are much smaller and lighter than conventional amps, but still produce loads of juice.
Flat subs, like the Pioneer TS-SW3041D, have created a world of mounting options. Smaller (and lighter) enclosures can be used, and if you've got the room, the subs can even be placed in a door or tailgate, saving you the extra weight of the enclosure.
Powered subs are another good choice, as they have integrated amps and are usually lighter than a separate amp and sub. The Infinity BassLink II is an excellent option, as the internal amp can be expanded to power your dash and door speakers in addition to the great bass it puts out.
Better speakers will produce better sound, of course, and the more efficient they are, the louder they can play with little power. This is a good way to get a little more bass and make up for a lack of a subwoofer, should you go that route. Component systems in the front of your vehicle will improve overall sound quality, and you may be able to run without rear speakers.
Another big advantage to this setup is that it's great for racing. If you drag or autocross your car on weekends, you know the importance of cutting weight. Now I can still enjoy music on the way to the course without worrying about leaving a bunch of expensive electronics in a parking lot while I make my runs.
And I can afford to eat on the way home.