Is replacing a car stereo really that easy?
Heads up!
Welcome to this article from the Crutchfield archives. Have fun reading it, but be aware that the information may be outdated and links may be broken.
I was helping a friend get a stereo for his car recently, and he asked a good question: "Is installing a stereo really as easy as we say it is?"
We used to say that a lot, and I guess the message stuck.
In recent years, Crutchfield has been careful not to promote the idea that it's easy to install your own car stereo. Years ago, it was pretty safe to say, but now it depends. How handy are you? How complicated is your dashboard? Do you have a navigation screen or climate controls integrated into your factory stereo?
If you find yourself looking at your dashboard and asking the same question Juan asked me, talk it over with a Crutchfield advisor, via chat, email, or on the phone. He or she can look at the installation instructions we have for your vehicle and help you decide whether you should attempt a DIY installation.
My last two cars were simple installs that entailed just pulling the factory radio out with a pair of DIN tools, sliding in a mounting sleeve and popping in the new radio. Juan has a 2004 Toyota Corolla, and the installation is a bit more challenging. We grabbed the MasterSheet instructions for his car and set off for the installation bay.
The first step for any installation is to prepare the new stereo by connecting the plug-in wiring harness to the stereo's wires. I've always soldered the Crutchfield harness to the new stereo's wire harness for two reasons: it's a solid connection that isn't going to come apart easily, and I never really had the arm strength to use crimp caps. After a quick soldering lesson, Juan was ready. He was able to splice the two harnesses together, solder the connections, and then protect them with heat-shrink tubing. The unused wires were taped over to prevent an electrical short.
After disconnecting the battery, dash disassembly was next. That proved to be a bit more challenging. The instructions were clear, but we had a hard time finding the sweet spot to release the center dash piece. Once that was out, we had to remove four screws. They were not flush with the dash, so a socket, ratchet and extension were required. Oh yeah, we dropped the first screw into the dash. It took a magnet, a little swearing, and a lot of patience to find it.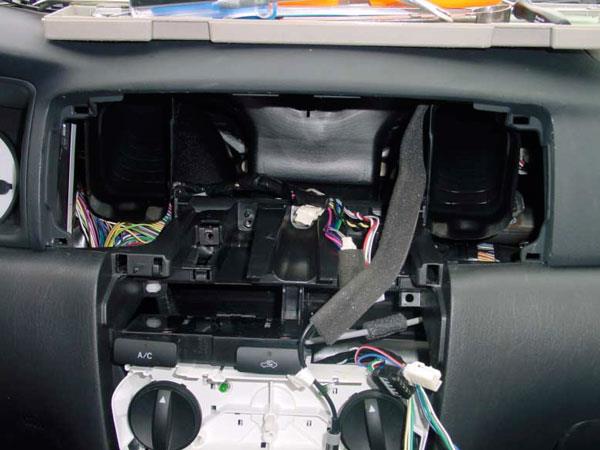 Corolla dash disassembled (Crutchfield Research Photo)
Once the missing screw was found, we made our connections. The antenna and Crutchfield harness were plugged in. We also added a USB cable and an iPod connector and ran them through the dash into the back of the glove compartment. We reconnected the battery and started the car. It was time to test the radio and it worked perfectly. We turned off the ignition and put the dash pieces back in. And yes, it was quicker to reassemble than to take it apart. Once the dash was back in place, we set a couple radio presets and Juan was on his way.
The whole install took about two and a half hours and the tools we used were:
Soldering iron and solder
Heat shrink tubing
Small trim panel tool (the claw of a small hammer would probably have worked)
Socket, ratchet and extension
Magnet
Juan loves his new stereo and said that it was a fun way to spend an afternoon with a friend.
"I never saw myself installing a car stereo," he said. "I thought it would be way more complicated than it was. I was pleasantly surprised, and the MasterSheet was extremely helpful. It was specific to my car, included pictures and diagrams, and the information was accurate. And, I learned how to solder, which was so cool. I would do it again."
If you don't have a soldering iron, we now have a line of wire connector kits from Posi-Products that are easier to connect than crimp caps. Just strip the wires, connect and twist.
For a quick video guide on making car receiver wiring connections, check out these helpful videos.
I'm going to try them out on my next install, which is going to be soon. I finally decided to replace my car and now I get to plan a whole new system. I'll keep you posted.
Meanwhile, if you'd like to learn more about DIY installation, check out Robert's great article.