Bluetooth in the car -- hands-free and loving it!
Heads up!
Welcome to this article from the Crutchfield archives. Have fun reading it, but be aware that the information may be outdated and links may be broken.
I'll admit it — I'm not usually an early adopter. You won't find me running out to the store to pick up the latest gee-whiz tech devices just because they're new. Heck, I didn't even own a cell phone until last year.
But sometimes a new technology or product offers so many benefits and useful features that you'll find me right at the front of the line. It was like that for me with TiVo®, and satellite radio, and it's like that with Bluetooth® as well. Let's face it — there's nothing more annoying (or potentially dangerous) than fumbling around for a ringing cell phone when you're driving. Not to mention the added hassles of holding the phone while trying to talk and drive at the same time. Bluetooth technology offers me an easy way around these problems.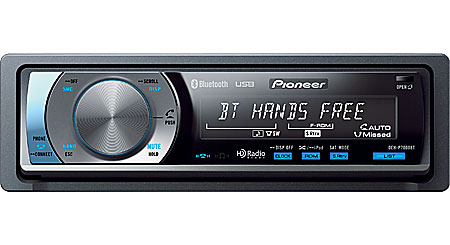 My new Pioneer DEH-P7000BT has a lot of features I was looking for — iPod® control, USB input, auxiliary input — but it was the built-in Bluetooth that really sold me. There weren't any extra boxes or adapters to install with the DEH-P7000BT. I only had to run a thin cable from the back of the receiver to the location where I mounted the included external microphone. At most it added about 15-20 minutes to my install.
That little bit of time was worth it. With Bluetooth on board, incoming calls are routed directly to my receiver. The music mutes, a ring tone comes over the speakers, and with the touch of a single button I'm talking to the caller. I hear them clearly over the stereo's speakers, and talk as if I'm carrying on a conversation with someone sitting right next to me. And since the receiver automatically imported my phone book when I paired the phone, making an outgoing call is as simple as looking up the contact on the receiver and pressing a button to dial them. I don't even have to touch the phone.
With cell phones such a ubiquitous part of our lives, we expect to able to keep in touch when we're on the road. Bluetooth in my car makes using my phone so easy it isn't a hassle any longer. I can stay in touch and feel safe doing it at the same time.