Better home audio, Tip #14: Use an outboard DAC
Heads up!
Welcome to this article from the Crutchfield archives. Have fun reading it, but be aware that the information may be outdated and links may be broken.
A common misconception is that there's no difference between an inexpensive and a top-of-the line CD player. After all, they're both just reading digital code off of a disc, and since it's binary, it's either there or it isn't, right?
Well, partially.
While both players might start with the same CD, how well they convert its code to an analog signal depends on how sophisticated the player's digital-to-analog converter is. "Lost in Translation" isn't just a movie title.
Tip #14: Try a smokin' outboard DAC - get shockingly good sound from your CD collection.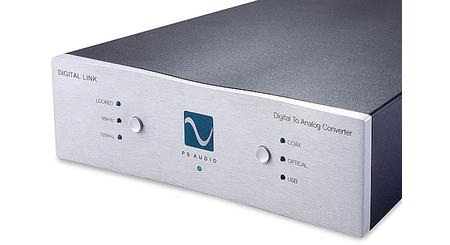 For nearly as long as CD players have been around, audiophiles have been enjoying richer CD sound by connecting an outboard DAC (digital-to-analog converter). A DAC's only job is to convert digital bits, such as those from a CD or DVD player, into a stereo analog signal to feed to your receiver or preamp.
You connect your player to a DAC using either an optical or coaxial digital cable, and then use a high-quality audio patch cable between the DAC and your receiver. We've been very impressed by the PS Audio Digital Link III. This versatile unit not only breathes new life into your CDs, it also includes a USB port, which allows you to connect your PC and enjoy better sound from your MP3s, too.
This post is based on the article "15 Tips for Better Sound from your Home System" by the Crutchfield Writing Team.