What HiFi 2.0 means to me
Heads up!
Welcome to this article from the Crutchfield archives. Have fun reading it, but be aware that the information may be outdated and links may be broken.
I really love the new HiFi 2.0 movement here at Crutchfield. Helping people achieve and enjoy great sound is what we're all about, whether you're trying to do it in your house or in your car. And this building is full of people who are knowledgeable and passionate about sound.
To me, HiFi 2.0 is a relative term. It's not just about getting the best sound all at once; it's about getting better sound than you have, and building on it. The great thing about getting better sound is that upgrading one step at a time lets you appreciate the difference. I'll use my car as an example.
I have a 1996 Honda Accord. When I started working at Crutchfield, it had the factory cassette deck and speakers still installed. I had a Sony Discman and a cassette adapter. This was only a couple of years ago.
As I was learning about car stereos and embracing Crutchfield's helpful, "do it yourself" philosophy, I thought yeah, I need a stereo upgrade pretty bad. And I'm gonna install it myself. So I did a little research and settled on a Dual XHD6425 head unit - it had the two things I was looking for: a USB slot and an inexpensive Bluetooth adapter. Seriously, that's all I cared about at the time.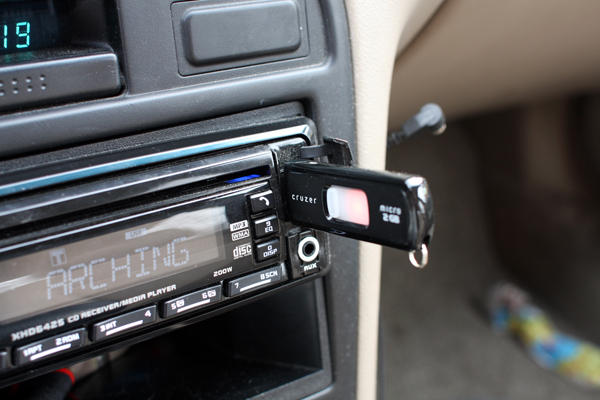 My USB slot fulfills nearly all of my music needs. For superior sound, I take care to encode
all my music at the highest bitrate possible.
And speakers, too, of course. I went with Boston Acoustics S95s for the rear deck, and S65RCs for the front doors. I knew I was only going to power them with the head unit, so their high sensitivity made them a great match. I put in the rear deck speakers first, since it was the easiest part of the installation. Then I drove around for a couple of days until I had time to finish the job.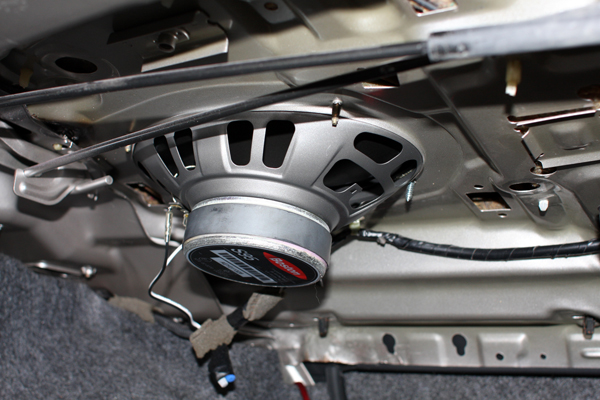 The 6x9" speakers were the easiest to install.
Those couple of days between installing the rear deck 6x9s and adding everything else really opened my mind to the world of car audio, and made me realize that I was going to have a great time working here. The difference in sound was astounding - and all I had done was swap out one pair of speakers. Once I popped everything else in place, I was happy as could be. I loaded up a thumb drive with tons of MP3s, and off I went.
Going back to my original point, this is hardly a sophisticated, high-end system. It's a value head unit and two pairs of speakers. But compared to my factory cassette deck, Discman, and worn out factory speakers, it was like Dorothy stepping from black & white to color in the Wizard of Oz: a new, exciting world. Suddenly, my aging car was a place I really wanted to be.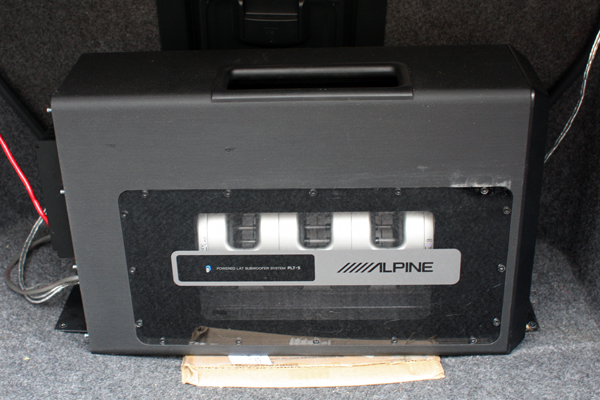 Once you add a sub, you'll never go back. It makes an amazing difference in your sound.
As time has passed, I've become pickier. I've started encoding all my MP3s at 320 Kbps for the best possible sound. I have added a powered sub, too, which led to another "Aha!" moment. This year, I am considering changing out my head unit for one that offers built-in crossovers, a dedicated sub preamp output, and a 24-bit digital-to-analog converter.
You could say I've gotten a taste for even better audio.The joy I felt from upgrading an outdated factory deck - spending a year with it, and targeting the next step - that's what HiFi 2.0 means to me. One step at a time.