Top Down Sound, Part 1: Planning an audio system for a convertible
Heads up!
Welcome to this article from the Crutchfield archives. Have fun reading it, but be aware that the information may be outdated and links may be broken.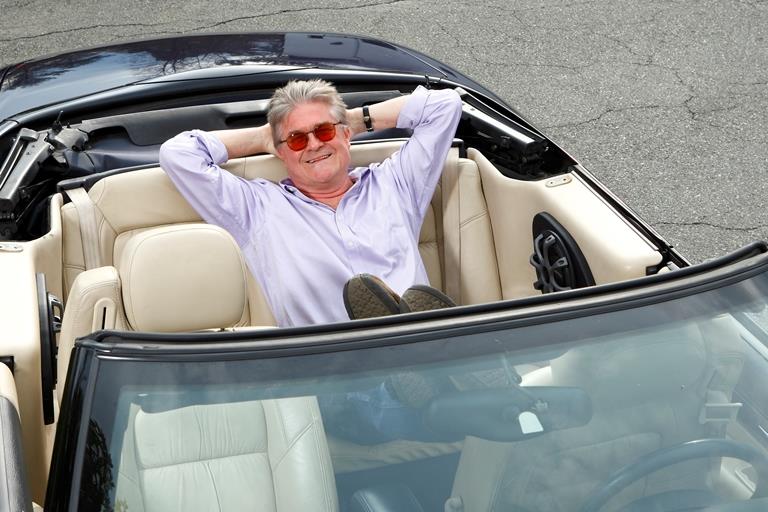 For most people, the words "car audio" conjure up an image of a big SUV blasting you with waves of bass at a stoplight. But car audio systems aren't all about bass — they come in as many shapes and sizes as home audio systems. To the car audio fan, each new car offers the challenge of how to fit great sound into a puzzle consisting of a dash opening, factory speaker configurations, and available cargo space.
On the other side of the coin, I've had many people ask me "Why in the world would you spend good money to replace a factory system that sounds perfectly fine?" My job at Crutchfield opened my eyes and ears to the world of car audio. I spent many years as a touring musician, and I used to rely on my home system for serious music listening. But, with a family and a 9-to-5 job, things change — now my hour-long commute has become my music listening time.
When I first arrived at Crutchfield, I made my first foray into car audio by installing some new speakers in my car so I could have decent sound on my way to work. The speakers made a big difference, so I replaced my factory radio with an aftermarket stereo and was thrilled with the results. Then I discovered what a subwoofer would do, and I was completely hooked.
Why replace a factory system? It's simple — most factory systems just don't sound that great. Don't get me wrong. I've heard some good ones. But the majority are designed to offer decent sound at a certain price point, and that means that the manufacturer will cut corners wherever possible. To my ears, most factory systems, including many premium setups, sound dull, boomy, and unfocused. (Watch my comparison of factory and aftermarket speakers.)
Premium system blues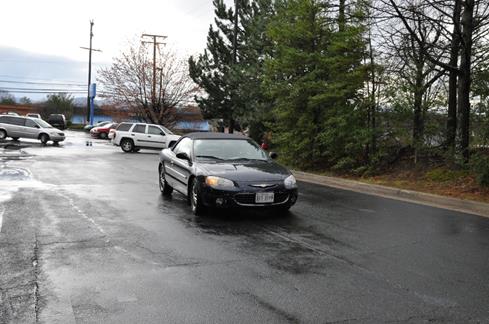 Recently, I bought a sweet 2001 Chrysler Sebring convertible, and soon discovered that the factory-installed "premium" Infinity system wasn't going to cut it. With the top down, I just couldn't get the system up loud enough to get the bass I wanted without distortion. A new receiver helped to clean up the sound a little, but I still found myself listening to sports radio and NPR instead of CDs because my ears were not happy with the sound of the music. I reasoned that I had saved a lot of cash by not buying a brand new car, so I decided to go for a really good sound system.
Every car presents its own set of problems for building a system. With a convertible, your enemy is road noise. Top up or top down, you hear lots of wind and road noise, and that noise makes your bass sound muddy and kills most of your midrange information. A system that sounds fine when you're sitting in your driveway becomes tinny and brash when you hit 55 with the top down.
System for a top down
To build a system for a convertible, you need lots of clean power, strong midrange delivery, and a subwoofer for good bass definition. My Sebring has room for a 2" tall receiver in the dash, and features 3-1/2" speakers in the dash along with 6"x9" speakers in front doors and rear side panels. One other factor to consider is that I need the Sebring's small trunk to carry guitars and other music gear on weekends, so I didn't want to put a subwoofer back there. I checked out my options in Crutchfield's Outfit My Car shopping tool, then talked things over with a couple of car audio aces here. Here's what we came up with.

Eclipse CD7200 MK II CD receiver
The source
I picked Eclipse's
CD7200 mk II
CD receiver to drive the system, because it offered several big advantages. First, a high-quality digital-to-analog converter and 8-volt, low-impedance preamp outputs send an extremely strong signal to your outboard amps with minimal noise. Second, Eclipse designed the CD7200 strictly for an amplified system: there's no built-in amplifier to introduce noise into your system. Third, Eclipse wrapped the receiver in a copper sheath to keep noise out.
I also liked the CD7200 for its amazing array of sonic tools. Even though I would be using an outboard equalizer/crossover to tune my system, the Eclipse includes a versatile equalizer, time alignment capability, and some other sonic tools, all of which can be accessed quickly without having to wade through a complex menu. Plus, you can add satellite radio, iPod control, and CD changers if you're in the mood.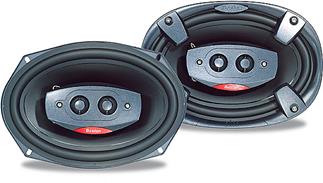 Boston Acoustics SX95 speakers
Speaker system
Usually, I prefer the sound of component speakers, because a separate tweeter placed in the right spot really opens up the sound. I found several fine 6-1/2" component systems that would fit in my Sebring, but I've learned through experience that the high frequencies are not the problem in a convertible. The devil's in the midrange details, so I elected to keep as much cone area as possible by using 3-1/2" coaxial speakers in the dash and a set of 6"x9"s in the doors.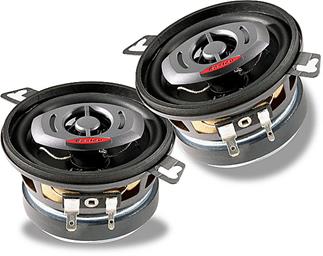 Boston Acoustics S35 3-1/2" 2-way speakers
I'd heard Boston Acoustics speakers in a friend's car, and thought they'd be a good choice. They seemed to tolerate lots of power and their tweeters really sounded nice at high levels. The Boston S35 3-1/2" speakers would fit into my dash just fine, while the SX95 6"x9"s were just a shade too deep for my doors, a problem I thought we could deal with.
To make things easy, I was ready to install a second set of Boston 6"x9"s in my rear side panels, thinking that four 6"x9"s would produce enough bass for me. But my friend (and Crutchfield car audio buyer) Jeff thought there was enough room back there for a pair of 8" subwoofers. Keeping with the theme, Boston's G108-4 subwoofer seemed like a good candidate — they'd work without an enclosure, they're only 4-1/4" deep, and they handle up to 200 watts.

Boston Acoustics GT-50 5-channel amp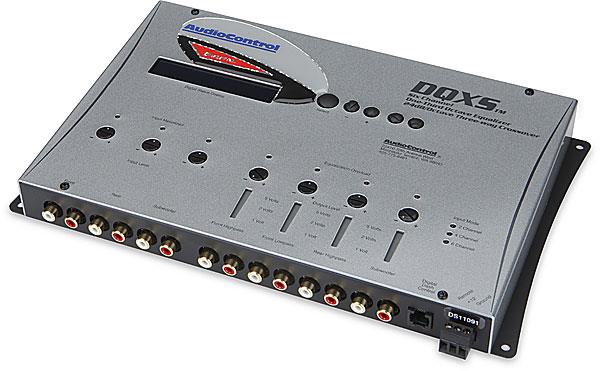 AudioControl DQXS Digital EQ
Power and equalization
Keeping in theme, the Boston Acoustics GT-50 5-channel amplifier provides more than enough power for the speakers and subs. More than twice the power an aftermarket stereo would provide, and that translates to better clarity and more intense sound from the speakers.
The DQXS features 6-channel inputs (front, rear, sub) and 8-channel outputs (front high-pass, front low-pass, rear high-pass, and sub), along with an 8-channel crossover, comprehensive equalization for front, rear, and subwoofer outputs, and six 2-band parametric EQs, all accessed through its menu screen. I really like being able to pinpoint the exact crossover points on the DQXS's readout, as opposed to estimating with the frequency sweep knob found on most amplifiers.
With this unit, I'd be able to set all crossover points for the different speakers and subs, equalize the small 3-1/2" dash speakers and the big 6"x9"s in the doors separately, and, best of all, tune the bass exactly the way I wanted it. It sounds like overkill, but what's point of installing all this cool equipment without being able to nail the sound you want?
The last piece
A home speaker sounds good because its wooden front panel is a neutral platform that doesn't color the sound in any way. A car's body panels, however, were not designed for high-performance car speakers. When you mount a speaker or sub on relatively thin metal, two things happen. First, the metal flexes and resonates as the music plays, and that really hurts your speaker's accuracy. Second, the vibrating metal causes trim pieces and other plastic parts to shake and buzz as you turn the volume up, and that's just annoying.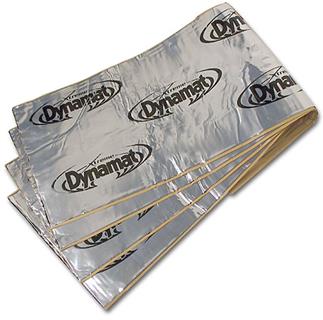 Dynamat 10435 Xtreme Door Kit
That's why it's so important to use Dynamat or some other sound-damping material in a high-performance car audio system. Attach Dynamat to the metal panel that holds your speaker or sub, and it kills vibration and resonance, giving your speaker a more stable platform for better accuracy. And the less that your car body vibrates, the less that the parts attached to it will rattle and buzz.
I picked Dynamat Xtreme for my speaker and sub locations because it's thinner and lighter than standard Dynamat, and its flexibility makes it easier to install in hard-to-reach places. Two 8" subs will shake those rear side panels like crazy so it'll be important to cover as much of that metal as possible with Dynamat.
The continuing story
Check out Part 2: Installing an audio system in a convertible, and watch the video "High Quality Sound in a Convertible."