PLX Kiwi Wifi Diagnostics Transmitter: hook up your car to your iPhone
Heads up!
Welcome to this article from the Crutchfield archives. Have fun reading it, but be aware that the information may be outdated and links may be broken.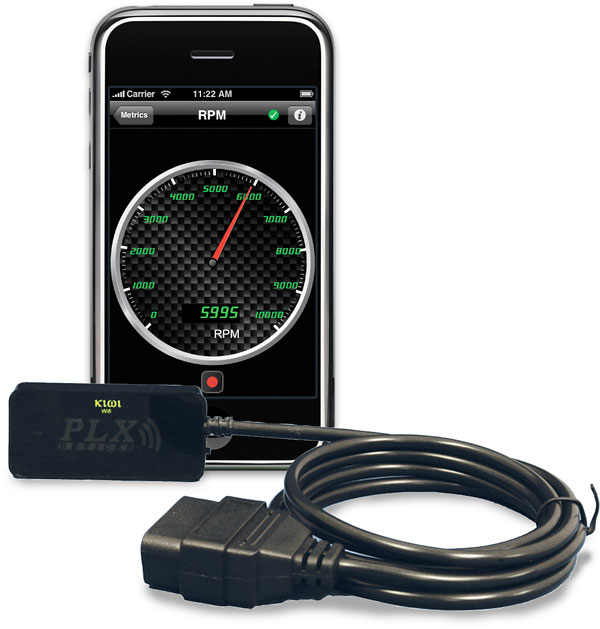 Here's an interesting idea for car freaks everywhere. Plug this little PLX Kiwi Wifi Diagnostics transmitter into your vehicle's onboard computer (OBDII) port, download some apps from the iTunes® App Store, and you can check out all kinds of information about your car on your iPhone® or iPod touch®. Apps range from free to $40, and allow you to do cool things like:
Adjust your driving habits to improve fuel economy
Track acceleration and braking as you drive a course
Record horsepower, torque, and other engine data
Check out extensive info that's not provided by the typical dash instruments
Another cool feature — there's nothing more humiliating than having to take your car to the dealer and pay $50-$70 to get the "Check Engine" light turned off. With the Kiwi Wifi, you can diagnose the problem and reset the light, which can go a long way toward paying for this $150 device. Your vehicle's port is always located within 18" of the steering column, and it's almost always out in the open so your mechanic can find it easily. There's no danger in connecting this device, and an on/off switch allows you to turn it off when it's not in use.
The Kiwi Wifi works with just about any vehicle made since 1996 (including hybrid vehicles), and you can use it in more than one vehicle. If you're into cars, you'll love the ability to check out really specific diagnostic info on your iPhone or iPod touch.
The chart below gives you a quick take on the functions provided by each App. You can find out more information in this YouTube video.