Taking Pictures in the Galapagos, Part 2
Heads up!
Welcome to this article from the Crutchfield archives. Have fun reading it, but be aware that the information may be outdated and links may be broken.
Elise is the daughter of A/V Editor Mike S., and an accomplished amateur photographer. Crutchfield loaned her two cameras for a recent trip and asked her to report back on her experience with them.
In part 1, I shared some the pictures I took with the Nikon D700 SLR camera that Crutchfield lent me for our high school trip to the Galapagos Islands. Here are some more of my favorite images from this life-changing experience. Like the photos in Part 1, I think these also show off the capabilities of the D700 (clink on the images to enlarge them).


It was always easy for me to form panoramas in Photoshop using the images taken on the D700.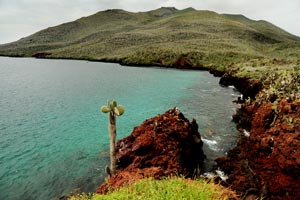 Once again the details and colors the camera is able to pick up really amaze me.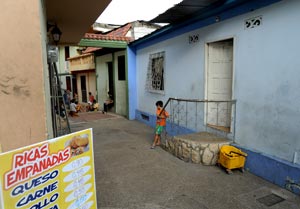 The strong depth of field, sharp focus, and vivid colors make this photo.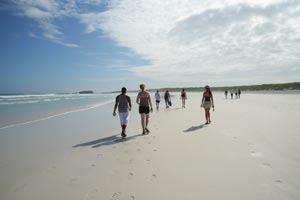 One of the worst times to take pictures is during the middle of the day when the sun is directly up in the sky. There are so many harsh shadows and the bright lighting can be difficult to manipulate. On any other camera, I would not have thought this picture would turn out because of the intense light and the reflectiveness of the white sand. However, the D700 took this picture beautifully with no problem.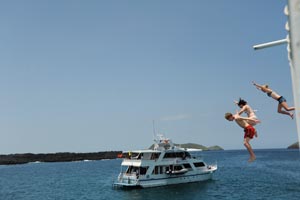 The preciseness of the D700 and the quick shutter speed allowed me to capture the movement of my friends as they jumped off the top of the yacht. The D700 allowed me to get a great series of jumping photos from that day.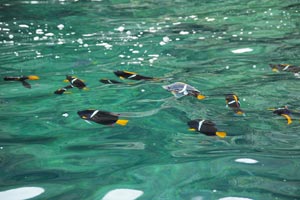 These fish were under the surface and I was taking this photo from the moving Panga boat, and the D700 was still able to produce a clear image.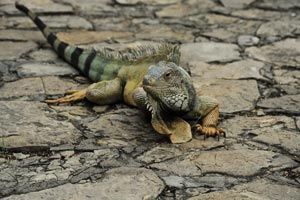 This iguana is a resident of the iguana park in Guayaquil. I was very close to the creature when I took this picture but still the detail is astounding. The camera's ability to pick up all the little features and contours of the iguana's skin, eyes, and surrounding rock is impressive.
In addition to the Nikon D700, Crutchfield also lent me a Panasonic DMC-TS1 underwater camera. In part three, I'll share some of the photos I took while snorkeling.
Taking Pictures in the Galapagos, Part 1