Taking Pictures in the Galapagos, Part 3
Heads up!
Welcome to this article from the Crutchfield archives. Have fun reading it, but be aware that the information may be outdated and links may be broken.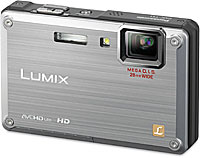 Elise is the daughter of A/V Editor Mike S., and an accomplished amateur photographer. Crutchfield loaned her two cameras for a recent trip and asked her to report back on her experience with them.
For my class trip to the Galapagos Islands, I was able to borrow a Nikon D700 and a Panasonic DMC-TS1 camera. While the Nikon D700 allowed me to take many beautiful photographs, it isn't waterproof. That's where the Panasonic DMC-TS1 came in. This underwater camera let me take photos while I was snorkeling. It is shock-resistant and waterproof, 12 megapixels, HD, has video recording capabilities, and doubles as just a normal point-and-shoot camera. I really liked having an underwater camera so I could try and capture some of the wildlife I saw when snorkeling.
Many of the pictures I took underwater are really blurry because it was hard to keep the camera still while I was swimming and dealing with the limitations of our snorkeling equipment. However, towards the end of the trip I got better at keeping the camera still and, in places where the water was not as rough, it was easier to get good pictures.
This camera was useful when I didn't want to risk using the D700 in places where we could possibly get wet. In those situations, I took the DMC-TS1 and used it as a point-and-shoot; it did a great job. Here are the three best pictures I took with the Panasonic camera (link on each image to enlarge):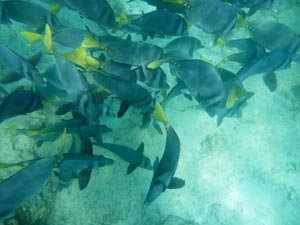 Many times when we were snorkeling, schools of fish would swim under us. When this school swam by they came really close to me, so I was able to get a decent photo. Also, this was an area where the water was pretty calm and clear so that is why this photo is focused well.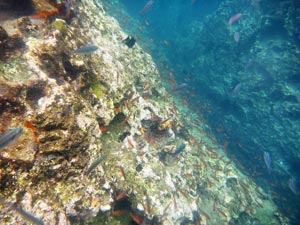 I like this photo because it is one of sharper ones I have and I think it has a really cool perspective. The image really shows off the coral and the landscape of the ocean under the surface.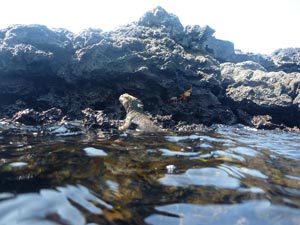 This photo was not taken underwater but it was taken when we were snorkeling. I came up to the surface to fix my mask and I saw this sea iguana and immediately snapped the photo. This image is a good example of the high quality photos this camera takes for a point and shoot. Also, I would not have been able to take this photo with the D700, so I'm really happy I had the DMC-TS1 along with me.
Taking Pictures in the Galapagos, Part 1