Overhauling a factory stereo system
Laying the Foundation, Part 1
Heads up!
Welcome to this article from the Crutchfield archives. Have fun reading it, but be aware that the information may be outdated and links may be broken.
As you might have read in Crutchfield's Winter/Spring 2009 catalog (read article), I'm in the midst of a piece-by-piece overhaul of the factory sound system in my 2002 Yukon. While I have owned a few cars in my time, and have been a car audio hobbyist since high school, I can safely say that I've not been faced with a project remotely like this one.
See, the thing is that I've never had a car with a body bigger than that needed to house a 2.4 liter, 4 cylinder engine. Anyone reading this who knows me is likely to be more than a little surprised that I'm driving something about the size of a studio apartment. As it turns out, my folks got a new truck and I got the fantastic deal only their child could get.
And truth be told, I'm digging the comfort level and the surprisingly quiet ride. Even my anti-SUV, environmentalist children have found a way to grudgingly appreciate the leather seats, generous leg room, and plethora of reading lights. While the factory stereo sounded better than I thought it would, it wasn't nearly good enough to feed my music obsession.

I'm a musician in my other life, and at the moment my band, Sokoband, is working on a new album. (I still use that term; why not? "Album" doesn't mean "vinyl," either.) So for the next few months, I'll focus on my own music every time I find myself around a playback device. In addition to my home studio, I'll be listening to our works-in-progress on my home stereo, my iPod®, my daughter's boom box, my friend's high-end system, and any other piece of gear I can hijack. Since I do most of my music listening in the car, it's a no-brainer that I'll need to outfit the Yukon with the best possible gear I can afford.
The first step in the upgrade process was to replace the factory in-dash radio/CD player with an Alpine CDA-9887. In addition to its ace iPod control capability, I chose the Alpine for its high-fidelity characteristics: 24-bit Burr-Brown digital-to-analog converter for more detailed and lifelike sonic resolution, sophisticated onboard signal processing, and — what I'm particularly excited about — the ability to add their KTX-100EQ IMPRINTTM sound-tuning kit. IMPRINT is a super-powerful equalization technology that corrects your system's performance to compensate for your vehicle's specific acoustical anomalies. (Trust me, your car didn't roll of the assembly line engineered to have the sonic sensitivity of a concert hall.)
While I'm tempted to try out the KTX-100 right now — it's sitting on my desk, looking at me — I'm going to hold off and wait to complete the full installation of the new system before fully tweaking it. After all, part of the goal of this blog is to share with you the incremental sonic improvements I'll be making as I add speakers, amplifiers, subwoofers, acoustical treatments to the doors and side panels, and an improved power generation system.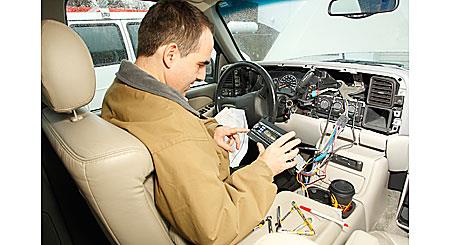 Installing the new receiver was a snap. Removing the dash trim was a simple matter of releasing some plastic clips, and out it came. And taking out the radio was even easier. All I had to do was press a single retaining clip and it slid right out. Didn't need to touch the screwdrivers and wrenches I had laid out beside me. Crutchfield's installation kit centered the radio in GMC's 1-1/2-sized factory opening and trimmed it out nicely. I had already wired the 9887's wiring harness to our GMC harness, so making all necessary power and speaker connections was similarly easy: connect a single plug to a jack. Connecting a new radio to the antenna in General Motors cars requires a simple plug adapter, so I did that, too. I also connected Alpine's iPod control cable to a pigtail jack hanging off the back of the new radio, and dropped the cable down to the glove box directly in front of the passenger seat. Piece of cake. Now I'll be able to operate my nano from the stereo and enjoy the best possible fidelity.
Read the entire Building a Mobile Listening Lab series:
Laying the Foundation, Part 1