Blu-ray showdown
How fast and user-friendly are these versatile players?
Heads up!
Welcome to this article from the Crutchfield archives. Have fun reading it, but be aware that the information may be outdated and links may be broken.
When it comes to picture quality, it's tough to beat Blu-ray. Movies and shows look realistic and full of fine detail in 1080p. But as manufacturers pack more features into these increasingly-versatile machines, loading discs and moving between functions can require a bit of patience. So just how user-friendly are the current crop of players? I took five of our best-selling mid-priced players into the Crutchfield Labs to test Blu-ray disc load times, Netflix movie load times and overall menu navigation.
The players:
Samsung BD-E6500 3D Blu-ray player with Wi-Fi®
LG BP-620 3D Blu-ray player with Wi-Fi
Toshiba BDX5300 3D Blu-ray player with Wi-Fi
Sony BDP-S790 3D Blu-ray player with Wi-Fi
Sony BDP-S590 3D Blu-ray player with Wi-Fi
---
Test 1: Loading a movie on Blu-ray disc
How long does it take to start watching a movie from the moment you insert a Blu-ray into the player? I timed each player from disc load to when the movie program began. I tested using four different movies: Avatar, Inception, Megamind (in 3D), and Where the Light Is: John Mayer Live in Los Angeles. Each movie was loaded three times per player to generate 12 load times for each player. These 12 times were averaged to determine each player's mean load time.
The results:
| | |
| --- | --- |
| Player | Average Blu-ray load time (min:sec) |
| LG BP-620 | 1:25.7 |
| Toshiba BDX5300 | 1:28.9 |
| Sony BDP-S790 | 1:30.9 |
| Samsung BD-E6500 | 1:41.4 |
| Sony BDP-S590 | 1:58.3 |
The LG BP-620 proved fastest at loading and starting Blu-ray discs. Perhaps the most interesting result of this test was that the Sony 'S790, with its dual-core processor, was nearly 30 seconds faster than the single core 'S590. The upgraded processor gave the 'S790 a clear speed advantage here, as well as in the Netflix test below.
If these times seem slow overall, keep in mind, this is to start playing the actual movie program. It involves getting past the main menu, as well as anti-piracy warnings and MPAA ratings information. Blu-ray discs usually contain several layers of content, which slows down disc response time. Avatar and Inception were slow to load given the amount of extras they contain. In contrast, Where the Light Is: Live in Los Angeles is a concert movie with few bonus features. Its average start-up time for all players was 1:01.6, versus Avatar's average time of 1:53.7.
---
Test 2: Watching a movie on Netflix®
All of these players feature built-in Wi-Fi for easy connection to a wireless network, and each includes the Netflix app for streaming movies (a Netflix subscription is required). After connecting each player to our network and a Netflix account, times were measured from powering on the player to the moment playback resumed for the first movie in our instant queue. Each player was tested three times over three days to account for possible fluctuations in network speed, which determined the average load times below.
The results:
Player
Average Netflix
movie load time (min:sec)*
Samsung BD-E6500
0:33.1
Sony BDP-S790
0:41.0
Sony BDP-S590
1:01.3
Toshiba BDX5300
1:24.9
LG BP-620
1:37.9
*Response times of functions requiring Internet connectivity may vary based on network speed.
The Samsung was the champion of Netflix times, jumping quickly to the app and loading the movie with ease. Again, the dual-core Sony 'S790 proved speedier than the 'S590, this time by about 20 seconds. The LG BP-620's time was slow partially because its remote has no dedicated Netflix button. When powered off, it required 10 keystrokes to start up and play back a Netflix movie. Each of the other players features a Netflix button that allows one-touch navigation to the Netflix app. These players required either four or five keystrokes to power on and stream a movie.
---
Test 3: On-screen navigation
Blu-ray players are much more than just disc drives. With a Wi-Fi connection you can turn any of these players into a multimedia hub for movies, music, photos and even games. But accessing all these features depends on two factors: the on-screen guide, also known as the graphic user interface (GUI), and the remote control. We put each of our players through the paces to see how these functions differed and to assign them an overall grade for ease-of-use and visual aesthetic.
Toshiba BDX5300
Grade: B-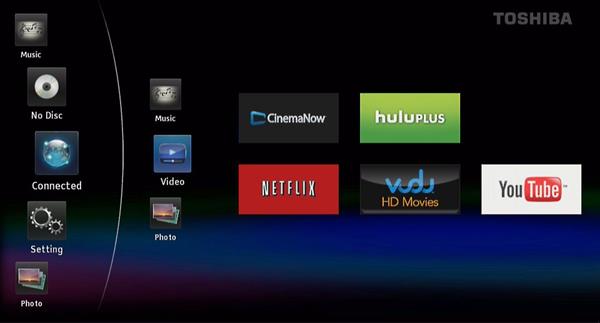 The Toshiba BDX5300's GUI is straightforward and simple, with the main menu anchored on the left side of the screen. This makes it easy to figure out exactly where you are and how to navigate between functions.
| | | |
| --- | --- | --- |
| | | The Toshiba remote is large with lots of functions, including a Netflix button and buttons for slow-motion playback and single-frame advance. |
Sony BDP-S590 Grade: B-
Sony BDP-S790 Grade: B+
Both Sony players feature the same GUI, which is streamlined and easy to navigate. The 'S790 was quicker to respond to commands, thanks to the dual-core processor.
The 'S790's upgraded remote (right and above) is larger, with a more ergonomic button layout and a few more functions like Replay for skipping back 10 seconds and Advance for jumping 15 seconds ahead.

Both remotes feature large HOME buttons below the arrow keys, perfect for quickly returning to the main menu.
LG BP-620
Grade: B+
The LG player features a graphics-heavy GUI, with multiple screens and lots of icons. At first it was overwhelming to navigate. But as I spent more time with it, I found it to be very visually pleasing and relatively easy to navigate. There are lots of built-in apps for accessing online content such as AP news stories and Picasa photo sharing.
The LG's remote does not have a dedicated Netflix button. However, it does have a blue HOME button, which makes for easy return to the main menu. Its arrow keys were also smooth and quick, so it's easy to jump between icons in the GUI.
Samsung BD-E6500
Grade: A
Like the LG, Samsung's GUI is heavy on graphics and visually exciting. There are lots of preloaded apps, including Pandora® and YouTube™, with more additional content available for download. The 'E6500 was very responsive, and there are lots of possibilities to explore.
| | | |
| --- | --- | --- |
| | The remote's large red Netflix button makes watching streaming movies a breeze. And the Play/Pause/Skip Forward/Skip Back buttons are glow-keys, so they're easy to see when you dim the lights for movie-watching. | |
---
Conclusions
While all of these players are full of great features and easy to use, I was most impressed with the Samsung BD-E6500. Although it wasn't the fasted to load Blu-ray discs, its lightning-fast response time, quick loading of Netflix movies and sophisticated, fun GUI made it a pleasure to use.
If you're looking for lots of apps and a GUI that is fun to explore, the Samsung is a great option, as is the LG-BP620. If you're more interested in a straightforward player that's super-easy to use, then the Sony BDP-S590, BDP-S790 or Toshiba BDX5300 might be a better choice. If so, keep in mind the significant improvement in disc-load and response times that the Sony 'S790's dual-core processor provides.
Additional features
There are lots of ways to enjoy movies and more with these Blu-ray players. Each features a front-panel USB drive, perfect for inserting a thumb drive for big-screen photo slideshows, playing digital music files through your home theater speakers or watching home movies on your HDTV. You can even stream content from a networked PC thanks to DLNA support. And each is capable of delivering the latest high-resolution surround sound formats to your home theater receiver, like Dolby® TrueHD and DTS® Master Audio™.
Got 3D?
If you own a 3D TV or are thinking about buying one, then look for a Blu-ray player that supports 3D, as each of these players does. You'll be able to enjoy the growing number of 3D Blu-ray titles for home movie-viewing that can rival the theater.