Bluesound Generation 2 wireless multi-room audio review
A versatile, high-fidelity alternative to a home full of Bluetooth speakers
Heads up!
Welcome to this article from the Crutchfield archives. Have fun reading it, but be aware that the information may be outdated and links may be broken.
For aging music fanatics/gearheads like me, today's home audio marketplace is a strange trip back to the future.
Vinyl records and turntables are alive and well. So is monaural (1-channel) sound, thanks to the proliferation of Bluetooth® speakers.
Most remarkably, after years in the wilderness, high fidelity is re-emerging. Witness the rise of hi-res music players like Pono and better-than-CD downloads from companies like HDtracks.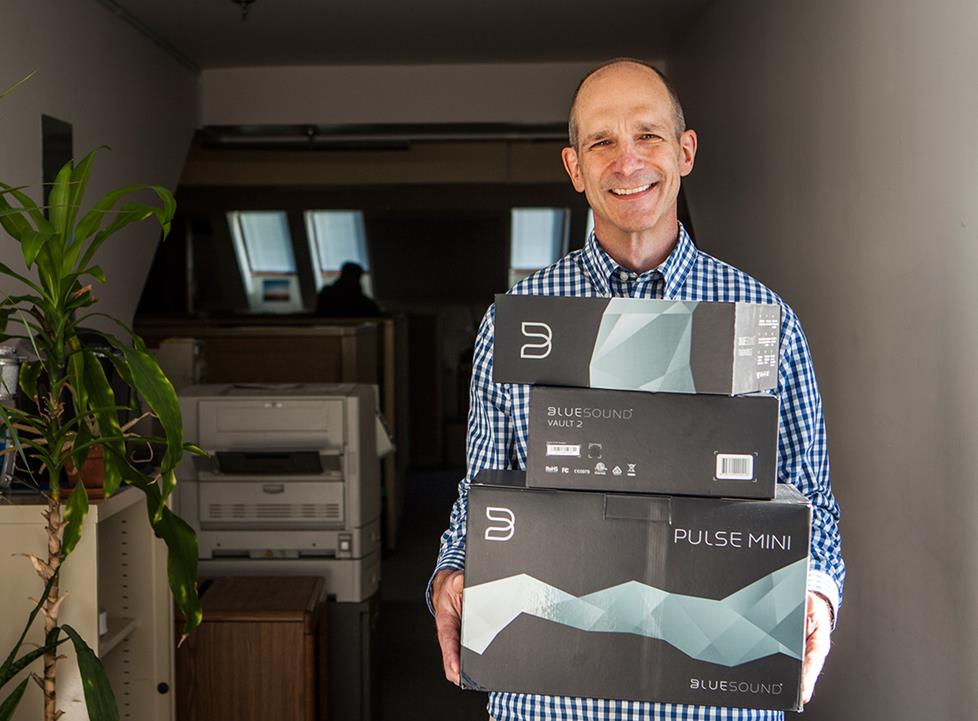 I took three Bluesound products home to review. Only two came back. I'm buying the other one.
Bluesound gives you so much more than a one-trick Bluetooth speaker
Let's assume you care about good sound. You go to a lot of live shows, and you want a taste of that magic at home. Let's also assume that you can afford to indulge your music lust. You're considering a high-end Bluetooth speaker.
Why?
Because most of your music comes from YouTube, Spotify®, or files stored on your phone, iPad®, or laptop. You don't want an old fashioned rack full of hi-fi components. Is a Bluetooth speaker the best alternative?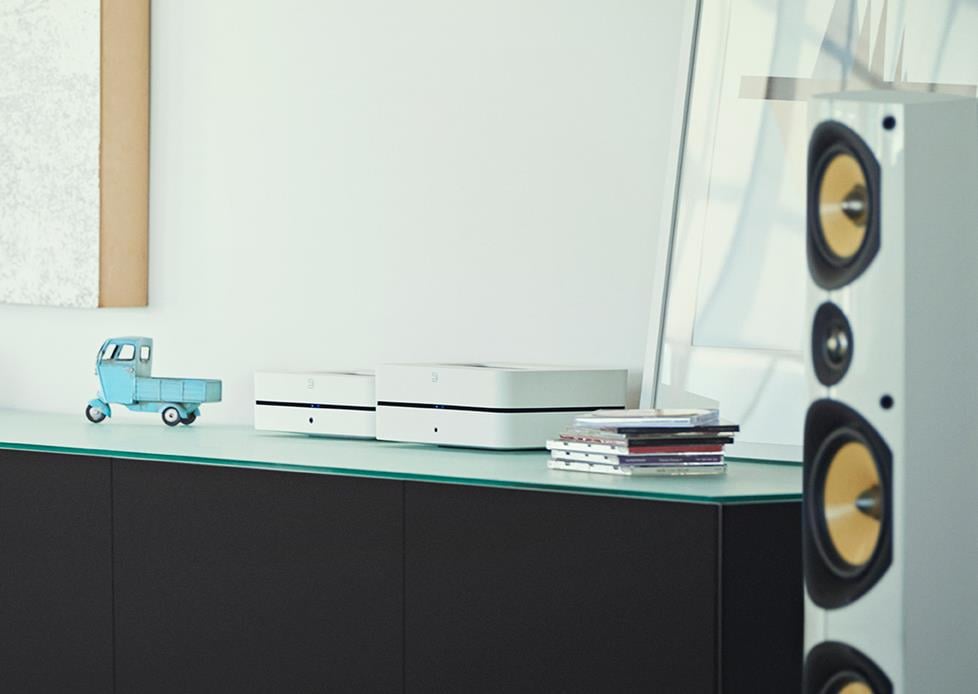 Connect your own speakers to the PowerNode 2. It will comfortably drive even the most power-hungry models.
Consider the Bluesound PowerNode 2, which combines a Bluetooth receiver with a powerful, audiophile-grade amplifier. You'll need a good pair of loudspeakers to go with it. But for about the same money you'd spend on a top-of-the line Bluetooth speaker, you get stereo sound that's much more dynamic and true to life. Like a ton of bass? You can even connect a powered subwoofer.
If that's all there was to it, the PowerNode 2 would be a good deal. But Bluetooth is just a small part of Bluesound story. Let's consider the complete Bluesound family of networked multi-room audio products.
Want a simple powered speaker? Bluesound Pulse speakers come in three sizes.
Want an unpowered Node you can connect to a home theater, stereo system, or powered speakers? You can have one of those, too.
And then there's the Vault 2, essentially an unpowered Node with a built-in CD ripper and 2 TB hard drive.
All Bluesound models include Bluetooth, so you can play music directly from your phone or tablet. They also include network connections, so you can also play music files stored on your networked computer or hard drive. The Vault 2 requires an Ethernet connection. All others can connect via Wi-Fi.
You control your players with the Bluesound app, which lets you create playlists from your music library and your streaming music services. You can add songs from both sources to one playlist. You can even buy HD Tracks from within the app and download them to your Vault 2, without touching your computer.
The app controls your player settings, too. You can group any combination of players to play the same song in more than one room. Or control them all separately. There are mobile and tablet versions of the app for iOS, Android, and Kindle Fire, as well as desktop apps for Windows and Mac.
Bluesound's audiophile pedigree
Lenbrook, Bluesound's parent company, also owns the respected audio brands NAD and PSB. From NAD comes the HybridDigital™ amplifier technology inside the PowerNode 2. It trickles down from NAD's critically acclaimed M22 power amp.
I auditioned the PowerNode 2 with PSB Image T6 tower speakers. The PowerNode 2 had no problem driving the big speakers.
In my home theater system, the towers perform admirably. But with the PowerNode 2, music sounds much better. Time and time again, I found myself repeating familiar cuts because I was amazed at the new level of detail I was hearing.
The Bottle Rockets album 24 Hours a Day begins with an energetic rock tune called "Kit Kat Clock." I've listened to this track dozens of times through the home theater system. With the PowerNode 2 driving my speakers, the dense arrangement opened up like a fine wine. Individual parts popped like crazy. All traces of mud disappeared. I savored the distinct tones and deft interplay of two electric guitars, bass guitar, drums, and two singers. The clarity of the high harmony vocal was simply stunning.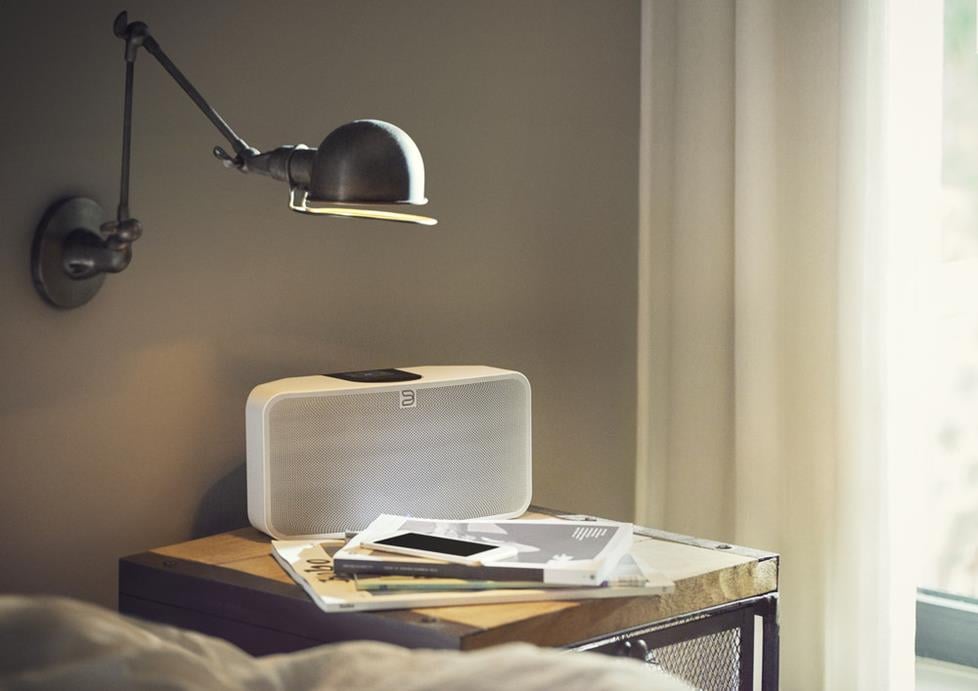 The Bluesound Pulse Mini is perfect for a small- to medium size room.
Pulse Mini
My living room, dining room, and kitchen are all part of an open floor plan. With the main system in the living room, I didn't think I'd have much need for an additional speaker in the kitchen/dining area. But I tried a Pulse Mini in that area, and was pleasantly surprised.
While cooking and entertaining guests, I group the main speakers and the Pulse Mini. I can keep the volume of both relatively low and still clearly hear the music over the sound of the range hood. Because I don't have to raise the volume of the main speakers to hear them in the kitchen, guests in the living room area don't get blown out.
When I'm having breakfast, the Pulse Mini alone gives me all the sound I need. Tune-in Radio is built into the Bluesound app, so I can quickly hit the preset for my local NPR station.
Vault 2
My listening habits changed dramatically after I subscribed to Spotify. Hooked on the variety and convenience, I gradually stopped listening to my CDs. I settled for the sound quality of the Spotify Premium stream (which is neither awful nor spectacular).
I also stopped listening to the low-fi CD rips in my iTunes and Windows Media folders. I promised myself that someday I'd re-rip my CDs in a lossless format. Then I could enjoy better sound while avoiding the hassles of playing CDs. But the re-ripping project seemed liked way too much work – until the Vault 2 came along.
With the Vault 2, ripping a CD in a lossless format is super easy. Just insert a disc and walk away. When the rip is done, the Vault ejects it. You don't have to start up a computer, open iTunes, or even click on anything.
Over the course of a few weeks, I re-ripped my entire CD collection. Now, thanks to the Bluesound app, I can enjoy my music library with the same convenience I enjoy with Spotify. It's been nice to get reacquainted with the music I invested thousands of dollars in. For new music discovery, I still enjoy Spotify. Now I play the old favorites at CD quality.
Wrap-up
The Vault 2 earned a permanent spot in my system. I'll offset part of the purchase price by selling my CDs (except for the collector's items). I borrowed the PowerNode 2 and Pulse Mini for this review, and I'll be sad to see them go. They offer so much more than even the best Bluetooth speakers. For me, there's no contest.