Our Bluetooth® Receiver Challenge
Testing the Bluetooth capabilities of eight in-dash receivers
Heads up!
Welcome to this article from the Crutchfield archives. Have fun reading it, but be aware that the information may be outdated and links may be broken.
Bluetooth is rapidly becoming a popular feature in many different kinds of consumer electronics; you'll find it in cell phones, tablets, and music players, to name a few. But probably it has seen the greatest utilization and growth in car audio. Most Bluetooth equipped car receivers let you make and take hands-free calls with a compatible phone, and enable audio streaming of music from your smartphone or other device.
One of the benefits of having our new Crutchfield Labs space is the opportunity it gives us to get hands-on experience in evaluating the features and performance of much of the gear we sell. In this test we evaluated the Bluetooth performance of a variety of in-dash CD and digital media receivers, examining their ease of use, performance, and features.
The testing process
We settled on a few fundamental features to examine in our tests, with an eye towards answering a couple of basic questions. How easy was each receiver to use with our phones, and how well did it perform in its primary functions — making phone calls and streaming audio?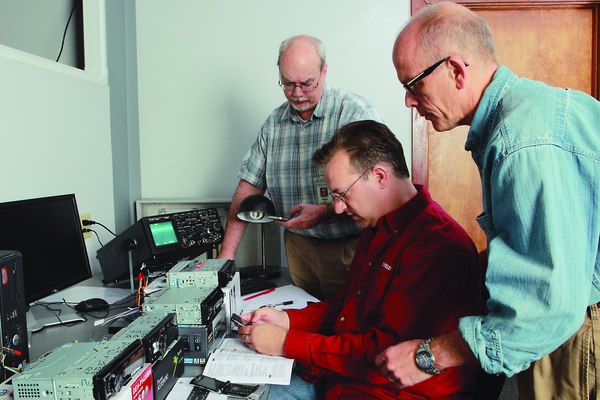 Our crew pairs a phone during the testing process
Pairing your phone and placing calls
Our test panel used three different phones in this phase of the testing: an iPhone® 4S, a Samsung Android™ Galaxy, and a venerable Motorola Razor. Each tester paired his phone to each receiver and took notes on how easy or difficult the process was. Notes were also taken on whether the phones' contact lists were imported, and we evaluated the different methods available to us in placing calls once the phones were paired.
Audio streaming
For our audio streaming tests, we used the Android. This allowed us to test Pandora® Internet radio streaming capabilities when available. We noted our subjective ratings of sound quality, along with display and control features that made the receiver easier to use when streaming audio.
Outgoing call quality
Of course, one of the main reasons people choose a Bluetooth equipped in-dash receiver is for hands-free calling. Not only is it convenient, but there are an increasing number of localities that have banned the use of hand-held phones when driving. And no matter how many nifty features a receiver has, it's not much use for Bluetooth if the person on the other end of the call can't hear you. To test call quality, we set up a simulated driver's seat in one of our listenting rooms and piped in a recording of car road noise. Then we placed outgoing calls to two members of our test team and asked them to listen to a prepared script and evaluate it on call volume, clarity, and freedom from distortion, echo, or other artifacts.
And on to the nitty gritty!
Here's an alphabletical look at the eight receivers we tested. The ratings below each receiver are on a 5-point scale, with 5 representing excellent performance, and a 1 very poor performance. We evalutated the following eight receivers:
Axxera XDMA7200
Alpine CDE-HD138BT
Clarion CZ302
JVC KD-X80BT
Kenwood KDC-BT852HD
Parrot ASTEROID
Pioneer DEH-P9400BH
Sony MEX-BT4000P
---
Axxera XDMA7200
| | |
| --- | --- |
| Pairing and calls | 3 |
| Audio Streaming | 3 |
| Call Quality | 3 |
Test results
The Axxera XDMA7200 was a middle-of-the-pack performer in most aspects of our testing. When pairing phones, our testers with smartphones had to enter PIN codes, something they didn't encounter with any of the other receivers. One tester also described the interface as "clunky." And our phone books wouldn't transfer to the receiver — a definite mark against it. Audio streaming capabilities were basic, with no display of metadata or features like Pandora® streamin., but the sound quality ratings for audio streaming were acceptably middle of the road.
Call quality ratings were generally good, with the testers noting that call volume was strong, though the external microphone tended to pick up a bit more noise than most other models
Our takeaway
The XDMA7200 is a bargain as far as Bluetooth receivers go. But you do sacrifice a bit for that. You can return calls easily enough, since the receiver keeps a list of the last 10 incoming calls, but placing a new call from the receiver required entering the numbers one at a time with the unit's remote control. However, we did appreciate the logical "talk" and "end" buttons on the face. If you want basic, bargain Bluetooth, you'll get that, but not much more.
---
Alpine CDE-HD138BT
| | |
| --- | --- |
| Pairing and calls | 3 |
| Audio Streaming | 5 |
| Call Quality | 4 |
Test results
The Alpine CDE-HD138BT was an average performer in pairing. Our Android user needed several attempts to work his way through the process, but our other two testers had no problems. Phonebook transfer was automatic, and the receiver's ABC search lets you enter the first three letters of the contact you're looking for — that can really speed up the process when you have a large number of contacts.
Paring and call performance was pretty middle-of-the road, while in audio streaming, Alpine's MX sound enhancement tool did a nice job of filling out the sound from online sources like Pandora®. Call quality was enhanced by a variety of settings you can access through the Bluetooth setup menu
Our takeaway
We were impressed by the audio streaming capabilities this receiver offered, and in particular how the dedicated buttons across the bottom of the display made it easy to access Pandora® features and functions. In additon, Alpine's MX sound enhancement tool did a nice job of filling out the sound from streaming sources. We have to admit we weren't blown away by the single-line display, but this receiver's a great choice if you plan on taking advantage of Bluetooth's audio capabilities.
---
Clarion CZ302
| | |
| --- | --- |
| Pairing and calls | 4 |
| Audio Streaming | 3 |
| Call Quality | 2 |
Test results
The Clarion CZ302 was the only one of the receivers we tested that had an internal microphone (although you can purchase an optional external microphone). While that might make installation easier, it did result in the lowest ratings for call quality of all the receivers tested. Otherwise we didn't have too much to complain about. The pairing interface was simple, outgoing calls were easy to make, and audio streaming of stored music files was handled capably — though we would have liked metadata display for the songs we were listening to.
Our takeaway
Oddly, the CZ302 doesn't have any dedicated phone buttons, which caused us a bit of confusion in our initial usage. And since hands-free calling is such a big part of why you'd probably get a Bluetooth receiver, it seems odd that there's not a single button that's dedicated solely to phone operation. Overall this receiver does a capable job with its Bluetooth functions, and it was the second least expensive of the bunch. A good choice if you're watching your cash flow.
---
JVC KD-X80BT
| | |
| --- | --- |
| Pairing and calls | 2 |
| Audio Streaming | 5 |
| Call Quality | 3 |
Test results
Two out of our three testers had problems pairing their smartphones with the JVC KD-X80BT. Even a trip to the owner's manual wasn't a big help, since there are several possible methods you might have to follow during the pairing process, depending on what shows up on the unit's display (surprisingly the old Motorola Razor was the easiest to pair). Once we got the pairing sorted out, we were impressed with the easy-to-use call menus and audio streaming features, especially the amount of song and artist info you get with the 3-line display. Call quality was solid, with adequate volume and clarity.
Our takeaway
All the testers agreed that this digital media receiver was a sharp-looking piece of gear. And the 3-line display was a real bonus when we streamed music files or tapped into Pandora® with our Android phone. If you're into streaming music and don't care about CDs (there's no CD player) this is a great choice.
---
Kenwood KDC-BT852HD
| | |
| --- | --- |
| Pairing and calls | 5 |
| Audio Streaming | 4 |
| Call Quality | 4 |
Test results
The Kenwood KDC-BT852HD was a champ in the pairing process. Our testers commented variously that it was "no trouble at all," "easy," with "a well laid out menu." And you can easily perform the pairing from your phone or the receiver. From the receiver, just press and hold the "pair" button and it automatically finds all Bluetooth devices in range. Select the one you want, press the control knob and you're done. This receiver was also no slouch in audio streaming, with metadata display of stored music and streaming Pandora on the selectable 2- or 3-line display. Call quality was good, and there are a variety of sound-quality settings to use if you want to improve it beyond the baseline.
Our takeaway
Full-featured streaming with a nice display, solid call quality, and hassle-free pairing. The KDC-BT852HD impressed us as a well-built and thought-out Bluetooth package, wrapped inside a very capable in-dash CD receiver.
---
Parrot ASTEROID
| | |
| --- | --- |
| Pairing and calls | 4 |
| Audio Streaming | 4 |
| Call Quality | 5 |
Test results
The Parrot ASTEROID is a very interesting piece of gear. This digital media receiver breaks some new ground in how it utilizes Bluetooth to support its own internal features. Once you've paired your smartphone to the ASTEROID, it can use your phone's 3G network to access data for its own built-in apps, which include music services and navigation. Beyond that, the ASTEROID did a very nice job interfacing with our phones in the areas we tested. We found it easy to pair our phones, and outgoing calls were a snap, thanks to its intelligent voice recognition call feature. Once your phonebook has downloaded, you can place a call by simply pressing a button and saying who you want to call when prompted. This is independent of any voice recognition features in your phone and requires absolutely no setup by the user.
Our testers loved the ASTEROID's display and gave it high marks for metadata display with stored music (unfortunately, though, it doesn't support Pandora via Bluetooth). Call quality was exceptionally good, due in large part to the supplied stereophonic external microphone.
Our takeaway
The ASTEROID may not be for everyone, because of its reliance on internal apps (which are still limited in number). But the overall Bluetooth performance of this receiver was good in all the areas we tested it in.
---
Pioneer DEH-P9400BH
| | |
| --- | --- |
| Pairing and calls | 4 |
| Audio Streaming | 4 |
| Call Quality | 4 |
Test results
We liked what we saw with the Pioneer DEH-P9400BH. None of us had any difficulties pairing the variety of phones we tested, and phonebook transfer was automatic. It only took a couple of minutes in all cases to be up and running, ready to make and receive calls. Likewise, we found the audio streaming performance solid, with good sound quality, and it was easy to use as well. The sharp display was a plus for streaming metadata. Call quality was consistent and clear.
Our takeaway
The DEH-P9400BH is a balanced performer in all of the areas we tested, with simple, reliable pairing, plenty of call options, full-featured audio streaming, and very good call quality. Couple that with a very impressive set of audio functions and a great-looking display. It's one of the more expensive receivers we tested, but the performance and features are in line with the price.
---
Sony MEX-BT4000P
| | |
| --- | --- |
| Pairing and calls | 2 |
| Audio Streaming | 3 |
| Call Quality | 4 |
Test results
Our smartphone testers were universally stymied by the Sony MEX-BT4000P in their initial attempts to pair their phones. As one said: "Even with the manual I couldn't get it to work." While we were eventually able to pair all of our devices, the amount of confusion and hassle was exceptional when compared to most of the other receivers we tested.
On the plus side, outgoing calls were easy, and we liked the text message notification feature, something we didn't notice with any of the other models we tested. Audio streaming supported Pandora® via Bluetooth with our Android phone, though we would have prefered a more compelling display. Call quality was very good — crisp, clear, and well modulated.
Our takeaway
Our hassles with pairing smartphones with the receiver really put a damper on our overall feelings about the Sony. It's a shame that something so fundamental to the operation of the receiver should be so difficult, particularly when working with advanced smartphones. While the MEX-BT4000P is one of the more inexpensive models in our test, that shouldn't excuse a clunky interface and a manual that was of very little help to us.
---
Our conclusions
As is often the case in consumer electronics, the simple statement that a device has a feature — in this case receivers with Bluetooth connectivity — doesn't begin to tell the whole story. We encountered many distinctions between these receivers — some subtle, some significant — that can make a big difference in how you might use and enjoy the one you've chosen. Take the time to evaluate what advantages the models you're looking at bring to the game by checking out the "Details" section of our presentations. You'll find a lot of useful information.
Check out all the Bluetooth equipped receivers we carry. And please, give us a call if you have any questions or need some help in deciding what the right model is for you.